Honey Dijon Pork Chops Recipe
Honey Dijon Pork Chops are made with whole grain mustard, honey, juicy pork chops, garlic, and heavy cream. This is an easy weeknight meal you can have on the table in under 30 minutes so you can make them for dinner tonight! Whether you cook them with boneless pork chops or bone-in pork chops, these honey mustard pork chops are incredibly delicious.
Are you looking for some easy salad recipes to go with your honey mustard pork chops? Try our Cabbage Salad made from green and red cabbage, carrots, and green onions with sweet garlic mustard dressing. For something a little sweeter, this Cranberry Apple Salad is perfect with bacon bits, walnuts, and crunchy apples.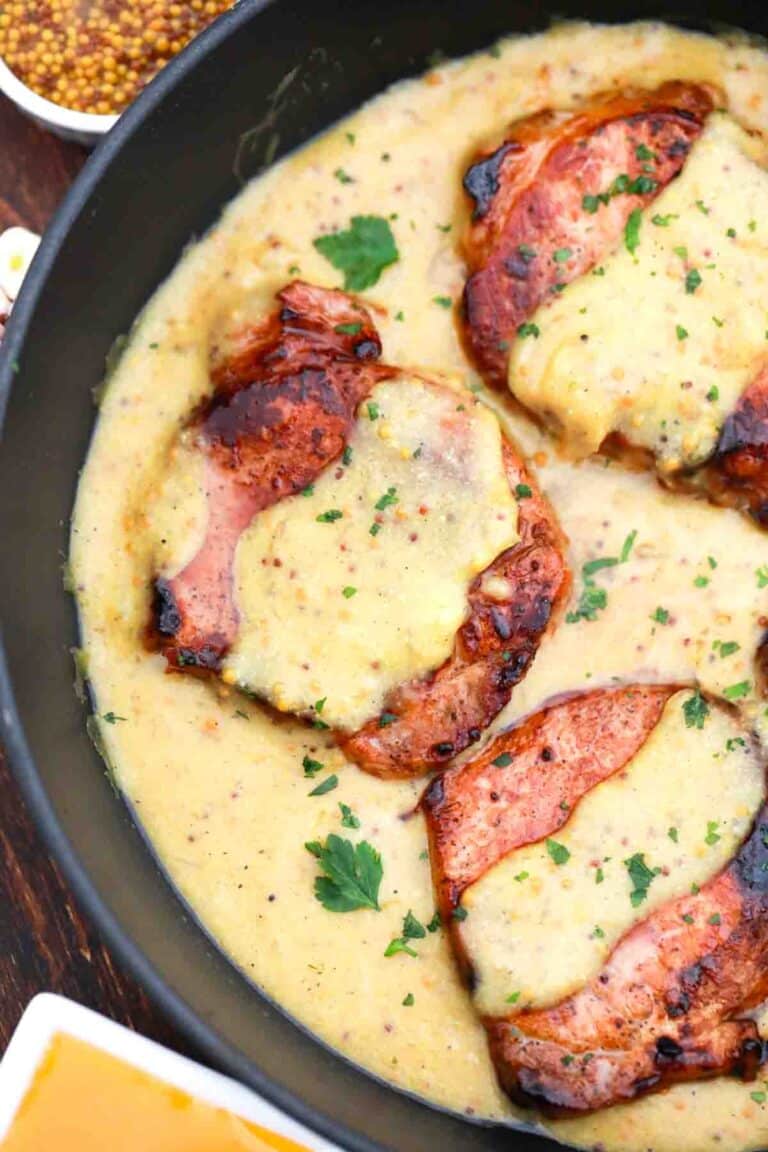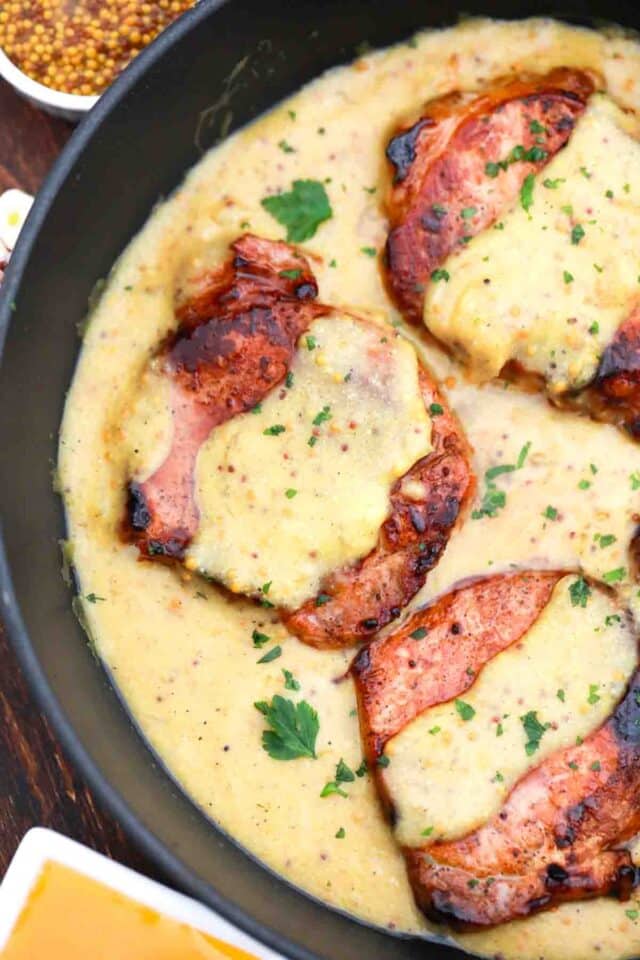 Although pork chops are often thought of as southern cuisine, you may be surprised to know that the first pork was eaten in Turkey, where they domesticated pigs back in 9000 BC. Then, it was in Asia that eating pork became popular before ending up being brought to the New World by Columbus on his second trip in 1493. So, we can thank Columbus, Asia, or Turkey for this pork chop recipe.
Honey dijon pork chops are deliciously sweet and flavorful, made with just a handful of simple ingredients you may already have in your kitchen.
This great recipe has so much flavor and can be made so quickly in one pan. If you like easy recipes, this is one honey mustard pork chops recipe you should not pass up.
Rather have seafood? This recipe for shrimp rolls made with Greek yogurt, lemon, and dill has so much flavor, you will love it! If poultry is more your thing, our baked lemon thyme chicken seasoned with maple syrup and lemon zest is amazing.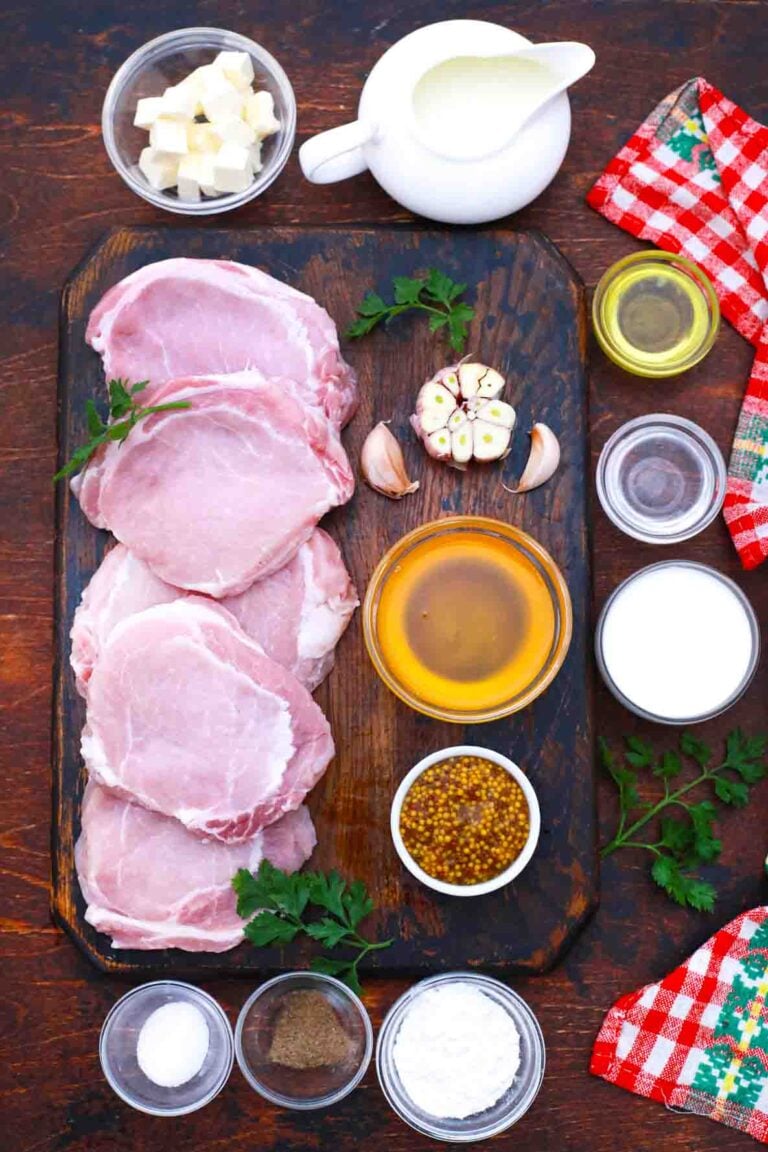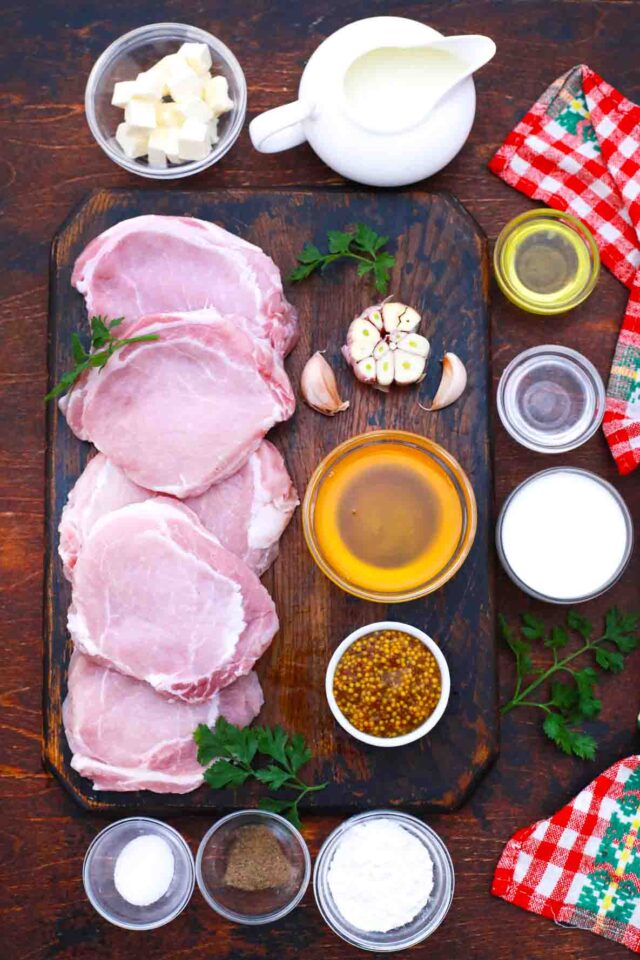 Ingredients needed:
To make this easy pork chops recipe, all the ingredients you need are listed below. Then, when you are ready to make this recipe, scroll down to our recipe card where you will find the step-by-step instructions and exact measurements.
Boneless pork sirloin chops: Ours were about 3/4 inches thick.

Honey

Whole grain mustard

Milk

Heavy cream

Minced garlic

Kosher salt

Black pepper

Olive oil

Fresh chopped parsley: Garnish.

Cornstarch slurry: Cornstarch and water.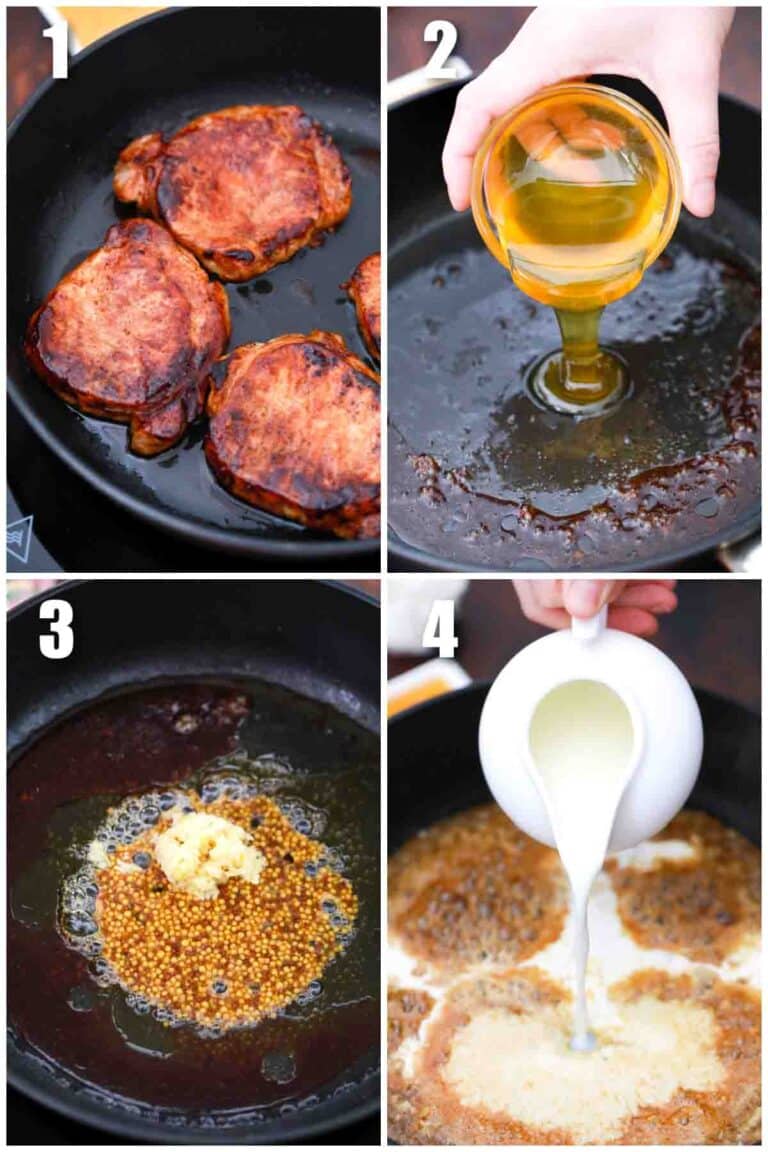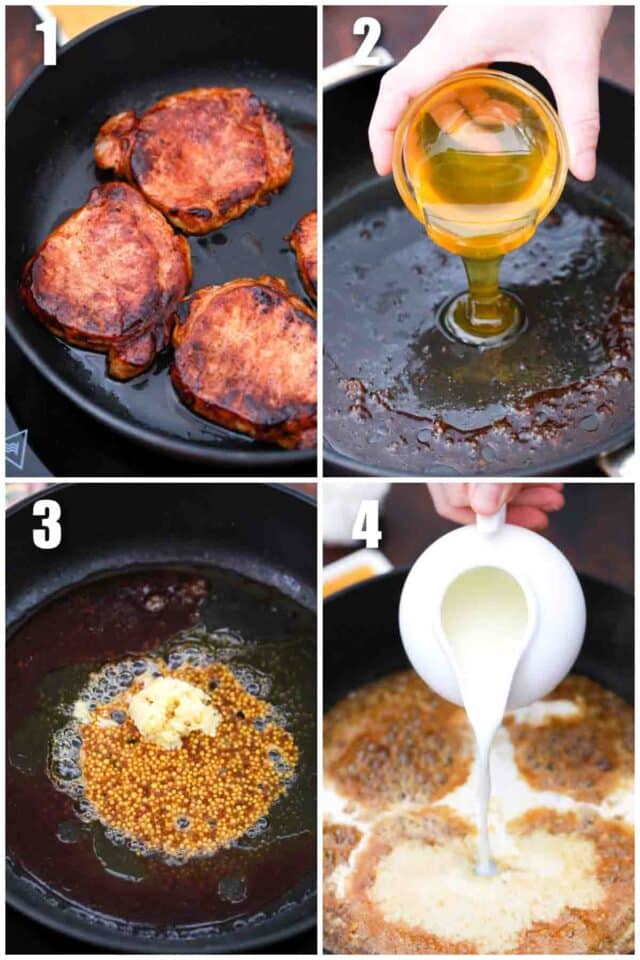 How to make honey dijon pork chops from scratch?
Season and prep the pan: First, dry the pork chops with a paper towel and then season with salt and pepper on both sides and warm the olive oil in a large skillet on medium-high heat.

Quick sear: After the pan is hot enough, sear the meat on both sides until golden brown and cooked through. Use a meat thermometer to check. The internal temperature should be 145 degrees F when they are done. Remove them and set them on a plate to the side.

Make the honey mustard sauce: Using the same skillet, add the mustard, honey, and garlic. Whisk until it is bubbly and thoroughly combined. Then add the milk and cream, whisking until it is simmering. Season with salt and pepper to taste.

Make the slurry: To make the sauce thicker, whisk the water and cornstarch in a small bowl until it is completely combined. Then, add it to the sauce and whisk until it is thick.

Thicken and garnish: Once the sauce is thick enough, return the pork chops to the pan and garnish with fresh chopped parsley.

Rest and serve: Finally, let it rest for 10 to 15 minutes before serving.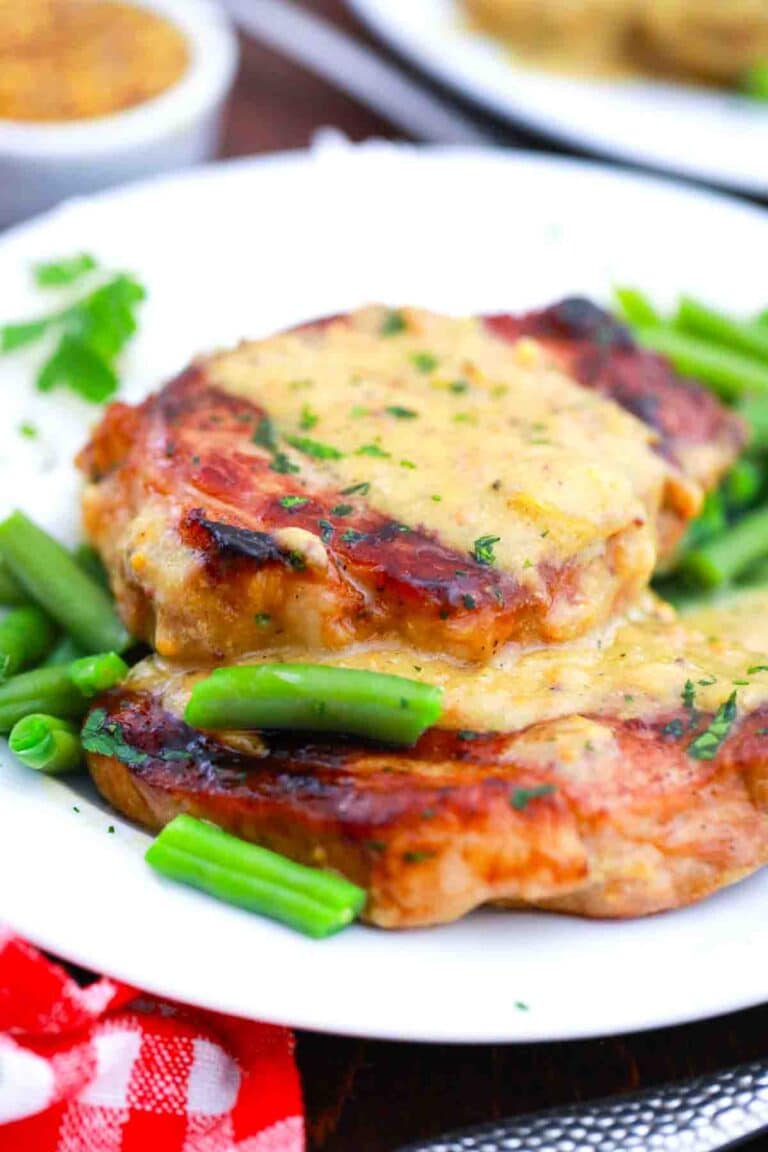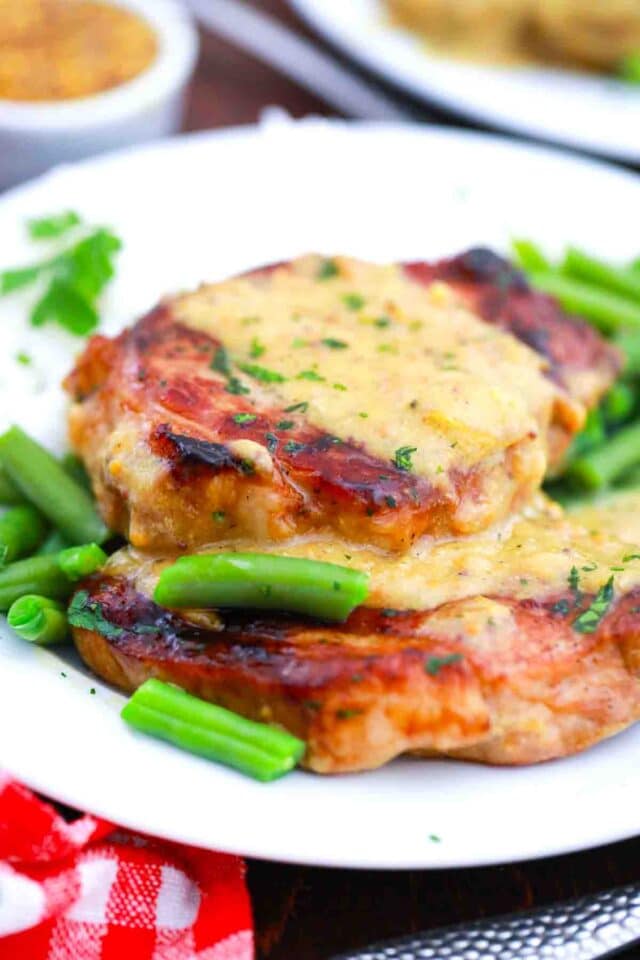 How to make baked honey dijon pork chops from scratch?
Preheat the oven: To begin, preheat your oven to 350 degrees F.

Sear the chops: While you wait, season each pork chop with salt and pepper and bring the oil to a sizzle in a frying pan or skillet over medium heat. Sear chops on both sides. Then, put the chops in a baking dish or pan sprayed with olive oil and set aside.

Cook the sauce: Use the same pan to add the rest of the ingredients to make the sauce. Continue to let the sauce reduce until it is simmering, whisking frequently.

Make and add slurry: While the sauce is cooking, mix the cornstarch and water until it is combined and then add it to the sauce, whisking briefly.

Cook pork chops: Finally, pour the honey dijon mustard sauce over the chops and put them in your preheated oven. Bake for 10 – 20 minutes or until the internal temperature reaches 145 degrees F.

Season and serve: Now, give the sauce a quick stir, add salt and pepper to taste, and garnish with parsley before letting it rest for 10 to 15 minutes. Then serve with your favorite side dishes.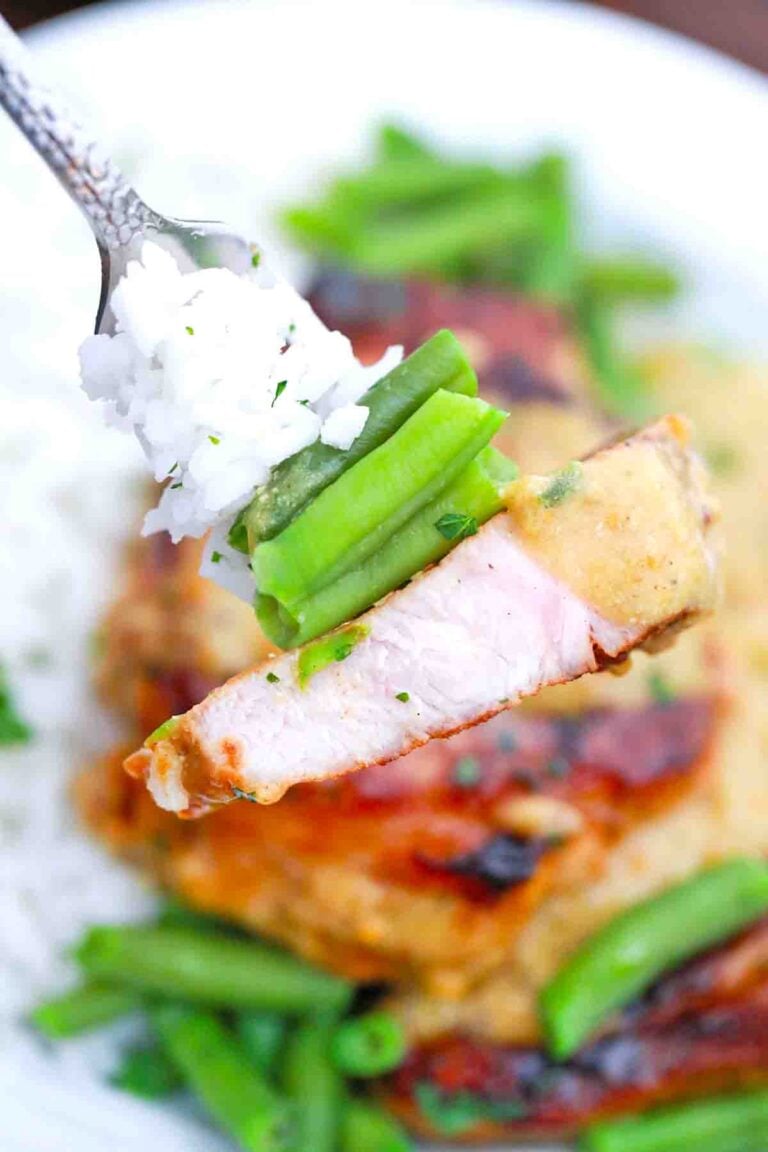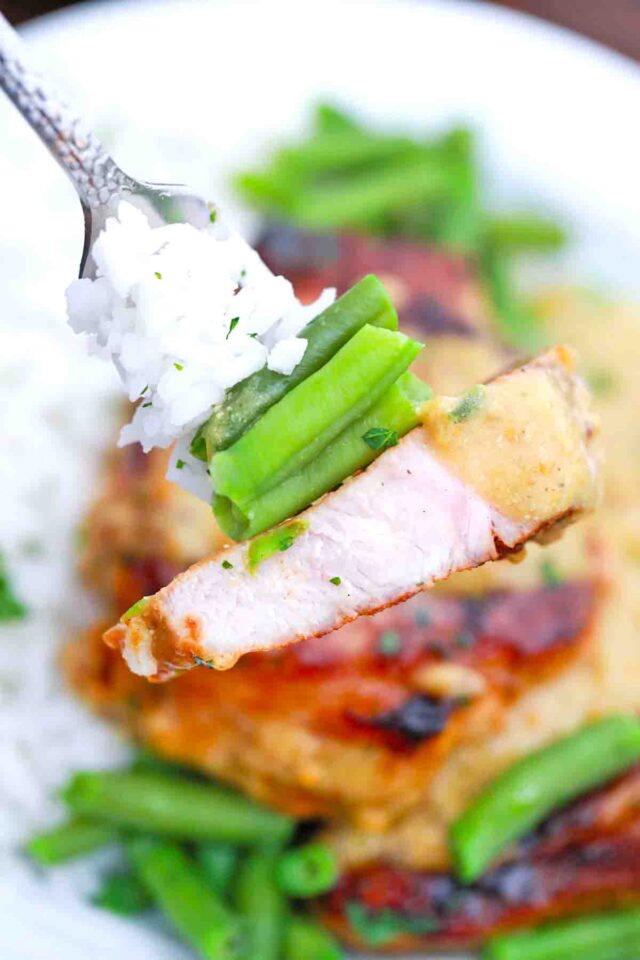 Recipe variations:
Another oil: Feel free to use another kind of oil such as avocado or whatever oil you like cooking with.

Make it spicy: For some spiciness, add a pinch of red pepper flakes or chopped jalapenos.

Cream it: You could add a spoonful of Greek yogurt or cream cheese to make the honey mustard sauce creamier.

Other cuts: Alternatively, try making this recipe with other cuts of pork such as pork shoulder or pork steaks.

Different meat: In fact, you could also use turkey or chicken breasts or thighs instead of pork chops for this recipe. You could even try beef or lamb. Whatever kind you like. Honey mustard sauce is delicious with anything.

Seasoning: Another way to season this dish is with ranch, Italian, or taco seasoning.

No honey: If you do not have or do not like honey, you can try maple syrup.

Add veggies: To make this a more substantial recipe, why not toss in some chopped veggies like eggplant, bell peppers, carrots, and celery?
How to serve:
Since it takes under 30 minutes, you can serve this easy and delicious honey dijon pork chops recipe tonight for dinner. You may even have everything you need in the kitchen waiting for you! Try some of these great serving suggestions or share some of your own in the comments section at the bottom of the page.
If you have some guests or family who does not want honey mustard on their pork chops, no problem! Make theirs with another sauce like this easy beef gravy.

Everyone loves cheese! Sprinkle some parmesan or romano cheese or shredded mozzarella on top before serving.

This dish goes great with just about any side dish. Try our recipe for crispy air fryer broccoli you can make in minutes.

Another way to serve these pork chops is with pineapples on top. The sweet flavor goes great with the honey dijon mustard sauce.

Use leftover pork chops to make your favorite casserole or soup. Leftovers are also delicious for sandwiches the next day.

Also, you could chop up whatever you have left and add it to our chicken fried rice to make it pork and chicken fried rice.

Pork chops always taste great with potatoes whether you mash, broil, or boil them.

Looking for a beverage to go with your honey mustard pork chops? Mango daiquiri would be awesome.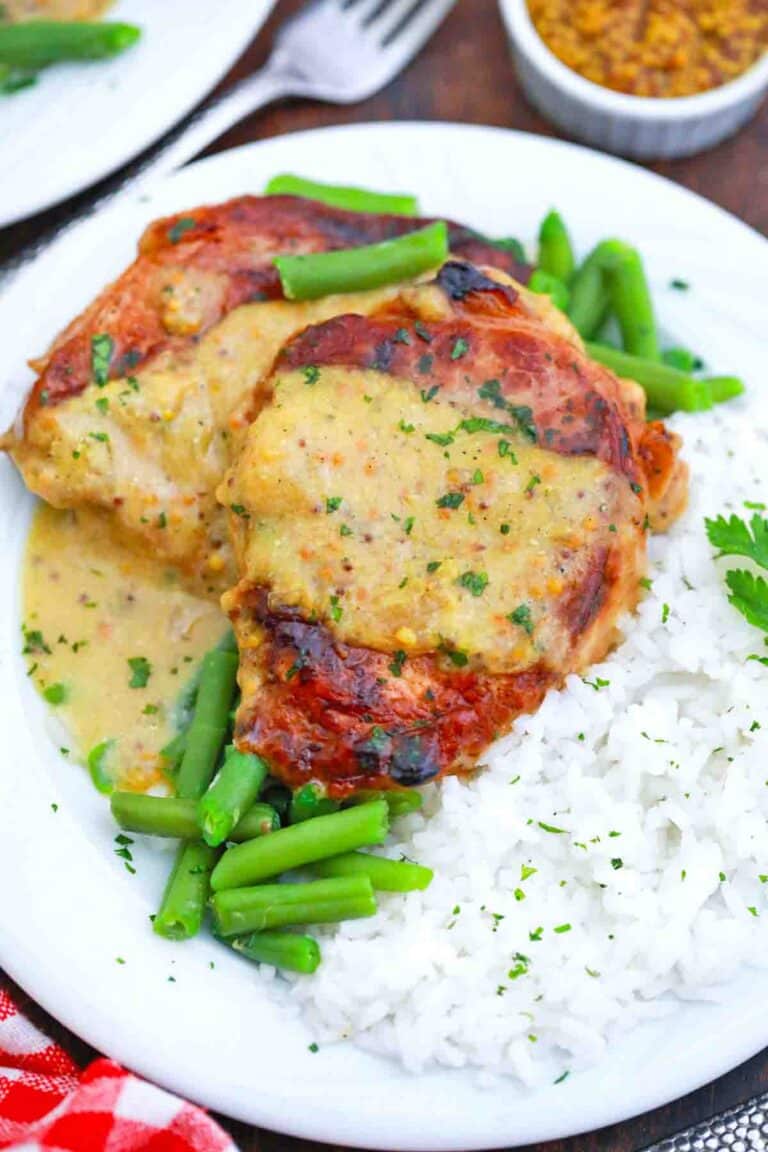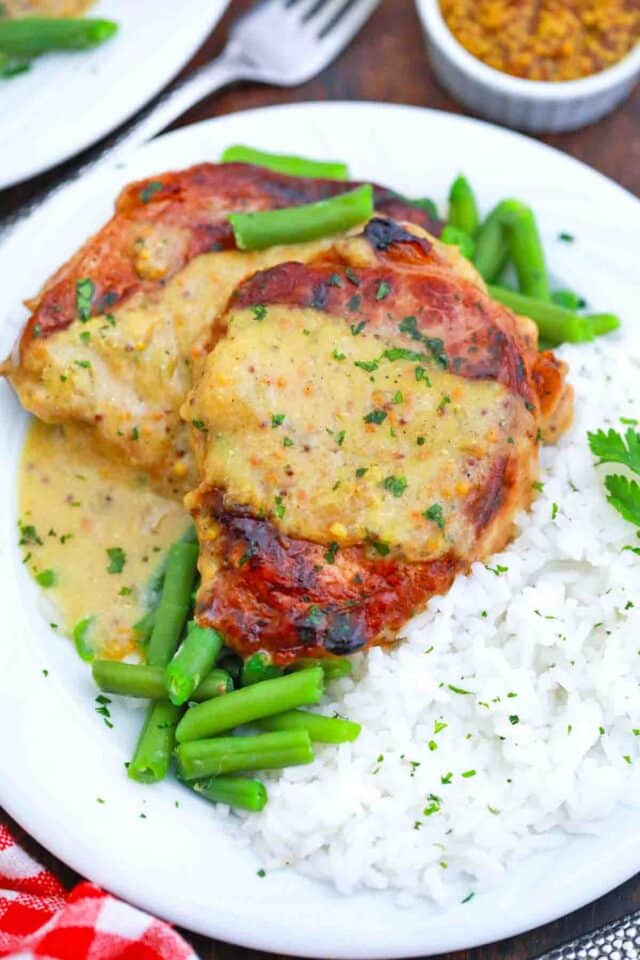 Frequently asked questions
What is the best cut of pork for this recipe?
If you love pork, you can really use any kind of cut you like best. But the pork loin chops are the most tender. This comes from the area between the back legs and the shoulder of the animal. It is the leanest boneless chops you can get. On the other hand, pork sirloin is a cut from the back of the pork loin and is usually sold as one piece but can be also sliced into pork chops or steaks.
Why are my pork chops dry?
It could be that you cooked them too long. Make sure you use a thermometer and remove it when it reaches 145 degrees F. Also, do not forget to let the pork chops rest for 10 to 15 minutes before serving.
It is also a good idea to let the pork chops come to room temperature before cooking them. When they are cold, the outside can overcook before the inside gets done. Also, bone-in pork chops tend to be juicier so you can try that.
How thick should my pork chops be?
This recipe calls for chops that are about 3/4 inches thick. However, you could also use a thicker cut. Using a thinner cut of pork chops can dry out your meat, especially since you are using boneless pork chops. But you also do not want them to be too thick that they take too long to cook, causing you to overcook the outside.
What is the nutrition information in this recipe?
In this recipe, you will get 390 calories, 24 carbs, and 18 grams of fat with 8 grams of saturated fat, 1 gram of monounsaturated fat, and 1 gram of trans fat. There is also 113 milligrams of cholesterol, 155 milligrams of sodium, and 20 grams of sugar.
On the good side, you will also get 32 grams of fiber, 569 milligrams of potassium, 2 grams of fiber, and 1 milligram of iron as well as 71 milligrams of calcium, 3 milligrams of vitamin C, and 423 units of Vitamin A. This nutritional information is estimated by the exact ingredients used in this recipe.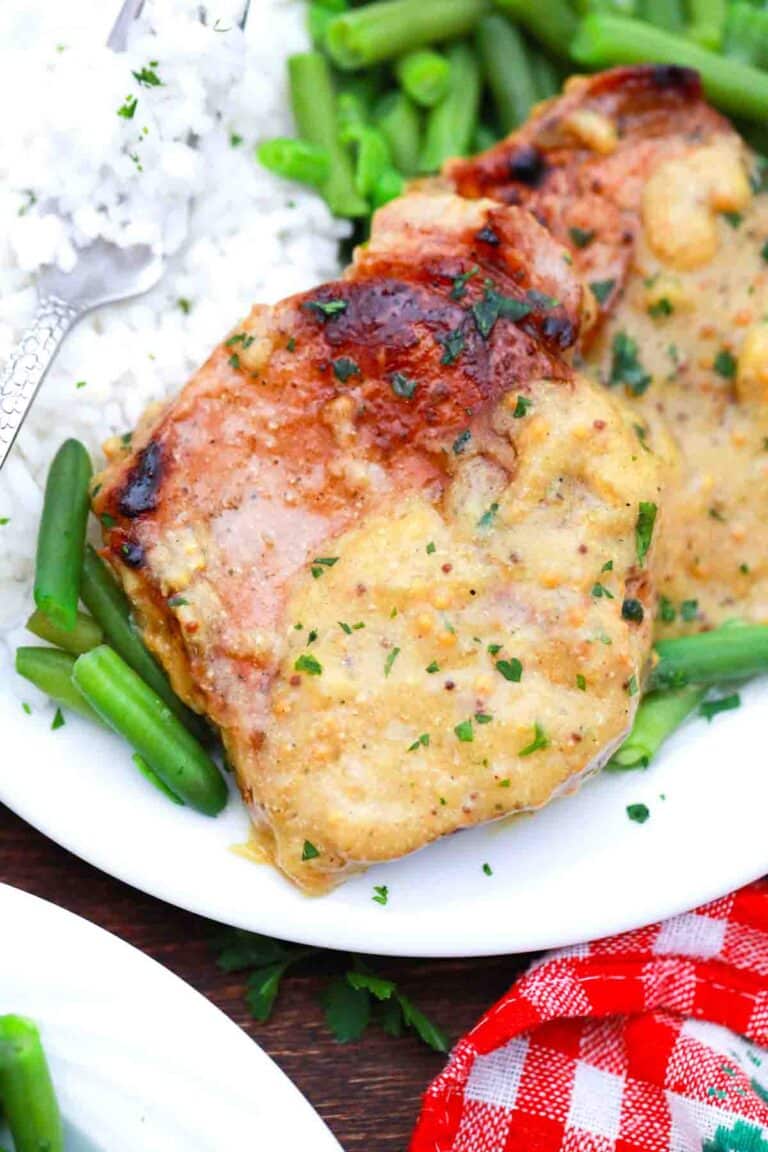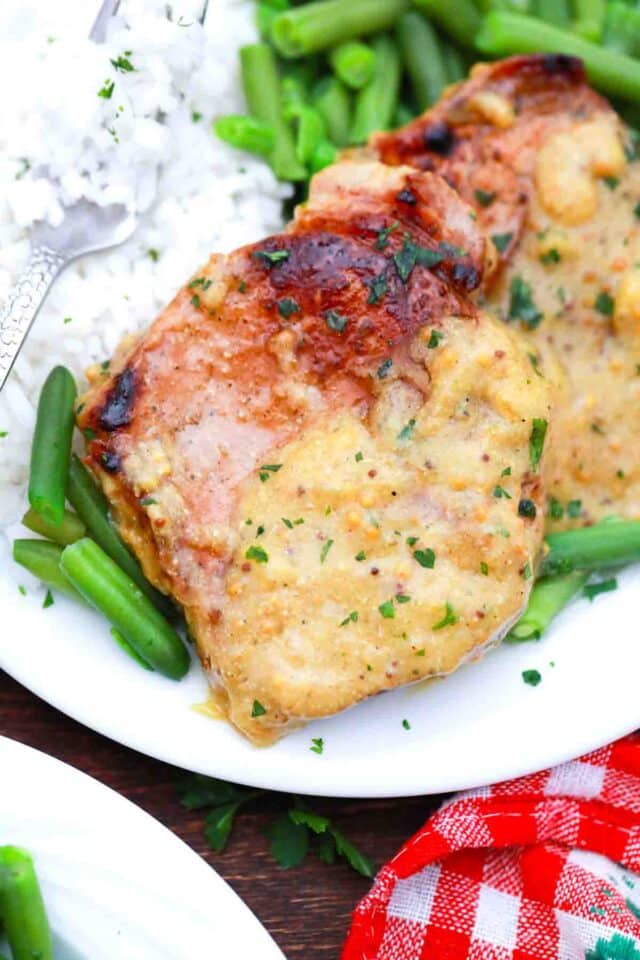 How to store leftovers:
Store: After your leftovers cool to room temperature, refrigerate them in an airtight container. They will stay good for about three or four days in the fridge.

Freeze: To freeze, wrap your pork chops in plastic wrap before putting them in a freezer bag or another freezer-safe container. They can stay frozen for up to three months.

Thaw: Be sure to thaw your pork chops overnight in the fridge for the best flavor and texture.

Reheat: To reheat, microwave for 30 to 90 seconds or cook on the stove for several minutes or until it is cooked through.
Recipe tips:
If you do not have fresh garlic, you can use garlic powder.

To minimize prep time, try using your favorite honey mustard sauce from the store.

Be sure to use an instant-read thermometer to check the internal temperature. It should be 145 degrees F when it is done.

Boneless pork chops tend to be dryer so you can use bone-in chops for juicy pork chops every time.

Also, thicker cuts make the juicier pork chops.

Use natural or organic honey for the best flavor

Make sure you pat the chops dry to make the salt and pepper stick better.

Do not skip the resting time. Your chops should rest for at least 10 to 15 minutes before cutting or serving.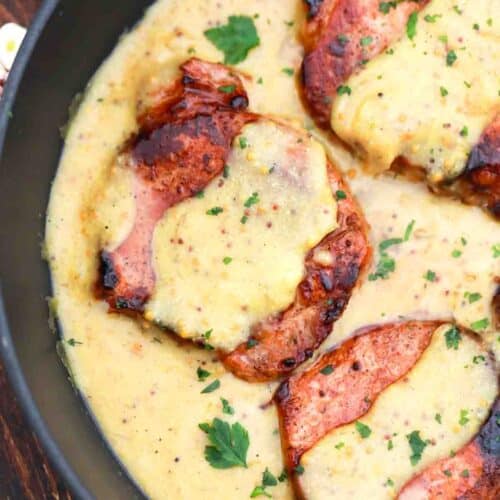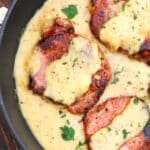 Honey Dijon Pork Chops
HoneyDijon Pork Chops are made with whole grain mustard, honey, juicy porkchops, garlic, and heavy cream.
Keyword:
Honey Dijon Pork Chops
Ingredients
5-6

boneless pork chops

about 3/4" thick

salt and pepper

to taste

2

tablespoons

olive oil

⅓

cup

honey

2

tablespoons

whole grain mustard

4

cloves

garlic

minced

⅓

cup

heavy cream

1

cup

milk

1

tablespoon

cornstarch

+ 1 tablespoon water

2

tablespoons

chopped parsley

for garnish
Instructions
Season pork chops with salt and pepper on both sides.

Place a large skillet over medium-high heat and add the olive oil.

Once the pan is hot, sear the pork chops on both sides, for about 3-4 minutes per sides. The pork chops need to be nicely browned and cooked through (internal temperature of 145 degrees F). Remove pork chops from pan to a plate and set aside.

Add the honey, whole grain mustard and garlic to the pan, and whisk to combine.

Next, add the heavy cream and milk. Whisk the mixture and bring it to a simmer. Season with salt and pepper to taste.

Whisk the cornstarch and 1 tablespoon of water in a small bowl and stir it into the sauce until it thickens.

Return back the pork chops to the pan and into the sauce. Cook for 2 more minutes and remove from heat.

Garnish with freshly chopped parsley and serve.
Nutrition Facts
Honey Dijon Pork Chops
Amount Per Serving
Calories 353
Calories from Fat 171
% Daily Value*
Fat 19g29%
Cholesterol 95mg32%
Sodium 130mg6%
Potassium 523mg15%
Carbohydrates 20g7%
Protein 26g52%
Vitamin A 381IU8%
Vitamin C 3mg4%
Calcium 76mg8%
Iron 1mg6%
* Percent Daily Values are based on a 2000 calorie diet.