Snickers Apple Salad Recipe
Snickers Apple Salad is made using fresh Granny smith apples and snickers candy bars in a sweet and creamy mixture. Everything is mixed with vanilla instant pudding mix, powdered sugar, and whipped cream, topped with caramel sauce.
Looking for other salad recipes? Our Cranberry Apple Salad recipe with goat cheese, bacon, pears, and green apples is sweet and savory. If you want something that is not as sweet, this Macaroni Salad recipe made from sweet corn, elbow pasta, and cheddar cheese is fast and easy.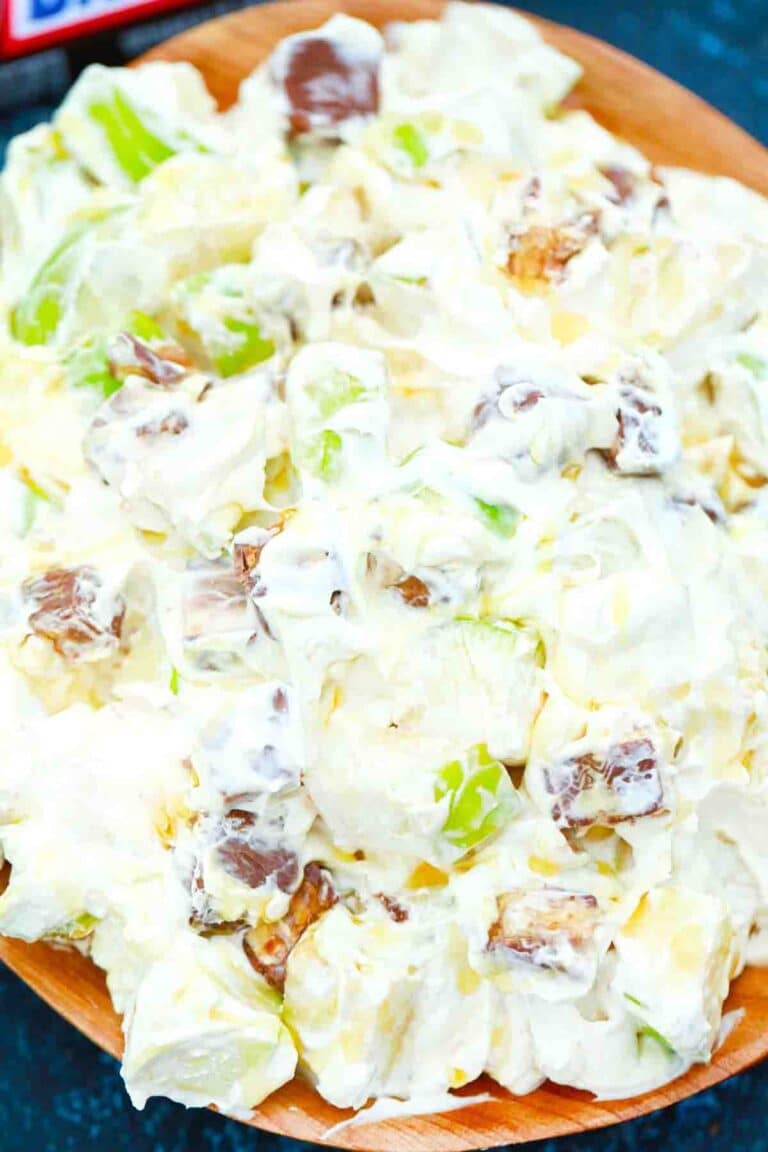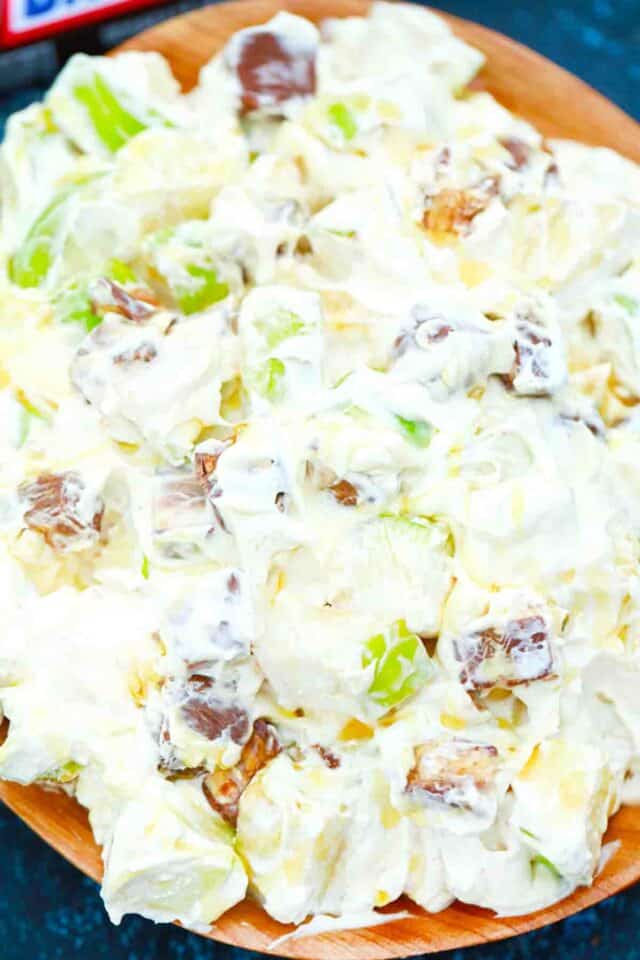 The first apple salad was Waldorf salad. This delicious dessert salad is made with apples, nuts, and celery. It was first introduced by Oscar Tschirky from the Waldorf-Astoria Hotel in New York City. In fact, the recipe was published in "The Cook Book" by Oscar of the Waldorf in 1896 with just apples, celery, and mayo dressing.
This apple snickers salad recipe is the best thing that has ever happened to salad! You can call it caramel apple salad, snicker salad, or pudding snicker apple salad. Whatever you call it, you know it will be delicious with such yummy ingredients.
The tart granny smith apples are the perfect balance to the sweetness of the pudding mix, sugar, and cool whip. This delicious treat can be made and served in minutes with very little prep time and only a handful of ingredients. The creamy pudding mixed with whipped cream makes it a five-star treat.
If you are looking for some other apple recipes, we have them! Try this easy dessert recipe for fried apples cooked in butter and spices. Or you may like our air fryer apple fries recipe made with gala apples coated in graham crackers, brown sugar, and cinnamon.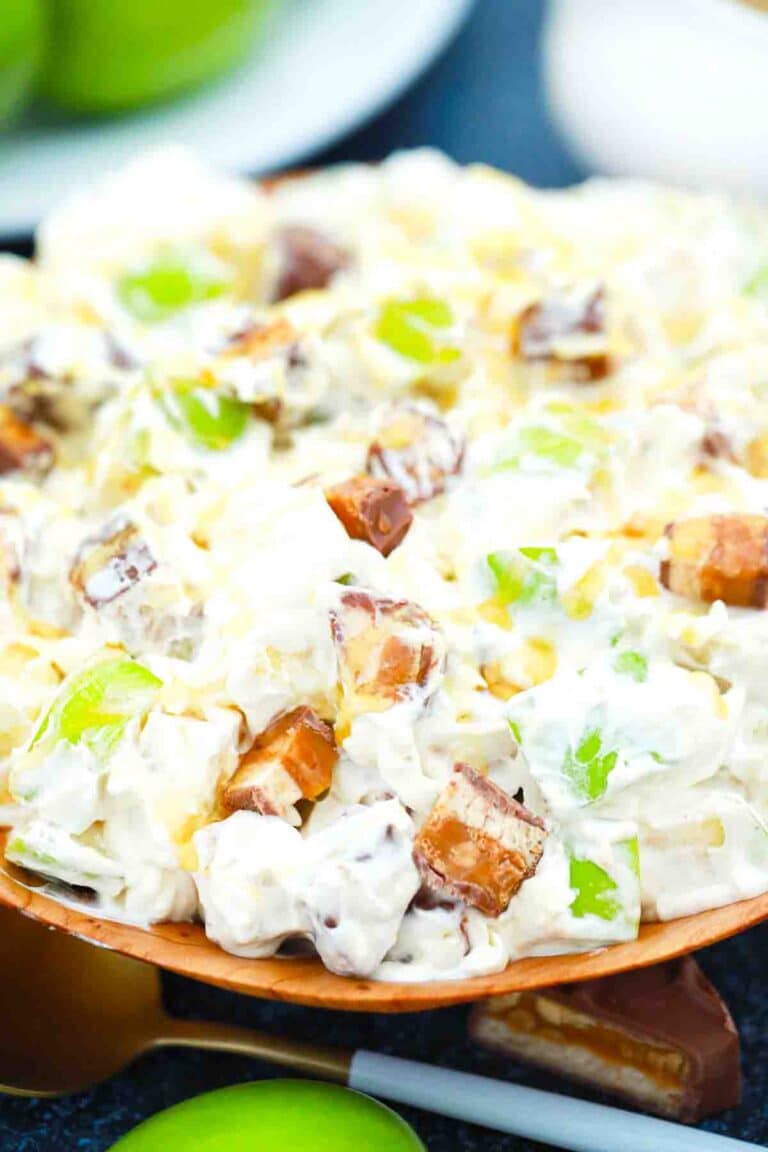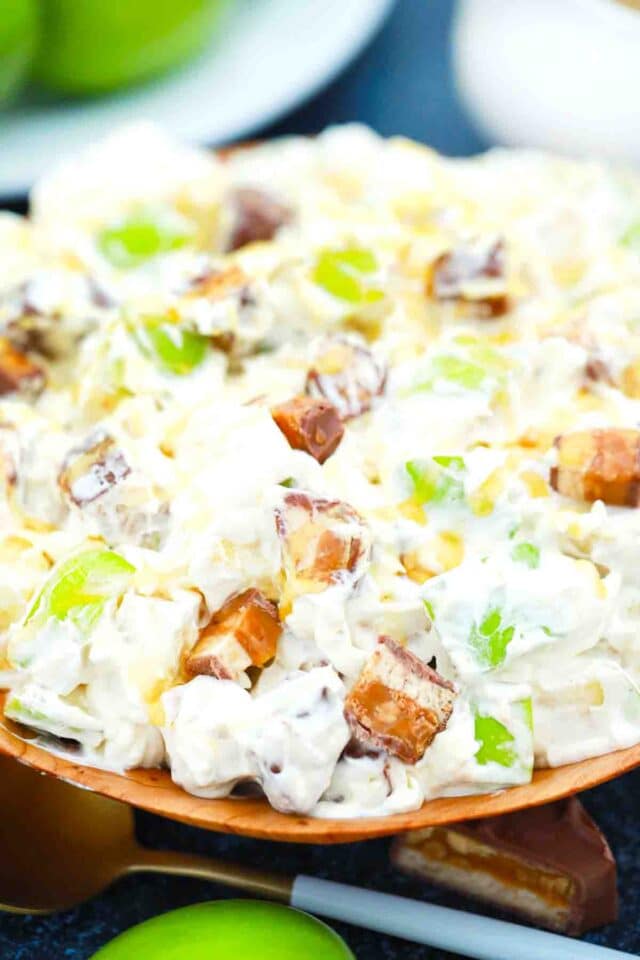 Ingredients needed:
These are all of the ingredients you will need to make this dessert salad recipe. When you are ready to begin, scroll down to our recipe card for the instructions and measurements.
Snickers candy bars
Cream cheese: Softened to room temperature.
Large Granny Smith apples
Instant vanilla pudding mix
Milk: We used whole milk, but you can use what you prefer.
Caramel sauce
Cool whip: Or any whipped cream.
Powdered sugar: Or confectioners' sugar.
How to make snickers apple salad from scratch?
Mix the pudding and milk: First, mix together the vanilla pudding and milk in a large bowl.
Fold in the whipped cream: Next, fold in the whipped topping gently.
Beat and combine: Then, in another bowl, beat the cream cheese and sugar until it is smooth. Then add it to the pudding mixture.
Add the apples and candy bars: After, peel and chop the apples and snickers candy bars into bite-sized pieces before folding them into the mix.
Serve with caramel sauce: Lastly, drizzle caramel sauce on top before serving.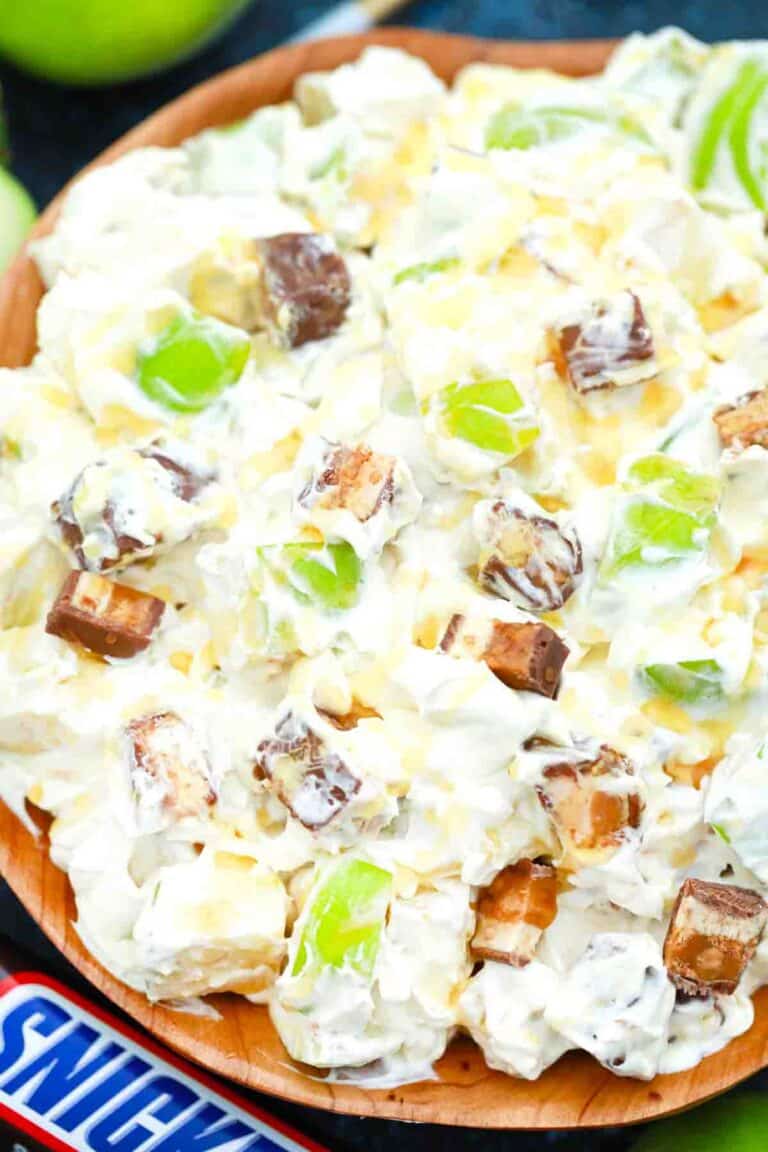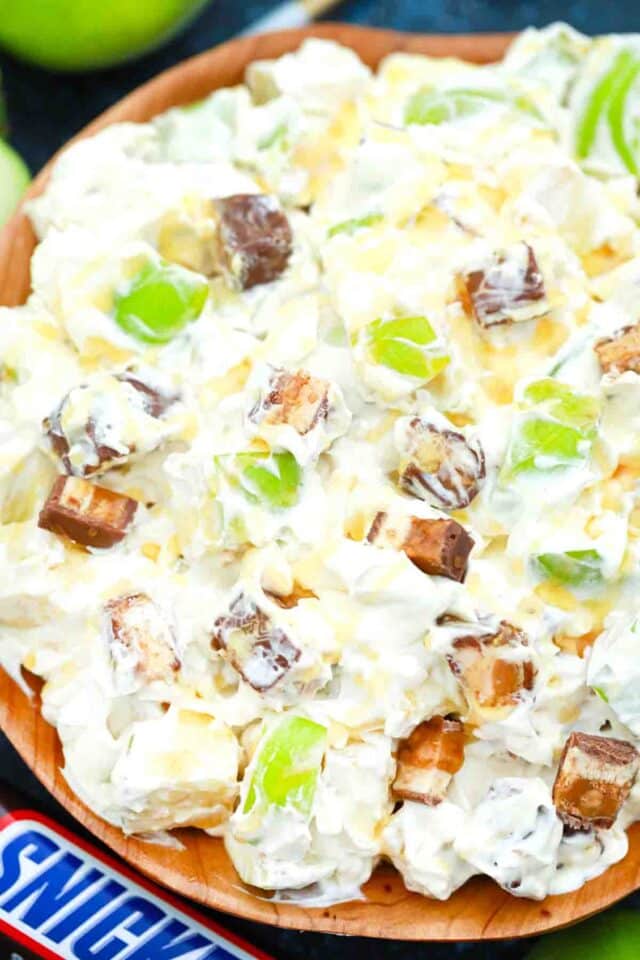 Recipe variations:
Different flavor: You can make this apple salad recipe uniquely your own by choosing your own favorite flavor. Chocolate or butterscotch pudding would be phenomenal.
Other flavors: Other choices that would be delicious are white chocolate or cheesecake flavor pudding mix.
Different candy bars: Instead of chopped snickers, you can use your own favorite candy bar like Milky Way, Twix, or Three Musketeers.
Other fruit: Feel free to use other fruit that you like in this recipe like strawberries, blueberries, or bananas. Mix them all together and make a snickers fruit salad.
Add nuts: Make your snicker apple salad crunchy by adding some chopped pecans or walnuts.
Chocolate: Those who love chocolate will appreciate some chocolate chips and chocolate syrup mixed in.
Less fat: For less fat and fewer calories, you could use vanilla Greek yogurt instead of cream cheese.
How to serve:
Our snicker apple salad recipe is an easy dessert you can make right now. All you need is chopped apples and snickers bars with a few other ingredients to make this snickers salad. Check out some of our awesome serving ideas or share some of your own in the comments section at the bottom of the page.
Feel free to use another sauce like butterscotch or chocolate on top. Or you do not have to use any sauce at all. This dessert salad is delicious either way.
One of our favorite dishes to have with this salad is this pan-roasted swordfish. It only takes 20 minutes to prepare so you can have swordfish and our snickers apple salad in less than 30 minutes!
This is a great idea for a healthy but sweet dessert for a birthday or graduation party.
Serve this chilled apple salad at your next backyard barbecue with a pitcher of our blackberry lemonade.
You will also find that it makes an awesome appetizer for game day with cheese and crackers.
You could even serve this as a side dish for breakfast of eggnog waffles and sausage.
Add a dollop of this delicious caramel apple salad to a bed of lettuce for a different kind of salad.
It can also be the perfect topping for ice cream, yogurt, or pudding.
This is an excellent way to get rid of the leftover Halloween or Christmas candy you have left. You can use a variety of flavors and types.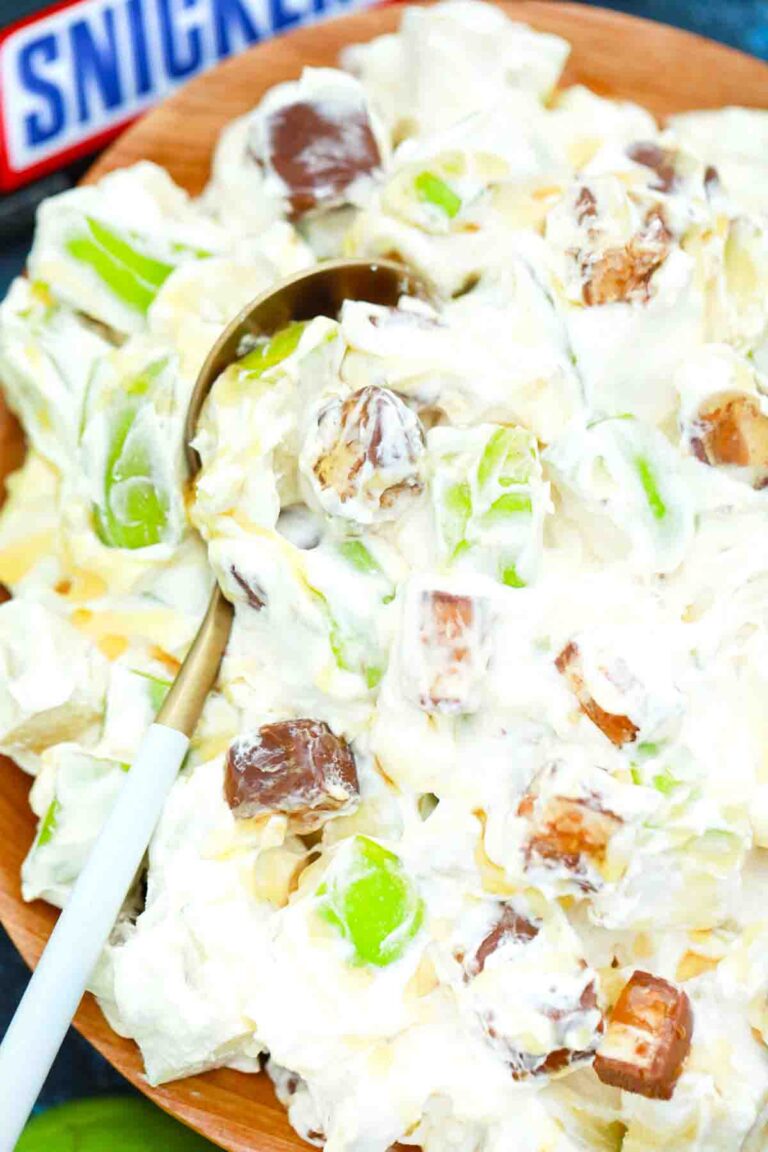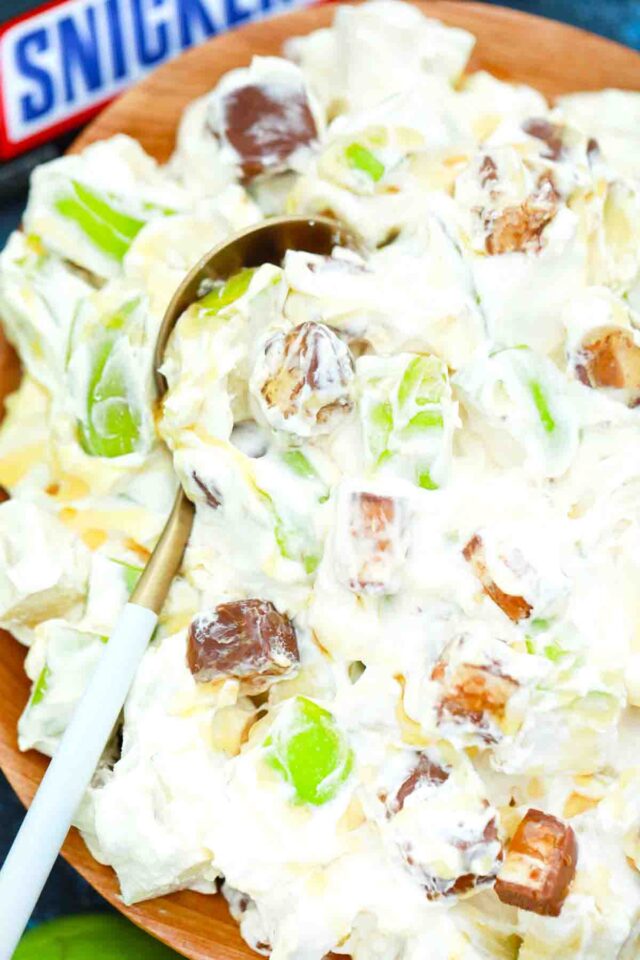 Frequently asked questions
What are the best apples for this recipe?
We think it is best to use tart apples like granny smith to balance out the sweet flavors of the candy, powdered sugar, and pudding mixture. However, you could also use Jonagold, Pink Lady, or Jazz apples. They are all firm and tart as well. Other good choices are Fuji, Honeycrisp, and Gala apples. Whatever you happen to have on hand will work.
Do I need to peel my apples for this salad?
Even though this recipe calls for peeling, you can certainly make this apple snickers salad without peeling your apples. If you enjoy eating the peeling when you eat apples, there is no reason why you would have to peel them for this salad recipe. In fact, it is the peeling that has the most vitamins and minerals with 110% more vitamin C and 300% more vitamin K.
Why do apples turn brown when they are cut?
When apples are cut, they are exposed to oxygen (air) that causes the enzymes to react. It is a biochemical reaction that creates oxidized polyphenols that react with amino acids to produce brown melanins. This also happens with eggplants, bananas, and pears. To keep them from browning, you can soak your apples in any kind of citrus juice, ginger ale, or even salt water.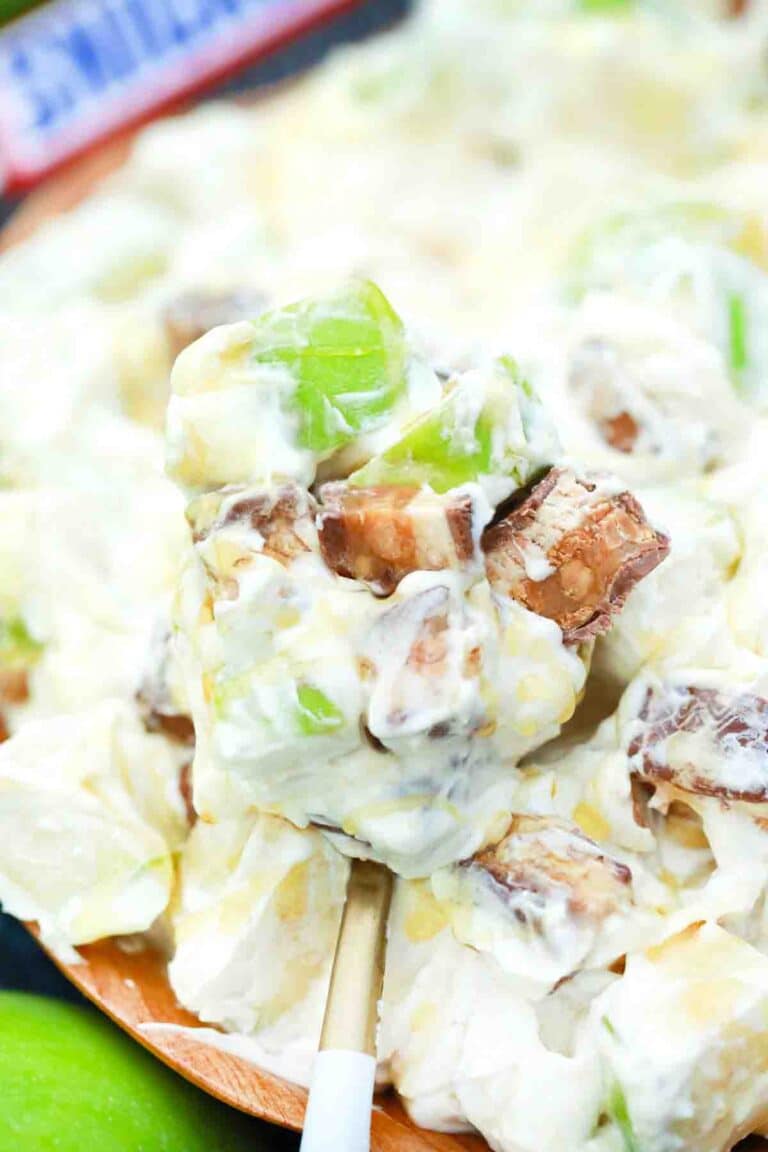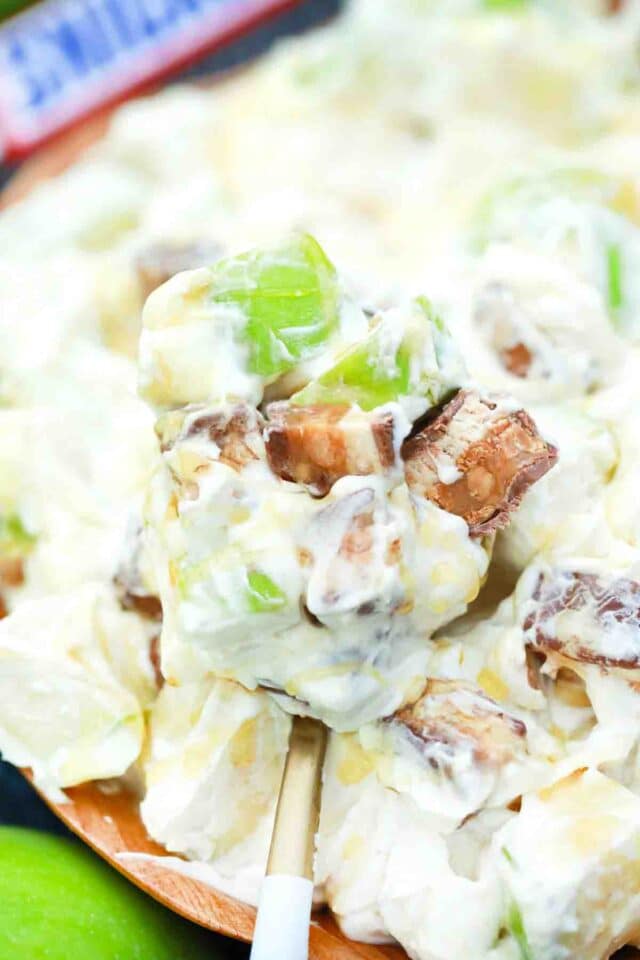 What is the nutrition information in this recipe?
Each serving of snicker apple salad has 610 calories, 88 grams of carbohydrates, and 27 grams of fat with 8 grams of monounsaturated fat, 2 grams of polyunsaturated fat, and 13 grams of saturated fat. It also contains 53 milligrams of cholesterol, 371 milligrams of sodium, and 70 grams of sugar. But you also get 8 grams of protein, 6 grams of fiber, 159 milligrams of calcium, and 781 units of vitamin A.
How to store leftovers:
Store: To store, put your leftover apple snickers salad in the fridge in an airtight container and it will stay fresh for up to three days. But the apples may still brown even if you soak them in lemon juice. However, this does not affect the taste.
Freeze: You can also freeze your leftover snickers apple salad. Put it into a freezer bag and push all of the excess air out before closing. It will stay good for the next three months in the freezer.
Thaw: For best results, let your frozen apple caramel snickers salad thaw in the fridge overnight before serving.
Recipe tips:
Try to chop the apples and snickers into bite-size pieces so they are easy to eat.
Soak your chopped apples with lemon juice or ginger ale so they do not turn brown. After they soak, pat dry your apples so they do not add moisture to the salad.
Instead of chopped apples, you can use apple slices for a different texture.
Make sure you get the ready-to-serve pudding mix and not the kind you have to cook.
Why not make a double batch in different flavors? You can use one package of vanilla and one package of chocolate or whatever other flavors you like.
Candy bars are much easier to chop if you freeze them first.
Another way to chop your candy bars easier is by using a food processor.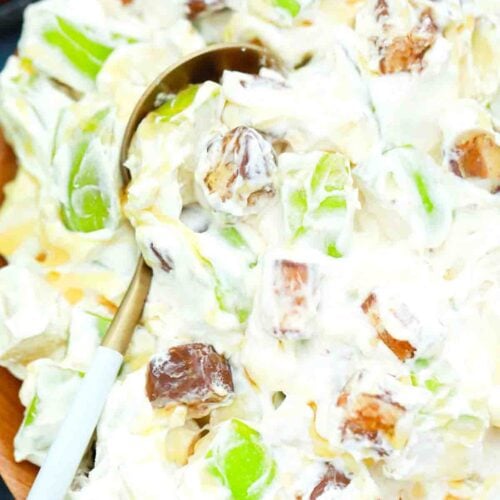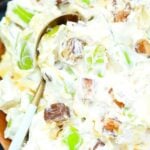 Snickers Apple Salad
Snickers Apple Salad is made using fresh and crunchy Granny smith apples and snickers candy bars in a sweet and creamy mixture.
Keyword:
Snickers Apple Salad
Ingredients
5

large Granny Smith apples

chopped

5

Snickers bars

chopped

1

package

cream cheese

softened

1/4

cup

powdered sugar

8

oz

cool whip

3.4

oz

box vanilla instant pudding

1/2

cup

milk

caramel sauce
Instructions
In a large bowl mix milk and pudding per box directions, then fold in the cool whip.

In another medium bowl, beat cream cheese and powdered sugar, and after that stir into the pudding mixture.

After that, using a rubber spatula fold in the chopped apples and snickers.

Drizzle the salad with caramel sauce on top and serve cold.
Nutrition Facts
Snickers Apple Salad
Amount Per Serving
Calories 692
Calories from Fat 189
% Daily Value*
Fat 21g32%
Cholesterol 22mg7%
Sodium 379mg16%
Potassium 586mg17%
Carbohydrates 121g40%
Protein 9g18%
Vitamin A 390IU8%
Vitamin C 11mg13%
Calcium 180mg18%
Iron 1mg6%
* Percent Daily Values are based on a 2000 calorie diet.