In-n-out Sauce Copycat recipe
In-N-Out Burger, a beloved fast-food chain with a cult-like following, owes much of its popularity to the mouthwatering taste of its burgers and fries. Among the many elements that set In-N-Out apart is its signature in-n-out sauce. The sauce is creamy, and flavourful, with tangy condiments that add a burst of flavor to every bite. This is the perfect topping for any type of burger, fries, and more.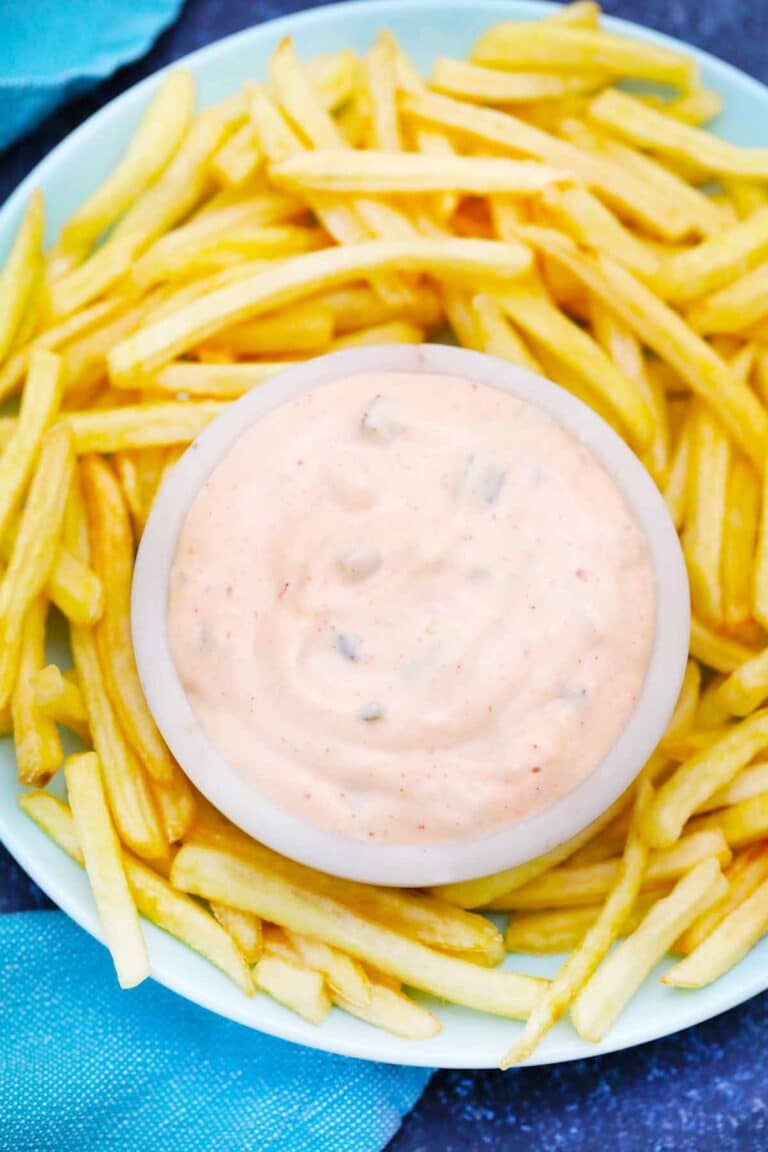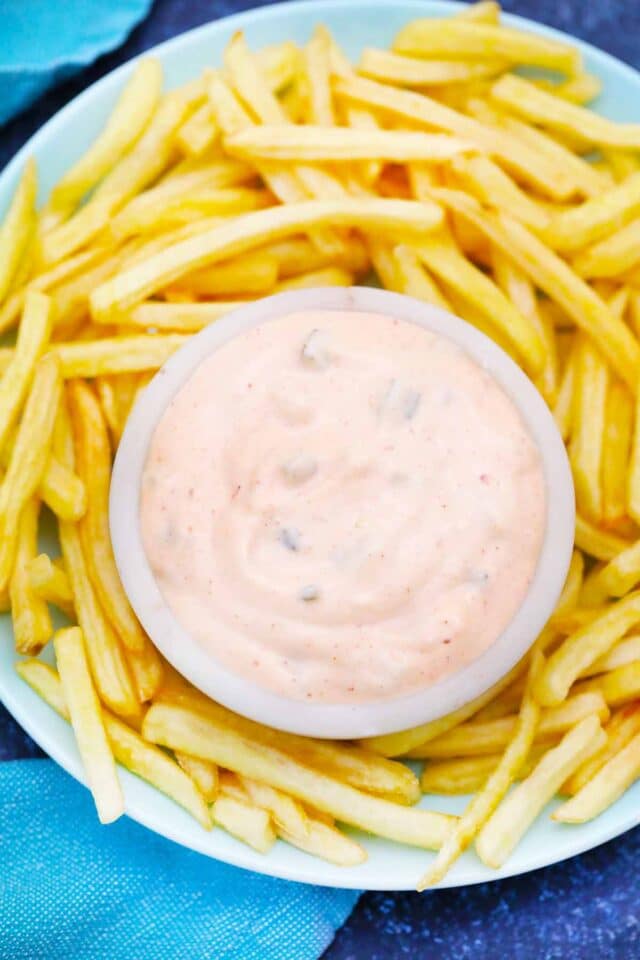 Whether you want to use it as topping on burgers, sloppy joes, or as a dipping sauce for fries or sweet potato chips, this sauce is for you.
In-N-Out Burger was founded by Harry and Esther Snyder in Baldwin Park, California, in 1948. From the very beginning, the Snyders aimed to provide customers with fresh, quality ingredients and a memorable dining experience. One of the ways they achieved this was by introducing their secret sauce, which has since become an integral part of In-N-Out's brand identity.
For me, this is the best sauce out there. I can never get enough of it, and I use it pretty much on everything. Also, I love it because it is super simple and easy to make, and it refrigerates well. I usually make a larger batch during the weekend to use during the week.
Now, with a few easy steps listed below, you can learn how to make the best dipping sauce that is identical to the real thing!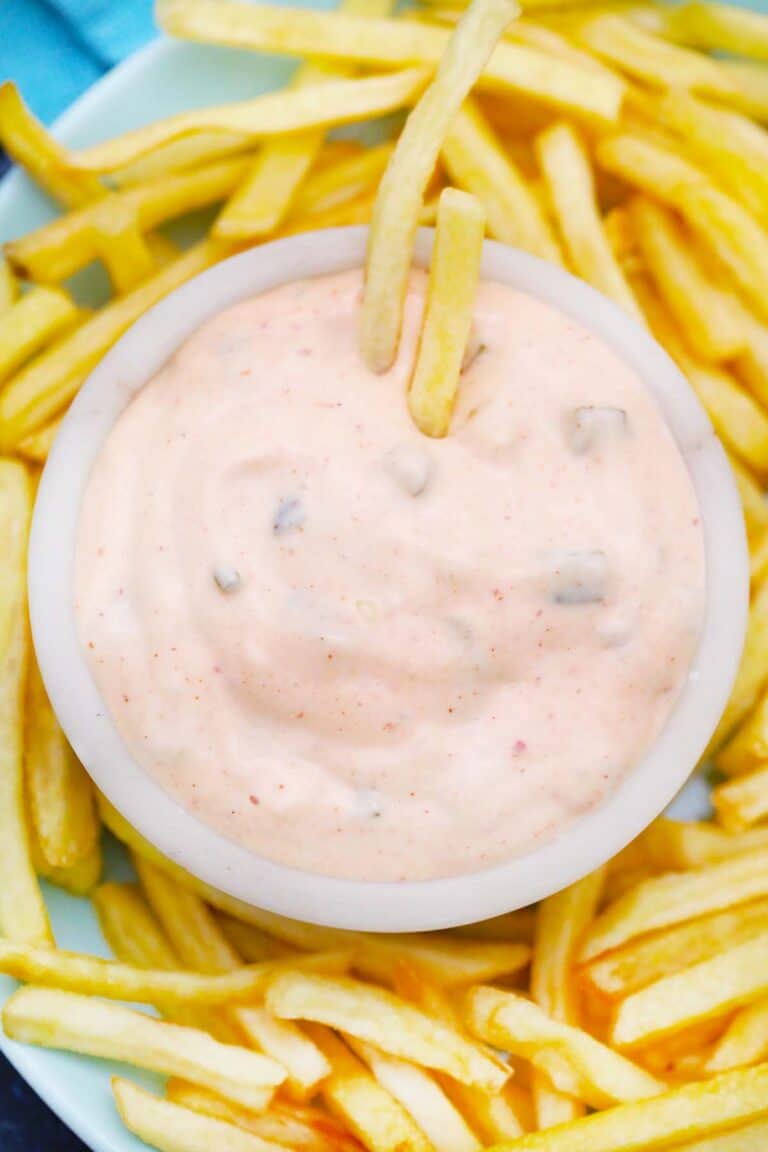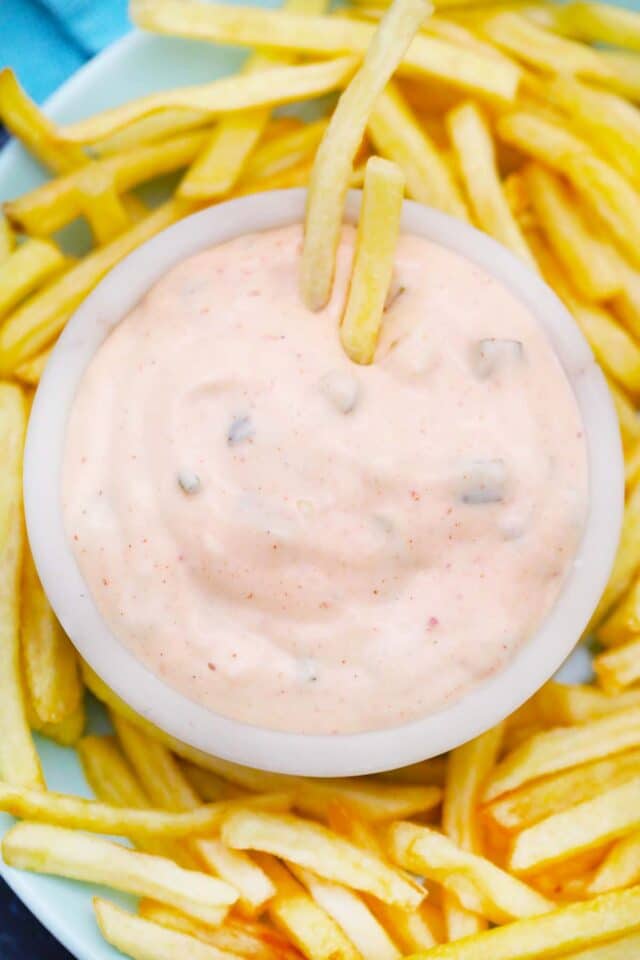 Ingredients of In-N-Out Sauce:
While the exact recipe of In-N-Out sauce remains a closely guarded secret, some of its key ingredients are well-known. The sauce is a delectable combination of the following components:
Mayonnaise: Feel free to use your favorite type. Mayonnaise serves as the creamy base of the sauce, lending it a smooth texture and richness.
Ketchup: Ketchup adds a touch of sweetness and a vibrant red color to the sauce.
Relish: Sweet pickle relish contributes a unique blend of sweetness and tanginess, along with tiny bits of diced pickles that provide texture.
Vinegar: A splash of vinegar provides the tangy kick that balances the sweetness and creaminess of the other ingredients.
Sugar: A hint of sugar enhances the overall flavor profile, making the sauce slightly sweet.
Salt and Pepper: These seasonings are crucial for balancing the flavors and adding depth to the sauce.
How to make in-n-out burger spread?
Mix Mayonnaise and Ketchup: In a bowl, combine the mayonnaise and ketchup. Whisk them together until they are well incorporated.
Add Sweet Pickle Relish: Next, add the sweet pickle relish to the mayonnaise and ketchup mixture. Stir it in thoroughly.
Incorporate White Vinegar and Sugar: Then, add the white vinegar and white sugar to the mixture. The vinegar adds tanginess while the sugar provides a touch of sweetness.
Season with Salt and Pepper: Lastly, season the sauce with salt and pepper to taste. Start with a pinch of each and adjust according to your preference.
Mix Thoroughly and chill: Stir all the ingredients together until well combined. Taste the sauce and adjust the seasonings, if needed, to achieve the desired flavor. For the best results, refrigerate the sauce for at least an hour before using.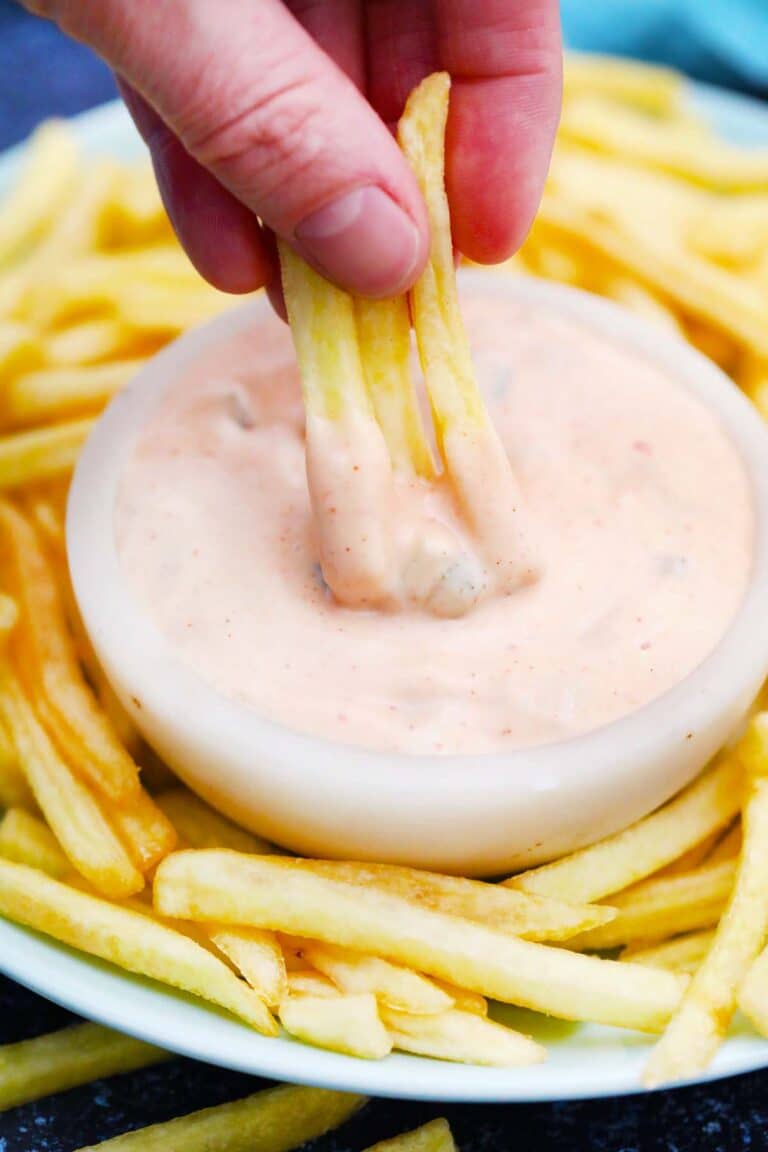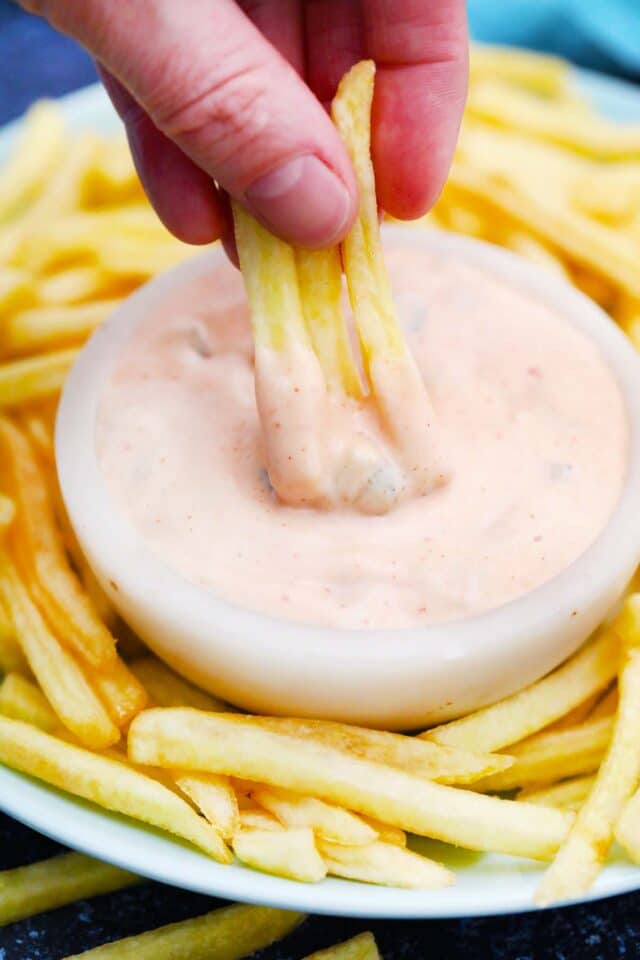 Variations:
While the classic In-N-Out sauce is a beloved condiment, you can make your own variation of it to put a unique spin on the iconic sauce. Here are some In-N-Out sauce variations to inspire your culinary experiments:
Smoky: For a smokier taste, add a teaspoon of liquid smoke to infuse the sauce.

Make it spicy: To add some spicy kick to it, simply add a dash of hot sauce, or some cayenne pepper to the mix. Just remember to start with a small amount and adjust to your desired level of spiciness.
Chipotle In-N-Out Sauce: Incorporate minced chipotle peppers in adobo sauce for a smoky and spicy flavor profile. This version is perfect for those who enjoy a smoky, spicy kick.
Creamy Garlic In-N-Out Sauce: Infuse your sauce with extra garlic flavor by adding minced or roasted garlic cloves. It's a great choice for garlic lovers.
Lemon Herb In-N-Out Sauce: Add zest to your sauce with fresh lemon juice and minced herbs like dill, parsley, or chives. This fresh and tangy variation is excellent as a dip for seafood or as a salad dressing.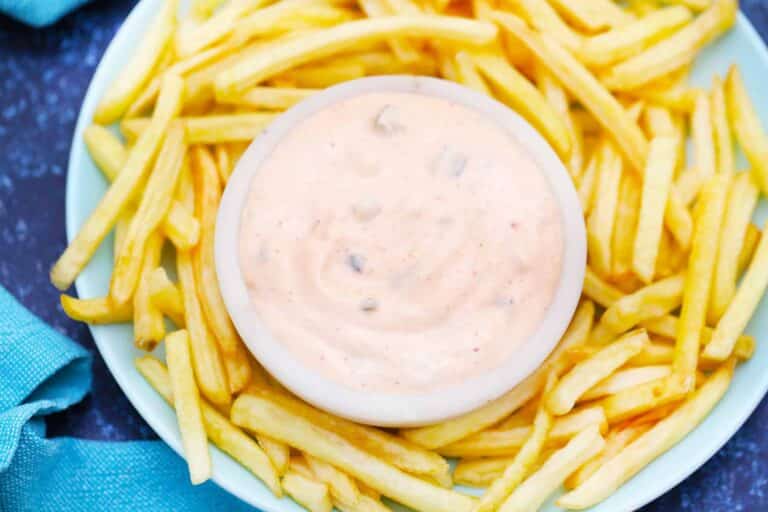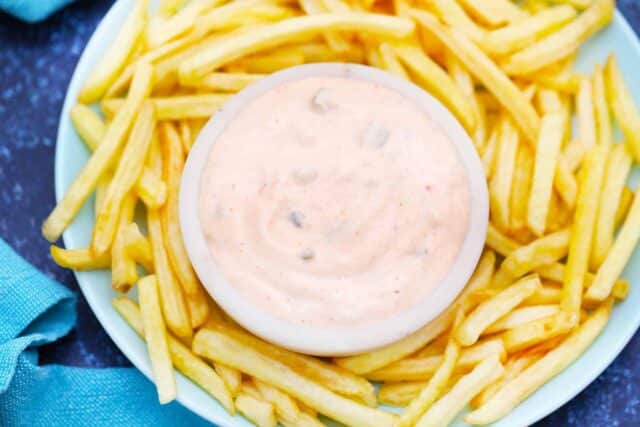 Frequently Asked Questions
Is In-N-Out sauce vegan or vegetarian?
Yes, this sauce is considered vegetarian. However, it is not vegan as it contains mayonnaise, which often contains eggs.
Can I use In-N-Out sauce as a salad dressing?
Yes, some people have adapted In-N-Out sauce into a salad dressing by thinning it with a little vinegar or water. It can add a tasty twist to your salads.
How long does it last in the refrigerator?
When properly stored in an airtight container, can last for a few weeks in the refrigerator. However, it's best to check for any signs of spoilage, like changes in color or odor, before using.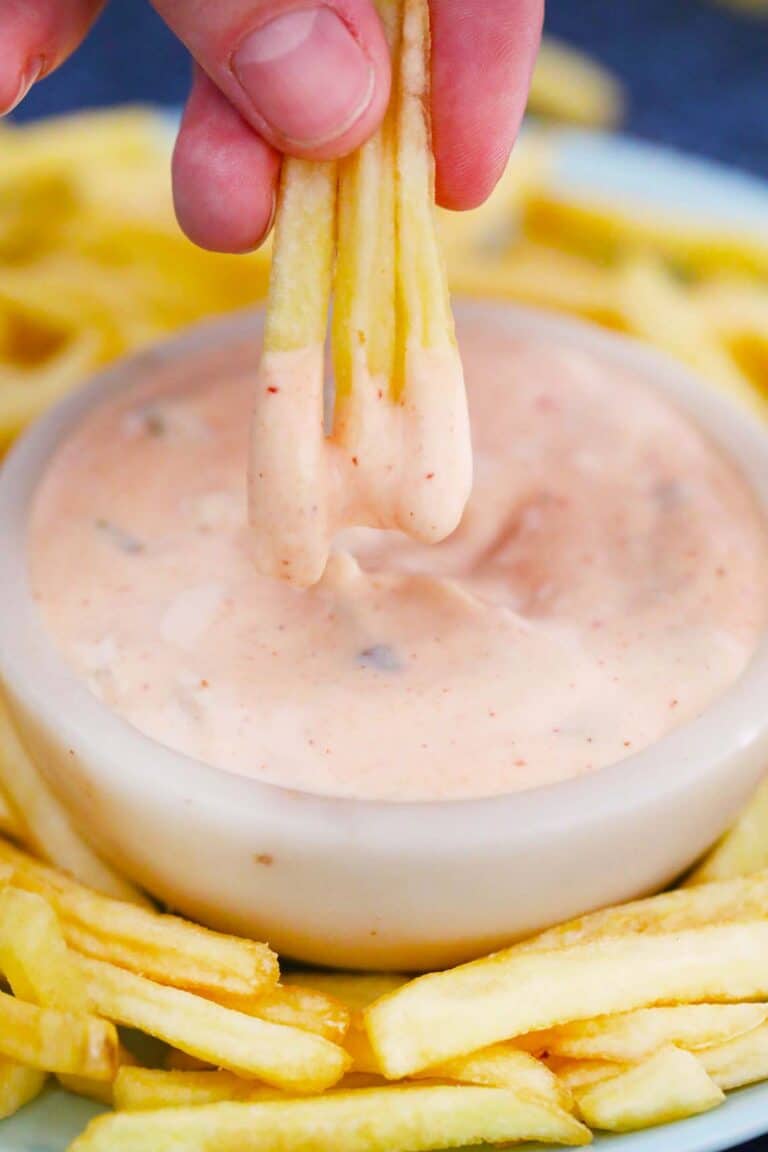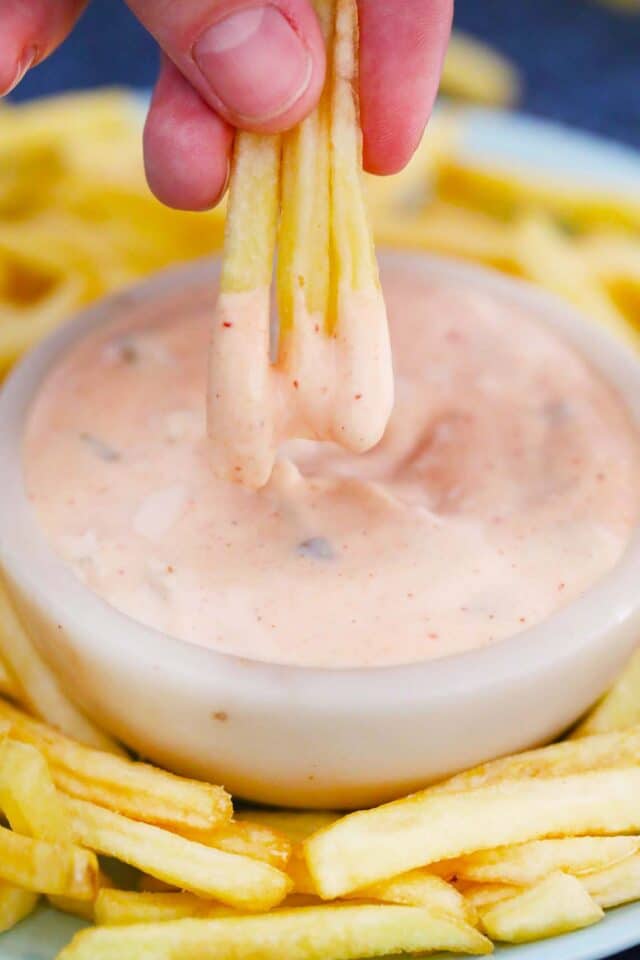 More delicious homemade sauces:
Recipe tips:
Use the right ratio of ingredients. While the exact ratios in the authentic In-N-Out sauce recipe are a closely guarded secret, you can start with the measurements provided in the recipe card below and adjust to your taste.

Do not overdo the mustard. Simply start with the recommended amount and add more if you desire a stronger mustard flavor.
Also, ensure to mix the ingredients thoroughly. This helps to evenly distribute the flavors throughout the sauce.
The sauce benefits from some time in the refrigerator to allow the flavors to meld together.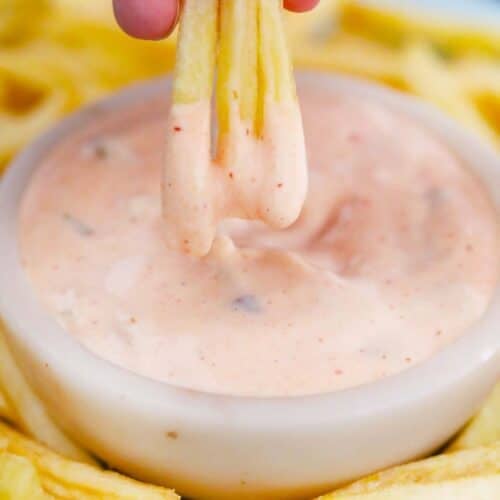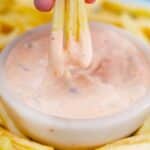 In-n-out Sauce Copycat
In-n-out Sauce copycat recipe is creamy, and flavourful, with tangy condiments that add a burst of flavor to every bite.
Course:
Sauces, Side Dish
Keyword:
In-n-out Sauce Copycat
Ingredients
1/2

cup

mayonnaise

3

tablespoons

ketchup

2

tablespoons

sweet pickle relish

1

teaspoon

sugar

1

teaspoon

distilled white vinegar

Salt and pepper

to taste
Instructions
In a small bowl, stir all the ingredients together until combined.

Season the sauce with salt and pepper to taste.

Cover the bowl with plastic wrap or a lid and refrigerate for one hour before serving.
Nutrition Facts
In-n-out Sauce Copycat
Amount Per Serving
Calories 144
Calories from Fat 126
% Daily Value*
Fat 14g22%
Cholesterol 8mg3%
Sodium 227mg10%
Potassium 26mg1%
Carbohydrates 5g2%
Protein 0.3g1%
Vitamin A 112IU2%
Vitamin C 0.4mg0%
Calcium 3mg0%
Iron 0.1mg1%
* Percent Daily Values are based on a 2000 calorie diet.