Big Mac Sauce is creamy, tangy, sweet, and savory at the same time! Enjoy your favorite dishes with this condiment from your favorite fast-food chain!
Who doesn't love McDonald's Big Mac? Didn't we all grew up liking the famous burger? And making its signature sauce from scratch with this recipe is just so convenient! Want more easy-to-make recipes? Check out my recipes for Cheesy Chicken Fajita Quesadilla, Homemade Caesar Salad, and Taco Tortilla Roll-Ups!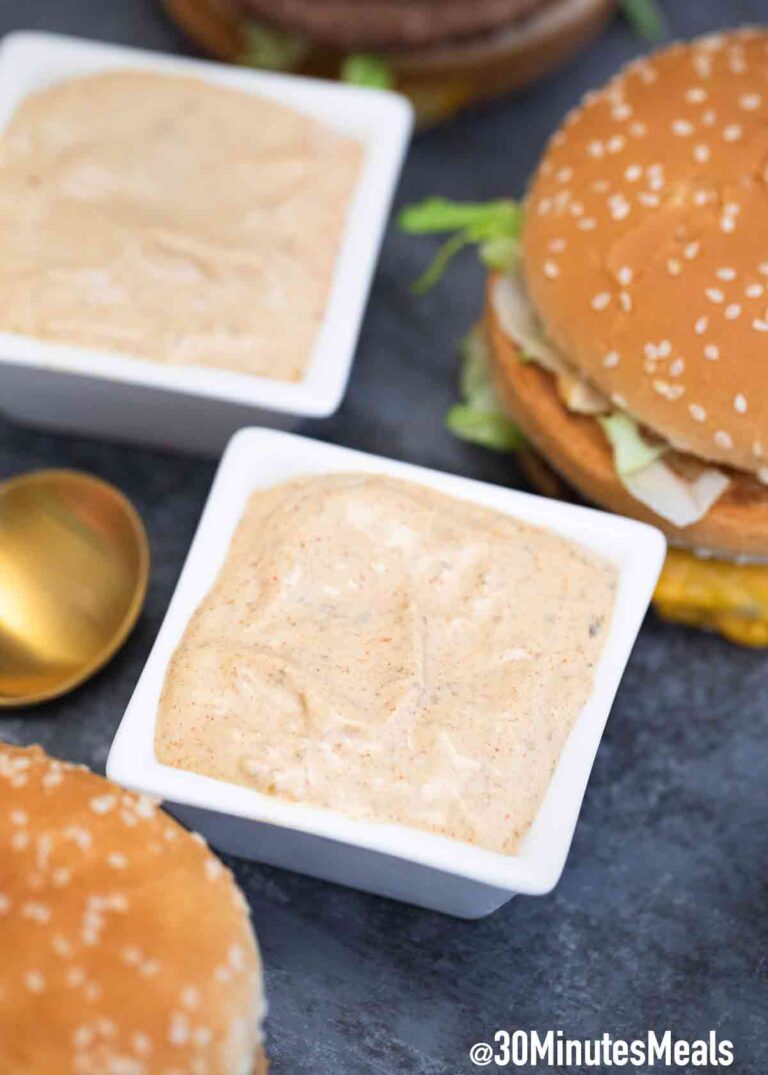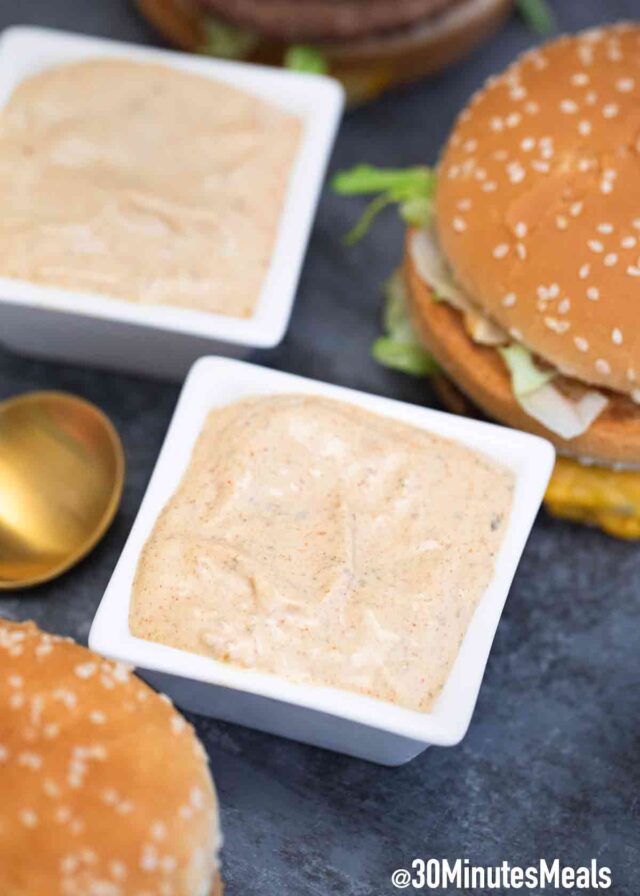 McDonald's Big Mac Sauce Copycat
This Big Mac Sauce recipe is my copycat version which is as yummy as the real thing but without the preservatives the real thing contains. At times, I even believe that my version is better!
Can you believe that this famous condiment has been known since 1968? The Big Mac was born on that year. And its staying power is proof that this sauce (and the burger itself) is delicious!
And it is best if you can make it on your own at home. With this recipe, you can make a homemade version any time that you crave it.
No more deliveries. No more going out to the nearest McDonald's. And it is a lot cheaper, too, than buying bottled ones in stores.
And you need only a few simple ingredients making it not only affordable but quite healthful, too.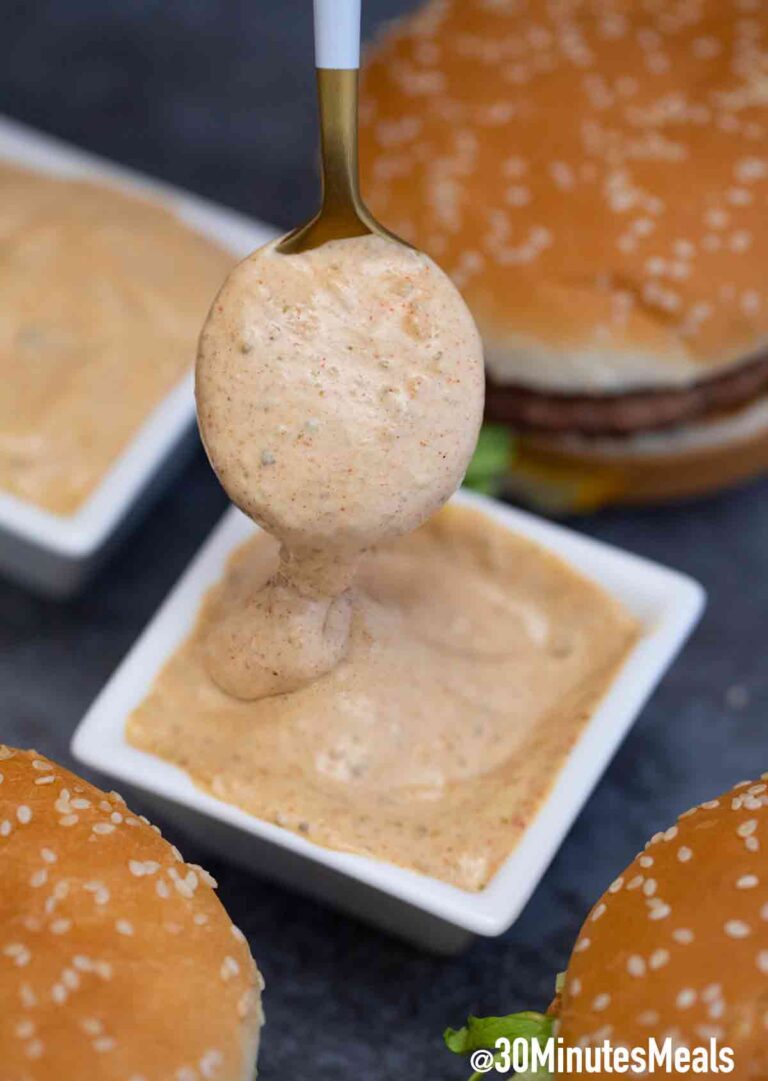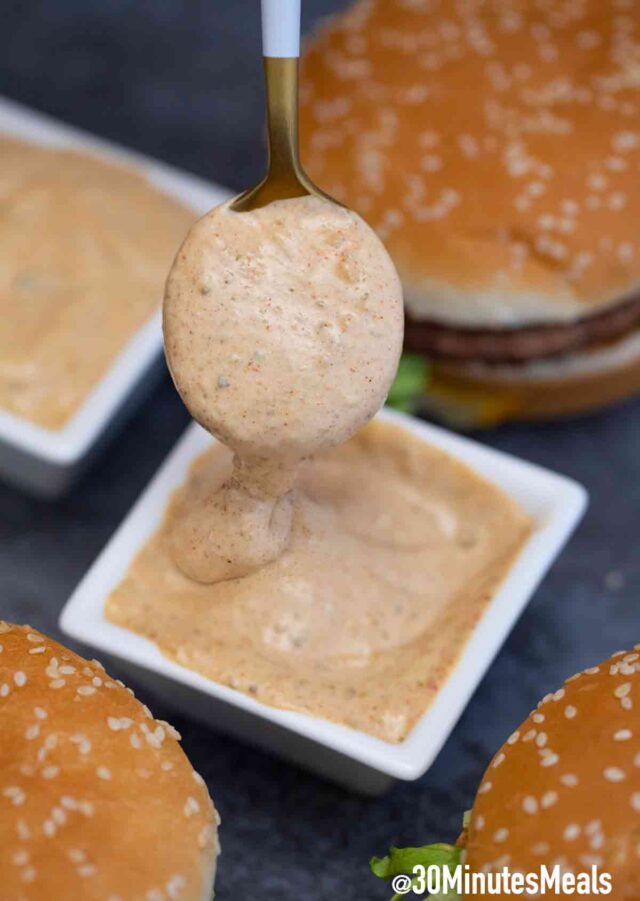 You see, you can never be sure what McDonald's put into their version. For sure, there would be some preservatives whose names are hard to pronounce.
But with anything homemade, you get to know what goes into your food. And if you want to adjust anything, you can freely do so!
Big Mac Sauce Ingredients:
mayonnaise – the creamy base of this condiment
yellow mustard – lends a bit of sweetness and spice
sweet relish – gives a sweet and tangy flavor
ketchup – a tiny amount of this makes the outcome turn pink
BBQ sauce – gives a bit of savoriness with a balance of saltiness, sweetness, and spice
apple cider vinegar – adds sweetness and tang
onion powder – add savoriness and depth of flavor
paprika – adds a bit of spice
salt – balances the flavors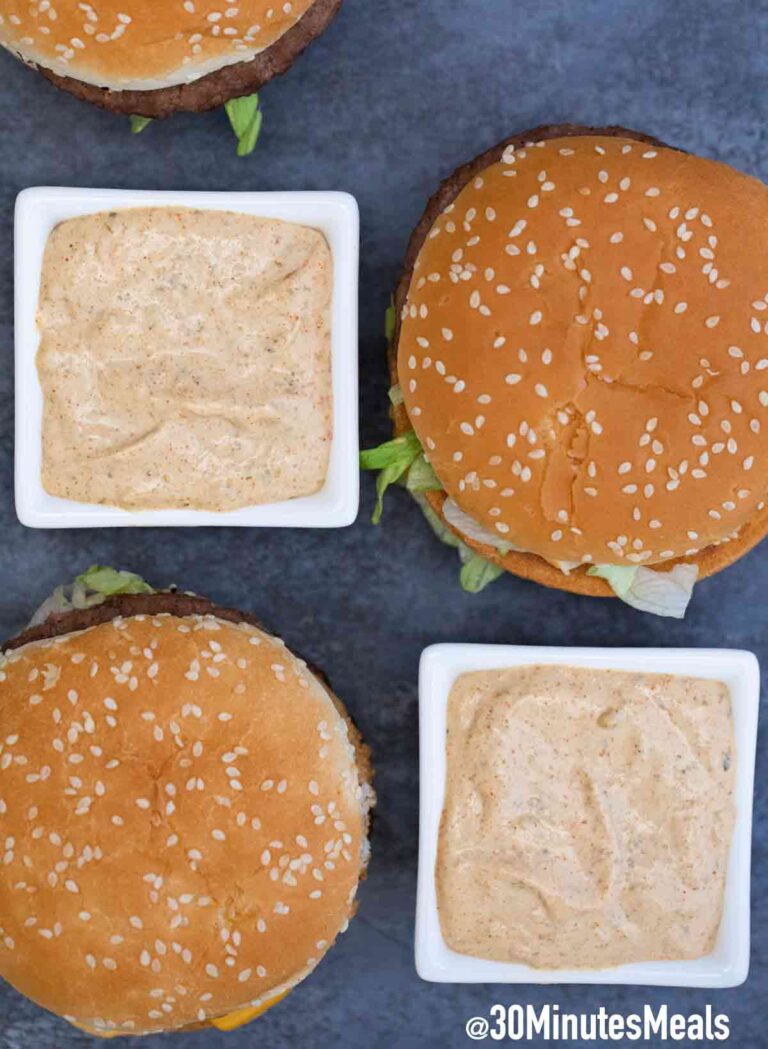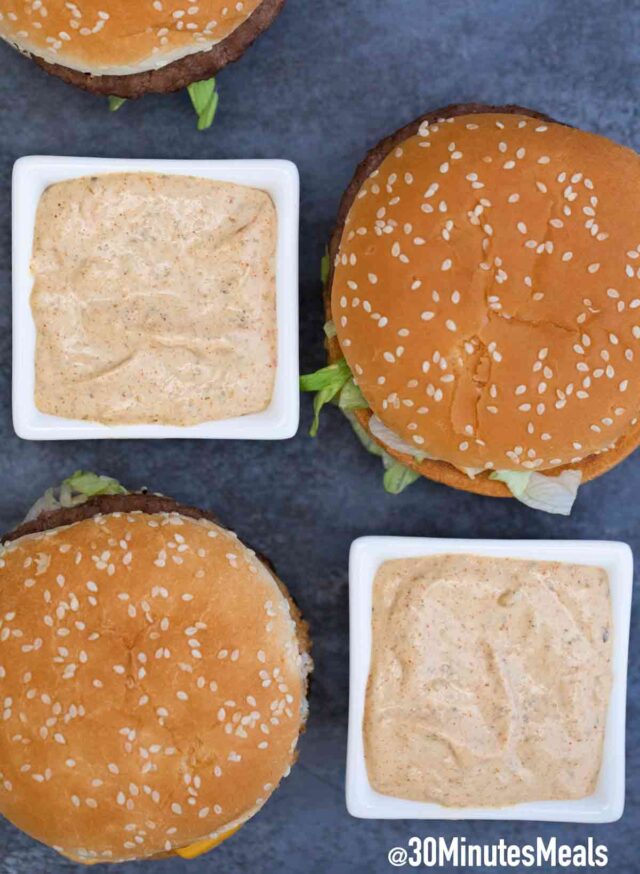 How to make Big Mac Sauce?
Combine: In a bowl, mix all the ingredients.
Chill: Put the mixture in a jar and seal. Allow the flavors to meld and redistribute throughout the mixture for 24 hours.
Serve: Serve and enjoy in a variety of ways.
Ways to serve Big Mac Sauce with: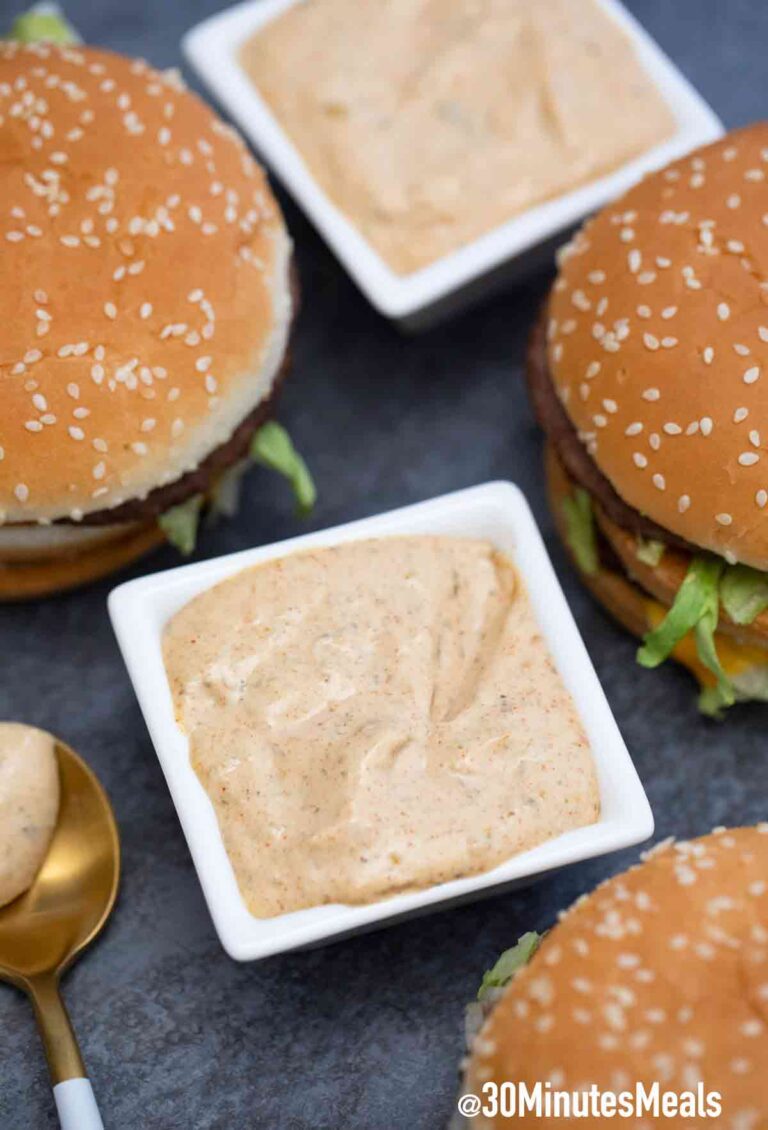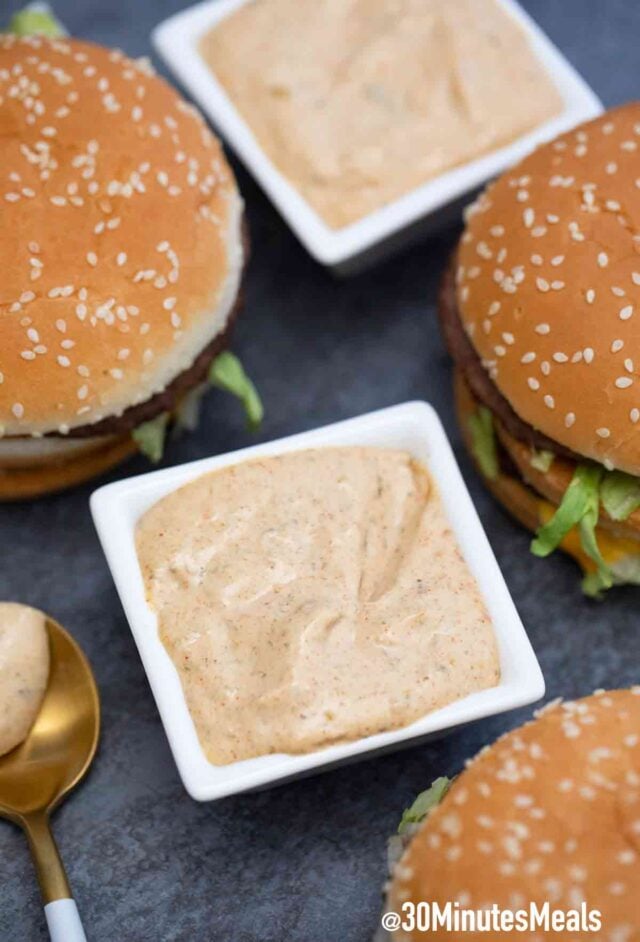 Is Big Mac sauce the same as Thousand Island?
While Thousand Island also has mayonnaise, ketchup, sweet pickle relish, onion, garlic, salt, and paprika, the Big Mac Sauce has no sugar and the flavor profile has more spice.
Both are creamy, though, and used extensively for fast-food favorites like burgers and anything grilled or fried. You can also use it in salads, just like Thousand Island dressing.
How to store?
This is best kept in a tightly closed glass container. It will last up to 2 weeks in the fridge.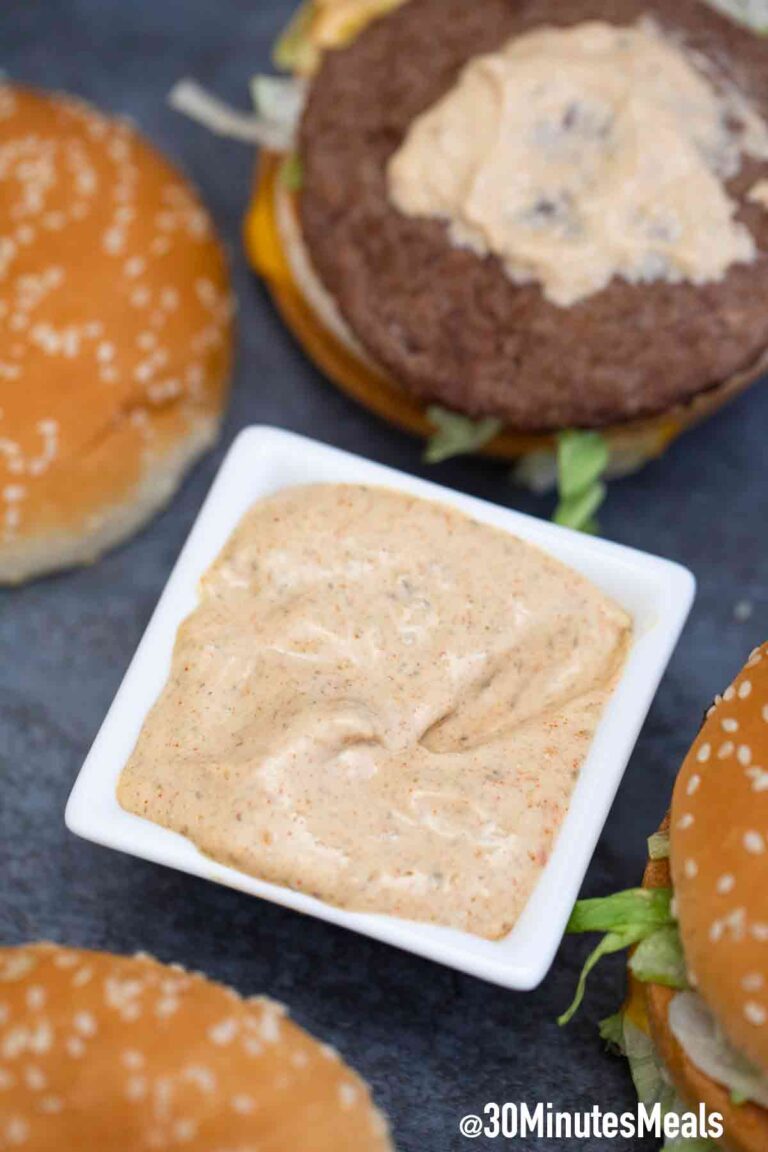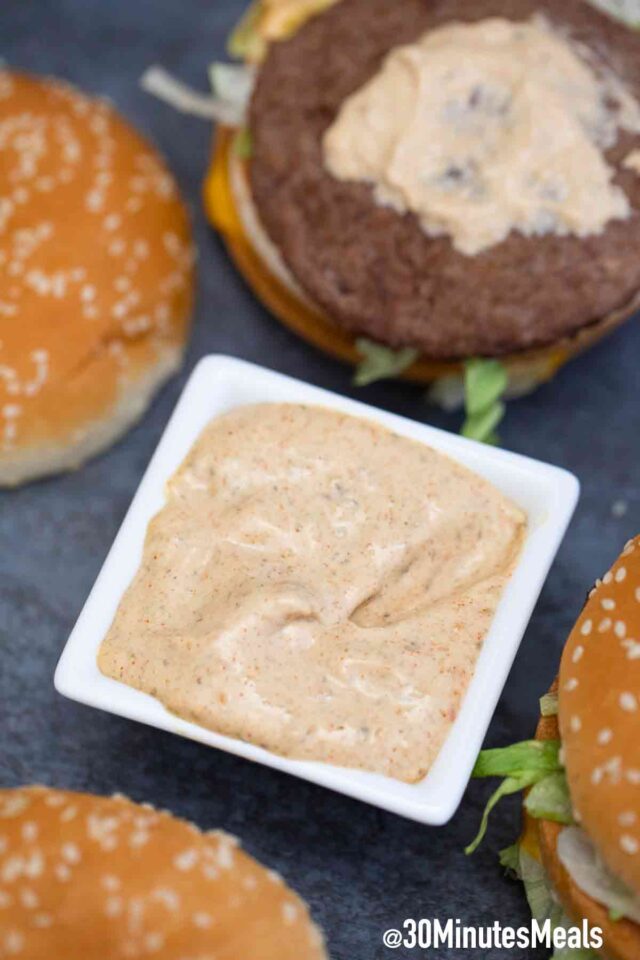 Recipe Tips:
Remember not to freeze it because the mayonnaise may separate.
While this version has no preservatives unlike its store-bought version, remember to consume it in moderation as it can still have as high as 210 calories.
In case you do not have onion powder, you may simply mince onions and also some garlic. There would be bits of these in the mixture. But the taste will be relatively the same, if not fresher.
Want more sauce recipes like this? Check out my easy salsa recipe and BBQ sauce recipe!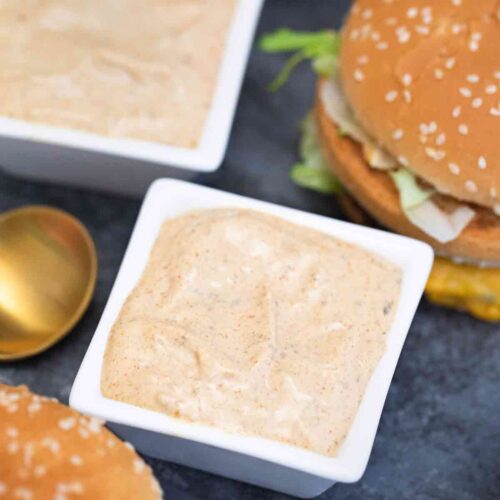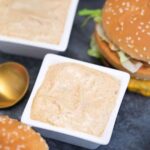 Big Mac Sauce Copycat
Big Mac Sauce is creamy, tangy, sweet, and savory at the same time! Enjoy your favorite dishes with this condiment from your favorite fast-food chain!
Keyword:
Big Mac Sauce Copycat
Servings
:
8
8 servings on burgers
Ingredients
1

cup

mayonnaise

1

tablespoon

yellow mustard

2

tablespoons

sweet relish

1

tablespoon

ketchup

1

teaspoon

BBQ sauce

1

teaspoon

apple cider vinegar

1/4

teaspoon

onion powder

1/2

teaspoon

paprika

1/8

teaspoon

salt
Instructions
In a medium bowl, combine all the ingredients until smooth.

Transfer to a mason jar and refrigerate for 24 hours before using it.

Use as a dip, topping on sandwiches, burgers or salads.
Nutrition Facts
Big Mac Sauce Copycat
Amount Per Serving
Calories 200
Calories from Fat 189
% Daily Value*
Fat 21g32%
Cholesterol 12mg4%
Sodium 289mg13%
Potassium 12mg0%
Carbohydrates 2g1%
Protein 1g2%
Vitamin A 135IU3%
Calcium 2mg0%
Iron 1mg6%
* Percent Daily Values are based on a 2000 calorie diet.