Puerto Rican Coquito Recipe
Puerto Rican Coquito is a creamy coconut drink with a bit of white rum seasoned with the warm spices of ginger, nutmeg, cloves, and cinnamon to make a sweet fall cocktail. Coquito means small coconut in Spanish, which makes sense since coconut is the main ingredient. If you want to try the best coquito recipe, this is the one.
Looking for another delicious holiday drink? Try this White Christmas Margarita made from one can cream of coconut, coconut rum, and tequila. Or for another tropical drink without alcohol, our Mango Pineapple Smoothie made with coconut yogurt, lime juice, and pineapple is thick and delicious. Sticking with the tropical taste, serve your coquitos with this Chicken Salad with Pineapple made with rotisserie chicken and cream cheese.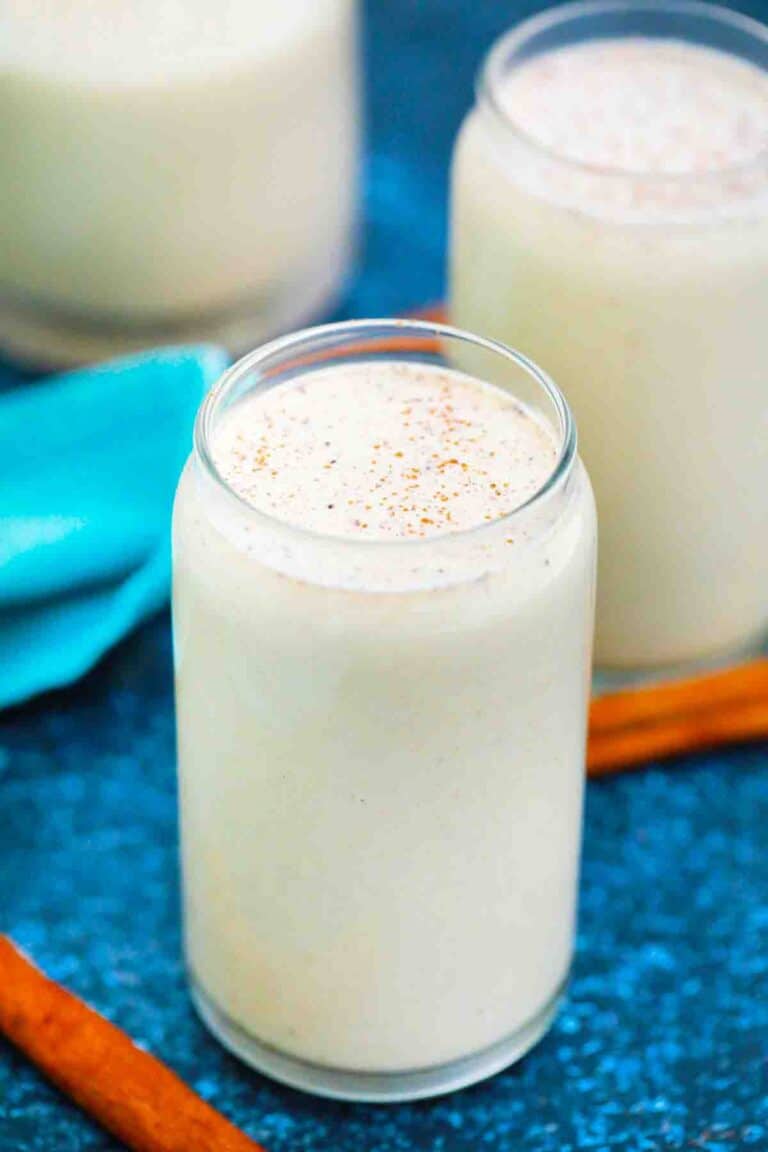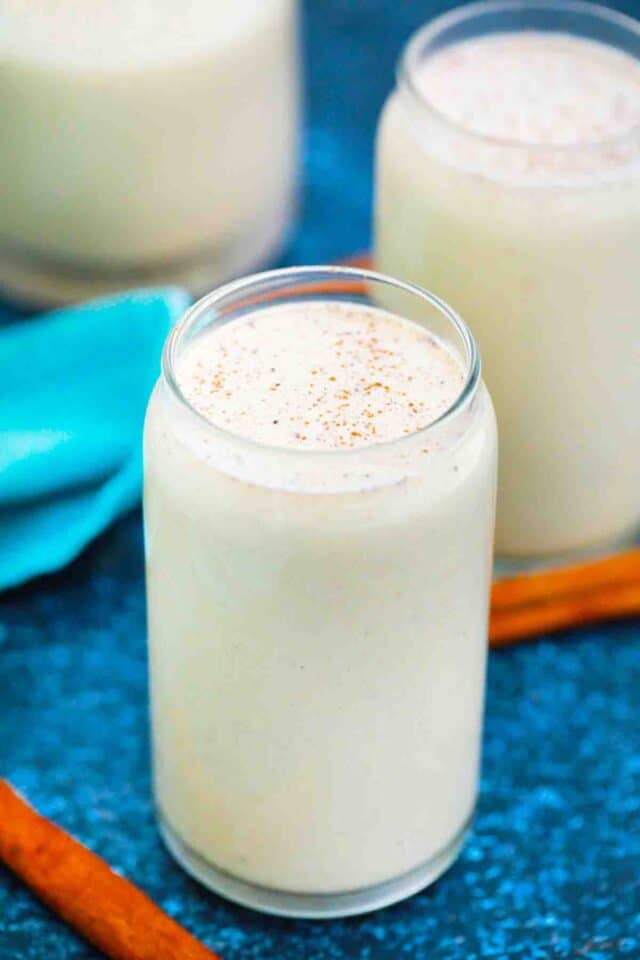 Is the coquito Puerto Rican? Actually, yes, the original recipe came from a Puerto Rican cookbook published sometime between 1950 and 1970. However, some say it goes back a lot further than that to when the Spaniards came to the US in 1775.
However, the facts are not clear. No matter when it was created, we know it was some time, somewhere in Puerto Rico. Also known as Puerto Rican coconut eggnog, this delicious drink is often served at holiday parties, but you can serve them anytime you like.
Those who do not drink alcohol can enjoy a virgin coquito with a teaspoon of rum extract for the same taste. This is really one of the best coquito recipes I have found so you should try it this holiday season.
Looking for more recipes? Our mango daiquiri is a fresh and tropical drink made from mangos, lime juice, white rum, and pineapple juice. This coquito recipe also goes well with this mango salsa recipe with a large bowl of tortilla chips. For a light tropical dessert, our pineapple fluff is divine with vanilla pudding and crushed pineapple.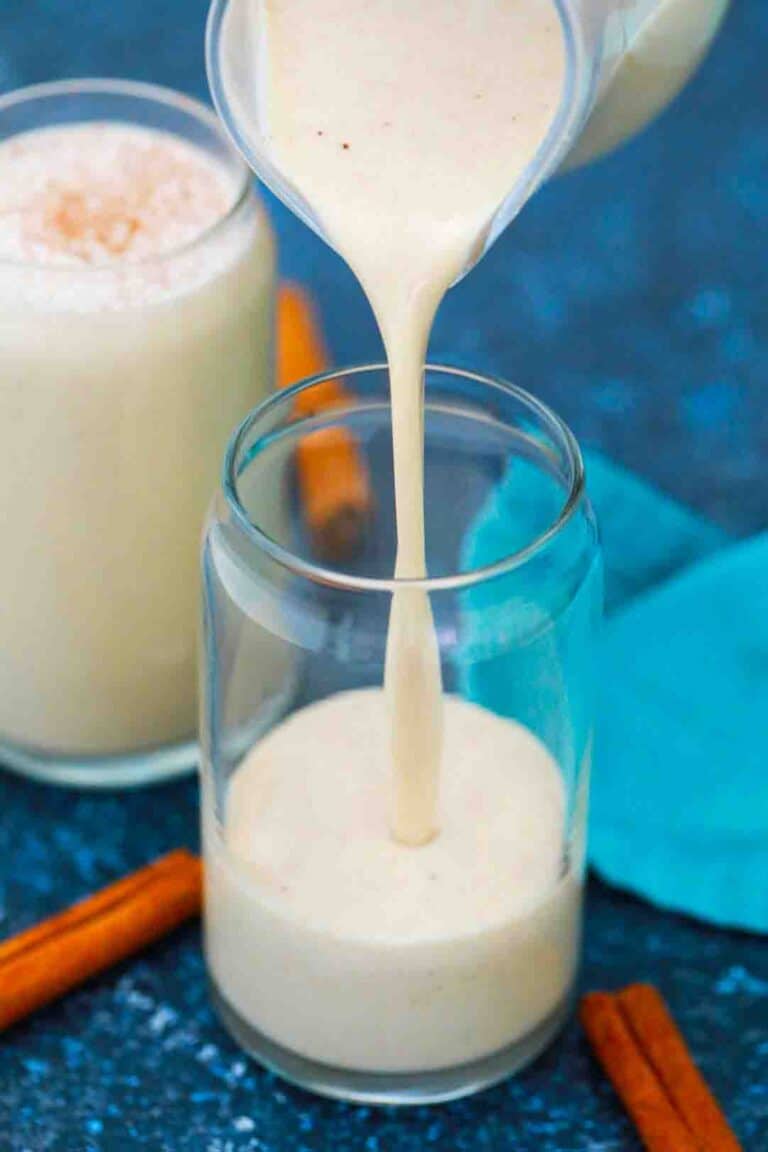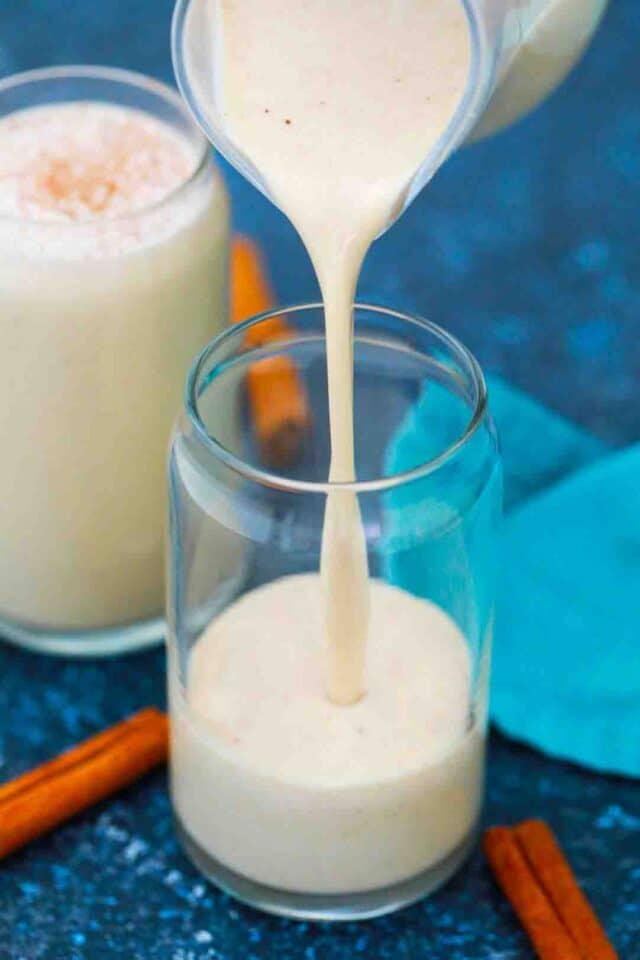 Ingredients needed:
To make this Puerto Rican coquito recipe, all you need are these simple ingredients. Then, when you are ready to make them, scroll down to our handy recipe card for exact measurements and details.
Evaporated milk
Sweetened condensed milk
Coconut milk
White rum or light rum: I prefer Don Q, but you can use your favorite.
Vanilla extract
Ground nutmeg
Ground cloves
Ground cinnamon
Ground ginger: To taste.
Cinnamon sticks: For garnish.
How to make Puerto Rican coquito from scratch?
Blend the three milks: First, add evaporated milk, coconut milk, and sweetened condensed milk in a large blender until it is well-combined.
Mix the rest: Then, add the rest of the ingredients and blend until it is thoroughly mixed together.
Add the cinnamon sticks: After, pour the mixture into glass bottles or a large pitcher, and add the cinnamon sticks before sealing.
Chill before serving: Finally, chill overnight and then shake vigorously before serving for the best flavor and consistency.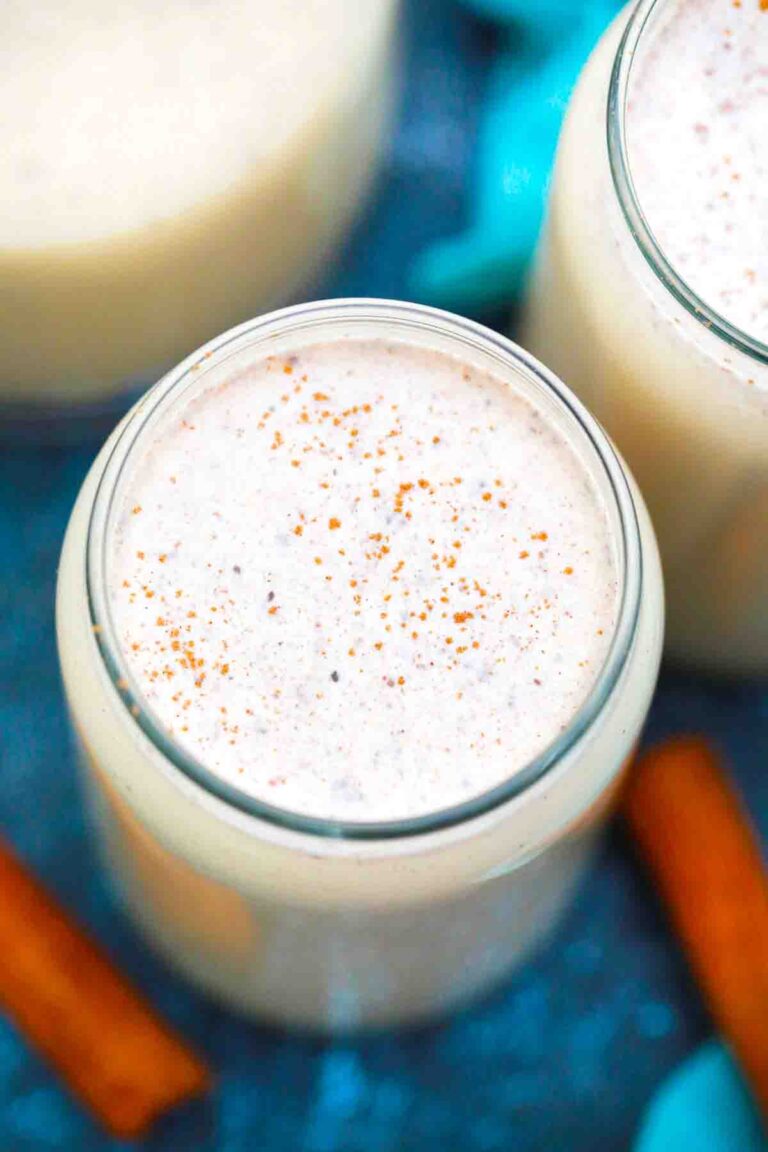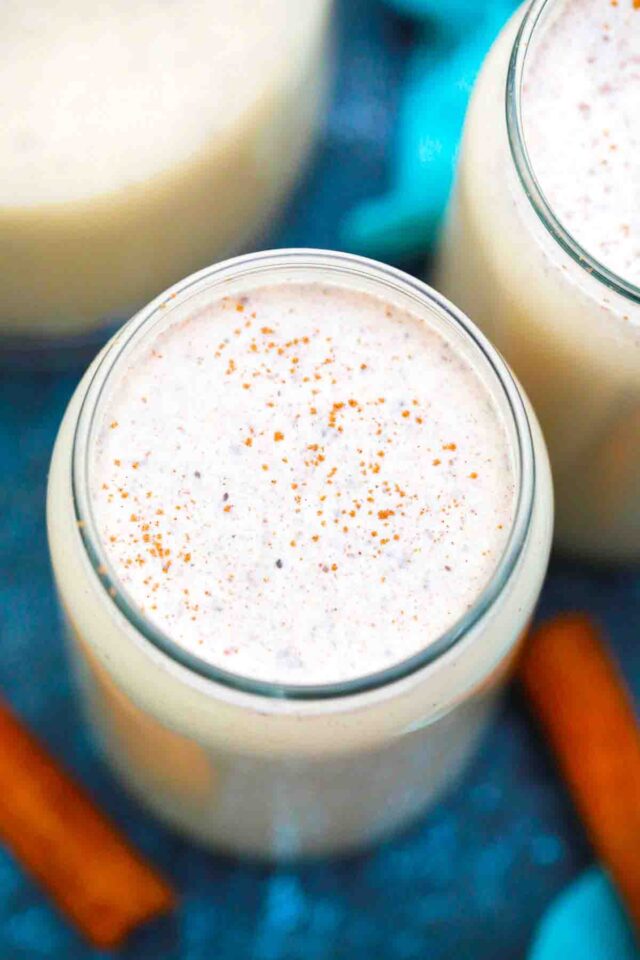 Recipe variations:
Cream of coconut: Add one-half cup of sweet cream of coconut to the recipe for a thicker drink with even more coconut flavor.
Other rum: Feel free to use another kind of rum like coconut-flavored rum, silver rum, spiced rum, or dark rum.
No rum: In fact, you can make a virgin non-alcoholic coquito by leaving out the rum. It is still delicious that way.
Cinnamon sticks: You can add another cinnamon stick for more cinnamon flavor or skip it completely if you want less cinnamon flavor.
Sweeten it up: Alternatively, adding 1/2 cup of granulated sugar makes your coquitos even sweeter.
Add some fruit: To make a drink with more tropical flavor, add some chopped mangos or pineapples.
Extracts: Add a dash of pineapple or mango extract for an even more tropical flavor.
More rum: If you want to make shots, add more rum and serve in small serving glasses.
Dairy-free: Make your coquitos dairy free by using cream of coconut instead of sweetened condensed milk and coconut cream instead of evaporated milk.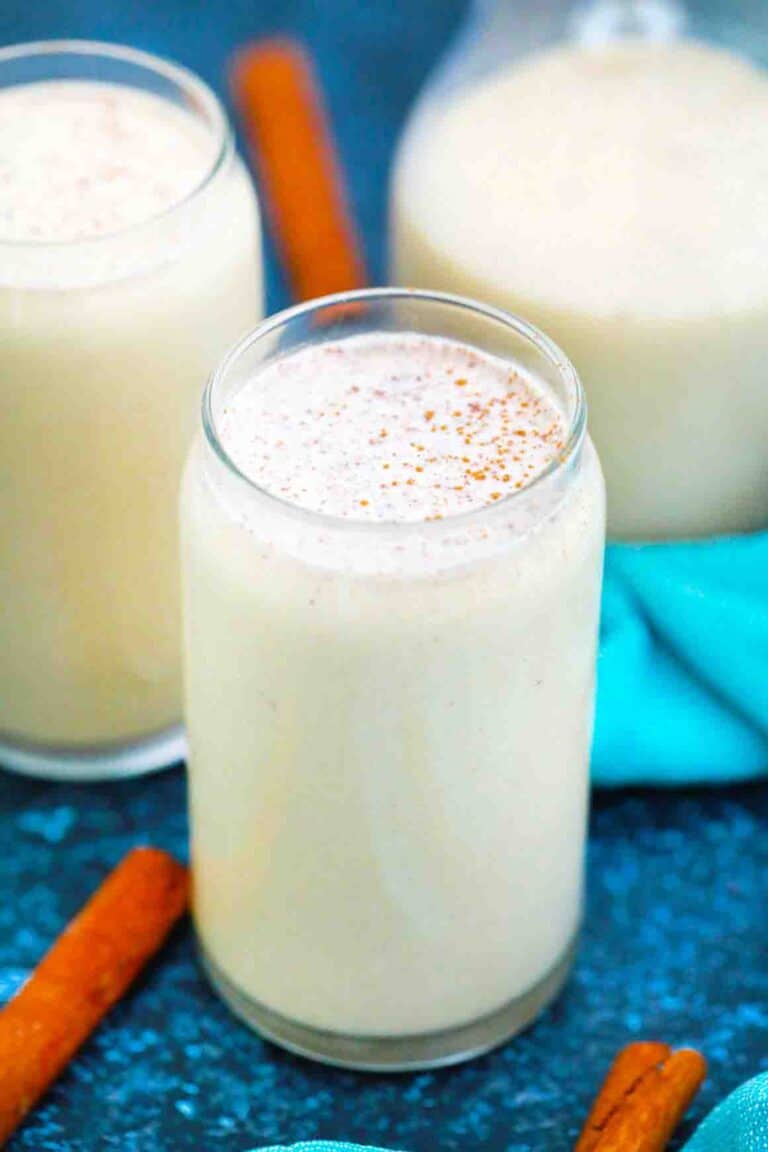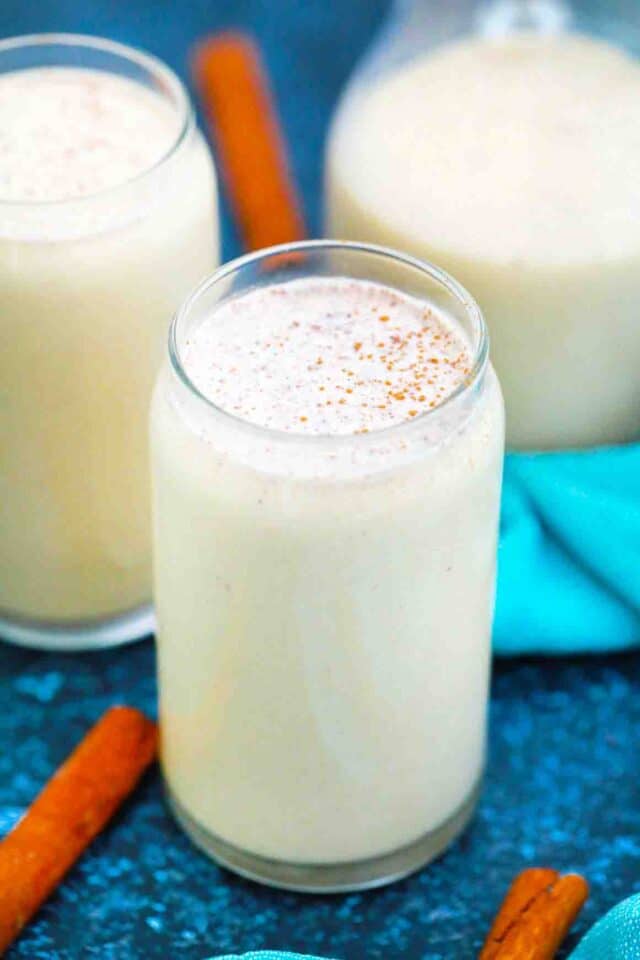 How to serve:
Perfect for the holiday season, these Puerto Rican coquitos are full of coconut flavor blended with warm spices, thick creamy milk, and a hit of white or coconut rum. Serve cold with a cinnamon stick for an extra cinnamon taste. Try one of our great serving suggestions or share one of your own with us in the comments below.
Serve these delicious Puerto Rican Coconut Eggnog drinks warm with a dollop of whipped cream on top.
Try these coquitos with your favorite pork or chicken meal. Or try our delicious cinnamon apple pork chops recipe.
This homemade coquito recipe is perfect to serve with spiced rum or even brandy, cognac, or bourbon.
Another dish that goes great with these tasty drinks is this easy and juicy air fryer steak.
Top these delicious drinks with sprigs of mint and a little coconut shavings.
Add your own twist to your coquito by pouring in a 1/2 cup of your favorite fruit juice. Try adding our tangy homemade blackberry lemonade recipe.
In addition, you could also use optional ingredients like lemon or lime wedges or an orange wheel.
If you love our homemade eggnog recipe, you will love Puerto Rican coquito for Christmas Eve.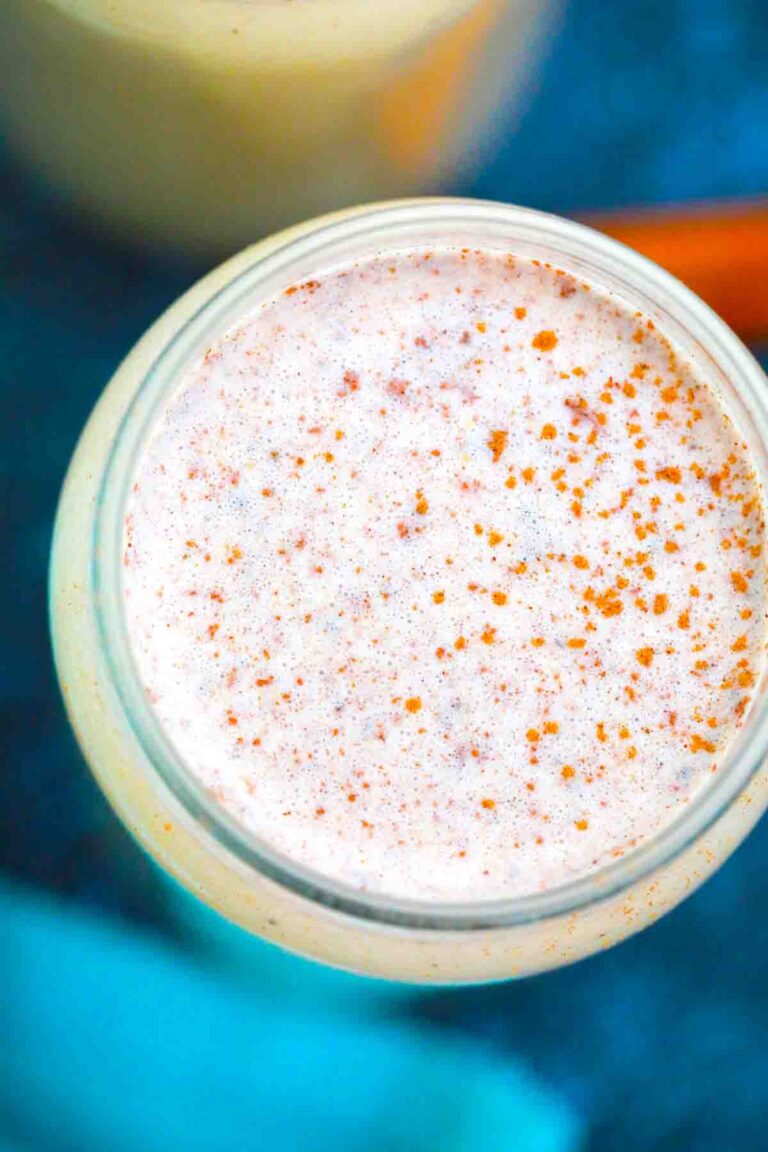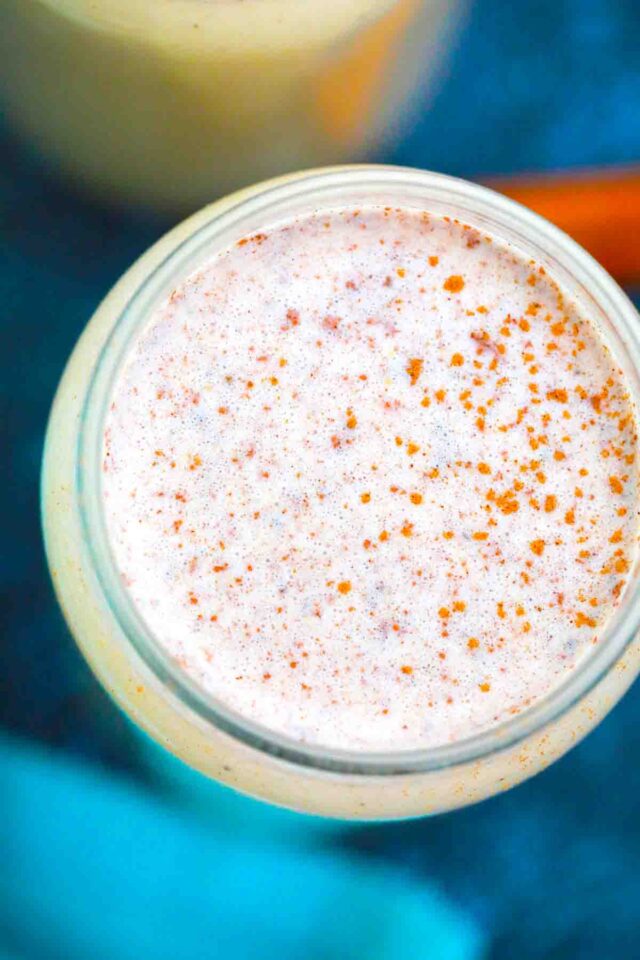 Frequently asked questions
Does Puerto Rican eggnog have eggs in it?
Yes, the authentic coquito recipe calls for raw egg yolks in it. However, many people do not do it that way anymore because of the health risks that consuming raw eggs has. If you do want to make your coquito with eggs, it is best to cook it into a custard first, so you do not have to worry about foodborne illnesses.
What is the best rum for Puerto Rican coquitos?
While Puerto Rican rum is the original choice for the traditional coquito, any kind of rum can be used. If you use coconut rum, you will have more of a coconut flavor and if you use dark rum, you will have a richer flavor with a bit of a kick to it. As far as the brand, most people think Bacardi is number one, but I personally like Don Q white or gold rum.
What is the difference between cream of coconut and coconut cream?
Coconut cream is a dense cream made with canned coconut milk. It is thick but not sweetened. Cream of coconut is coconut cream that is sweetened and thick like syrup. It is similar to sweetened condensed milks. If you cannot find cream of coconut at your grocery store, look in the liquor section. If not, you may have to go to a Mexican store or order it online. Some of the best brands are Goya, Coco Lopez, and Coco Real.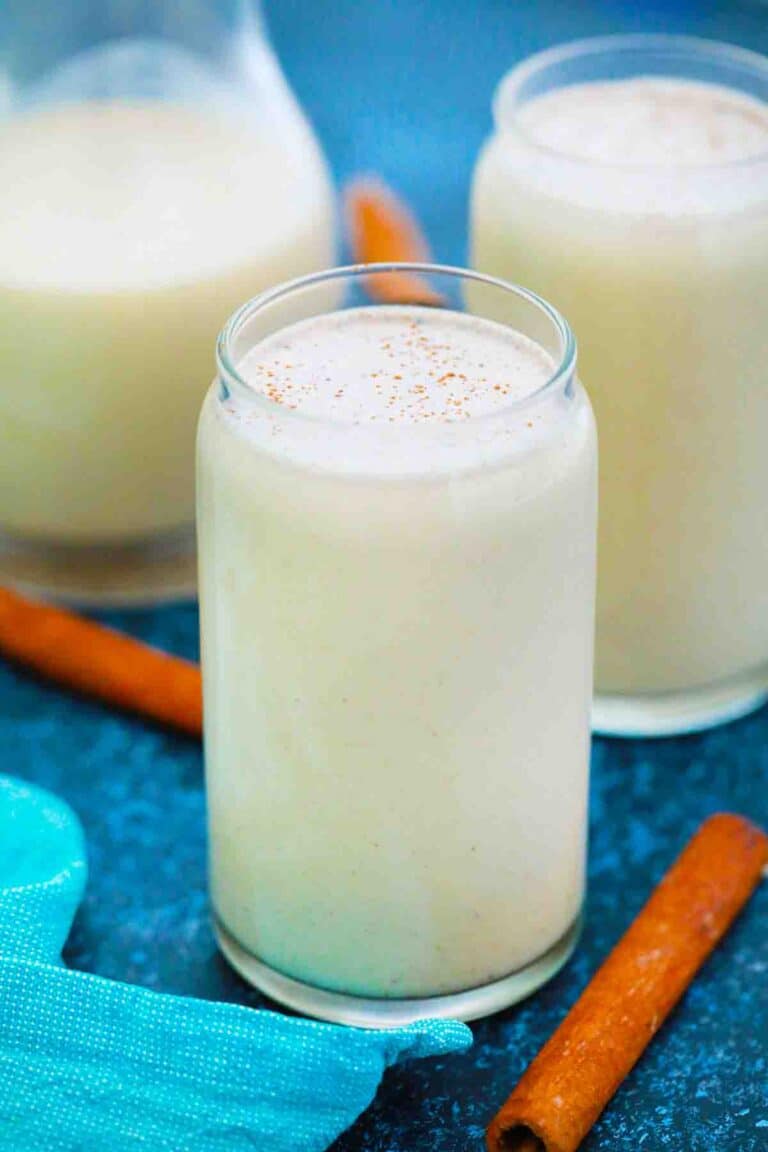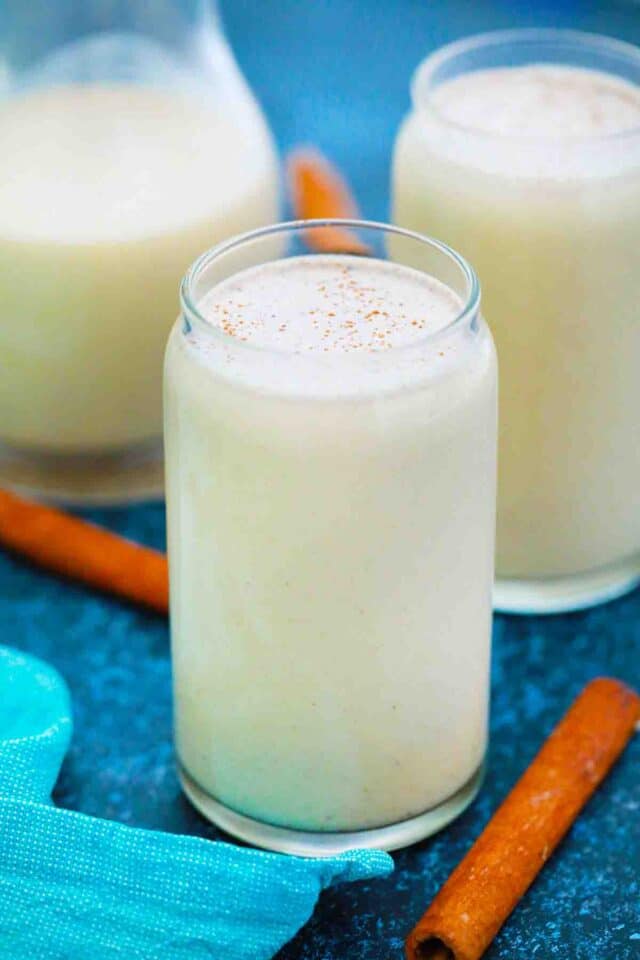 What are the nutrition facts in this recipe?
Every serving of Puerto Rican coquito has approximately 80 calories with 10 grams of carbohydrates and 3 grams of fat including 2 grams of saturated fat. You also get 14 milligrams of cholesterol, 22 milligrams of sodium, and 10 grams of sugar. On the good side, each serving has 155 milligrams of calcium, 5 grams of protein, 53 units of vitamin A, and 225 milligrams of potassium.
How to store leftovers:
Store: To keep leftovers fresh, immediately put them back in the refrigerator. They will stay good for about four days in an airtight container or jar.
Freeze: To keep your coquito longer, go ahead and pack it in a freezer bag and put it in the freezer for up to four months. With rum in it, you will notice it does not freeze all the way, which is fine. In fact, you can use it as a coquito smoothie.
Recipe tips:
After chilling, shake bottle vigorously before serving to make sure everything is combined. Or if using a pitcher, stir well to combine.
You can use whole milk instead of evaporated milk if that is all you have.
The coquito is best served cold, but some like to heat it up like a warm cocoa drink.
For an easier way to pour coquito into glass bottles, use a funnel.
If you have a small blender, put the ingredients in a large bowl and use an electric mixer to combine them all.
Our nutrition facts above are estimated and are based on following this recipe exactly. The amounts may vary depending on the serving size and any other ingredients you may have added.
Add a cup of crushed ice to your drink mix to make slushies.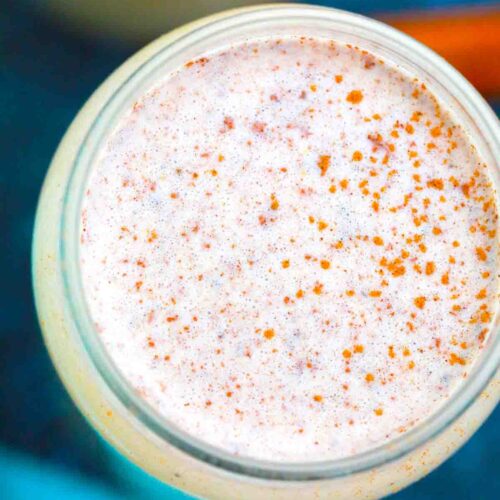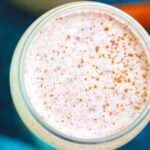 Puerto Rican Coquito
Puerto Rican Coquito is a creamy coconut drink with a bit of white rum seasoned with the warm spices of ginger, nutmeg, cloves, and cinnamon.
Keyword:
Puerto Rican Coquito
Ingredients
1

can

evaporated milk

1

can

sweetened condensed milk

14

ounces

full-fat coconut milk

1/2

cups

white rum

or coconut rum

1

teaspoon

vanilla extract

1 1/2

teaspoon

ground cinnamon

1/4

teaspoon

ground cloves

1/4

teaspoon

nutmeg

1/8

teaspoon

ground ginger

2

cinnamon sticks

for serving
Instructions
Add to a blender the evaporated milk, condensed milk, and coconut milk, and blend until combined.

Add the rest of the ingredients and pulse a few times to combine.

After that transfer the mixture to a pitcher and add the cinnamon sticks.

Chill in the fridge overnight before serving.
Nutrition Facts
Puerto Rican Coquito
Amount Per Serving
Calories 662
Calories from Fat 270
% Daily Value*
Fat 30g46%
Cholesterol 37mg12%
Sodium 241mg10%
Potassium 895mg26%
Carbohydrates 69g23%
Protein 17g34%
Vitamin A 621IU12%
Vitamin C 5mg6%
Calcium 582mg58%
Iron 4mg22%
* Percent Daily Values are based on a 2000 calorie diet.