Corn Salsa is made with sweet corn, red onion, fresh cilantro, and jalapenos with a touch of lime juice, and is perfect for game day, a barbecue, or just any day you feel like having salsa. Use it as an appetizer, side dish, or snack.
Looking for more great recipes? If your family liked this corn salsa, they will love our Avocado Corn Salad with juicy tomatoes, cucumbers, diced avocado, and radishes. This Southwest Salad is more of a meal with grilled chicken breasts, avocado, black beans, and romaine lettuce. Everyone's favorite at backyard barbecues and picnics, Macaroni Salad is creamy and delicious with elbow pasta, eggs, bell peppers, celery, and pickles.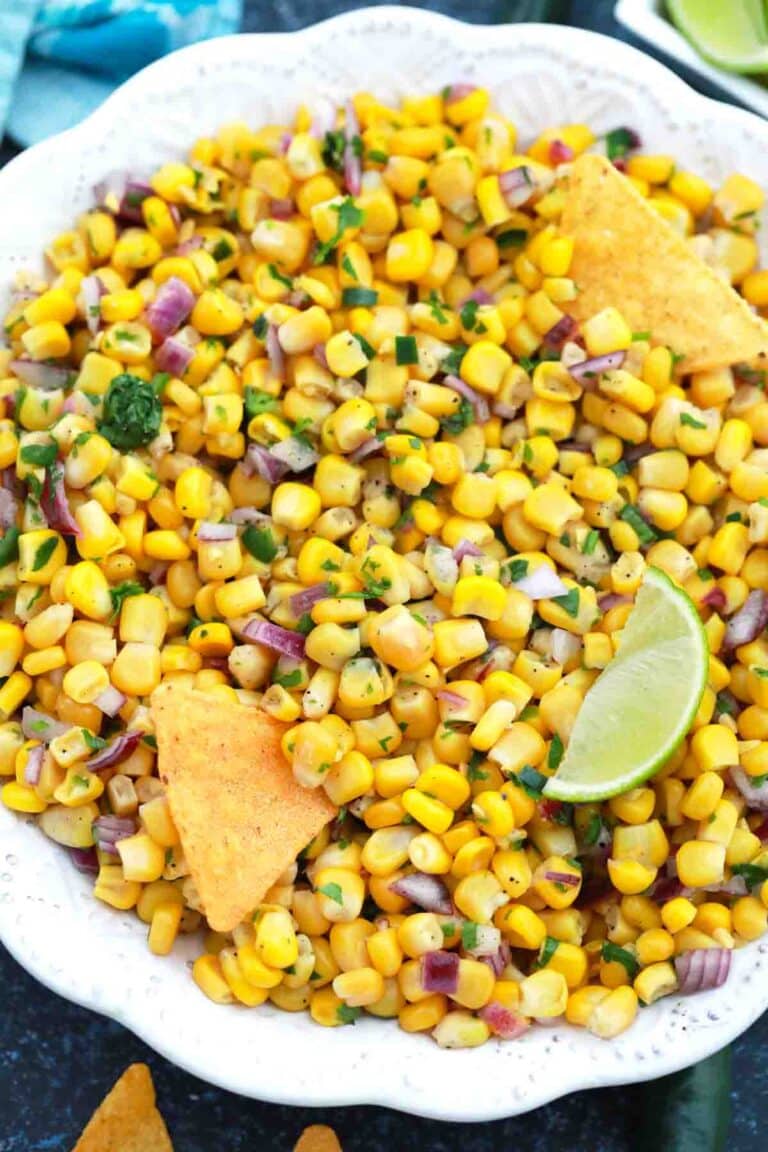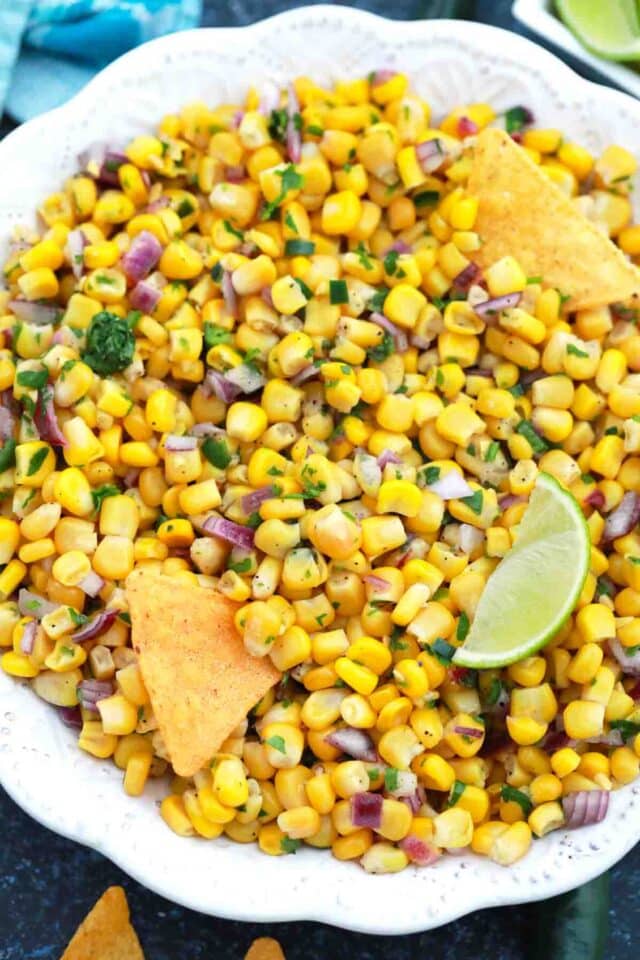 Salsa has been around for a long, long time. In fact, you can trace it back to the Mayans, Incas, and Aztecs. Between 1350 and 1520 AD, salsa started showing up in recipes in Mexico and Spain. The official discovery of salsa did not happen until 1571 when a chef named Alonso de Molina gave it the name salsa.
This fresh corn salsa recipe is delicious no matter what kind of corn you use. If you happen to have some leftover corn on the cob, remove the kernels and grill them for that fresh grilled corn taste.
Corn Salsa may just be the best thing that happened to corn! Or salsa for that matter. Our corn salsa tastes similar to Chipotle's corn salsa and is great on top of chicken tacos or burrito bowls or used as a dip for tortilla chips or veggie sticks.
Looking for more vegetarian recipes? Try our sweet and tangy pineapple mango salsa with fresh pineapple, mango, and tomatoes. And this detox salad with avocado dressing has cauliflower, broccoli, spinach, kale, and carrots. For something sweet, our pineapple fluff is a burst of creamy and tropical flavors made from coconut, pudding, and crushed pineapple.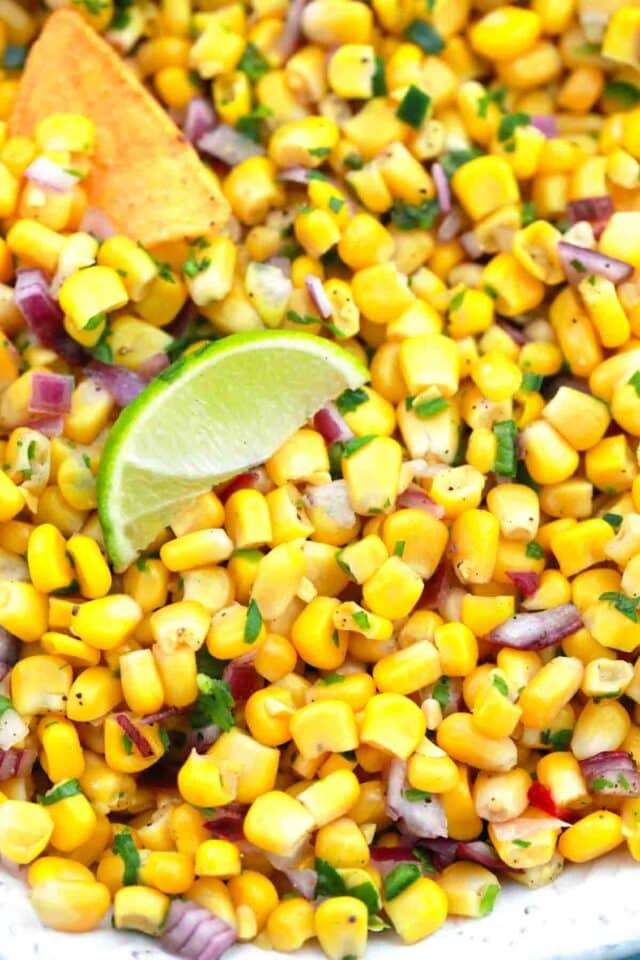 Ingredients needed:
You will need to gather these simple ingredients to make this easy corn salsa recipe. Then, when you are ready to begin preparing it, check out our recipe card at the bottom of the page. It has the full recipe with measurements and instructions.
Canned yellow corn: Drained.

Fresh lime juice
Small red onion: Very finely chopped.

Jalapenos: Remove seeds and veins before chopping very finely.

Chopped fresh cilantro
Ground cumin
Salt

Black pepper
How to make corn salsa from scratch?
Prepare: First, add all the ingredients to a medium bowl and add salt and pepper to taste.

Chill: Then, give it a good stir and cover the bowl with plastic wrap or a lid and let it chill in the fridge for at least one hour so the flavors have time to meld together.

Serve: Right before you serve, remove corn salsa from the fridge and give it another good stir.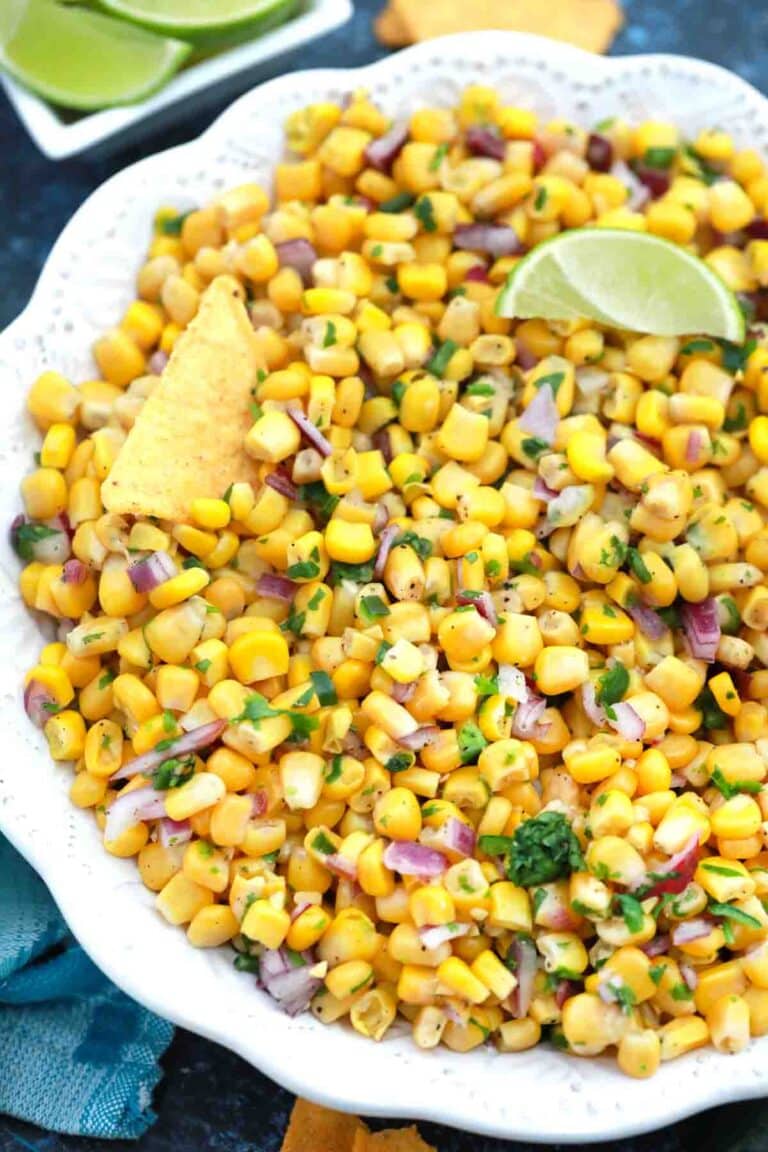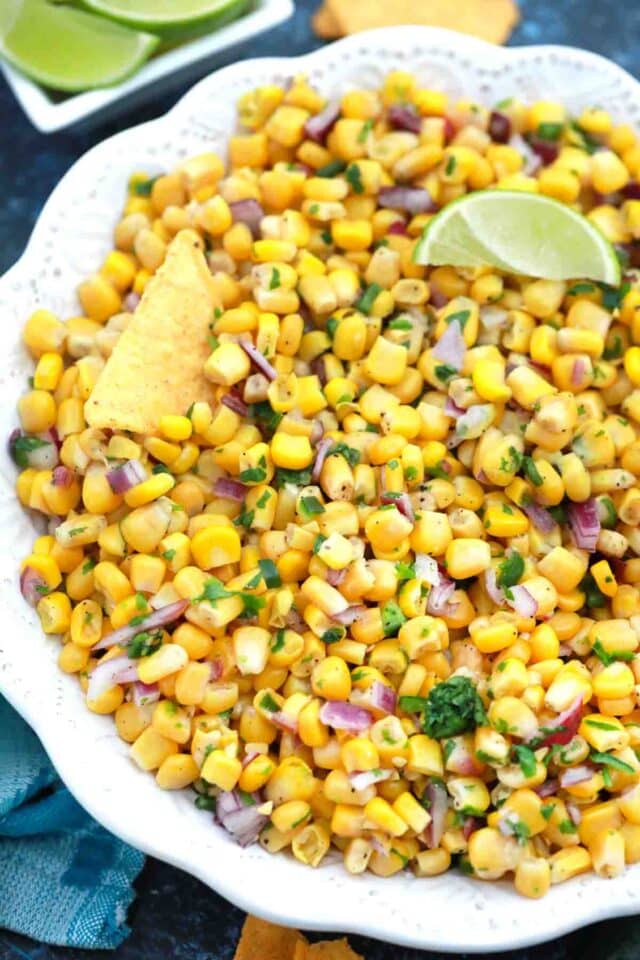 Recipe variations:
Grilled corn: You could also use fresh grilled corn. Just char fresh corn kernels in olive oil and let them cool completely before adding them to the salsa mix.

Char corn: For more of a charred flavor, grill your corn on the cob on the grill on medium-high heat.

Add beans: For extra flavor and protein add your favorite beans like pinto, garbanzo, or black beans.

More vegetables: You can also add more fresh veggies like green or red bell pepper, carrots, cherry tomatoes, green onion, peas, or whatever else you like.

Other corn: For this salsa recipe, you can use any kind of corn besides fresh including frozen corn, canned corn, and fresh sweet corn on the cob. You can even use raw corn for an extra crunchy salsa.

Add cheese: No matter what kind of cheese you like, it will go great in this salsa. But crumbled cotija cheese gives it a more authentic Mexican food flavor.

Smoke flavor: For a smoky flavor, add smoked paprika to your corn salsa.

Hotter flavor: If you like your salsa just a bit hotter, use chili powder instead.

Extra hot: For extra spicy corn salsa, use a 1/2 teaspoon of red pepper flakes or cayenne pepper.

Sweet corn salsa: Add a teaspoon of brown sugar or maple syrup for sweeter corn salsa.

Add meat: Feel free to add shredded chicken, pork, or turkey for a heartier salsa you can even serve for dinner.

More flavor: Add a splash of apple cider vinegar or rice vinegar for a tangier flavor.
How to serve:
Salsa does not always have to be a side dish cuisine. You can be creative and add some ingredients to make it a meal. No matter how you serve it, this is the best corn salsa recipe you have ever had.
You can eat corn salsa on a salad or soup as a spiced-up appetizer or quick and light lunch.

This salsa also goes great with seafood, shrimp, or other shellfish. Try it with our recipe for shrimp rolls.
Sprinkle some parmesan, romano, or another kind of cheese on top for a cheesier salad.
Use leftovers in your favorite ceviches like this tasty shrimp ceviche made with Roma tomatoes, cucumber, and avocados.

This is my family's favorite topping on fish tacos.

Add some of this delicious salsa to one of your favorite recipes for Mexican salad. We love it on our grilled chicken fajita salad.

Add corn salsa with a scoop of pico de gallo and mix to make a more authentic Mexican corn salsa.

Another way to enjoy this delicious Mexican corn salsa is on top of these cinnamon apple pork chops made with caramelized apples.
This is a great way to use up extra corn from last night's dinner.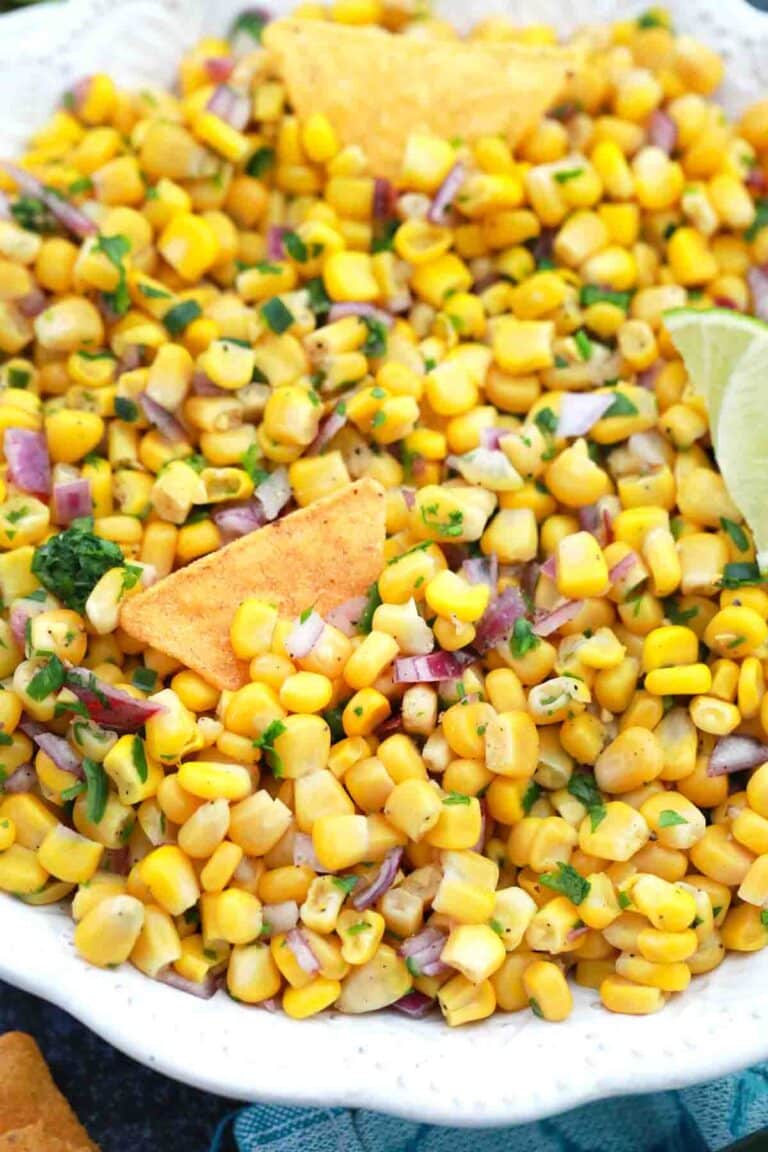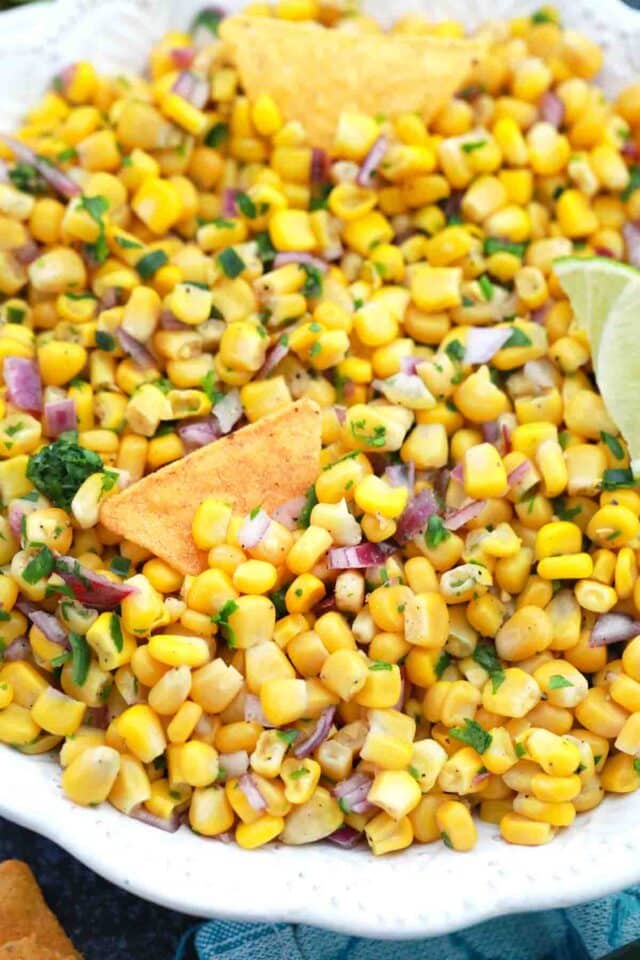 Frequently asked questions
What is the easiest way to get cooked kernels off the cob?
Stand your corn cob upright on a cutting board and cut corn with a sharp knife slightly angled in so you get all of the kernels without cutting your fingers. You can also stand the corn in the center of a bundt pan when you do this, so the corn kernels fall into the pan when you slice them off.
What is corn salsa?
The typical corn salsa is made with fresh corn, tomatoes, cilantro, jalapenos, and bell peppers. Then you just squeeze on some lime juice, and you have the same corn salsa you get at Chipotle's Restaurant. You can use it as a dip, a topping, or even a meal if you add some meat or beans. Put it on top of a bed of lettuce or a pile of rice, a burger, or a sandwich.
How can I get the grill marks on corn without grilling?
The easiest way is probably the way you may have never thought of. Hold a corn cob over an open fire (on top of your stove) with a pair of long-handled tongs until they start to get that nice, charred look. Another way is to use your broiler. Just toss the corn in olive oil and then put it in the broiler for a few minutes. You can also cook corn on high heat in a pan on the stove.
What are the nutrition facts in this recipe?
Corn salsa is one of the healthiest things you can eat. All it has is vegetables in it, so you are only getting about 100 calories per serving along with 3 grams of fat, 1 gram of saturated fat, 3 grams of sugar, 15 grams of carbs, and 350 milligrams of sodium. On the other hand, you also get 15 milligrams of calcium, 12 milligrams of vitamin C, 189 units of vitamin A, and 3 grams of protein.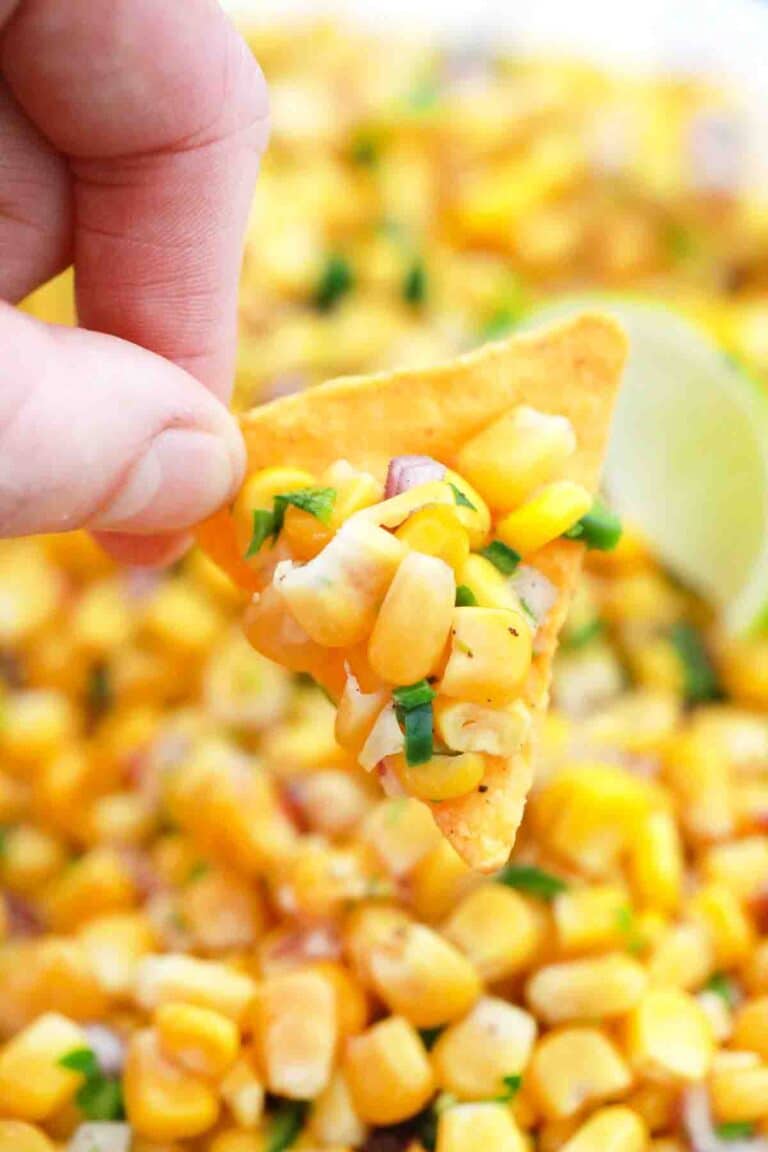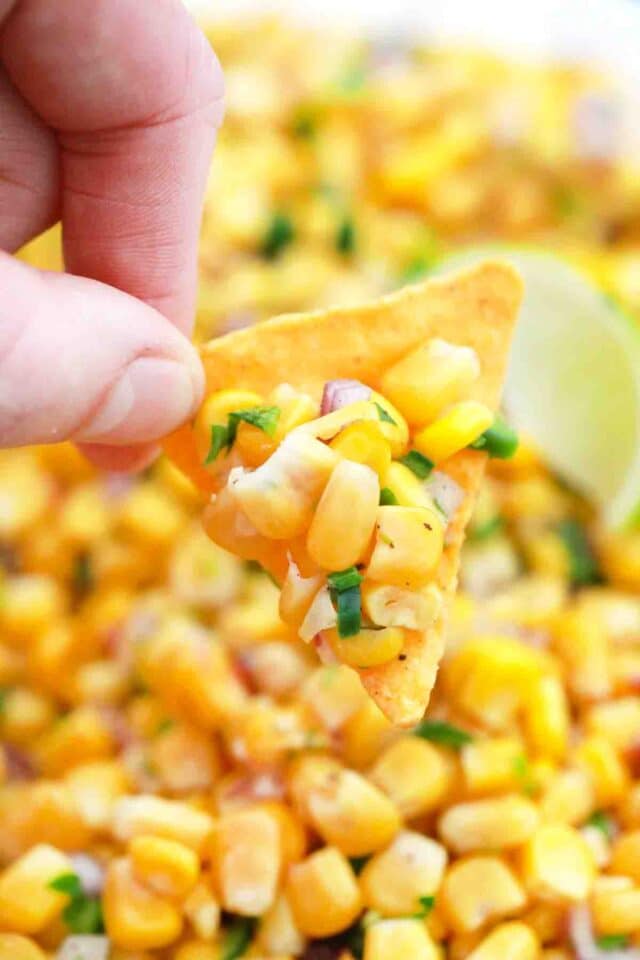 How to store leftovers:
Store: Put leftover corn salsa in a jar with a lid or some other sealed container. Then you can refrigerate it for up to five days.

Freeze: You can also freeze this delicious salsa for up to three months in a sealed container or freezer bag.

Thaw: For the best flavor and texture, make sure you thaw salsa in the fridge overnight.

Reheat: If you want your salsa warm, heat it in the microwave for 30 seconds. However, we find it tastes much better chilled.
Recipe tips:
To shorten corn salsa prep time, you can use canned corn or frozen corn.

You do not have to cook corn before using it. You can even use frozen corn kernels. However, if you are going to, the best way of cooking corn is to char corn in a pan.

Feel free to add more corn and more lime juice to this recipe to make it your own.

We found the best corn for this at our local Whole Foods, but you can find it at your local grocery store or farmers' market.

You can find a variety of real food recipes on our food blog.

Use your fresh corn right away or it will start to get starchy and less sweet.

If you have leftover corn and all the salsa you need, use it for other recipes like salads, soup, pizza, and sandwiches.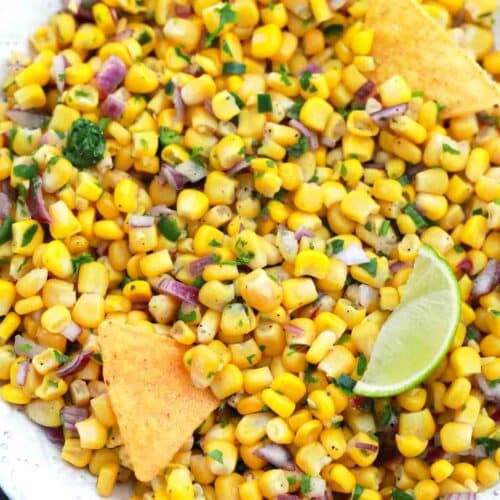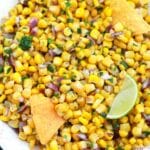 Corn Salsa
Corn Salsa is made with sweet corn, red onion, fresh cilantro, and jalapenos with a touch of lime juice, and is the perfect appetizer.
Course:
Appetizer, Side Dish, Snack
Cuisine:
American, Mexican
Ingredients
1

lb

canned sweet corn

drained - or fresh grilled corn

2

jalapenos

de-veined, seeds removed, and very finely chopped

1

small red onion

very finely diced

1/3

cup

fresh cilantro

finely chopped

1

lime

juiced

1/4

teaspoon

cumin

kosher salt

to taste

ground black pepper

to taste
Instructions
Add all the ingredients to a large mixing bowl.

Stir, taste, and adjust the seasoning. Cover and let sit in the fridge for an hour or more before serving.

Give the salsa another stir and serve with corn chips.
Nutrition Facts
Corn Salsa
Amount Per Serving
Calories 85
Calories from Fat 9
% Daily Value*
Fat 1g2%
Sodium 2mg0%
Potassium 221mg6%
Carbohydrates 19g6%
Protein 3g6%
Vitamin A 316IU6%
Vitamin C 15mg18%
Calcium 12mg1%
Iron 1mg6%
* Percent Daily Values are based on a 2000 calorie diet.