Pasta Primavera has tender-crisp squash, zucchini, and spinach, then tossed in pasta sauce and served with lots of parmesan cheese. Big flavors in one easy and healthy dish!
For more delicious meals that are also light and healthy, try our Southwest Salad and Grilled Chicken Fajita Salad. You can also add a burst of color and nutrients to your burgers, steaks, and roasts with this super fresh Mediterranean Tabbouleh!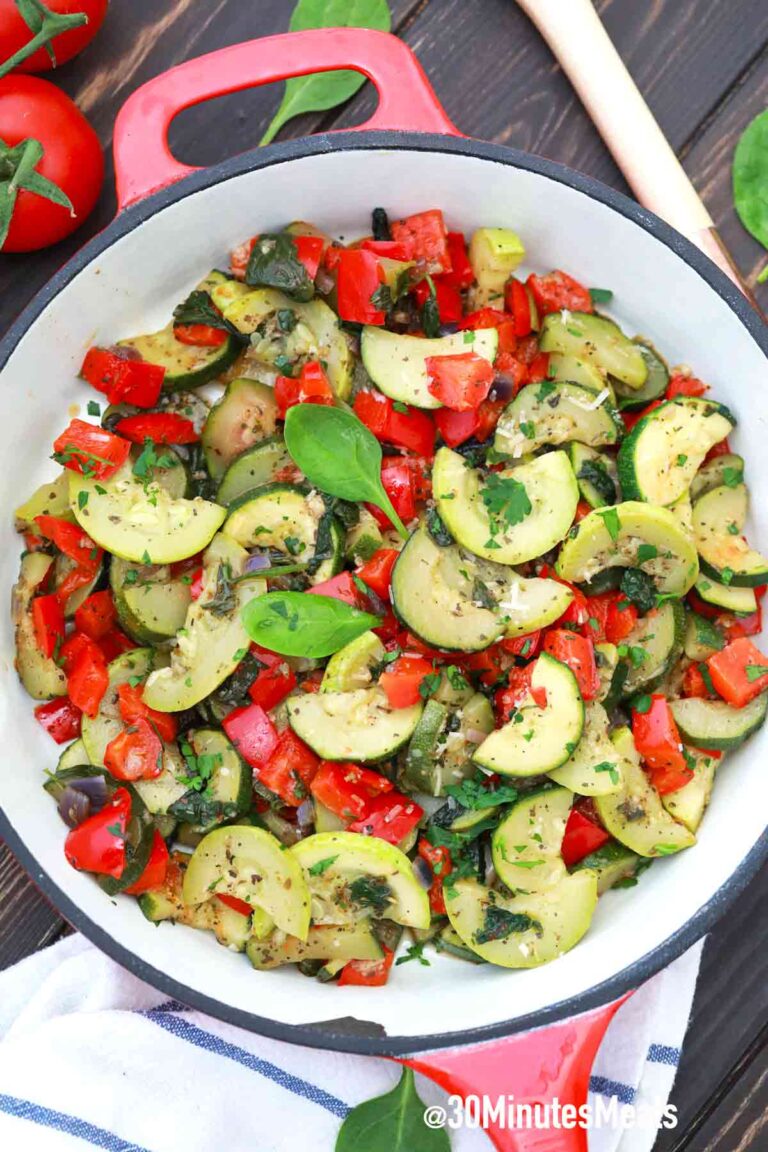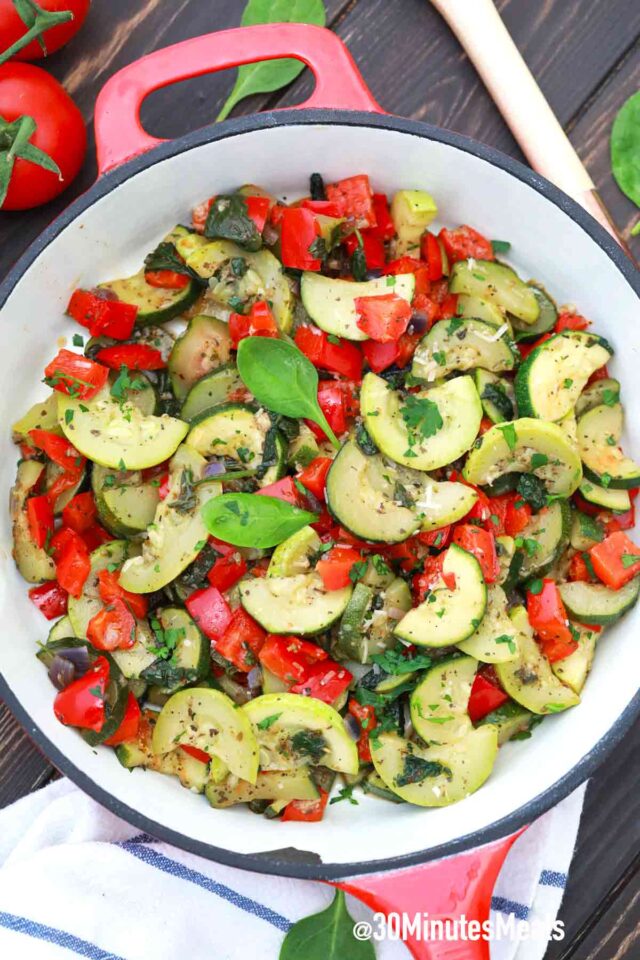 Vegetarian Pasta Primavera Recipe
Pasta Primavera is packed with fresh spring veggies sauteed in aromatics, a dash of red pepper flakes, and oil. Then, it gets tossed in tomato sauce and sprinkled with shredded parmesan. It's so delicious and satisfying, you won't even look for the meat!
Aside from being fast and flavorful, there are also many to customize this recipe to your taste. Later on, we're sharing other types of noodles you can use, a low-carb substitution, and more delicious twists to Primavera!
What is pasta Primavera?
The term "primavera" is Italian for "spring style." It refers to the main ingredients of the dish, which are spring veggies like spinach and squash. In addition to the vegetables, the noodles are also flavored with marinara or similar tomato-based sauces.
What is Primavera sauce made of?
It has delicious, fresh spring veggies like baby spinach, zucchini, and squash, plus your choice of sauce.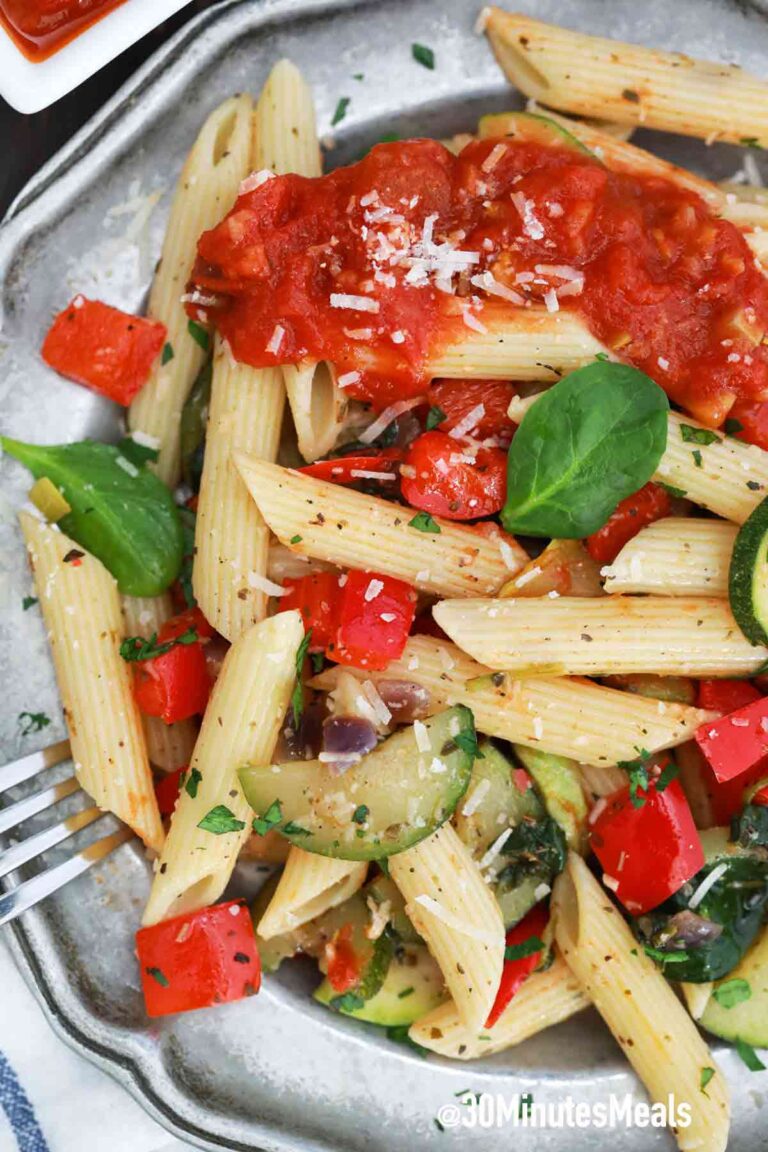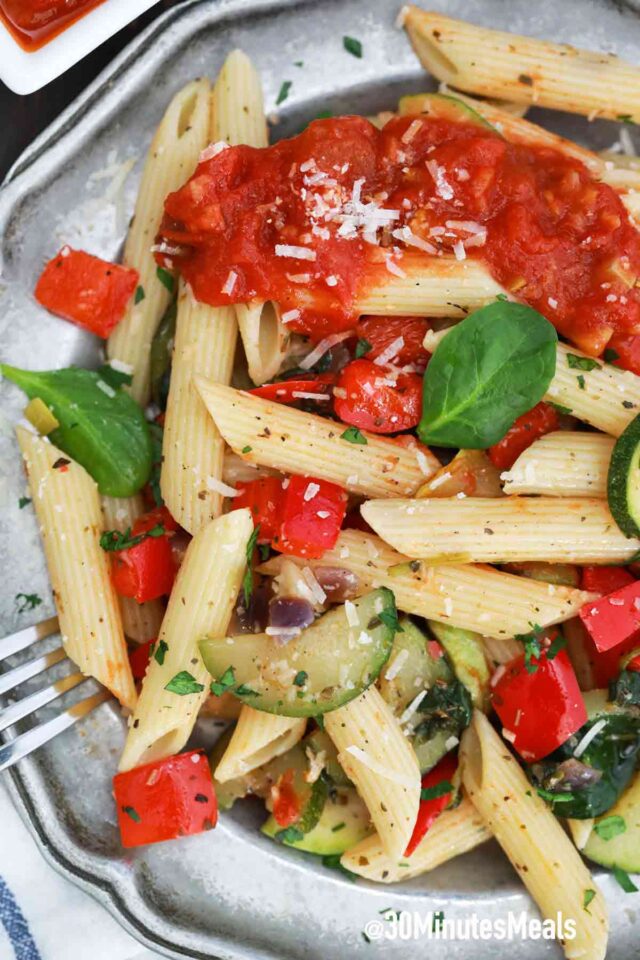 How many calories does pasta primavera have?
In general, every 113g serving contains around 230 calories. Of course, this will still vary depending on the specific ingredients you use. For instance, some particular types of noodles are low in carbs and calories (like keto-approved brands).
What do you need to make pasta primavera?
Vegetables

: Our main ingredients! Dice the following: summer squash, fresh baby spinach, three zucchini, red peppers, and one red onion.
Pasta

: Use whatever noodles you wish, but we like regular or whole wheat for this recipe. Prepare according to the instructions on the package.
Garlic:

We typically use about 5-8 cloves, but you can add more if you love garlic!
Herbs

: Dried Italian seasoning adds warming flavors to the dish, and we're also using dried oregano (optional).
Crushed red pepper

: For a bit of heat, but you can omit it if you like it mild.
Parmesan cheese

: Grated, divided into about 3 tbsp for each serving.
Pasta sauce

: Use your preferred tomato-based sauce.
How do you make pasta primavera from scratch?
Saute

. Begin by stir-frying the peppers, onions, and garlic for about 5 mins, followed by the veggies, red pepper flakes, herbs, salt, and fresh-ground pepper. Cook until the vegetables are tender and cooked through but still have a little crisp.

Serve

. Toss the veggies and noodles with your sauce, and top with parmesan. Enjoy!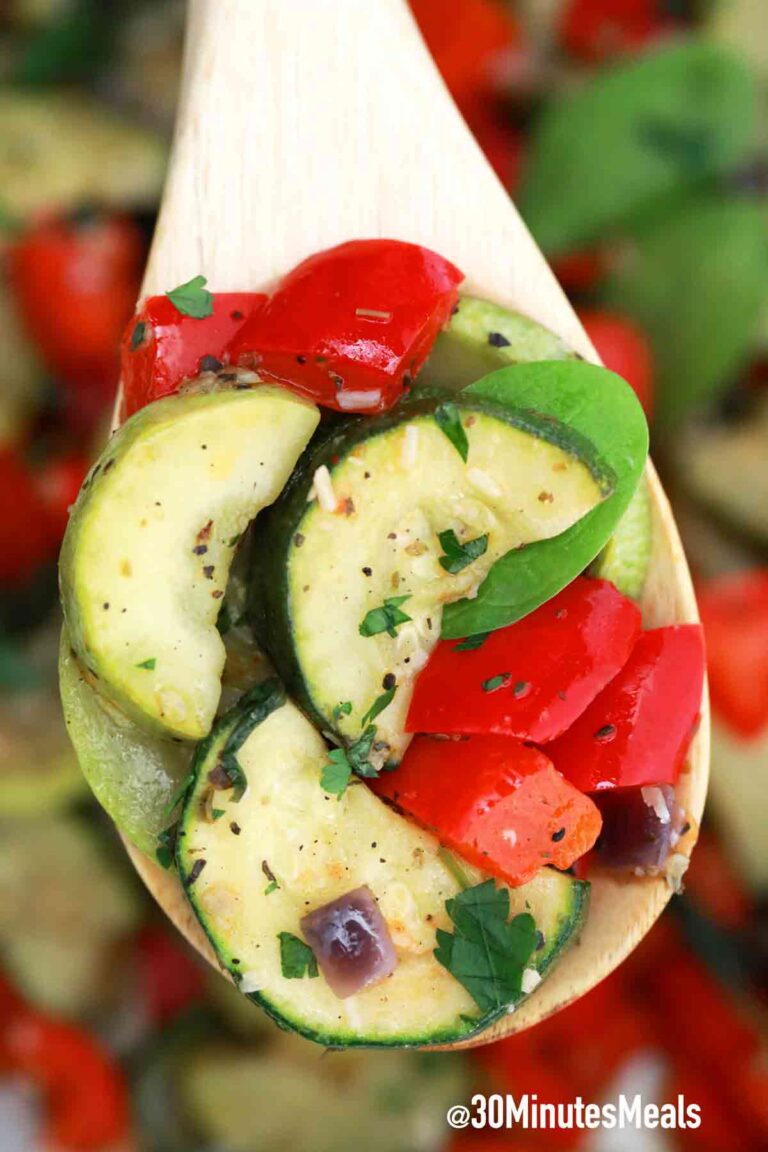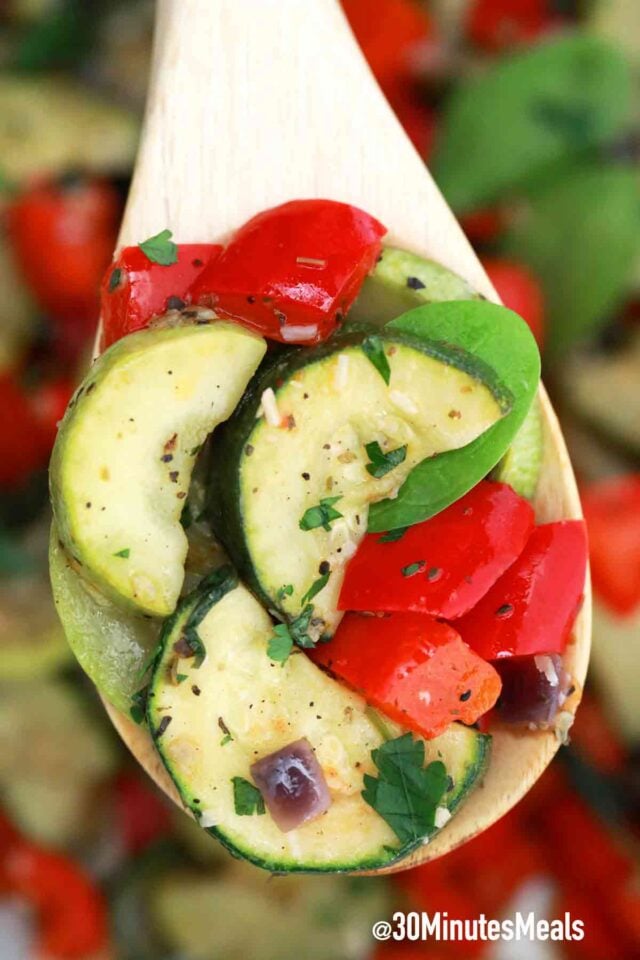 How to not overcook pasta?
First, make sure your water is at a rolling boil before you place the noodles in. You want huge bubbles breaking through the surface of the water! Follow the recommended minutes on the package. You may also want to undercook it for a minute or two for firmer noodles.
Recipe variations:
Use other types of noodles

: Feel free to use your favorite noodles! This will work with everything from spaghetti to fettuccine, angel hair, and linguine. You can also use other shapes like bow-tie and penne.
Low-carb

: Instead of noodles, use spiralized zucchini instead.
Include other vegetables

: Add whatever veggies you have on hand! Some tasty additions are sugar snap peas, mushrooms, cherry tomatoes, broccoli, artichoke hearts, and carrots.
Add meat

: Make it a complete meal with protein! Add bacon or guanciale, chicken strips, thin slices of pork or beef, sausages, and ham.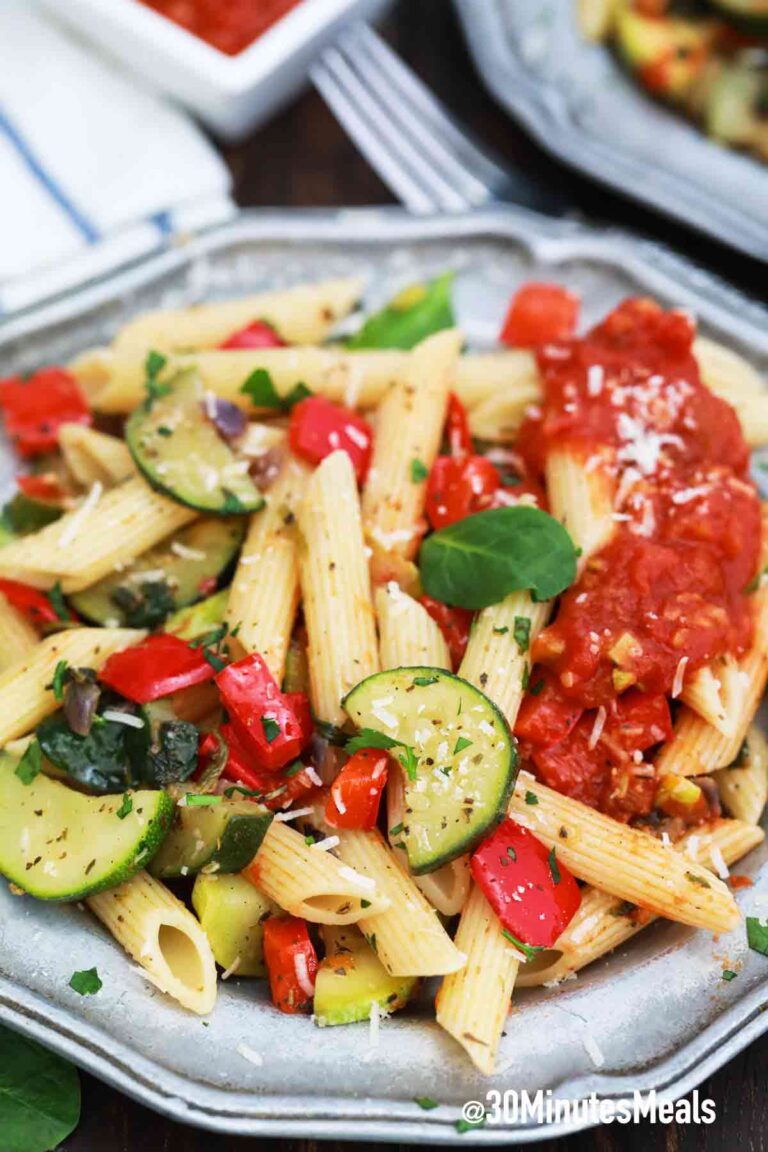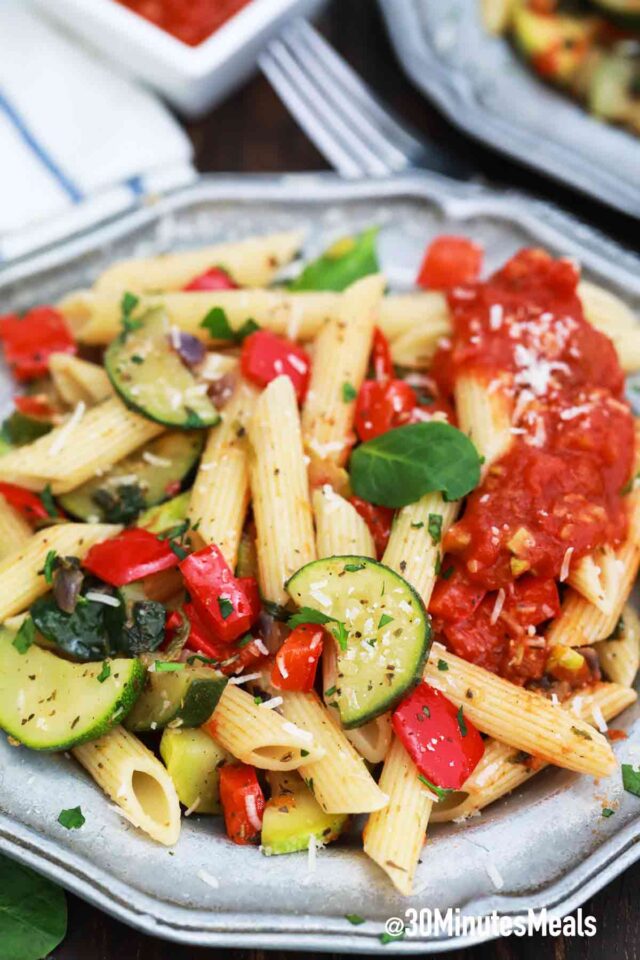 What does well with pasta primavera?
For a light meal, you can serve it with a sandwich or a side salad. It's delicious with entrees, too, like our popular Creamy Tuscan Chicken, Bacon Wrapped Pork Medallions, and Air Fryer Chicken Breast.
How to store leftovers:
Let the leftovers cool down first before transferring to a well-sealed container. If freezing, use freezer bags instead and squeeze the air out.
This will last up to 3 days in the fridge and up to 3 months frozen. We recommend adding extra sauce to the leftovers to prevent them from drying out.
To reheat, defrost first. Then, microwave until hot.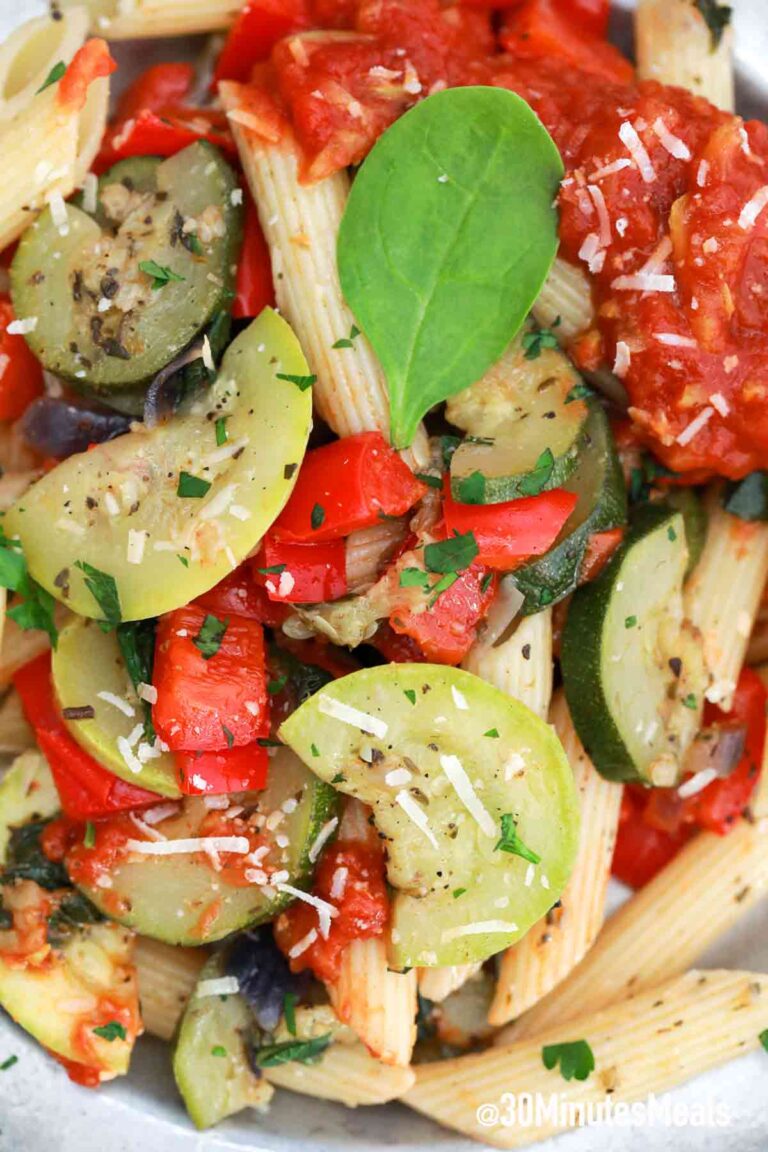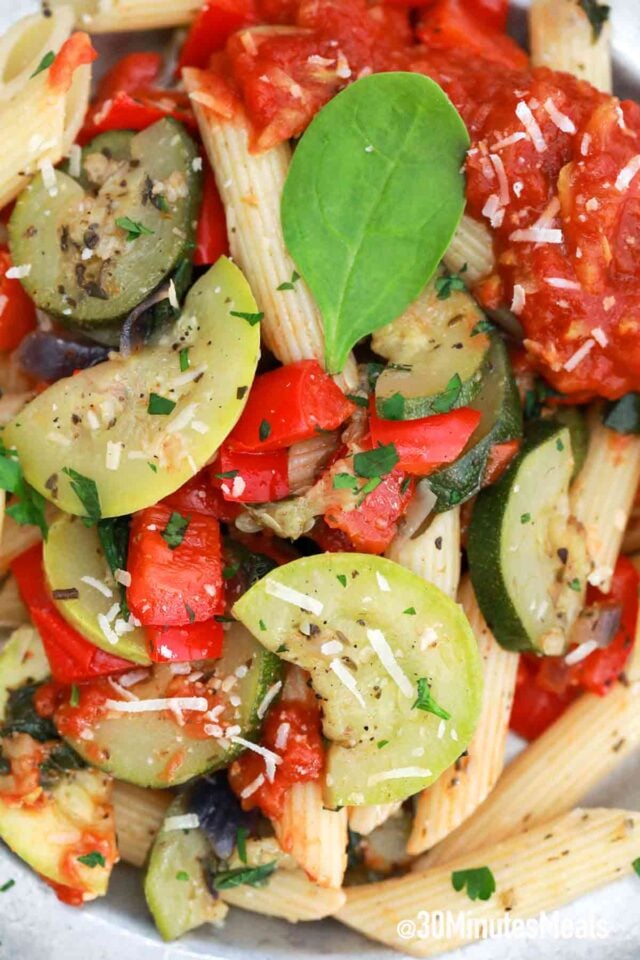 More pasta recipes:
Recipe tips:
Add a little pasta water to the dish so that the sauce clings better to the noodles.
Dice the veggie into roughly similar sizes, so they get done at the same time.

Try browning the onions first before adding the garlic and pepper to bring out its sweet, slightly caramelized flavor.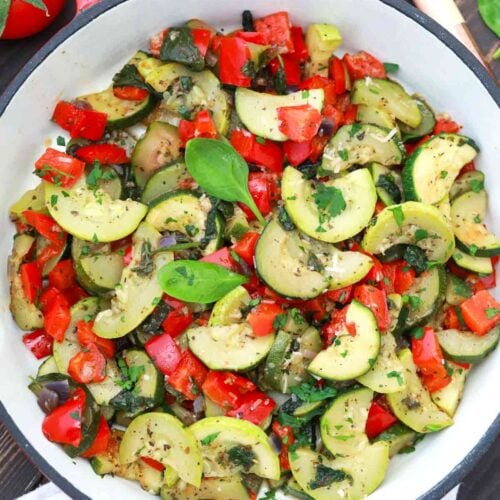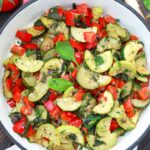 Pasta Primavera
Pasta Primavera has tender-crisp squash, zucchini, and spinach, then tossed in pasta sauce andserved with lots of parmesan cheese.
Ingredients
1 1/2

cups

dry pasta

of your choice

1

onion diced

3

bell peppers diced

2

zucchini cut into quarters and diced

2

summer squash

cut into quarters and diced

4

cups

baby spinach leaves

roughly chopped

4

cloves

of garlic minced

depending on how garlicky you like it!

1

tbsp

dried Italian seasoning

1

teaspoon

dried oregano

to taste

Salt & pepper

to taste

1/8

tsp

crushed red pepper

1

cup

grated parmesan cheese

1 1/2

cups

marinara sauce
Instructions
Heat 2 tsp olive oil in a large pan over medium heat. Add the onions, saute for 5 minutes. Add the garlic and cook for 30 seconds.

Add the bell peppers, zucchini, squash, baby spinach, Italian seasoning, oregano, salt, pepper, and crushed red pepper, saute for 10 minutes or until the veggies are tender, but crisp.

While the veggies are cooking, cook the pasta according to package directions.

Preheat the marinara sauce.

Serve the pasta with the sauce, veggies, and top with parmesan cheese.
Nutrition Facts
Pasta Primavera
Amount Per Serving
Calories 374
Calories from Fat 81
% Daily Value*
Fat 9g14%
Cholesterol 22mg7%
Sodium 906mg39%
Potassium 1373mg39%
Carbohydrates 55g18%
Protein 21g42%
Vitamin A 6663IU133%
Vitamin C 166mg201%
Calcium 404mg40%
Iron 4mg22%
* Percent Daily Values are based on a 2000 calorie diet.