Low Carb Mongolian Beef uses a tender, quick-cooking steak cut marinated in a savory ginger-garlic sauce for a meal that tastes straight out of a Chinese restaurant!
For those days when you prefer a lighter protein, chicken is the way to go! This Easy Chicken Marsala, Creamy Chicken with Asparagus, and Creamy Tuscan Chicken are other easy and delicious weeknight favorites.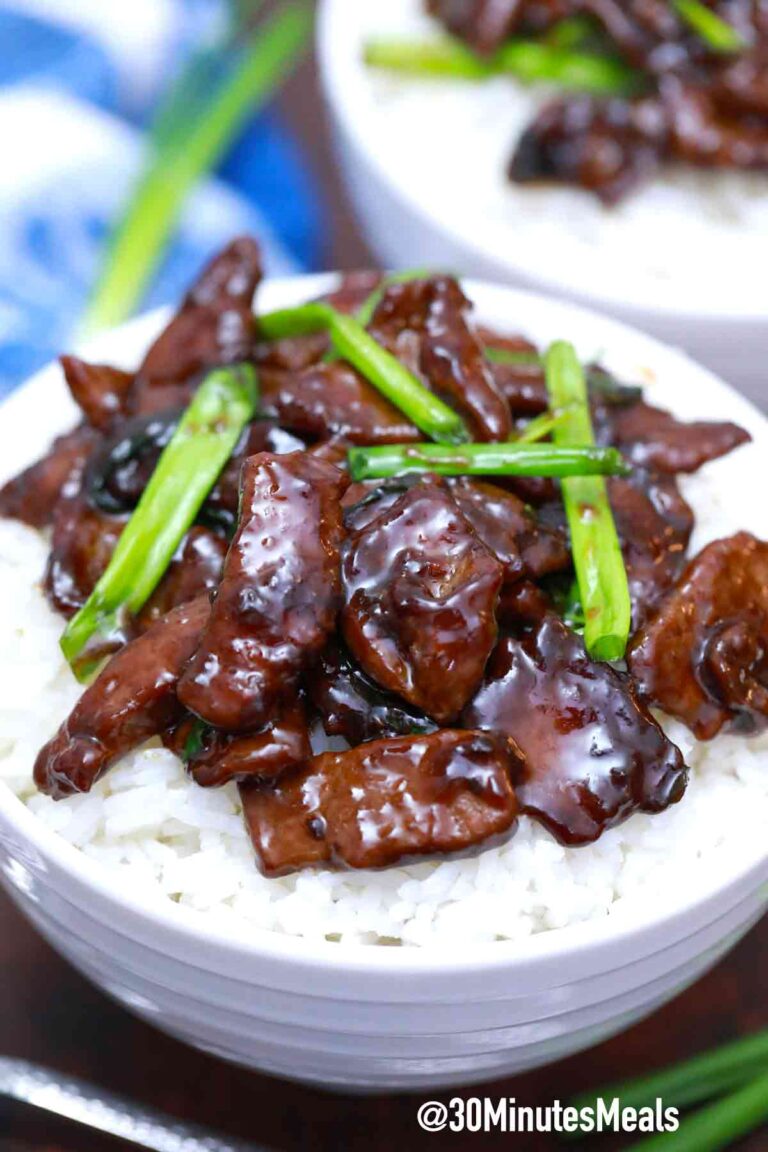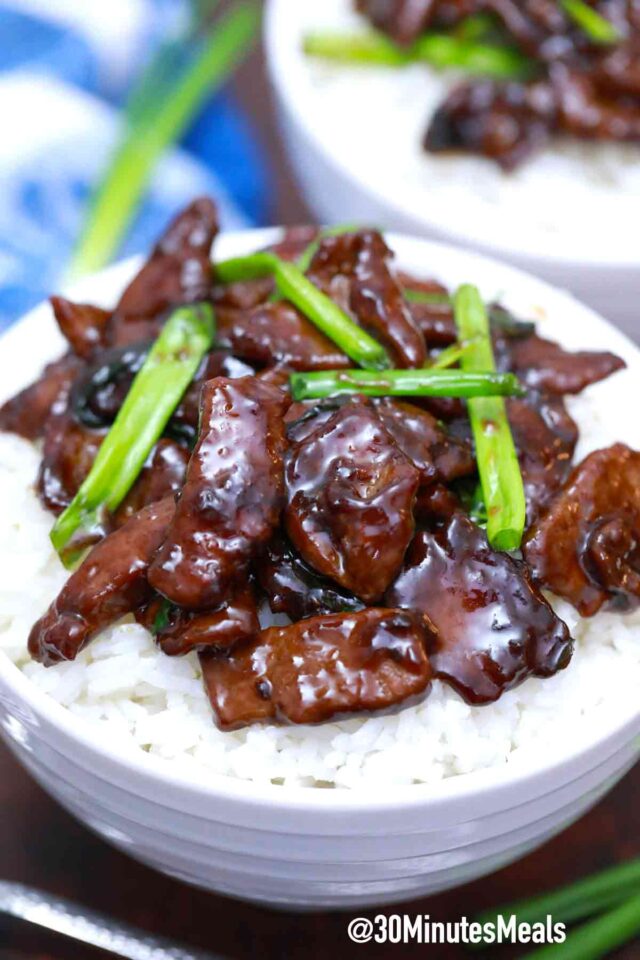 Mongolian Beef Recipe
Low Carb Mongolian Beef is my answer to those days when I'm craving Chinese takeout, but don't want to deal with the bloated, greasy feeling after. This one is loaded with protein, low in carbs and calories, but tastes like something you'd get out of your favorite Chinese fast food. Faster than delivery too!
The key is using flat iron steak, a super tender and economical cut perfect for stir-frying. Then, we whip up a bold Mongolian sauce to coat all that crispy beef. The result? A healthier way to enjoy delicious Chinese-inspired food right in the comfort of home!
What is Mongolian Beef?
Despite the name, this is actually a Chinese fast-food dish with Taiwanese origins. It refers to the Mongolian BBQ cooking method which involves stir frying thin-sliced meat in a savory Asian sauce.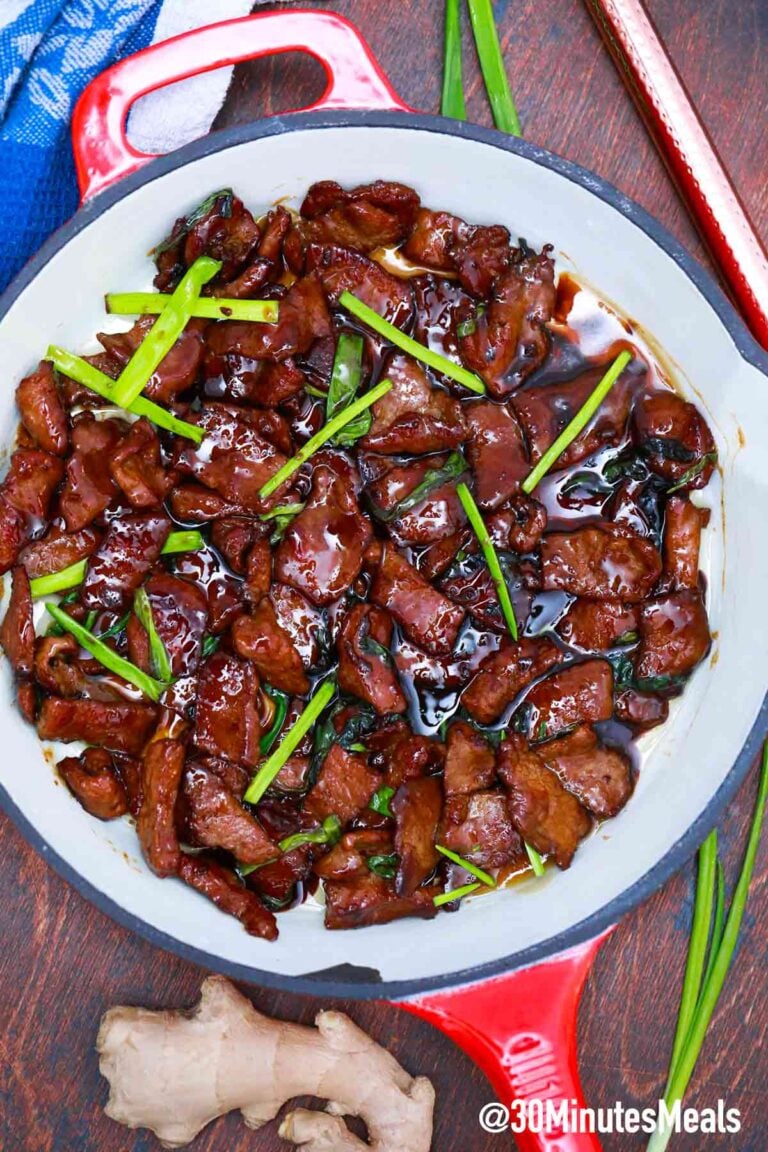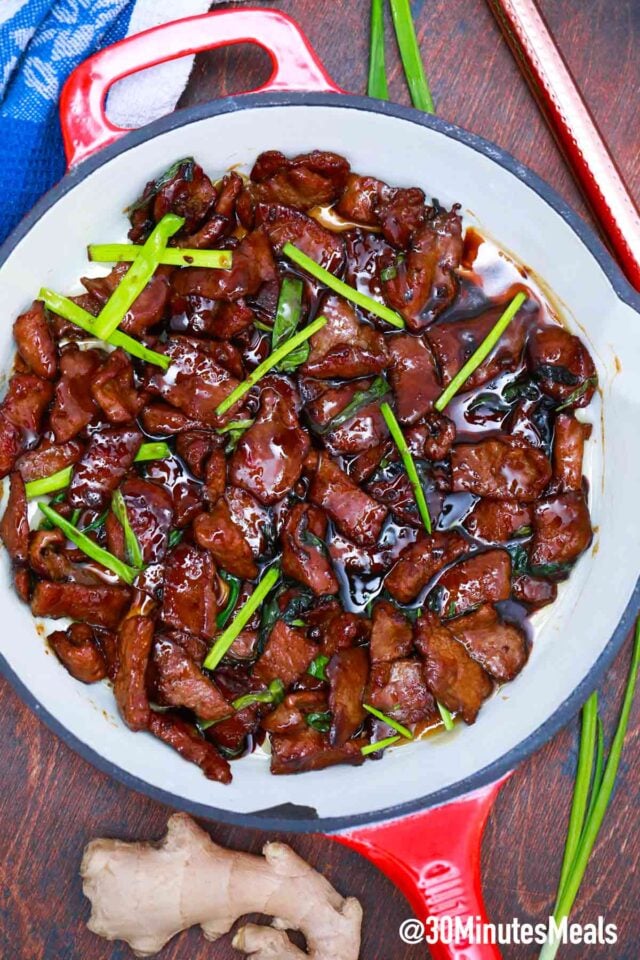 What does Mongolian Beef taste like?
All the flavor is in that amazing sauce! It tastes like a soy-ginger-garlic sauce with a slight sweetness from the brown sugar. Cooking it over high heat turns the sauce into a sticky glaze that's downright addicting!
What is Mongolian sauce made of?
Soy sauce contributes umami and a savory base, while dark brown sugar substitute balances that out with sweetness.
For our aromatics, we're using the Asian staple combination of ginger (fresh and grated) and chopped fresh cloves of garlic. A splash of water to thin the sauce out, and finally, red pepper flakes for heat!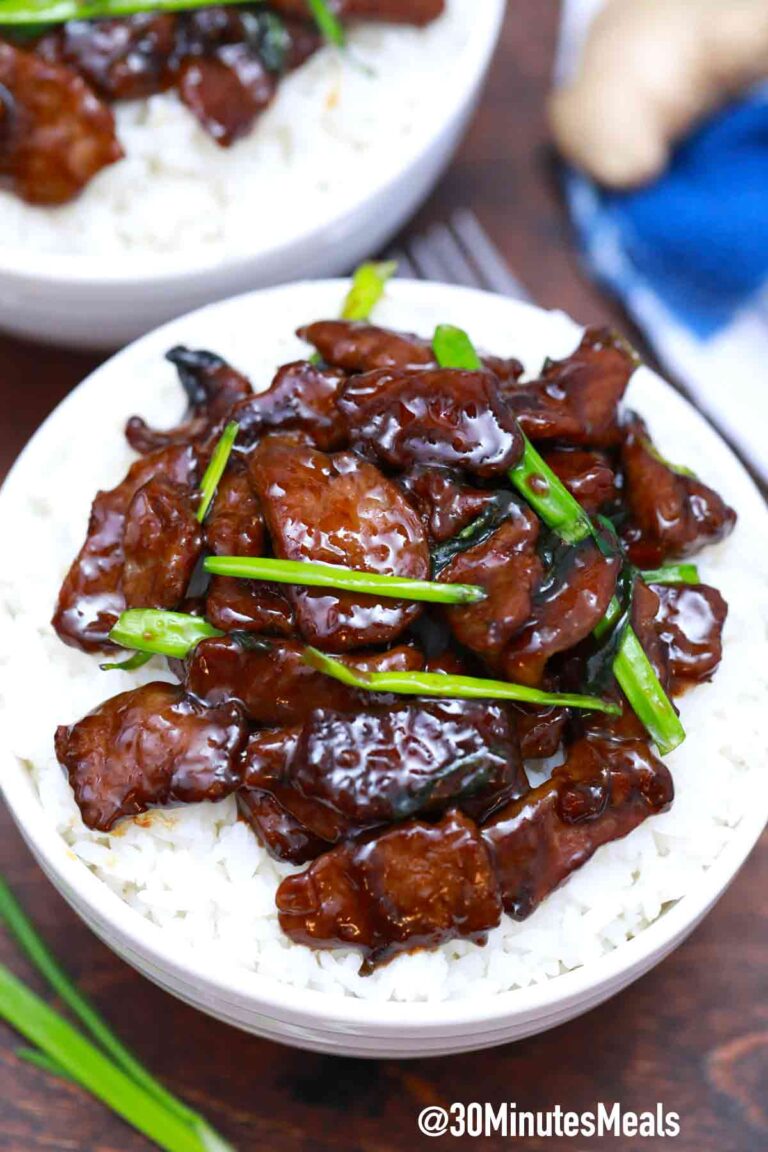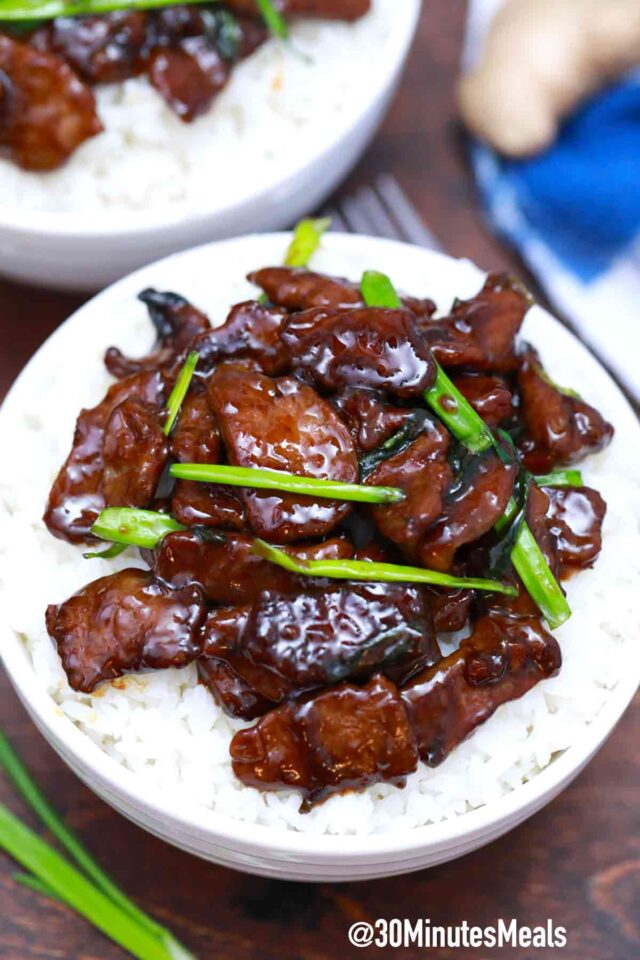 How do you make homemade Mongolian Beef?
Marinate the slices of steak

. Cut the flat iron steak very thinly, then marinate in the Mongolian sauce for at least an hour. Drain when you're ready to cook.

Stir-fry the meat strips

. In smoking hot oil, sauté the beef until you get beautiful crispy edges. Toss in some chopped green onions at the very last minute of cooking.

Serve

. Enjoy hot with rice or some steamed veggies.
Recipe Variations:
Use other steak cuts:

Try this with tri-tip, strip loin, sirloin, and other tender steaks!

Use chicken:

For a lighter version, use boneless breasts or thighs.

Make it spicy:

Increase the pepper flakes to 1 tsp to 1 tbsp. You can also slice up some red chili peppers if you want it hotter.

Vegetarian version:

Fry up some tofu and use in place of the meat.

Add more vegetables:

Stir-fry some snow peas, julienned carrots, broccoli, cauliflower florets, and mushrooms along with the steak strips.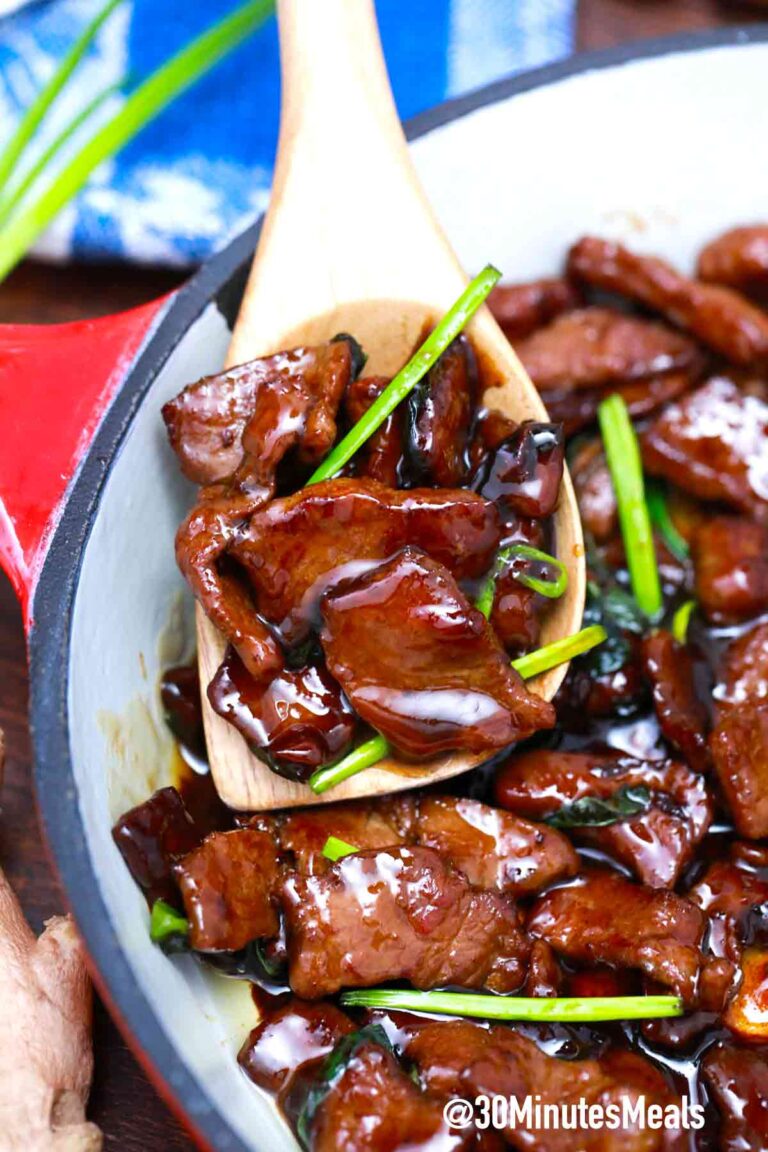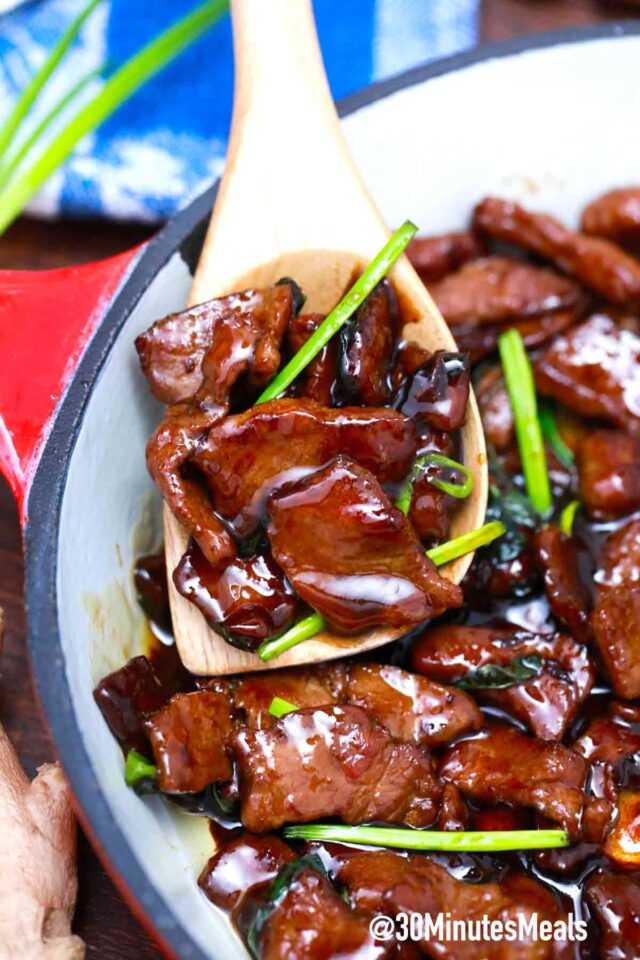 What is a flat iron steak?
Aka oyster blade or butler's steak, it's taken from the beef's shoulder or chuck. The name comes from the shape of the slice, which is reminiscent of a metal flat iron.
It has great marbling, very flavorful, and works really well for fast-cooking methods like grilling or stir-frying. It's much more affordable than premium cuts like ribeye and tenderloin too!
Can you make it in the slow cooker?
Sure, but use flank steak, a cut that gets more tender the longer it's cooked. No need to marinade this. Just toss everything into the pot, both steak and sauce, and slow cook for 3 hrs. on high or 5 hrs. on low.
Can you make it in the Instant Pot?
You can! Again, use flank steak. Sear for a minute on your IP's Sauté mode. Make the sauce and pour all over the seared strips. Cook on High Pressure for 10 minutes and quickly vent after. Open the pot, stir in the green onions, and enjoy.
How to serve Low Carb Mongolian Beef?
For a low-effort meal, I love using it as a topping for hot white rice. But for that take-out flair, I highly recommend serving it with homemade Egg Fried Rice!
If you want a veggie side instead, it's also delicious with some Crispy Fried Brussels Sprouts or Healthy Sauteed Cabbage if you want to keep the whole meal low-carb.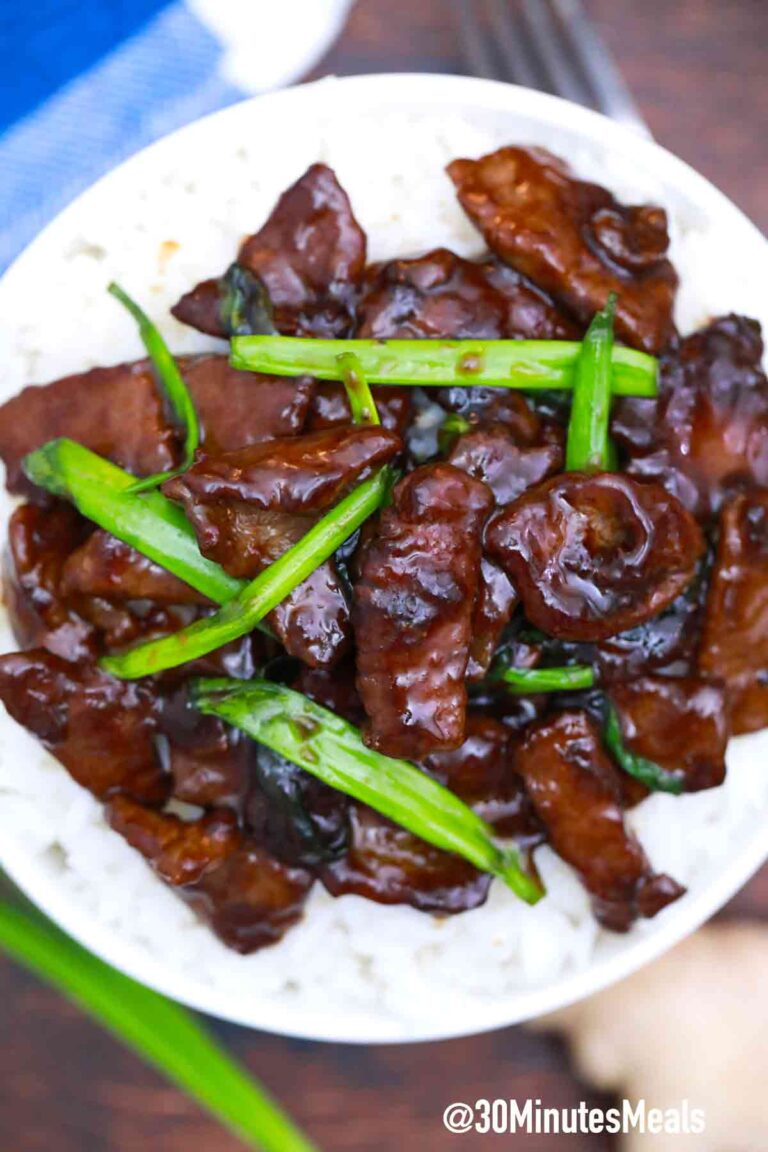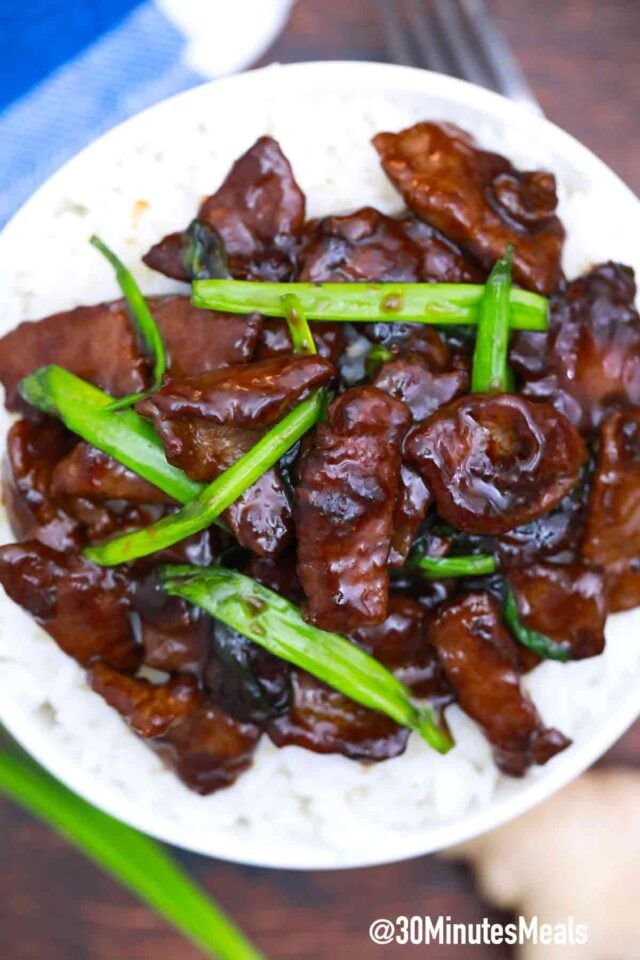 How to store:
This dish keeps really well! Once the leftovers have cooled down completely, transfer to a freezer-safe container if freezing, or an air-tight one if you plan to keep it in the fridge.
If you're refrigerating it, consume within 3 days. It can last up to 3 months frozen. To reheat, simply thaw and microwave until piping hot.
More Asian Recipes:
Recipe Tips:
If you want the dish saucier, throw in the marinade within the last three minutes of cooking.

Cut the steak strips AGAINST the grain for tenderness.

Don't be afraid to heat the oil. It should be so hot you can see smoke rising up from the pan! You need that intense heat to get that incredible crispiness in your beef.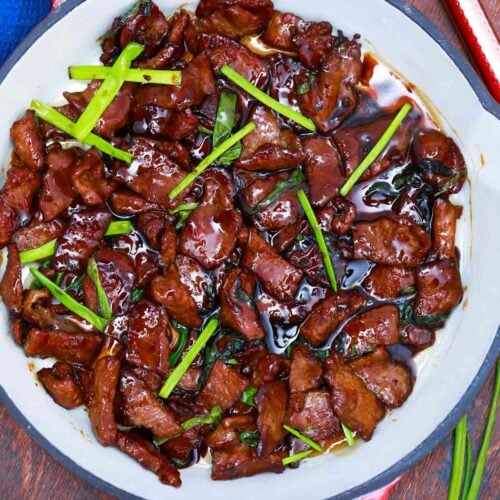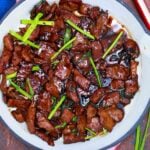 Low Carb Mongolian Beef
LowCarb Mongolian Beef uses a tender, quick-cooking steak cut marinatedin a savory ginger-garlic sauce for a meal that tastes straight outof a Chinese restaurant!
Keyword:
Low Carb Mongolian Beef
Ingredients
1

lb

flat iron steak

thinly sliced against the grain

1/4

cup

canola oil

3

green onions cut into 1-inch long slices
Low Carb Marinade
1/2

cup

soy sauce

½

cup

water

4

cloves

garlic

minced

1

tablespoon

fresh ginger grated

¼

teaspoon

red pepper flakes

2

tablespoon

brown sugar substitute
Instructions
Cut the steak into very thin slices against the grain.

Mix the marinade ingredients in a medium bowl.

Add the sliced beef to the bowl and toss to combine. Let marinate for 1 hour in the fridge.

When you are ready to cook, drain the meat from the marinade but reserve the liquid for later.

Pour the canola oil into a large wok or cast-iron skillet and heat it until it's almost smoking. Oil must be hot!.

Add the beef to the very hot oil and keep stir-frying over high heat. Taking care not to burn it for just 1-3 minutes. Cook in batches.

Once you cooked the meat, add it all back to the pan, and add the remaining marinade, cook for just a minute or two. Add the green onions and toss.

Serve hot.
Nutrition Facts
Low Carb Mongolian Beef
Amount Per Serving
Calories 560
Calories from Fat 468
% Daily Value*
Fat 52g80%
Cholesterol 150mg50%
Sodium 3419mg149%
Potassium 897mg26%
Carbohydrates 19g6%
Protein 50g100%
Vitamin A 254IU5%
Vitamin C 5mg6%
Calcium 49mg5%
Iron 7mg39%
* Percent Daily Values are based on a 2000 calorie diet.