Homemade Caesar Salad Recipe
Caesar Salad is the timeless combination of a healthy and easy to make dish. With just a few ingredients, you can enjoy a fulfilling meal!
Looking for hassle free recipes? Take a look at my guaranteed delicious recipes for Cheesy Chicken Fajita Quesadilla, Bacon Wrapped Smokies, and Korean Chicken Bowls.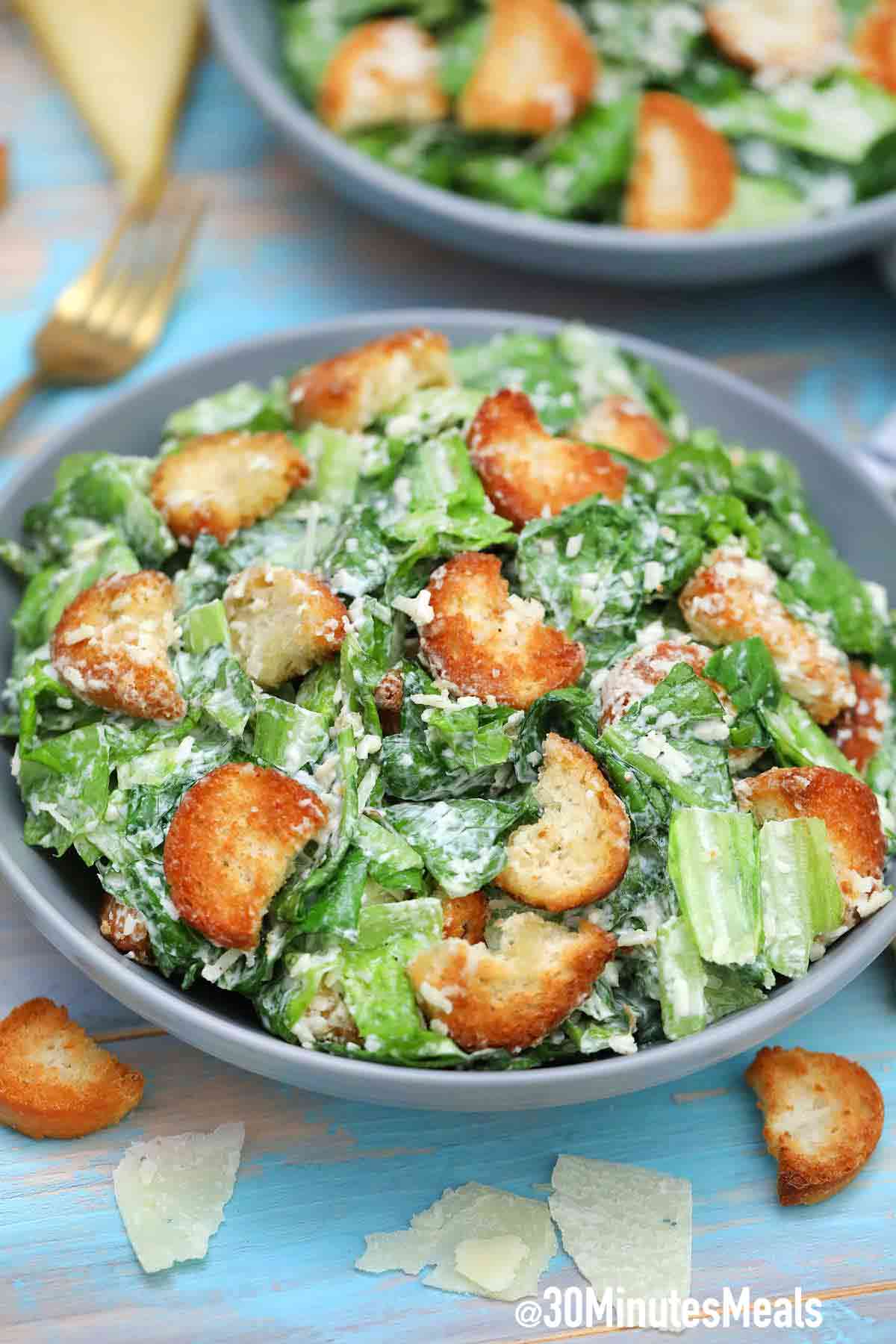 Caesar Salad
Caesar Salad works perfectly as an appetizer or a main course. It is super fun to make since you can add just about anything.
Even with so much variety, a simple and classic assembly will still give you that refreshing taste. Not to mention, this salad is popular and extremely appetizing even for kids.
I find that the classic Caesar salad is so expensive in restaurants. Which is why I encouraged people to learn my recipe so that they can make it at the comfort of their own home, at a lesser price.
I hope that you have fun making my version of this classic dish. You only need less than five ingredients to enjoy this timeless recipe.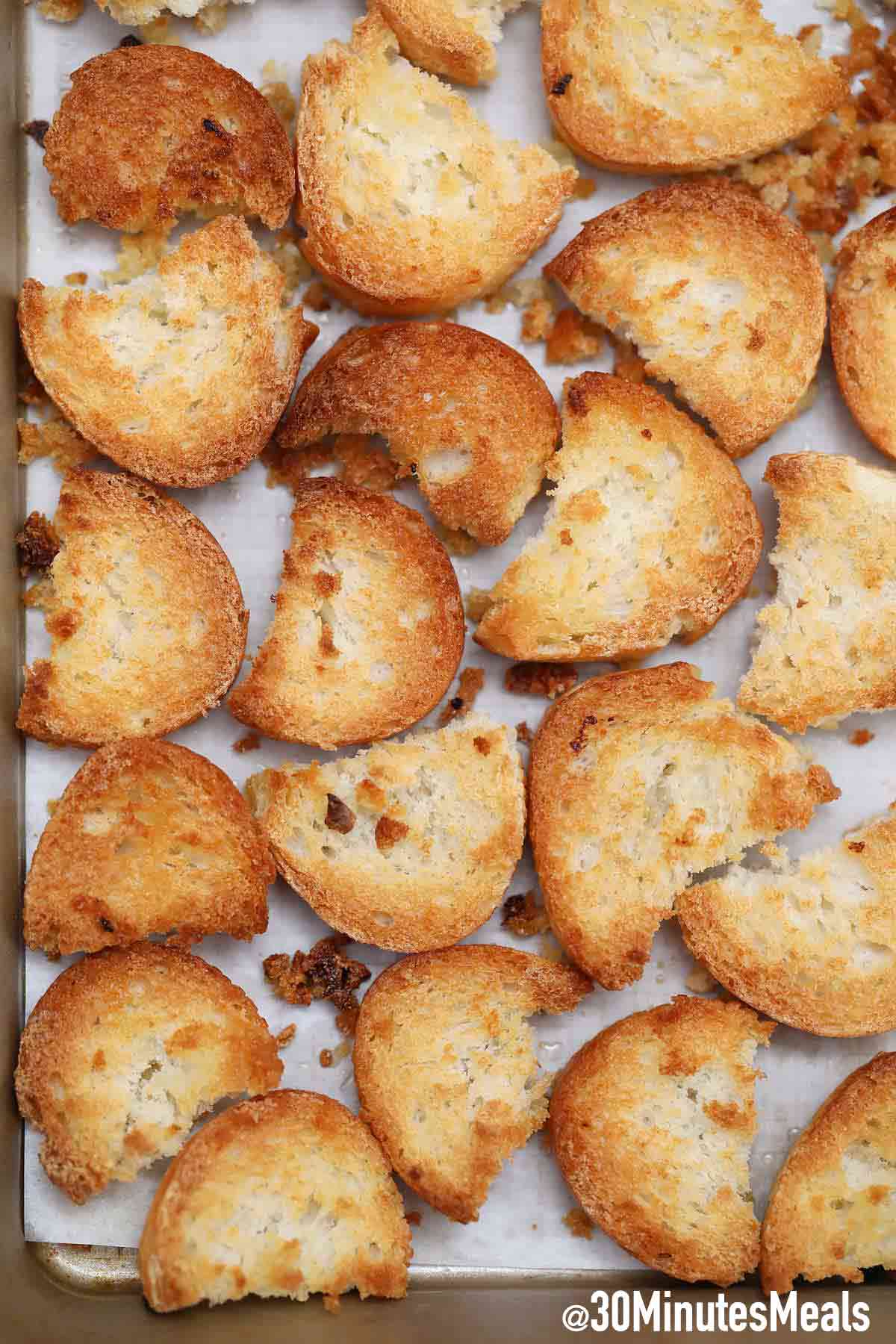 What is the best lettuce to use?
When it comes to Caesar, I recommend using Romaine. It provides a crisp and crunchy texture that can make you and your kids enjoy munching on.
How to make the best Caesar Salad?
Prepare the dressing

. Make sure that your dressing is chilled before drizzling it on the salad. If you want a homemade recipe, just make mix these ingredients until it becomes paste-like: garlic, lemon juice, Dijon mustard, Worcestershire sauce, anchovy paste, mayo, sour cream, parmesan, and seasoning.

Bake the croutons

. Mix oil and minced garlic. Slice French baguettes into small pieces and lay it on a baking sheet. Coat the baguettes with the mixture and toast in an oven until crispy.

Assemble.

In your serving bowl or plate, lay the lettuce first. Cut them in smaller pieces if desired. Sprinkle a generous amount of parmesan cheese and then lay the baked croutons.

Serve.

Drizzle the chilled dressing. Serve.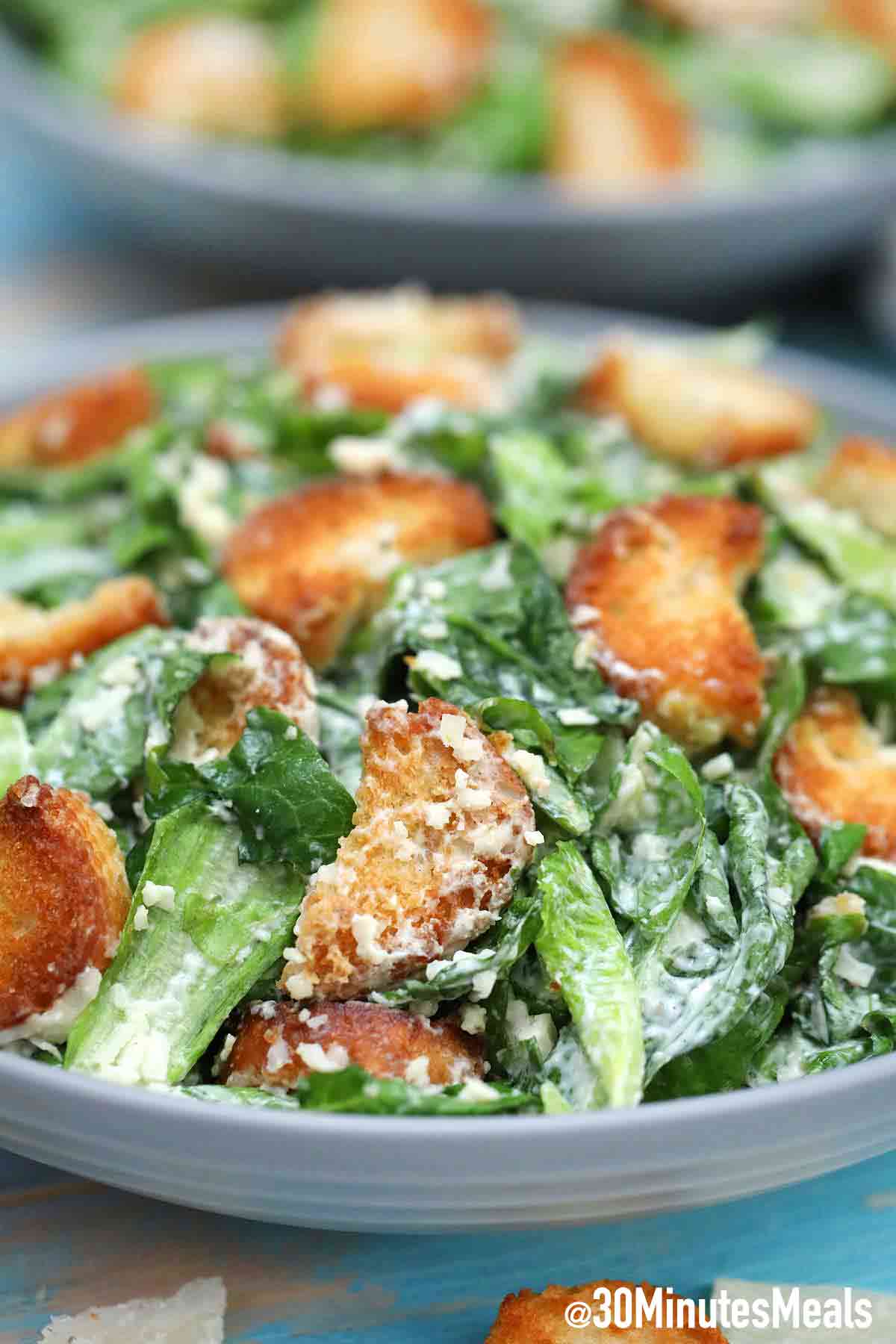 What else can you put in a Caesar Salad?
Adding other toppings can upgrade the dish. Here are several ingredients that makes the dish even more appetizing:
Meat

. Cooked bacon, shredded chicken, and hard-boiled eggs.

Nuts

. Almond, cashews, and walnut.

Fruits/Vegetables

. Cherry tomatoes, shaved carrots, and Brussel sprouts.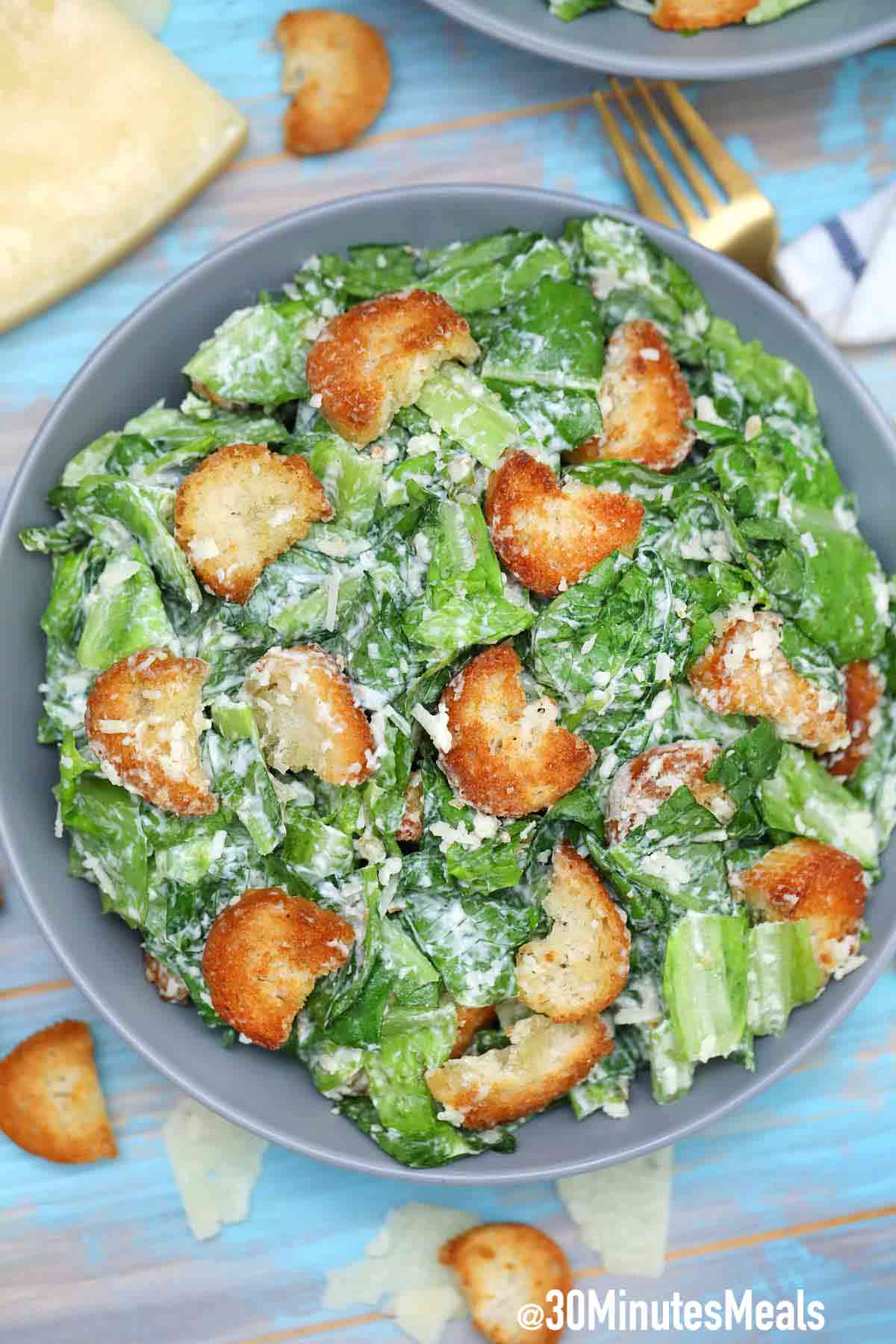 What to serve with it?
There is nothing more perfect to serve greens with other than cooked meat. If you are looking for the absolute combination, you should pair this salad with the following recipes:
Of course, a meal isn't complete without a refreshing drink. Check out these flavorful beverages:
Is Caesar Salad healthy?
Of course, it is! You can even make it more nutritious by adding more greens and fruits such kale, spinach, and cherry tomatoes.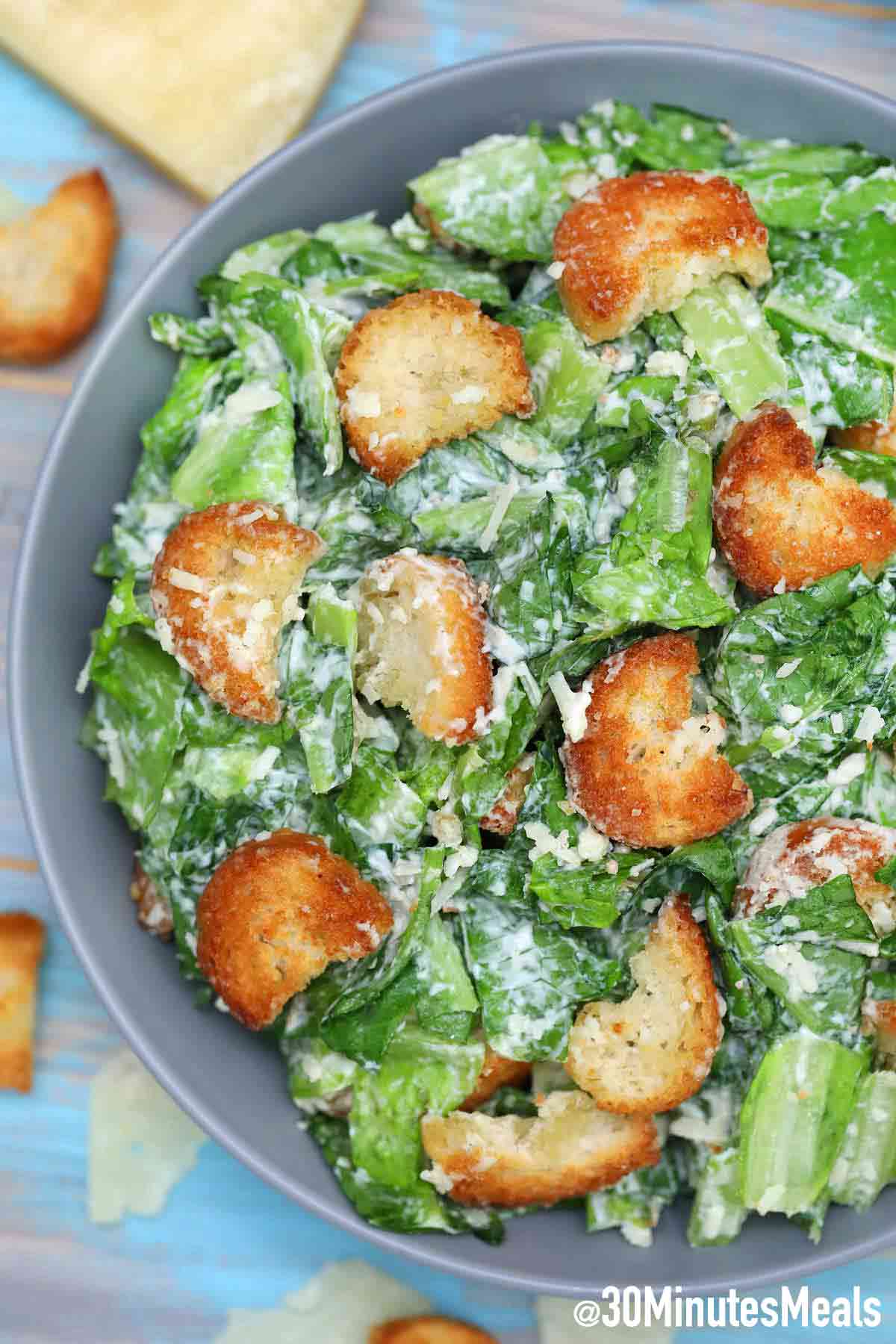 Can you make it in advance?
If you want to meal prep for the week, this recipe is the perfect choice. It is conveniently easy to store and when done properly can last for up a week.
Store the salad in a tight container and drape a paper towel on top before closing. The paper helps absorb the excess moisture to keep your greens fresh and crunchy.
However, just make sure to not include the dressing when storing. I recommend drizzling the sauce only when you are ready to eat it immediately.
Recipe Tips:
Since the lettuce is the base, make sure to get fresh and high-quality ones. The plate is only as good as the greens you're going to make it with.

Add protein intake by topping it with shredded chicken, eggs, or fish.

To let the dressing really burst with flavor, try to make it the night before. The ingredients will blend better and the taste will pop out.

Don't be too restrained with seasoning. You should always try to make this dish as tasty as possible even without any additions.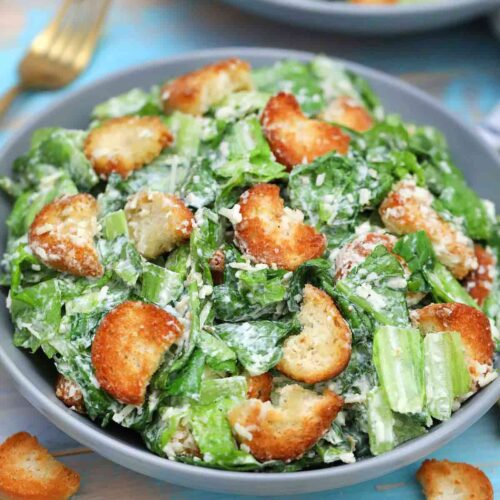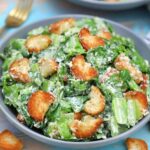 Homemade Caesar Salad
Caesar
Salad is the timeless combination of a healthy and easy to make dish.
With just a few ingredients, you can enjoy a fulfilling meal!
Ingredients
Garlic Croutons:
1/2

French Baguette

cut into cubes

3

tablespoons

extra virgin olive oil

2

cloves

garlic

minced
Caesar Dressing:
2

cloves

garlic

minced

1 1/2

teaspoon

anchovy paste

1

tablespoon

lemon juice

1

tablespoon

Worcestershire sauce

1

cup

mayonnaise

1/4

cup

sour cream

1/3

cup

freshly grated Parmesan cheese

1/4

teaspoon

salt

1/4

teaspoon

freshly ground black pepper
For the Caesar Salad:
1

large romaine lettuce

rinsed and dried

1/2

cup

parmesan cheese

shaved
Instructions
Make Croutons:
Preheat oven to 350 degrees F.

Toss the bread with the oil and garlic until evenly coated.

Arrange in a single layer onto a baking sheet and bake until lightly golden and crisp, about 10-12 minutes.
Caesar Salad Dressing:
Combine all the dressing ingredients in a medium bowl, stir until combined.
Assemble the Salad:
Chop the lettuce and place it in a serving bowl, sprinkle shredded parmesan cheese on top, add the cooled croutons, and drizzle with the dressing on top.

Toss to combine.

Serve immediately.
Nutrition Facts
Homemade Caesar Salad
Amount Per Serving
Calories 686
Calories from Fat 558
% Daily Value*
Fat 62g95%
Cholesterol 49mg16%
Sodium 1157mg50%
Potassium 151mg4%
Carbohydrates 19g6%
Protein 12g24%
Vitamin A 905IU18%
Vitamin C 3mg4%
Calcium 300mg30%
Iron 2mg11%
* Percent Daily Values are based on a 2000 calorie diet.