Fluffy Lemon Ricotta Pancakes Recipe
Fluffy Lemon Ricotta Pancakes are both healthy and delicious made with protein-filled ricotta cheese and a touch of lemon zest for a delightful twist. This is one of my family's favorite pancake recipes and they would have them every morning if they could. You get to use the whole container of ricotta cheese, so they are definitely ricotta cheese pancakes instead of pancakes with a touch of ricotta cheese.
Are you looking for other pancake recipes? Try our Yogurt Oatmeal Pancakes made from Greek yogurt, oat flour, and butter. Alternatively, use this easy recipe for Crepes stuffed with fruit or preserves. Do you know what goes great with pancakes for lunch? Our Egg Fried Rice with snap peas, green onions, and sesame oil. Just spoon it on top of the pancakes for a delicious light meal.
Pancakes have been around since 600 BC when a Greek poet described warm flat cakes in one of his poems. Not much later, pancakes were so popular that Pancake Day (Shrove Tuesday) was born in 1100 AD. Then a pancake race became official in 1445 in Buckinghamshire, UK. In the 1700s, chefs used snow to make their pancakes fluffy and light. Before the addition of milk or cream, cooks used wine or brandy. But the official pancake recipe did not hit American cookbooks until the 1870s.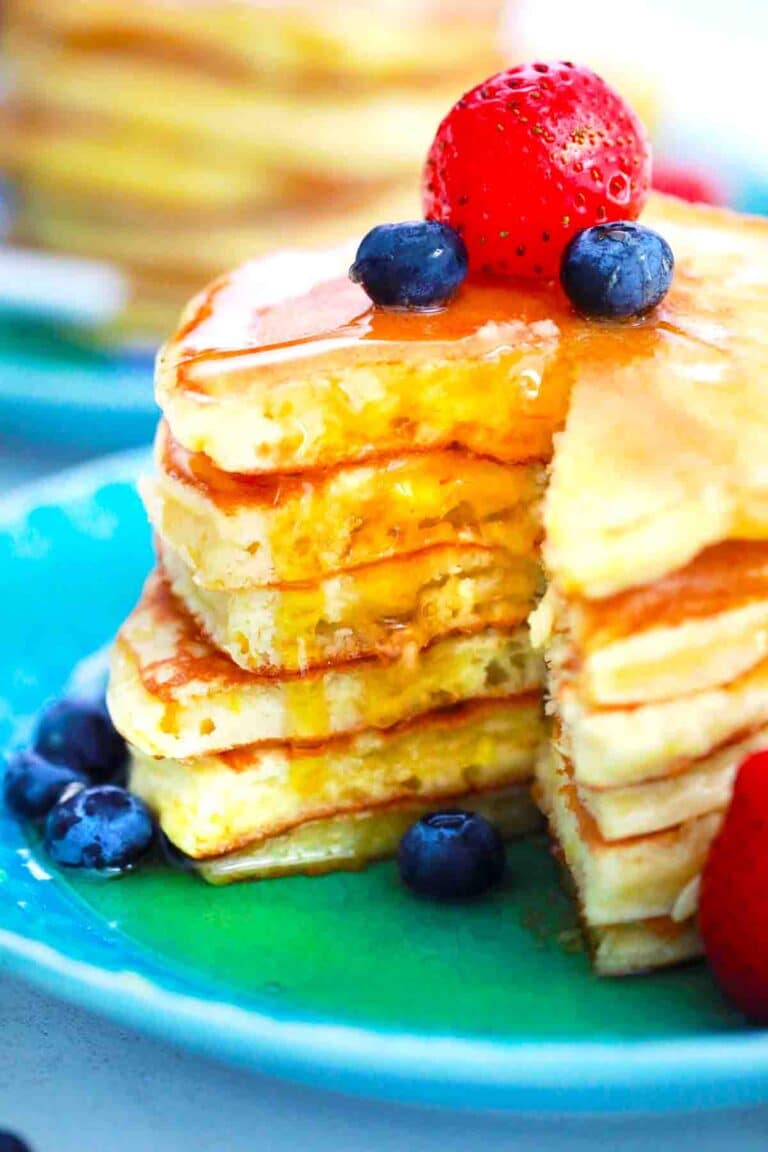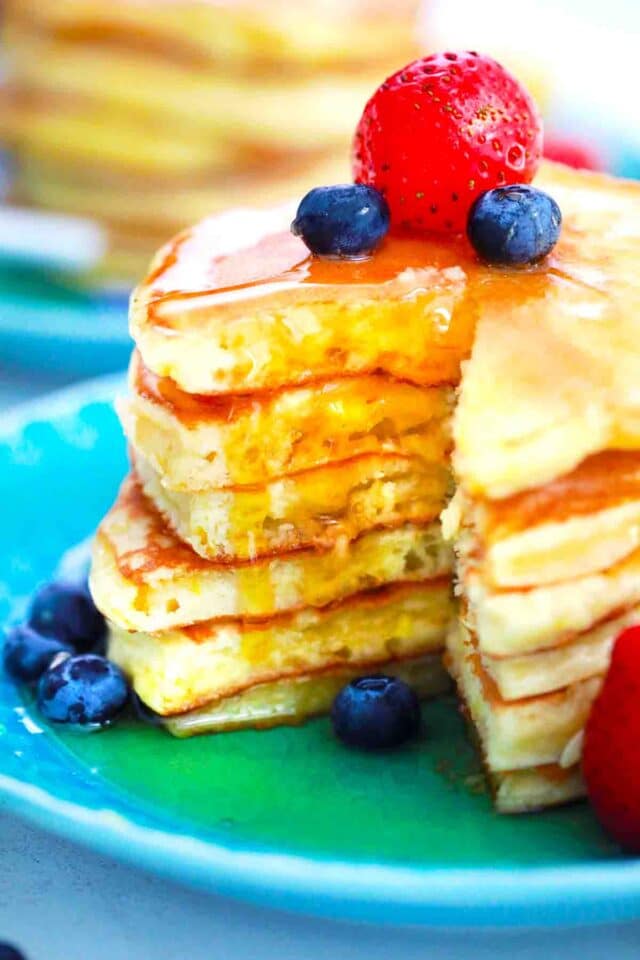 Fluffy lemon ricotta pancakes are the best thing that has ever happened to pancakes and this wonderful recipe is so easy to make, you can whip them up anytime in minutes. You only need a handful of ingredients like flour, sugar, eggs, buttermilk, and ricotta cheese. In fact, you may already have these items in your kitchen. You can also try one of the substitutes for a unique twist to this fluffy lemon ricotta pancake recipe.
For other breakfast recipes, why not try our fun and tasty rainbow waffles that are easy to make with food coloring and basic pancake ingredients? If you have leftover eggnog from the holidays, use it to make these scrumptious eggnog waffles. For something different, try these crispy hash browns with just three ingredients. They go great with any pancake recipe too.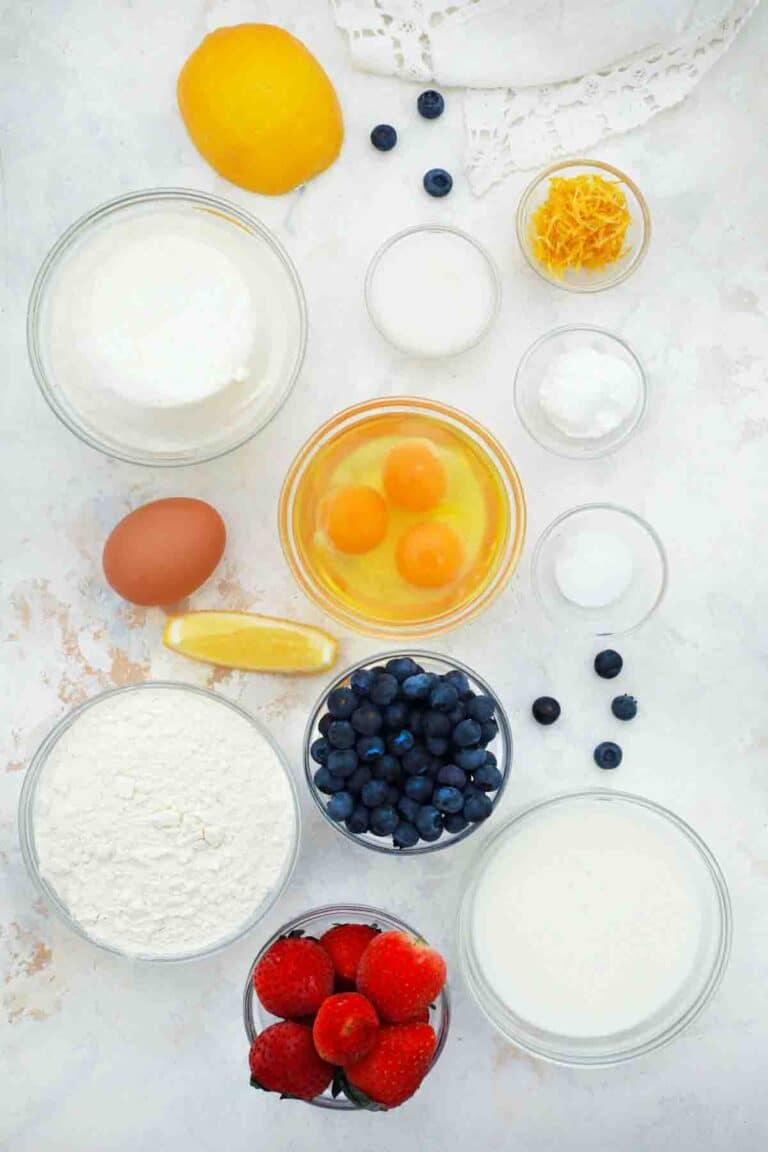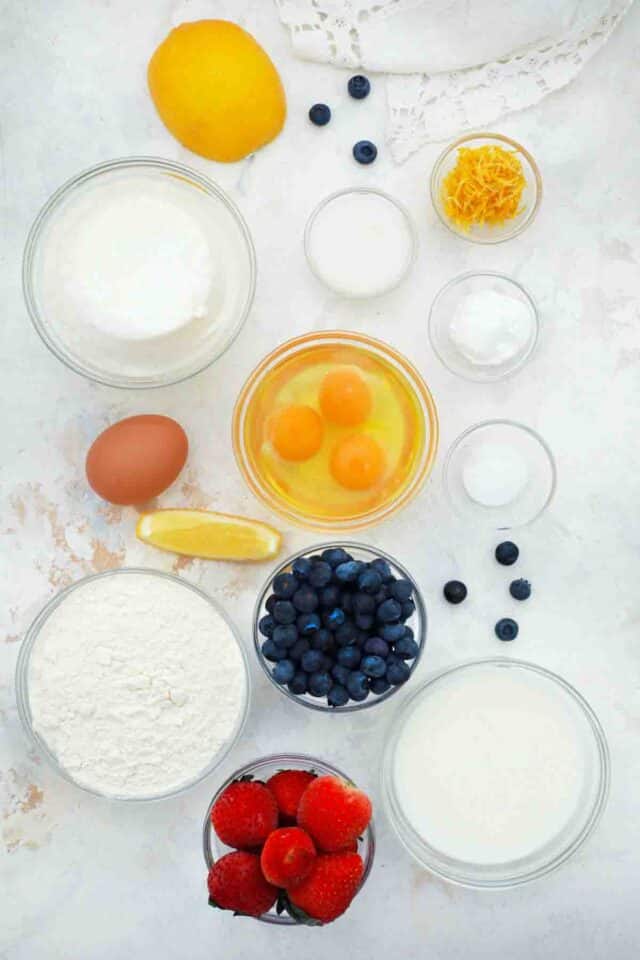 Ingredients needed:
To make these easy lemon pancakes, gather these ingredients. You probably already have most of them in your kitchen. Then when you are ready to begin, find our recipe card at the bottom of the page for exact measurements and instructions.
All-purpose flour
Granulated sugar
Large eggs
Low-fat buttermilk

(or kefir)

Ricotta cheese
Baking powder:

Not baking soda.

Sea salt
Zest from one lemon
Olive oil:

For cooking.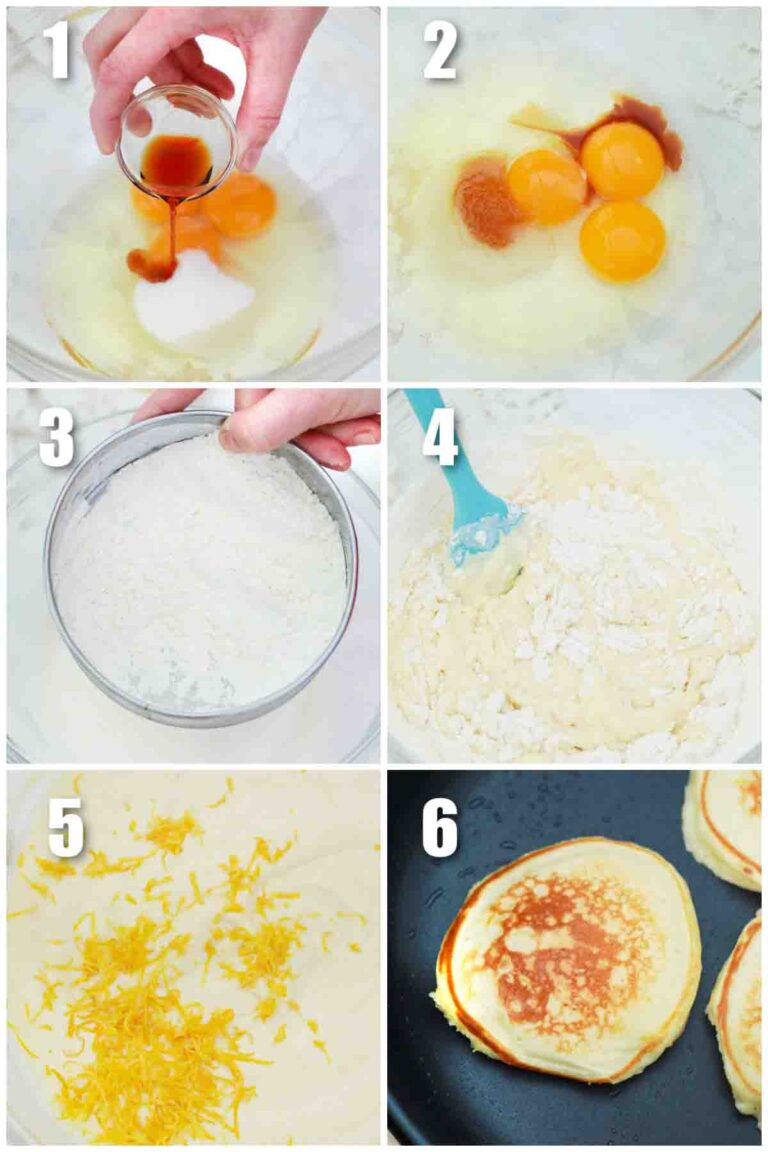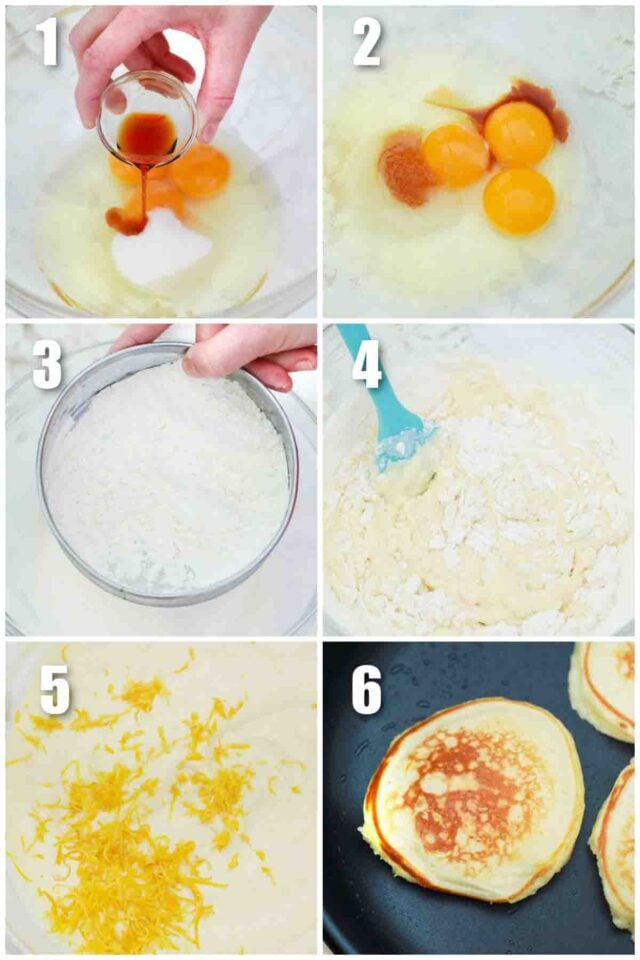 How to make fluffy lemon ricotta pancakes from scratch?
Mix:

First, whisk sugar and eggs together in a large bowl until they are well blended.

Combine the wet ingredients:

Next, add the salt, buttermilk, and ricotta cheese and whisk until it is thoroughly mixed.

Mix the dry ingredients:

Then, in a separate bowl, sift together baking powder and flour.

Whisk them together:

After, whisk together the flour mixture and wet mixture in one bowl.

Let it rest:

After, stir in the lemon zest and let the pancake batter rest for 15 to 30 minutes. This will make your lemon ricotta pancakes even fluffier.

Cook the pancakes:

Lastly, heat a frying pan or large non-stick skillet over medium heat with the oil until it is sizzling. Drop the pancake batter by tablespoon into the pan and cook for two or three minutes on each side. Continue with the remaining batter, adding more oil as needed. Your finished pancakes should be about the size of a baseball.

Serve pancakes:

Finally, serve fluffy lemon ricotta pancakes while warm with your favorite toppings and syrup.
Recipe variations:
Another oil:

Feel free to use another oil such as vegetable, coconut, canola oil, or whatever oil you like to cook with.

More lemony flavor:

For more lemon flavor, add a tablespoon of fresh lemon juice.

No regular flour:

You can also use different flour such as coconut or almond flour.

Different zest and juice:

Instead of lemon, try using orange zest and juice for a different citrus flavor. Or why not use both flavors?

Extracts:

To add other flavors, use your favorite flavor of extracts such as almond, lemon, or vanilla extract.

Egg whites:

For even fluffier pancakes, use egg whites instead of the whole egg.

Kefir:

You can also use kefir instead of buttermilk.

Add some fruit:

These pancakes can be extra delicious with a handful of fresh blueberries or chopped strawberries.

Chocolate lovers:

You could also try adding a 1/2 cup of chocolate chips for the chocolate lovers in your family.

Go nuts:

Similarly, add chopped walnuts or pecans for a bit of crunchiness.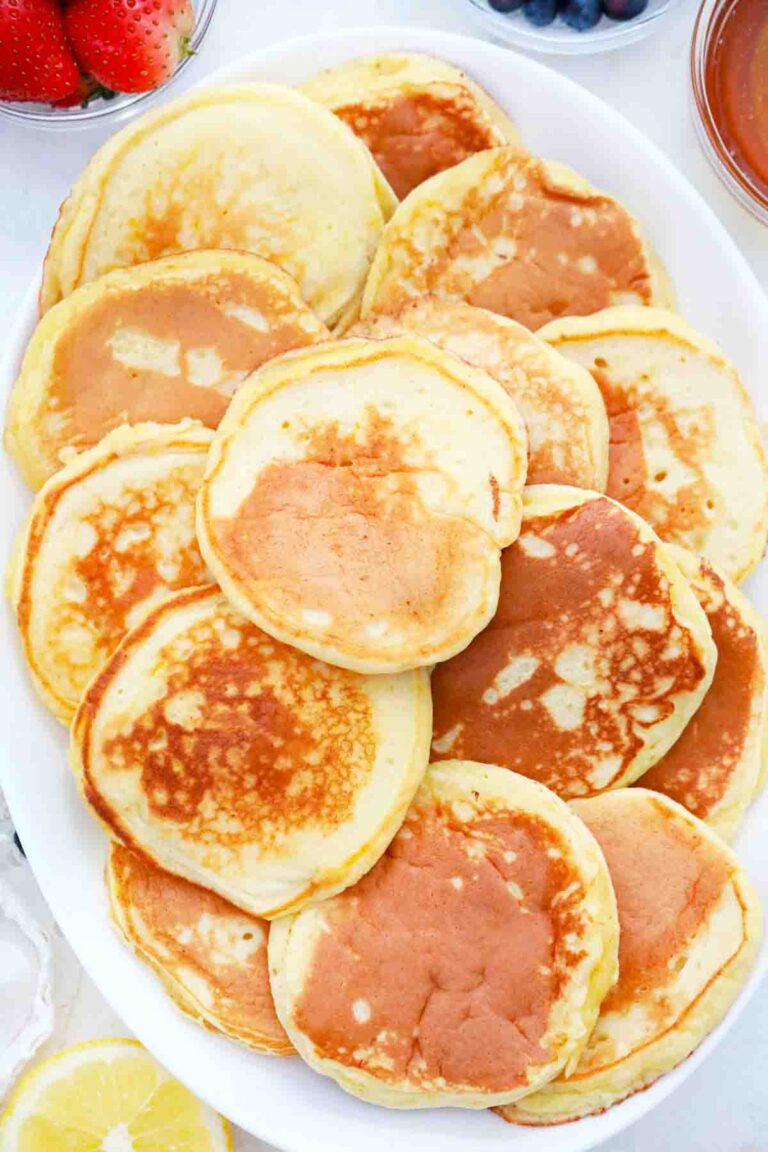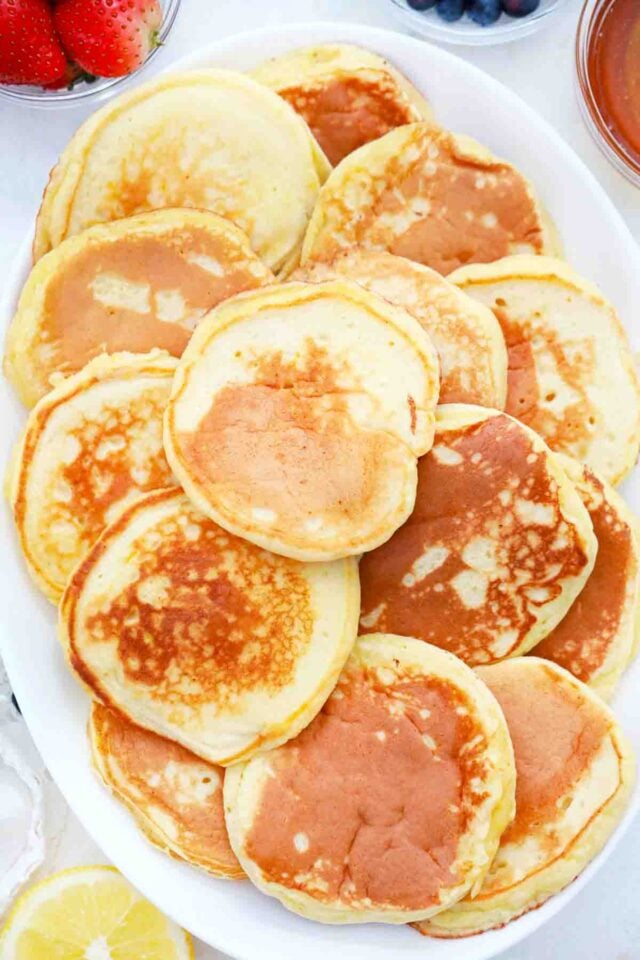 How to serve:
This easy lemon ricotta pancakes recipe is ready in minutes and can be served as a breakfast dish with sides or a snack anytime. These even make a delicious dessert with any meal. Try one of our serving suggestions or leave one of your own ideas in the comments section at the bottom of the page.
These pancakes are totally delicious with a dollop of fresh whipped cream on top.

For extra fruity flavor, add a scoop of our homemade

pineapple fluff

. The light fruit taste goes perfectly with lemon ricotta pancakes.

If you love lemon, top your pancakes with more lemon zest or lemon curd.

To drink, serve our

homemade lemonade

or this fruity

blackberry lemonade

. Either one would complement the lemon in the pancakes really well.

Other toppings you can try are blueberry syrup, preserves, or citrus segments.

For something savory, try filling your pancakes with shredded beef or chicken. You can use our recipe for baked

almond lemon chicken breasts

.

Of course, maple syrup goes great with any pancakes.

For something even sweeter, try caramel sauce or chocolate syrup.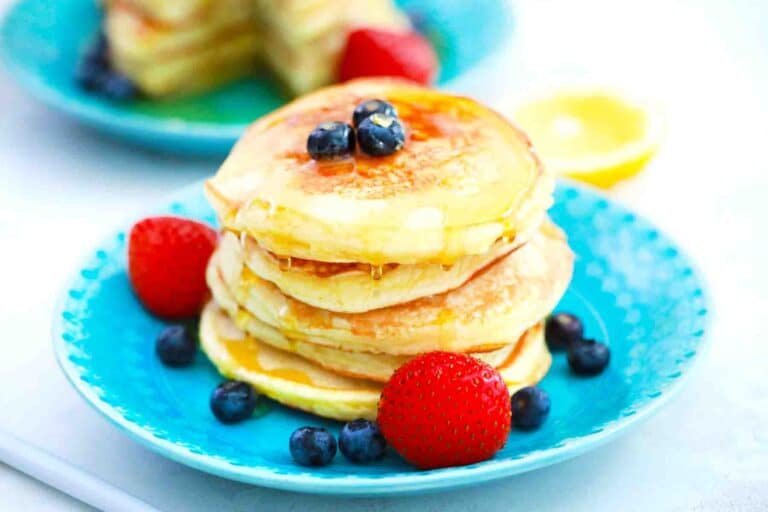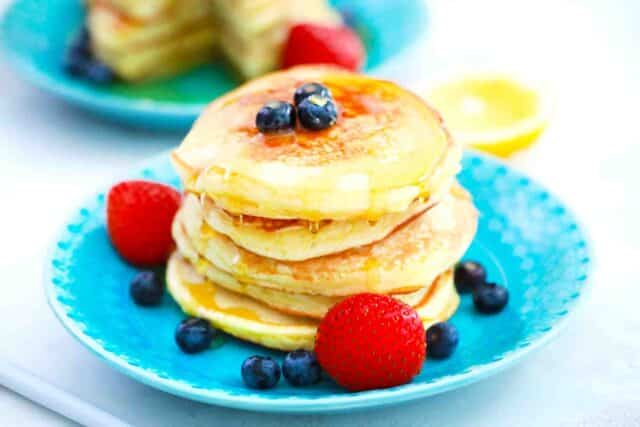 Frequently asked questions
How do I make my own buttermilk?
If you do not have any buttermilk and do not feel like going to the grocery store, why not make your own? Just add one tablespoon of white vinegar to one cup of whole milk. Or, you can use one tablespoon of lemon juice instead of vinegar. The best way to do this is to add the lemon juice or vinegar to a cup and then add the regular milk until it is full.
Why aren't my lemon ricotta pancakes fluffy?
For the perfect pancakes that are light and airy and melt in your mouth, you need to have the exact measurement of each ingredient and make sure that your baking powder is not too old. Also, measure your flour after sifting and use a spoon to measure it instead of just scooping it up.
Some other tips are to use fresh flour and other ingredients, let your batter rest for about 20 to 30 minutes, and make sure the pan is hot. Using old flour that has been in your cabinet for years will not give you fluffy lemon ricotta pancakes. And the pan has to be hot enough to sizzle when you pour on the batter. One more thing to remember. Do not stir your batter too much. Leave some lumps.
What is the best oil for cooking pancakes?
The best oil to use is the one you like to cook with. However, if you have no preference, here are a few tips. Coconut oil gives your lemon ricotta pancakes a bit of a sweeter flavor and is healthier than other oils. Light canola or olive oil are also great choices for this recipe. Do not use melted butter. It smokes too much and you will have to clean the pan after every few batches to get rid of the browned butter.
What are the nutrition facts in this recipe?
Each serving of fluffy ricotta pancakes has 220 calories, 105 milligrams of cholesterol, and 10 grams of fat with 5 grams of it being saturated fat. One serving also contains 199 milligrams of sodium, 31 grams of carbohydrates, and 5 grams of sugar. But you also get 2 grams of fiber, 13 grams of protein, 363 units of vitamin A, 245 milligrams of calcium, 3 milligrams of vitamin C, and 2 milligrams of iron.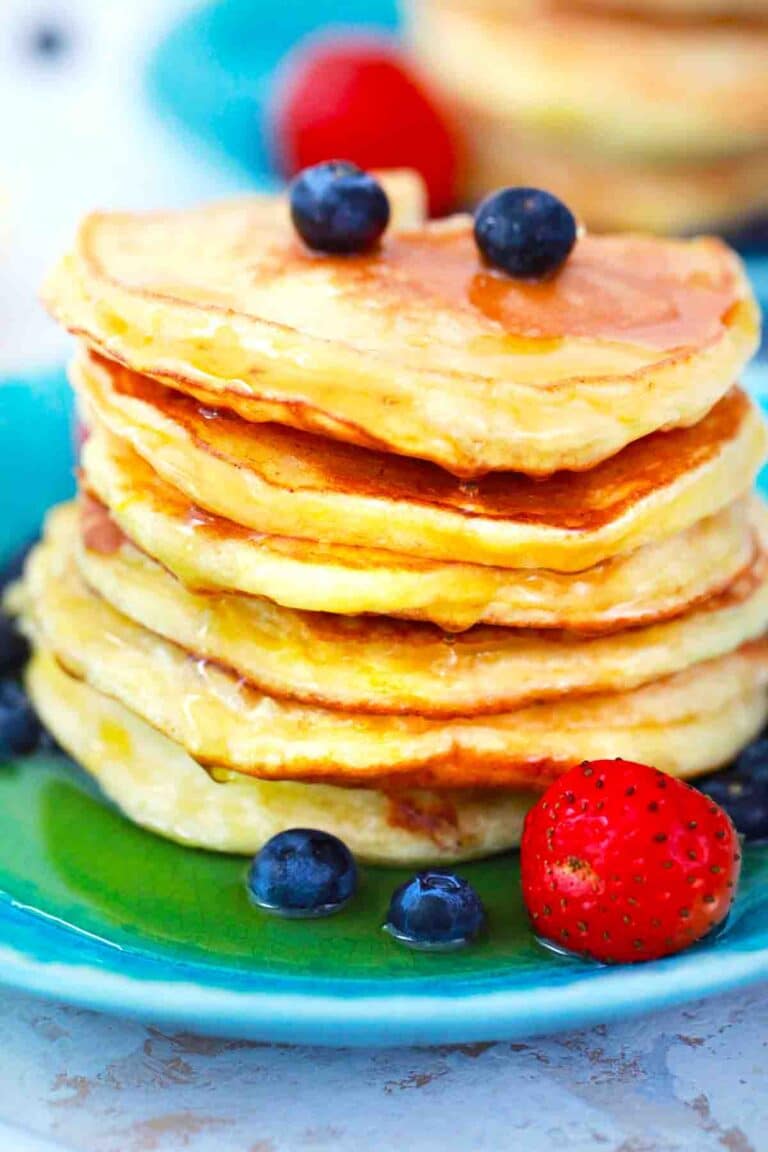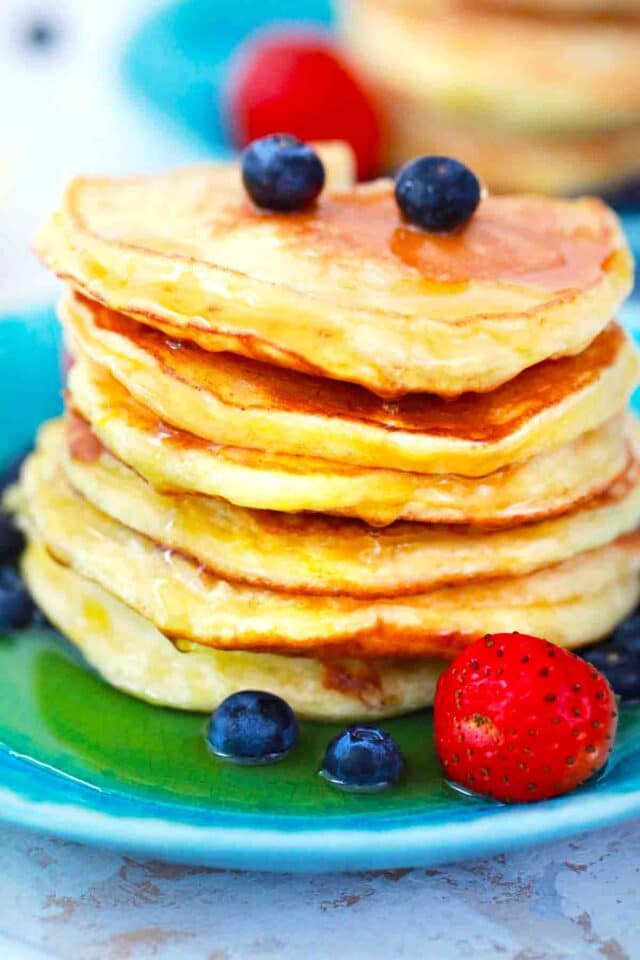 How to store leftovers:
Store:

You can store your leftover fluffy lemon ricotta pancakes in an airtight container or gallon-size zip baggie. They will stay fresh for up to five days in the fridge.

Freeze:

Go ahead and freeze your leftover pancakes if you cannot finish them in a few days. The best way to do this is to put three or four pancakes in every layer and separate the layers with parchment or wax paper to keep them from sticking. You can keep them for up to four months in the freezer.

Thaw:

For the best flavor and texture, thaw your frozen pancakes in the fridge overnight.

Reheat:

There are several ways to reheat pancakes. You can heat them in a microwave for 30 seconds. Or, if you want them crispy, put them in an air fryer set at 350 degrees F for three minutes. You can also reheat them in a frying pan.
Recipe tips:
Keep your finished pancakes on a baking sheet covered with parchment paper in a warm oven until you are done cooking them all.

If you are using an electric griddle, set it to medium heat or 325 degrees F.

To make perfectly fluffy pancakes, let the batter rest for up to 30 minutes before using.

Use a 1/4 measuring cup to pour pancakes into the pan to make sure they are all the same size.

Cooked pancakes should be golden brown with crispy edges.

When you see bubbles popping and remaining open on the surface, it is time to flip your pancakes.

Do not crowd the pan or they will not cook as well.

Make sure the oil stays hot when using and add more oil as you need it.

If you absolutely do not have ricotta cheese, you can substitute it with sour cream.

We always have great recipes on our food blog so check

30minutesmeals

every day.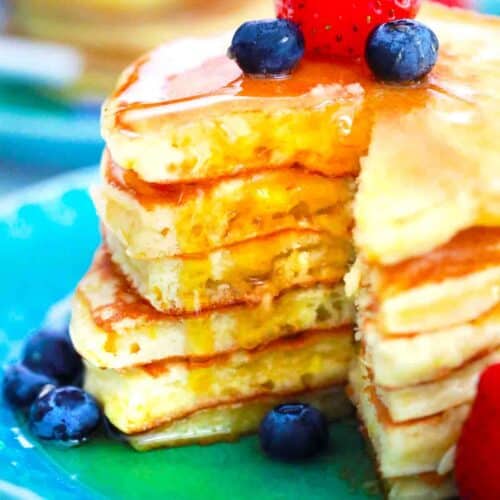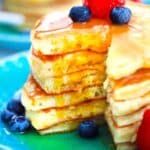 Fluffy Lemon Ricotta Pancakes
Fluffy Lemon RicottaPancakes are both healthy and delicious made with protein-filledricotta cheese and a touch of lemon zest for a delightful twist.
Keyword:
Lemon Ricotta Pancakes
Ingredients
14

oz

ricotta cheese

3/4

cup

buttermilk

3

large eggs

room temperature

3

tablespoons

granulated sugar

1 1/4

cups

all-purpose flour

1

tablespoon

baking powder

1/4

teaspoon

sea salt

Zest of 1 lemon

Coconut oil to cook
Instructions
In a large mixing bowl, whisk together eggs and sugar until well combined.

Next, mix in ricotta cheese, buttermilk, and salt until blended.

In a separate bowl, sift together flour and baking powder.

After that, fold the flour mixture into the cheese mixture, until smooth and combined.

Stir in the lemon zest.

If you have time, let the batter rest for 30 minutes, the pancakes will be even fluffier.

Heat a large non-stick skillet or griddle over medium heat and brush with oil.

Spoon batter into the pan (about 2-3 tablespoons per pancake) and cook 2-3 min per side. Repeat with the remaining batter, adding more oil as needed.

Serve with berries and maple syrup.
Nutrition Facts
Fluffy Lemon Ricotta Pancakes
Amount Per Serving
Calories 285
Calories from Fat 108
% Daily Value*
Fat 12g18%
Cholesterol 119mg40%
Sodium 218mg9%
Potassium 370mg11%
Carbohydrates 30g10%
Protein 14g28%
Vitamin A 463IU9%
Calcium 274mg27%
Iron 2mg11%
* Percent Daily Values are based on a 2000 calorie diet.