Mediterranean Tabbouleh Recipe
Tabbouleh is a refreshing Mediterranean medley of finely-chopped parsley, mint, and veggies like onions and tomatoes brightened up with a simple lemon dressing. Healthy and packed with textures and flavors!
For more meatless but satisfying salads, try my Greek Salad with Homemade Dressing, Caprese Pasta Salad, and Chickpea Salad. They're filling enough for a light lunch or dinner!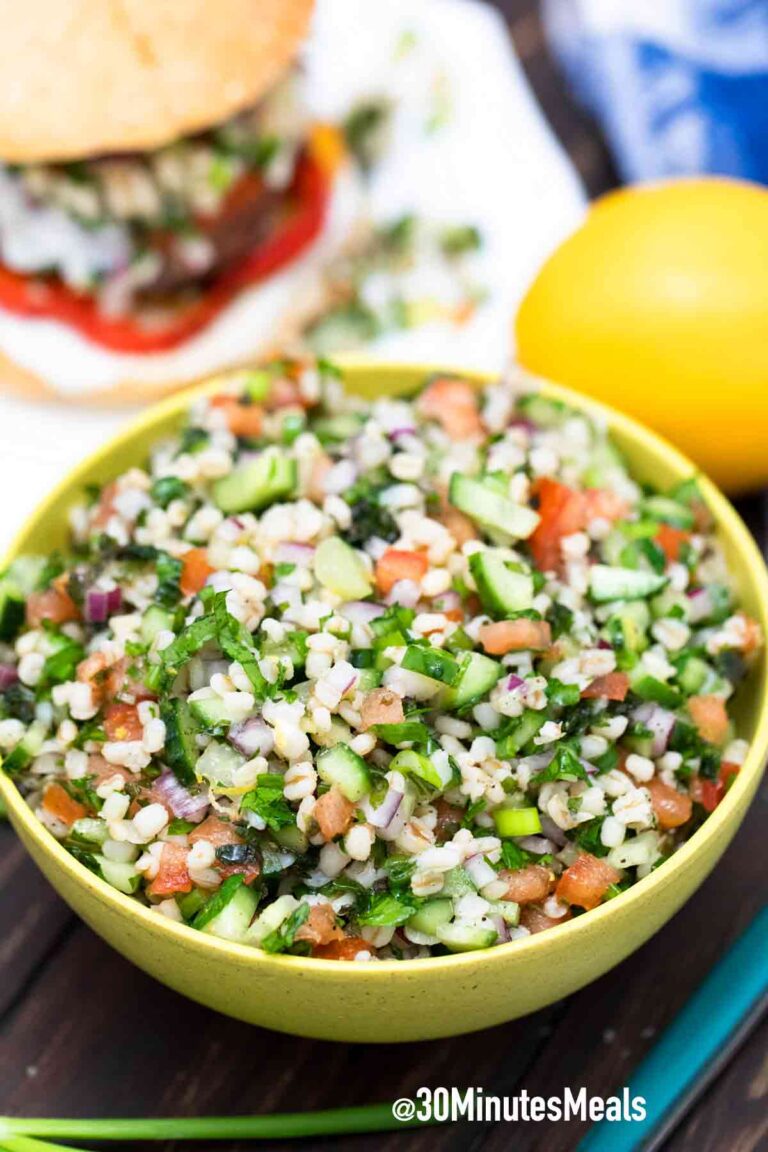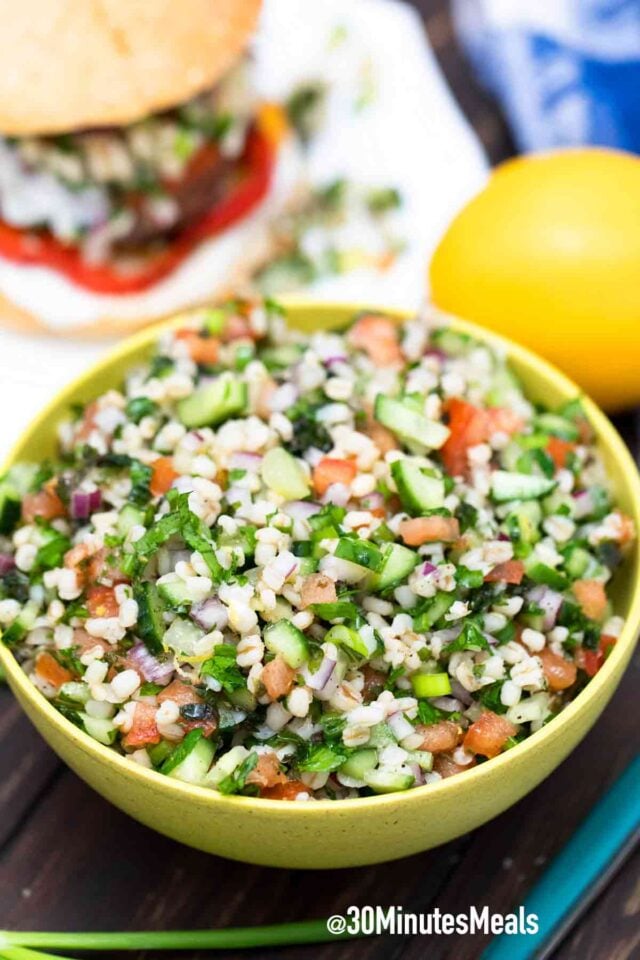 Mediterranean Tabbouleh Recipe
Tabbouleh is so colorful and tastes super fresh! This traditional Middle Eastern dish is a parsley-based salad with soaked bulgur wheat, fresh chopped mint, and diced tomatoes and onions. For my version, I added some chopped cucumbers because it adds such a nice crunch. All of those are tossed in a basic dressing made with good olive oil and fresh-squeezed lemon juice.
It sounds so simple, but the play of textures and bold flavors is astonishing. You can taste all of the flavors, and everything tastes so bright and refreshing!
You can enjoy this versatile dish as an appetizer, as a garnish to mains like lamb burgers, or a vegan side to your roasts, steaks, and other entrees. Finally, feel free to customize this recipe with your own twists!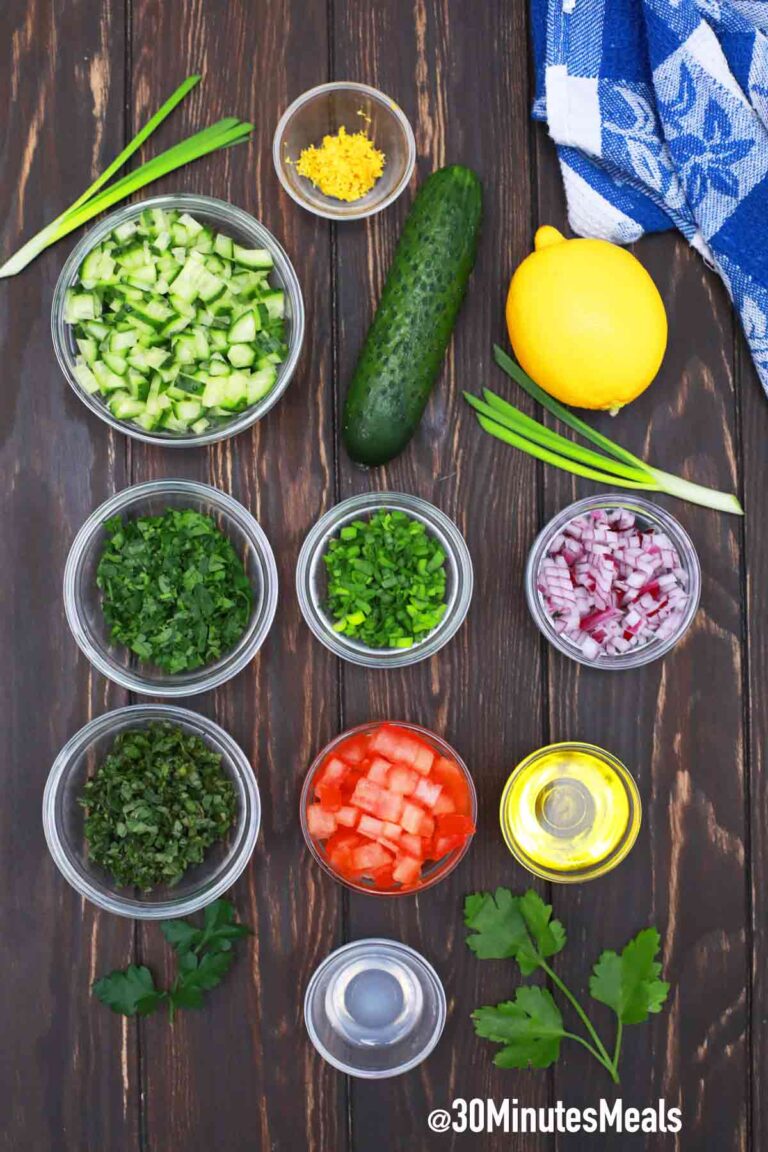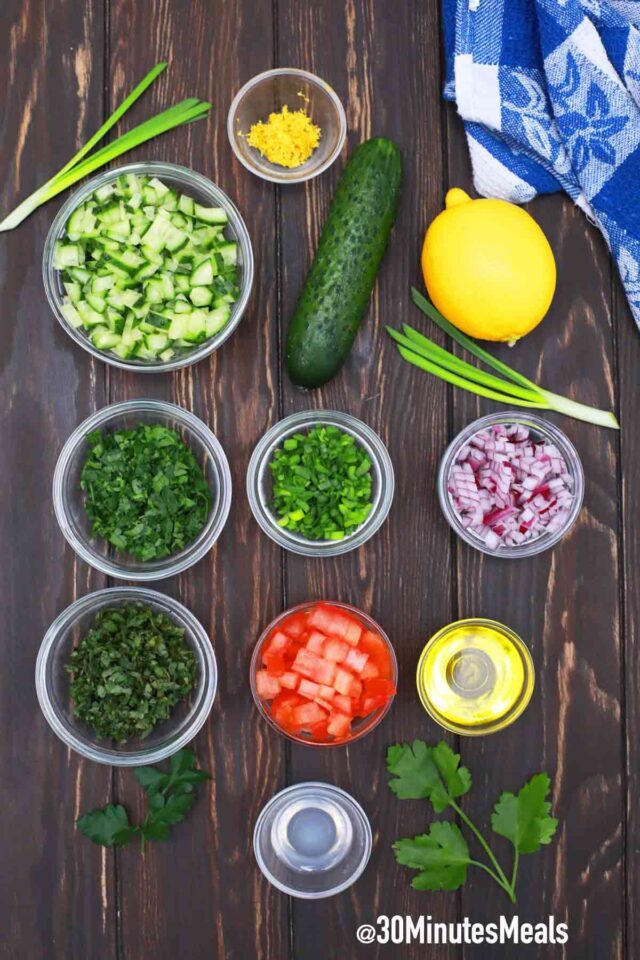 What is tabbouleh?
It's a very traditional Mediterranean salad made up mostly of parsley along with soaked bulgur wheat and very finely-chopped fresh mint, tomatoes, and onions. It's all coated in a lemony dressing and served fresh.
Is tabbouleh healthy?
Yes! It's low-cal, low-fat, and loaded with nutrients from the veggies plus healthy fat from the splash of olive oil. You can eat this every day without feeling bloated or packing on the calories! It's very easy to make it low-carb as well.
How to make homemade tabbouleh from scratch?
Chop. I recommend using a processor, but you can also dice the parsley and veggies by hand. Make sure you do it very finely!
Make the bulgur. Simply follow the instructions on the box.

Mix. Once your bulgur is ready, mix your parsley, herbs, and veggies.
Toss. Combine your dressing ingredients, then toss with the parsley mixture. Season. Set aside and allow the flavors to marinate for at least 30 minutes.
Serve. Enjoy as a light appetizer, as a garnish, or as a refreshing side dish to BBQs, grilled meats and seafood, and other entrees!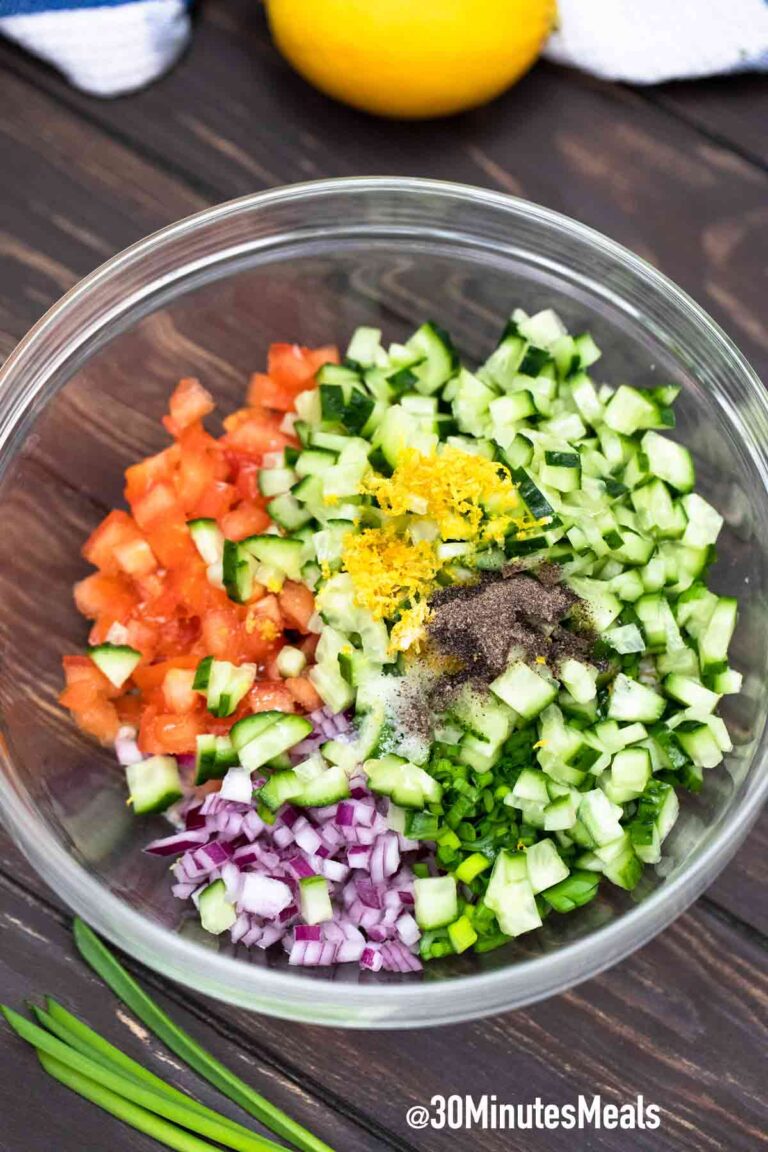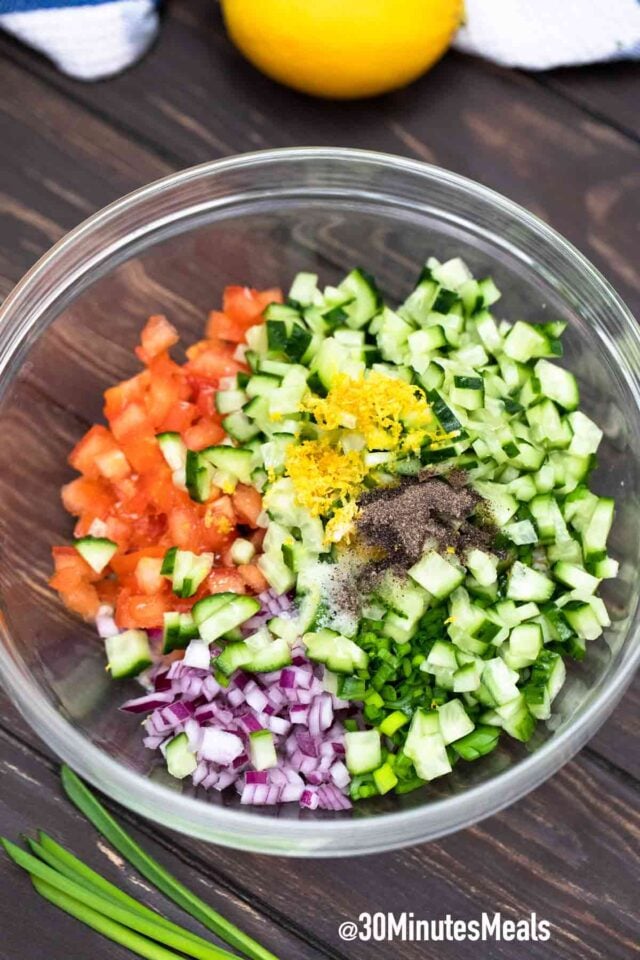 Tabbouleh recipe variations and substitutions:
Low-carb and gluten-free: Sub the bulgur with riced cauliflower.
Use other grains: You can use oats, couscous, quinoa, or pearl barley.
Use other herbs: Fresh, chopped cilantro and coriander make delicious additions!
Include other veggies: Sundried tomatoes, roasted red peppers, chickpeas, black olives, scallions are tasty veggies to add.
Try other spices: Elevate the flavors with spices and seasonings! Try Lebanese 7 spice, or just use a mix of cinnamon and allspice.

Add cheese: Feta cheese in tabbouleh may not be traditional, but it tastes amazing.
Use lime: If you don't have a lemon, fresh lime juice and zest will work in a pinch.
What to serve with tabbouleh?
You can spoon it over lettuce cups, alongside some hummus and pita, lamb burgers, shawarma, and other Mediterranean dishes.
But beyond that, it's a very versatile appetizer. We've served this with grilled chicken breasts, BBQ pork, even steaks, and roasts!
You can also enjoy it as a component of a hearty salad. Spread the tabbouleh on your serving dish, then top with sliced avocados, grilled chicken slices, olives, and some crumbled feta cheese on top. Delicious!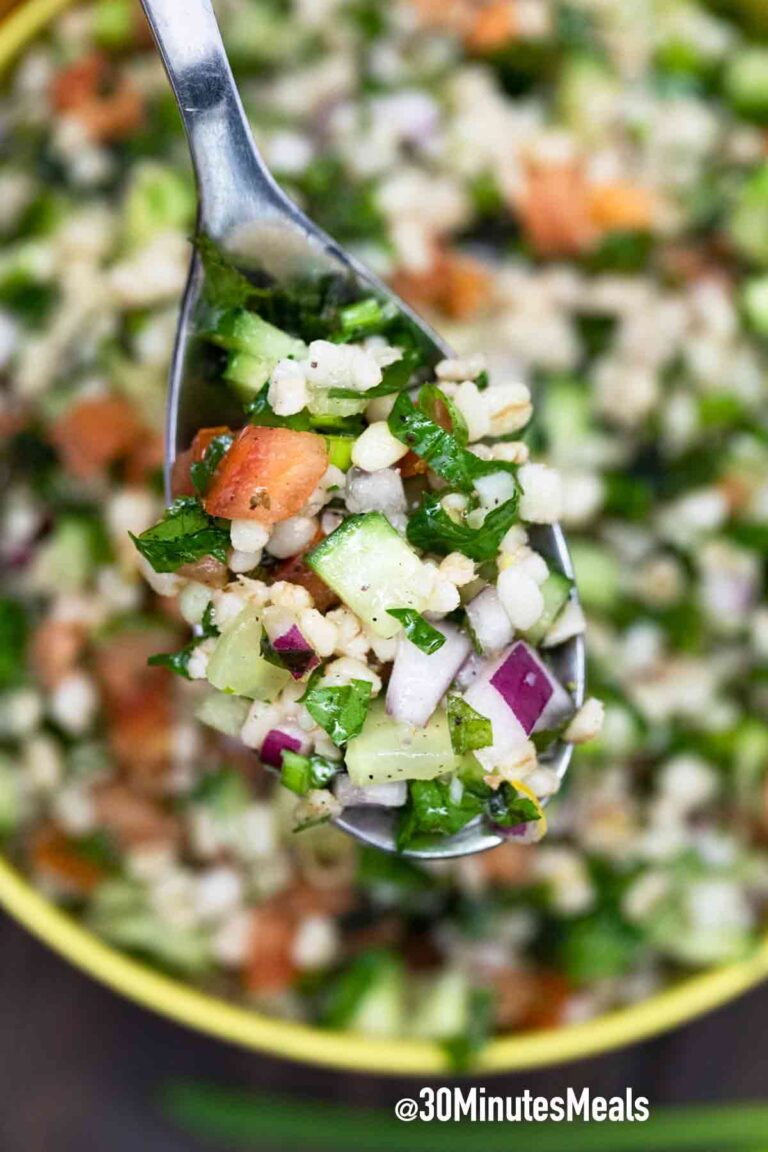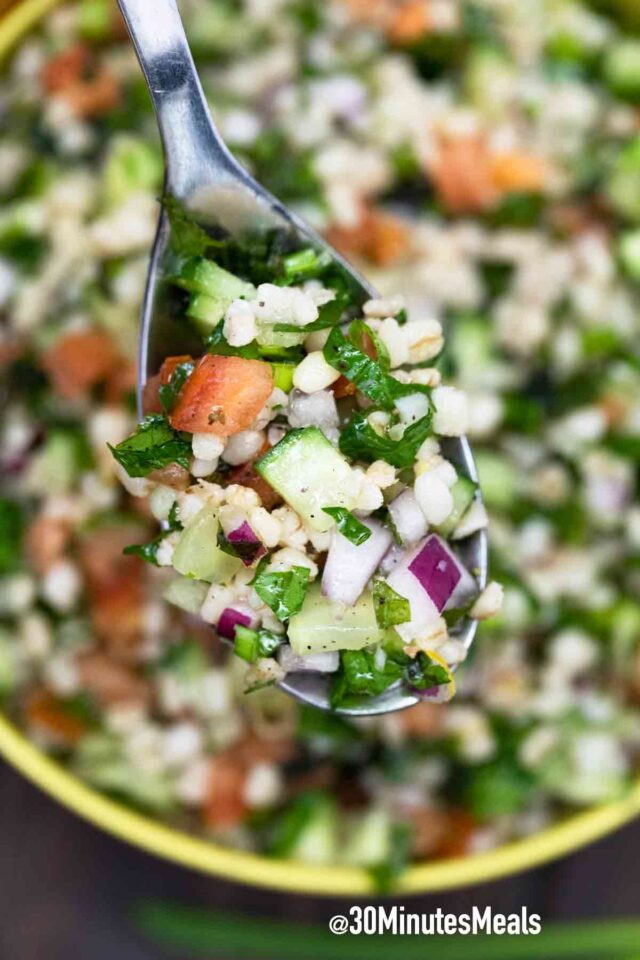 More healthy recipes to try:
Can you store tabbouleh?
Yes, it gets even better after a couple of days. The lemon dressing breaks down the herbs, making them silky and soft. The bulgur also absorbs all those herby flavors as time goes by.
To store, place in an air-tight container and place in the coldest part of your fridge. Consume within 3 to 4 days.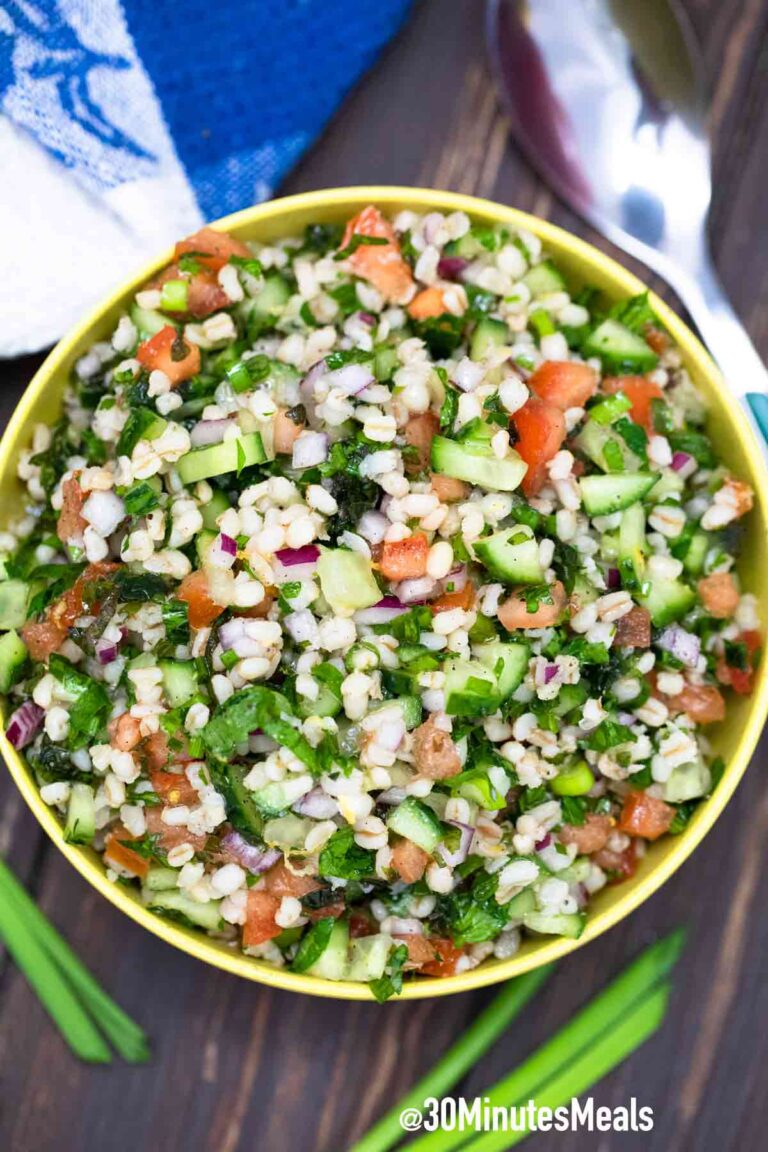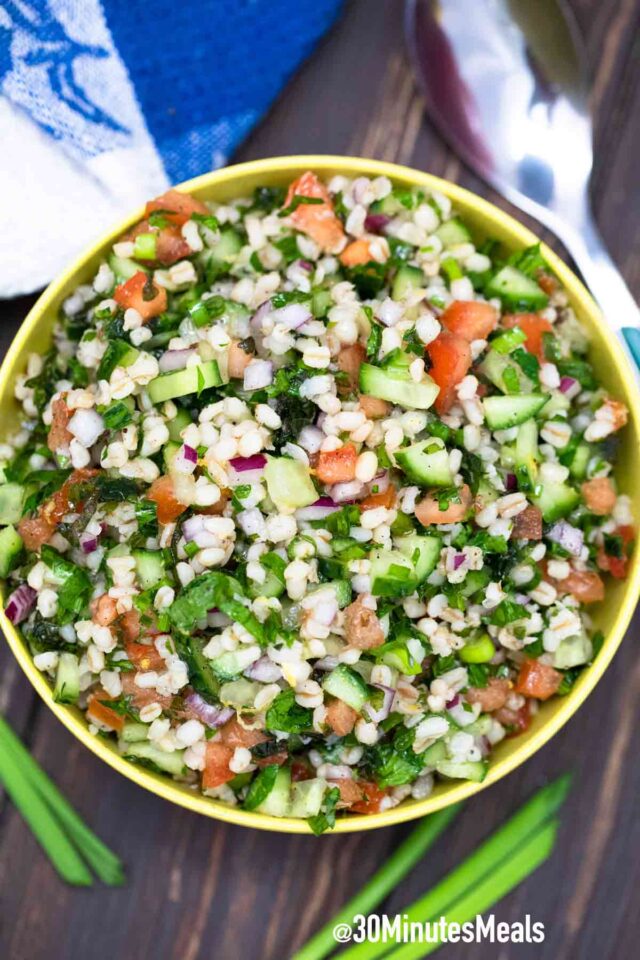 Recipe tips:
Chop everything really finely! I like using my food processor for this because aside from being fast, you get even-sized pieces.
For the bulgur, try to use the extra-fine and instant kind.
Curly parsley works really well in terms of texture, but flat-leaf will work too.

Try adding the soaked bulgur to the lemon dressing while you prepare the rest of the ingredients. Doing so allows the bulgur to absorb even more of those bright and fresh flavors.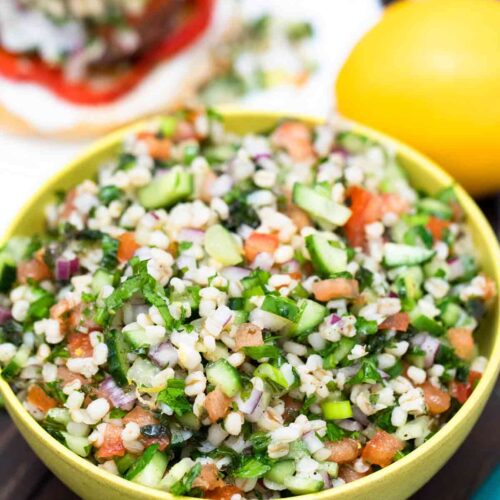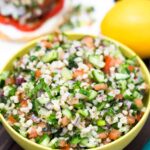 Tabbouleh Recipe
Tabbouleh is a refreshing Mediterranean medley of finely-chopped parsley, mint, and veggies like onions and tomatoes brightened up with a simple lemon dressing.
Course:
Appetizer, Salad, Side Dish
Ingredients
2

cups

bulgur wheat

1/2

cup

fresh mint

very finely chopped

2/3

cup

parsley

very finely chopped

1/2

cup

red onion

very finely chopped

1/4

cup

green onion

very finely chopped

1/2

cup

tomato

very finely diced

1 1/2

cup

cucumber

very finely diced

2

tablespoons

lemon juice

1

teaspoon

lemon zest

2

tablespoons

olive oil
Instructions
Add the bulgar to a medium bowl. Pour 2 cups of boiling water on top. Stir, cover with a kitchen towel and allow to sit for at least 1 hour to soften.

Prepare all the herbs and veggies for the tabbouleh and add them to a large bowl. Set aside.

When the bulgur is ready combine with the veggies and rest of the ingredients, mix, and refrigerate until ready to use.
Nutrition Facts
Tabbouleh Recipe
Amount Per Serving
Calories 330
Calories from Fat 72
% Daily Value*
Fat 8g12%
Sodium 23mg1%
Potassium 541mg15%
Carbohydrates 59g20%
Protein 10g20%
Vitamin A 1342IU27%
Vitamin C 25mg30%
Calcium 71mg7%
Iron 3mg17%
* Percent Daily Values are based on a 2000 calorie diet.