Creamy Corn Salad is a refreshing blend of corn, fresh avocados, and cotija cheese with a creamy lime dressing. This light and healthy salad is both crisp and creamy with crunchy fresh radishes, corn, and onion mixed with smooth and creamy avocado. It makes a delicious meal on its own or as a side dish cuisine.
Looking for more healthy recipes? Try our Detox Salad with Avocado Dressing made from red cabbage, pine nuts, and honey. For something different, this Southwest Salad recipe makes a filling dinner with grilled chicken breasts, black beans, corn, and cheddar cheese. Our Macaroni Salad recipe is also full of vitamins made with elbow pasta, bell peppers, celery, and corn.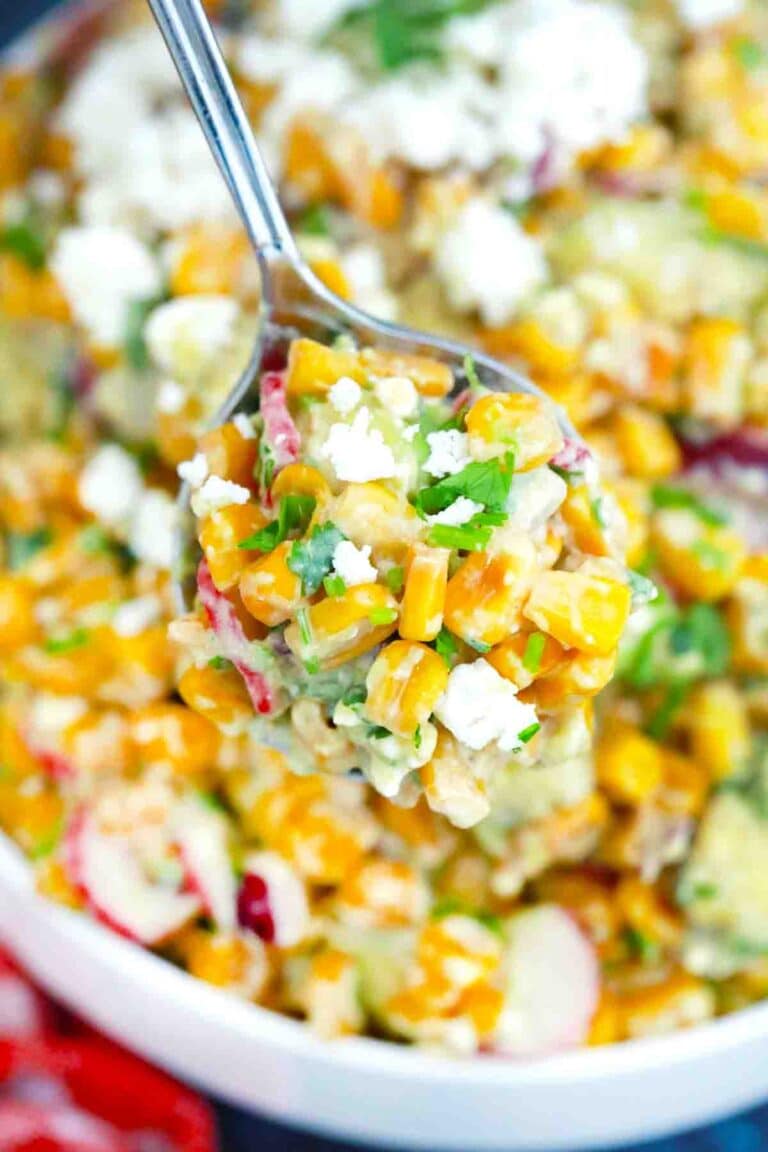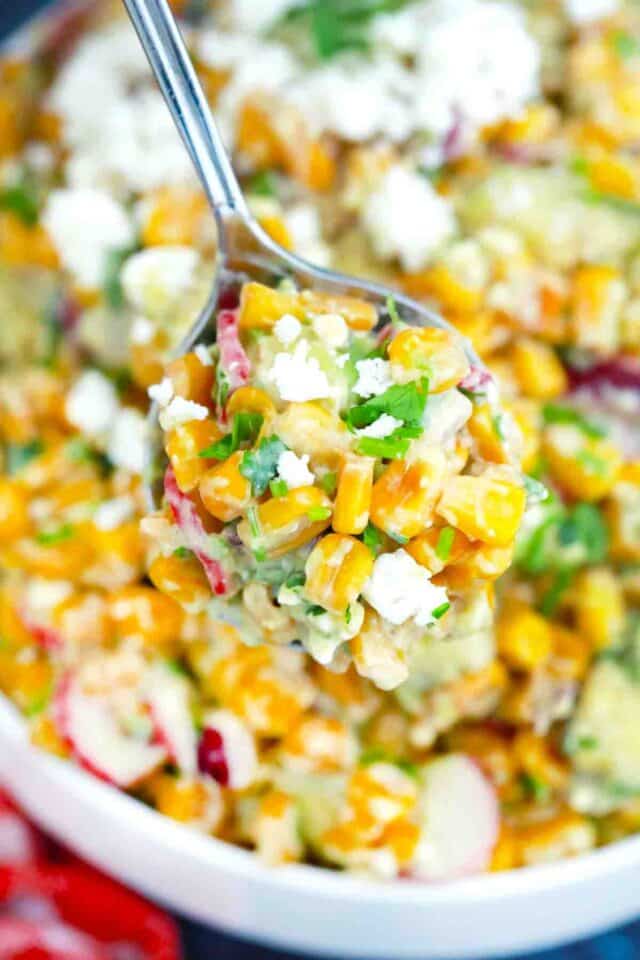 The history of avocados goes back about 10,000 years in South Central Mexico. It was a mainstay for the indigenous people in Mesoamerica as it provided vitamins and minerals. It was also thought to have mythical powers. The Aztecs thought the avocado increased your strength and possibly protected those who ate it from evil spirits.
Creamy avocado corn salad is the best thing that has ever happened to salad! This delicious recipe is perfect for a backyard barbecue or a summer party, but it is also great for fall. If you are looking for a fresh and satisfying salad cuisine that does not weigh you down, try this corn avocado salad.
For other summer salad recipes, try our chicken salad with pineapple, rotisserie chicken, and cream cheese or this sweet cranberry apple salad made from fresh cranberries, arugula, pear, apple, and bacon. For seafood lovers, try shrimp cobb salad with avocado, corn, bacon, and blue cheese dressing.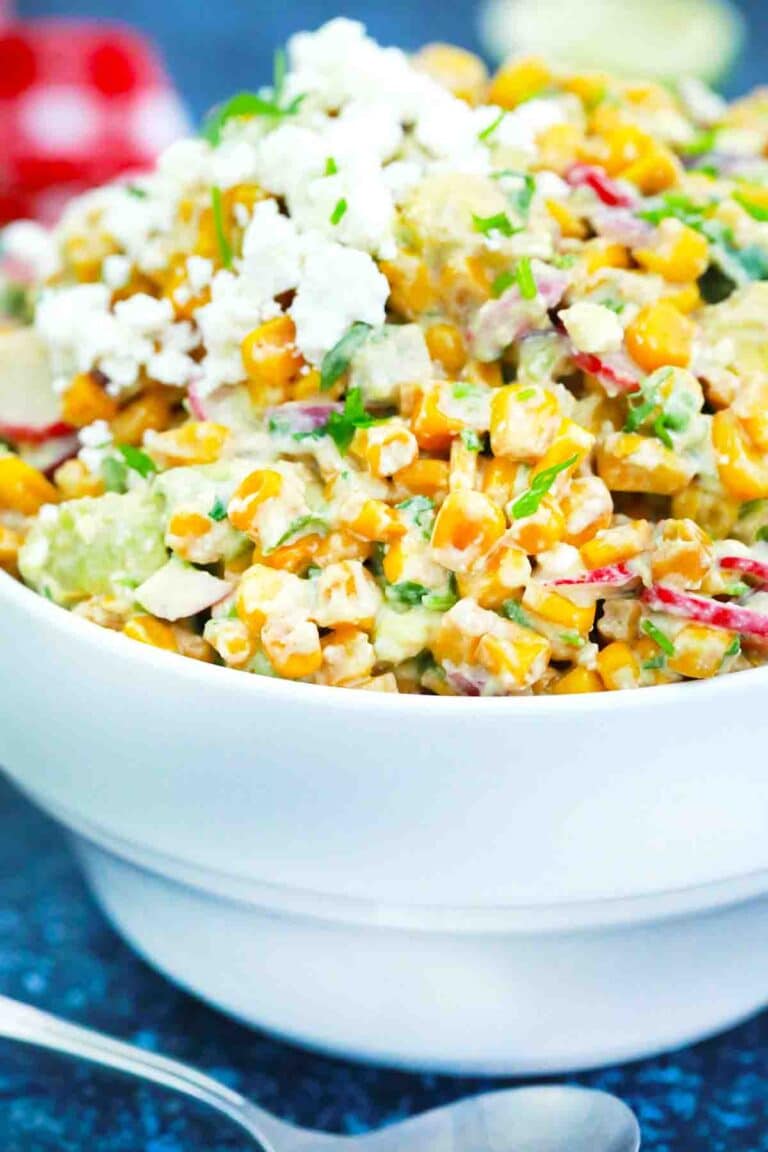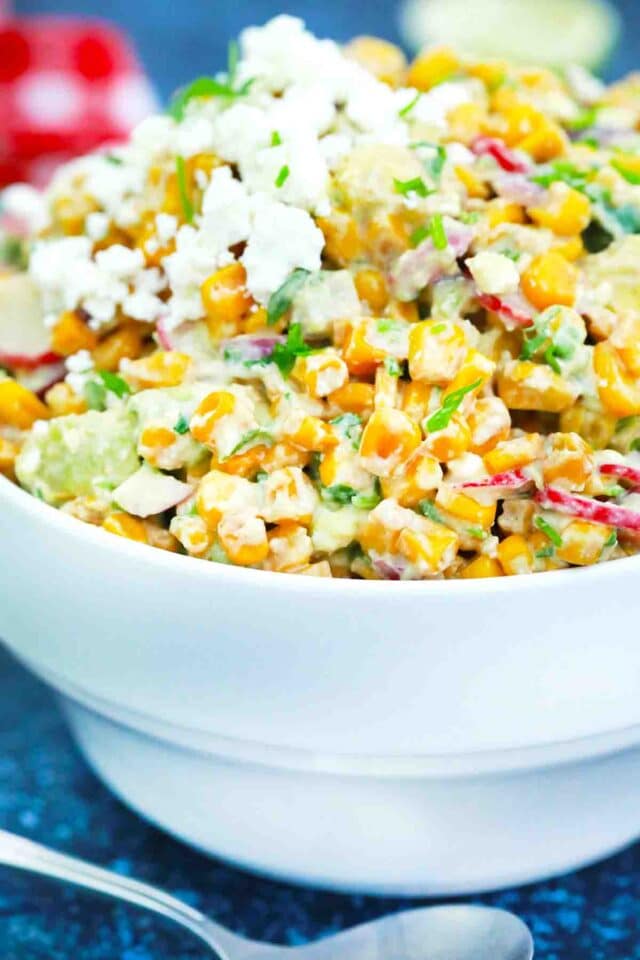 Ingredients needed:
All you need for this avocado corn salad recipe is listed below. To start, check our recipe card below to get the directions and precise measurements of the ingredients.
Diced avocado
Thinly sliced radishes
Canned corn: Sweet corn is what we used.
Jalapeno: Diced.
Small diced red onion
Cotija cheese: Shredded/crumbled.
Olive oil
Dressing:
Greek yogurt
Mayo
Chili powder
Fresh lime juice
Garlic cloves: Minced.
Smoked paprika
Kosher salt
How to make creamy avocado corn salad recipe?
Grill corn: First, heat olive oil in a skillet on medium-high until it is sizzling and then add corn. Continue to cook corn until it is lightly charred. This should take about 7 to 10 minutes.
Add other veggies: Next, put cooked corn in a large salad bowl and add diced avocado, red onion, radishes, and chopped jalapeno and mix well.
Make the dressing: To make the dressing, add all the ingredients into a small bowl and mix until it is smooth.
Combine: Then, spoon the dressing into the large bowl with the corn and mix until the corn and other veggies are coated. Add half of the cheese and stir before putting in the remaining cheese and cilantro.
Chill: Finally, cover the bowl and chill it for eight hours. Serve cold.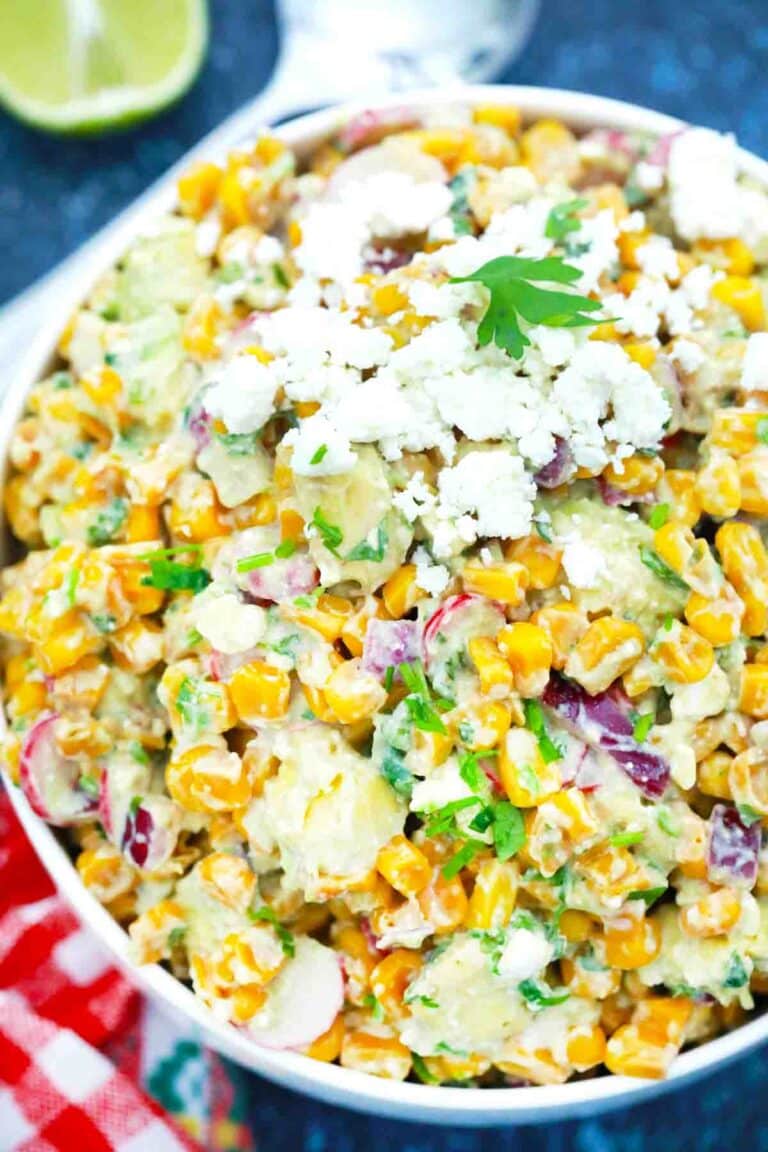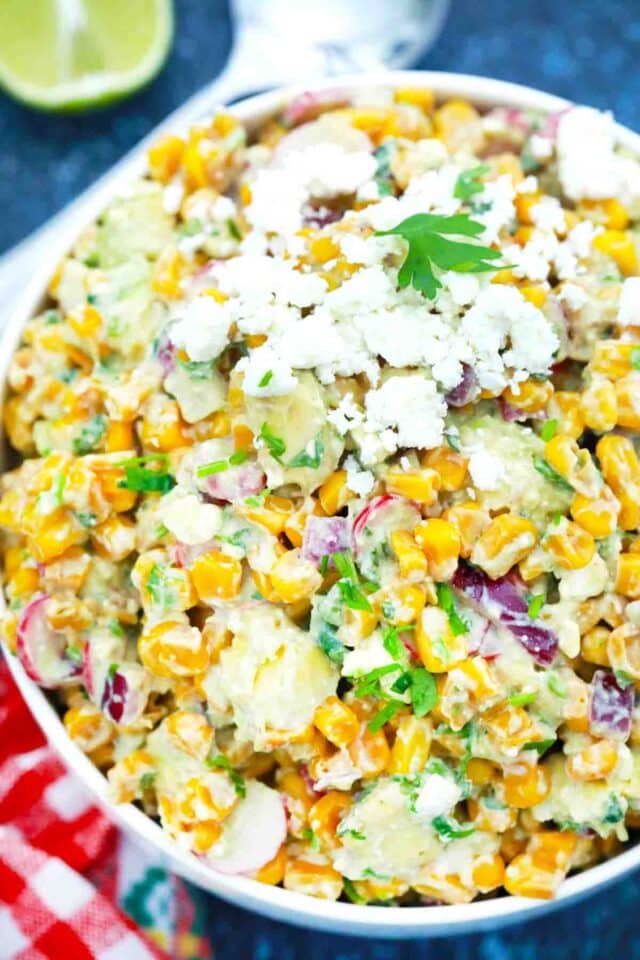 How to make charred corn on the grill?
Preheat the grill: First, preheat the grill to medium-high heat.
Prep the corn: While you are waiting for the grill to heat up, peel the husks from the corn but leave them attached. Remove the silks and then rinse and dry the corn.
Season the corn: Then, brush the corn with olive oil, add salt and pepper, and pull the husks back on.

Grill the corn: After, cook on the grill, covered, for 15 to 20 minutes, turning occasionally.

Charring the corn: To char, pull back the husks and give them another five minutes on the grill, turning frequently.

Butter and serve: To serve, remove the husks and top them with melted butter.
Recipe variations:
Feta cheese: You can use feta cheese instead of cotija cheese.
Lime zest: For an intense lime flavor, add lime zest as well as juice.
Grill corn: Cook corn in a frying pan on medium-high heat to bring out the flavor.
Other corn: Alternatively, you could use fresh corn or frozen corn.
Add meat: Make this a hearty meal by adding some kind of meat like grilled chicken, turkey, or pork.
More protein: For more protein without meat, add some black beans, navy beans, or black-eyed peas.
Add tomatoes: To make corn avocado tomato salad, just add sliced tomatoes or you can use cherry or grape tomatoes.
Boil corn: Alternatively, instead of grilled corn, you can use boiled corn.
Lemon juice: If you do not have any lime juice, you can substitute it with lemon juice.
Other onions: Substitute yellow onion for red to give your avocado corn salad a bolder flavor.
Tuna salad: Why not add some canned tuna to your corn salad for a unique side dish cuisine.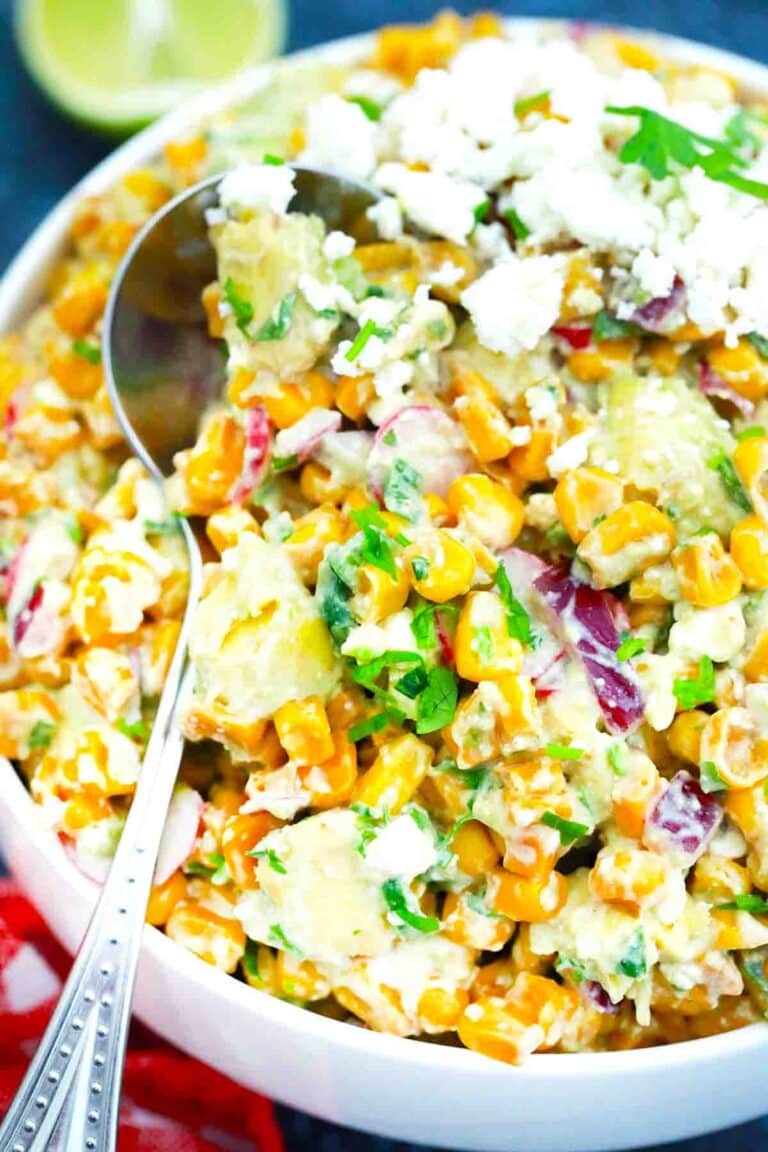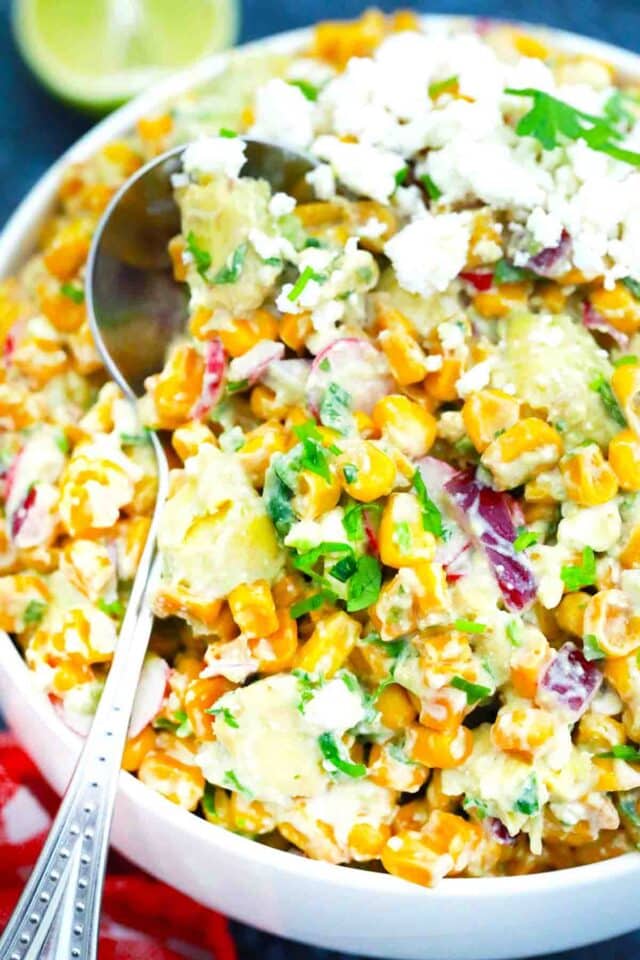 How to serve:
This easy corn and avocado salad recipe is one of the best summer salad recipes I have found. With creamy avocado and crunchy grilled corn along with all the other fresh ingredients, you cannot go wrong with this dish. Serve avocado corn salad as a side dish or main entree with one of our great ideas or try one of your own.
Although this corn avocado salad is best served cold, you can warm it up some to melt the cheese.
Add other veggies to your salad such as grape or cherry tomatoes, green onion, bell peppers, or whatever else you like.
This is a good salad to serve with a Mexican dinner. Try our rotisserie chicken tacos recipe.
Toss in some other herbs like fresh cilantro, chives, dill, oregano, fresh basil, parsley, or nutmeg for even more flavor.
This summer corn salad would be great topped with avocado salsa and some chili flakes.
Use leftovers in other delicious recipes like our corn salsa or this sweet pineapple mango salsa.
It would also be the perfect addition to other corn salads.
To make it even healthier, serve your avocado corn salad on top of romaine lettuce.
Frequently asked questions
Is it okay to eat raw corn?
Yes, although most people prefer to eat cooked corn, it is also safe to eat corn raw. But raw corn kernels are tasty and add crunch to salads, casseroles, and soups. Cooking corn does take away some of the vitamins and nutrients as well. Boiled corn on the cob or baked and buttered corn are both delicious, but the crunch is not as significant.
Why did my avocado turn brown?
There are several ways to prevent your avocado from turning brown. It is the air that you need to prevent so coating the cut side with avocado oil and storing it in the fridge in an airtight container is one way. If you are trying to prevent the cut avocado in your salad from browning, toss it in lemon juice before adding it.
Can I make this ahead of time?
Yes, just char all the corn and it can be stored one day prior to serving. However, I would not cut the avocado until you are ready to serve it because it will turn brown. Although you can try using the ideas in the above question. You could also make the dressing one or two days ahead of time and store it in a jar until ready to serve.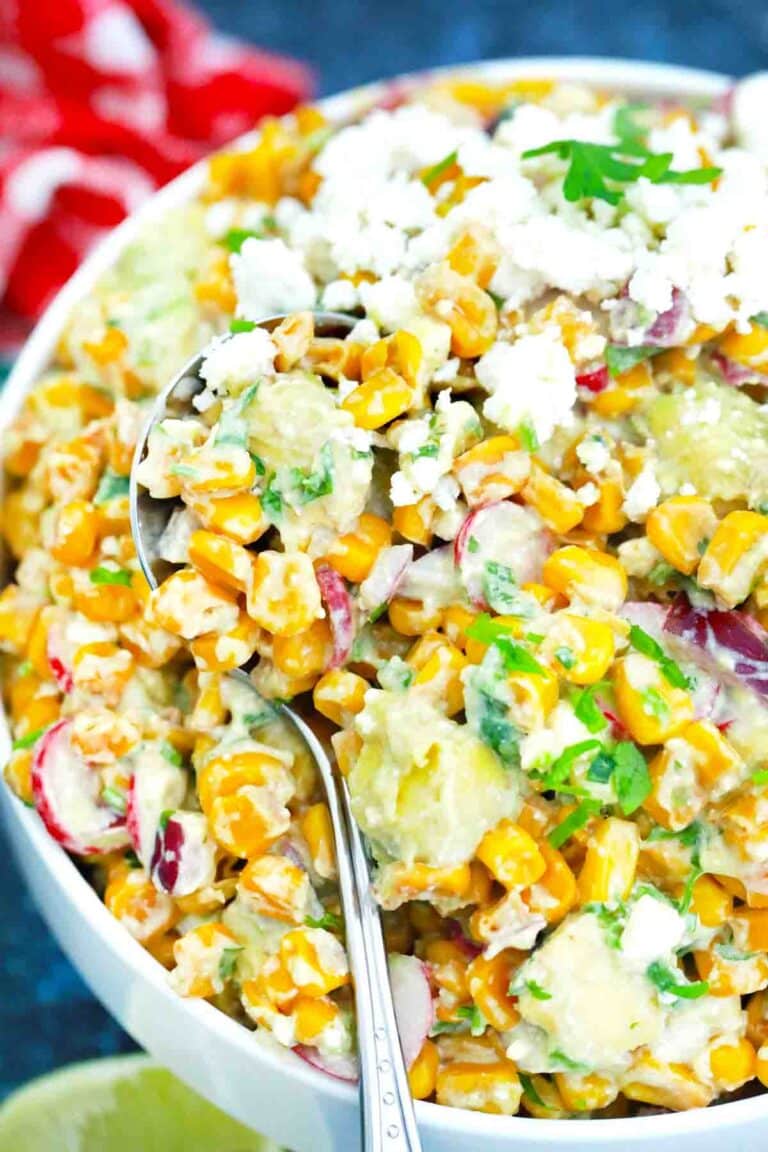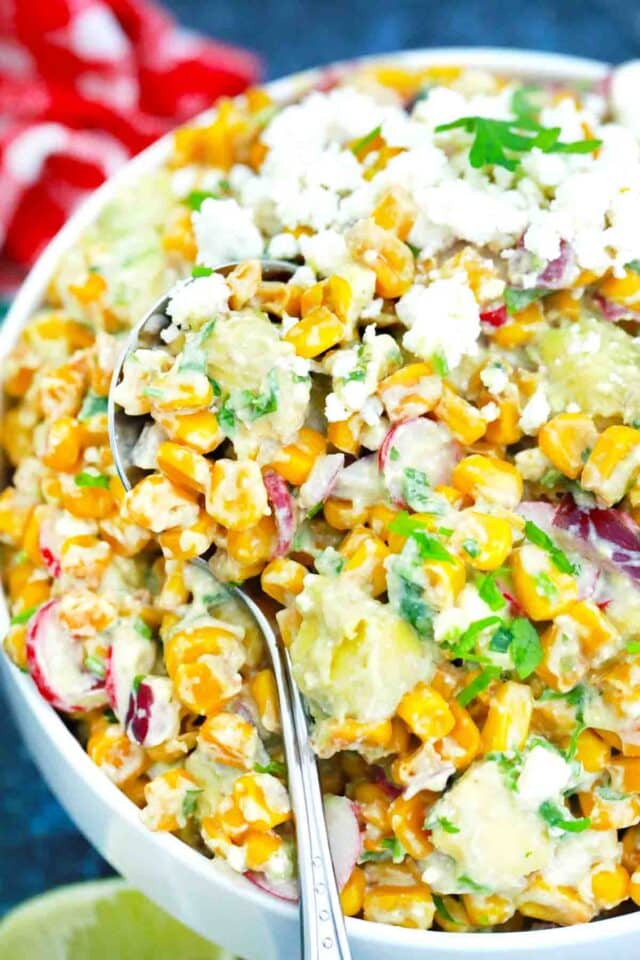 What are the nutrition facts in this recipe?
This is a very healthy meal, so you do not have to worry too much about it. There are only 370 calories per serving with 31 grams of fat including 8 grams of saturated fat. The total carbohydrates per serving are 42 grams, sodium is 1,121 milligrams, and sugar is 3 grams. The good news is that you also get 2,011 milligrams of potassium, 5 grams of fiber, 2,500 units of vitamin A, 15 milligrams of vitamin C, and 75 milligrams of calcium.
How to store leftovers:
Store: Avocado corn salad will stay fresh in the fridge for three days in an airtight container.

Freeze: Freezing is not recommended.
Recipe tips:
Make this delicious recipe for avocado salad in the morning and you can have a healthy dinner tonight.
If you are in a hurry, you can just chill for a few hours and serve.
Instead of olive oil, try using avocado oil.
For more summer salads and other healthy meals, check out our food blog website.
Grilling the corn adds a nice smoky flavor to your salad. But you could use regular sweet corn.

Do not stir your salad too much or the avocados will get mushy. But if that happens, mash it all together and make avocado corn dip.

The nutritional information is an estimate and can vary based on different ingredients and amounts.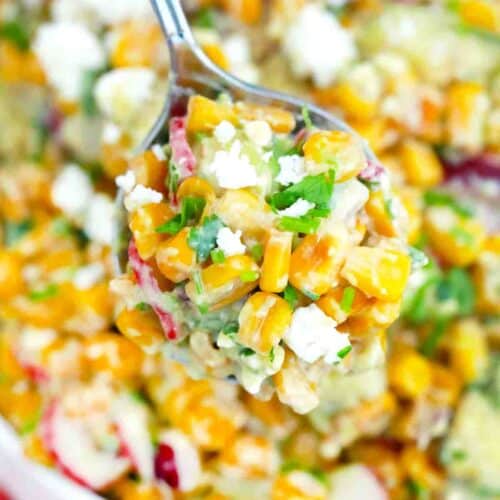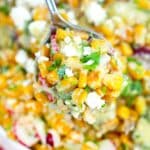 Creamy Corn Salad
Creamy Corn Salad is a refreshing blend of corn, fresh avocados, and cotija cheese with a creamy lime dressing.
Cuisine:
American, Mexican
Keyword:
Creamy Corn Salad
Ingredients
4

cups

sweet corn

grilled or from a can

1

tablespoon

olive oil

2

avocados

diced

1

cup

thinly sliced radishes

1

jalapeno pepper

deseeded and diced

1

small red onion

diced

1

cup

cotija cheese

crumbled

Dressing

1/4

cup

greek yogurt

1/4

cup

mayo

2

limes

juiced

2

cloves

garlic

minced

1/2

teaspoon

smoked paprika

1/4

teaspoon

chili powder

salt

to taste
Instructions
In a medium bowl, add all dressing ingredients and mix well.

Place a cast iron skillet over medium-high heat and all the olive oil.

Once hot add the corn and cook until slightly charred, about 7 minutes.

Transfer the charred corn to a large bowl

Add the avocado, jalapeno, radishes, and onion, and mix well.

Add the dressing and 1/2 of the cotija cheese and mix well.

Sprinkle the remaining cheese on top and some cilantro.

Serve or cover and chill for up to 8 hrs before serving.
Nutrition Facts
Creamy Corn Salad
Amount Per Serving
Calories 572
Calories from Fat 351
% Daily Value*
Fat 39g60%
Cholesterol 40mg13%
Sodium 545mg24%
Potassium 1032mg29%
Carbohydrates 51g17%
Protein 15g30%
Vitamin A 937IU19%
Vitamin C 39mg47%
Calcium 245mg25%
Iron 2mg11%
* Percent Daily Values are based on a 2000 calorie diet.