Rainbow Waffles turns this breakfast staple into something magical and colorful! Enjoy them with whipped cream clouds and toppings like fruits, chocolate, sweet sauces, and more.
Balance out this indulgent breakfast with healthy meals for the rest of the day. These Rotisserie Chicken Tacos, Southwest Salad, and Mongolian Beef Noodles are delicious and easy to make.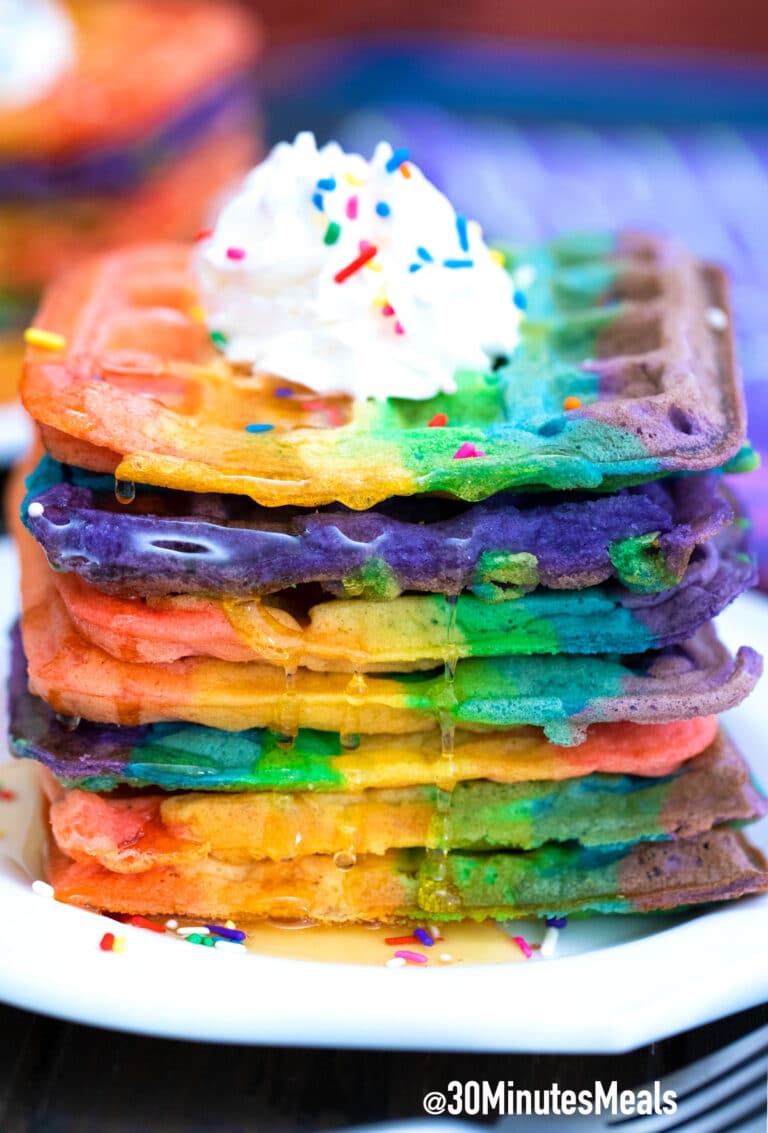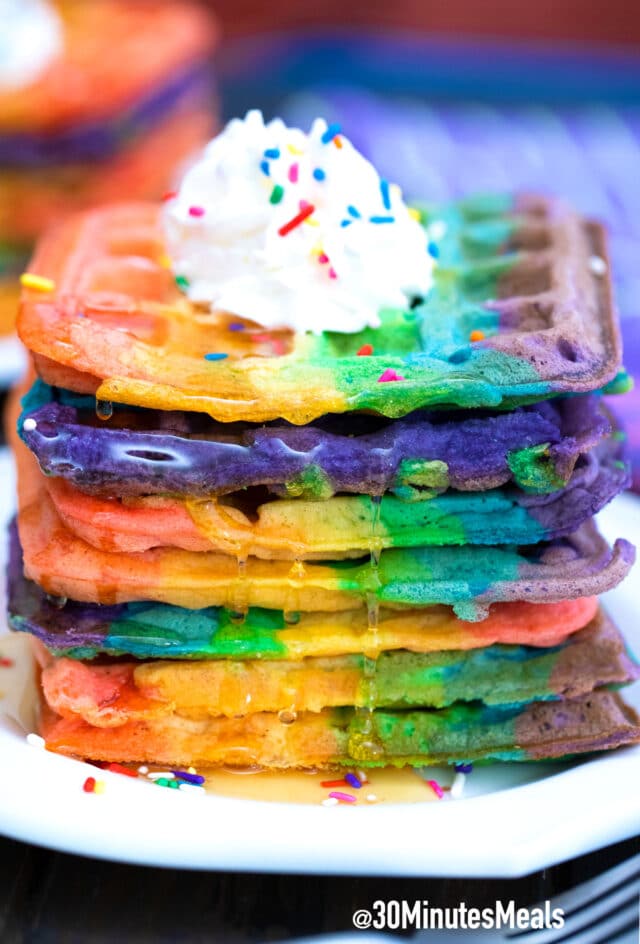 St Patrick's Day Waffles
Rainbow Waffles are such a fun way to make breakfast more special. It doesn't take much additional work either. Simply mix food color into your favorite waffle mix, press, and enjoy! My kids get so excited every time we make this recipe, and they LOVE coloring the mix and helping decorate the finished waffles.
As for garnish, feel free to get creative. They're so cute with a "cloud" of whipped cream at each end of the rainbow! We love having them as a breakfast buffet— fill up small bowls with sprinkles, sauces, chocolate chips, the works— and let everyone personalize the rainbows on their plate.
What are rainbow waffles?
They're your favorite waffles, but in bright and beautiful rainbow colors! You can certainly make the batter from scratch, but for convenience, I'm using the boxed mix. This means they take less than 30 minutes from start to finish.
How to make Belgian rainbow waffles from scratch?
Mix

. Follow the directions on the box, or make your own batter if you prefer doing it from scratch. Divide into 6 bowls.

Dye

. Add food color (red, orange, yellow, green, blue, and purple) to the batter, with one color for each bowl. Add more dye if you want it brighter. Carefully the red batter into a Ziplock or piping bag, doing the same for all the colors until you have 6 bags of colored batter.

Cook

. Take the purple batter, and pipe a circle going around the edge of the waffle press. Pipe a blue batter circle inside the purple, followed by the green batter, yellow, range, then red. Cook and repeat until done.

Serve

. Slice the waffle circles in half so they look like semi-circle rainbows. Serve with whipped cream and enjoy!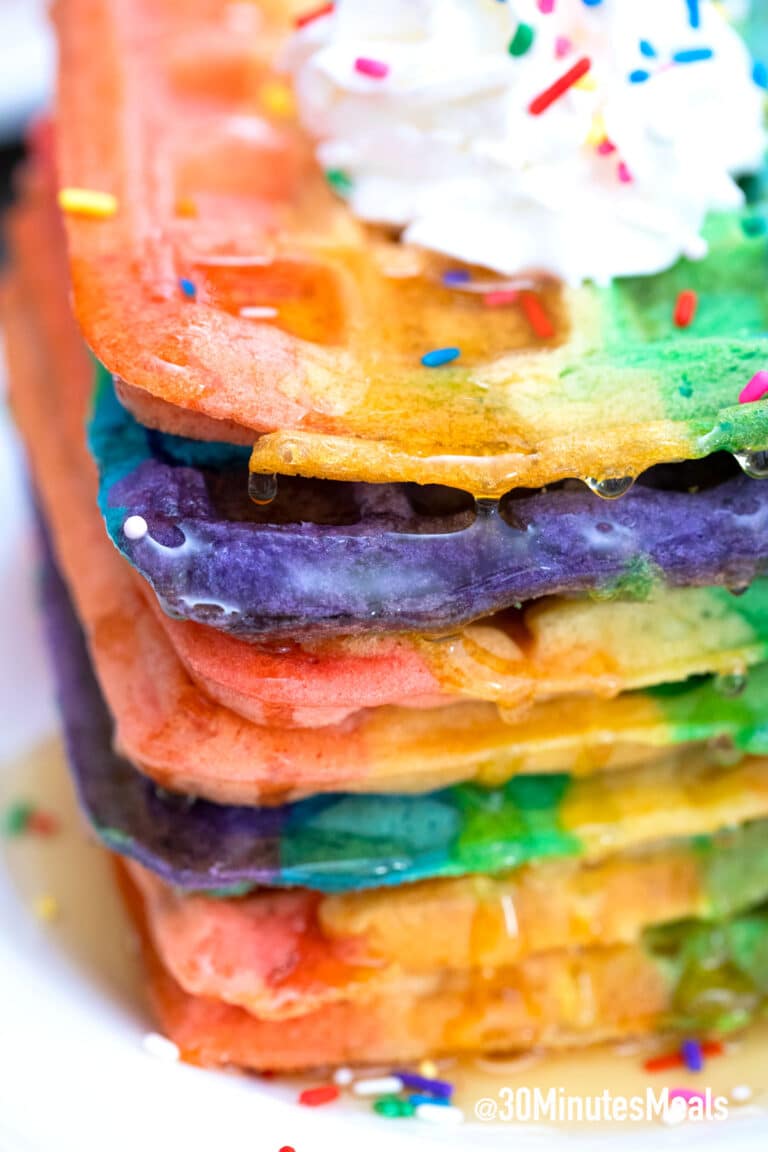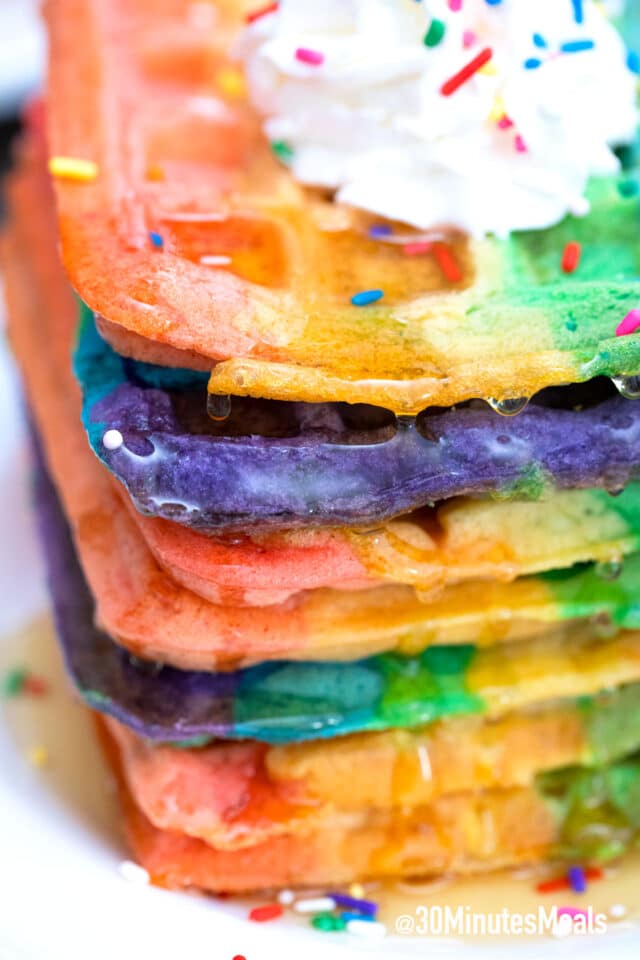 Rainbow waffles variations:
Mix-ins

: Add chocolate chips, peanut butter, or fruits into the batter.

Cheesy version

: This is also great with some bits of cheddar in the batter!

Different designs

: Instead of rainbow, you can also do a tie-dye version! Feel free to arrange the colored batter in any way you wish.

Savory

: Mix in some crispy bacon bits, sausage bits, and cubed ham into the batter.

Gluten-free

: Use gluten-free Belgian mix.
Topping suggestions:
Whipped cream "clouds" are an easy way to spruce them up! You can pipe them at either end, or along the whole length at the bottom.
The following also make great toppings:
Sliced strawberries, oranges, kiwis, bananas, and other fruits

Jam or marmalade

Chocolate sauce, caramel sauce, honey, maple syrup, pancake syrup

Colorful sprinkles, chocolate chips and coins, jelly beans, and other cute candies

Cheese

Bacon bits

Cinnamon sugar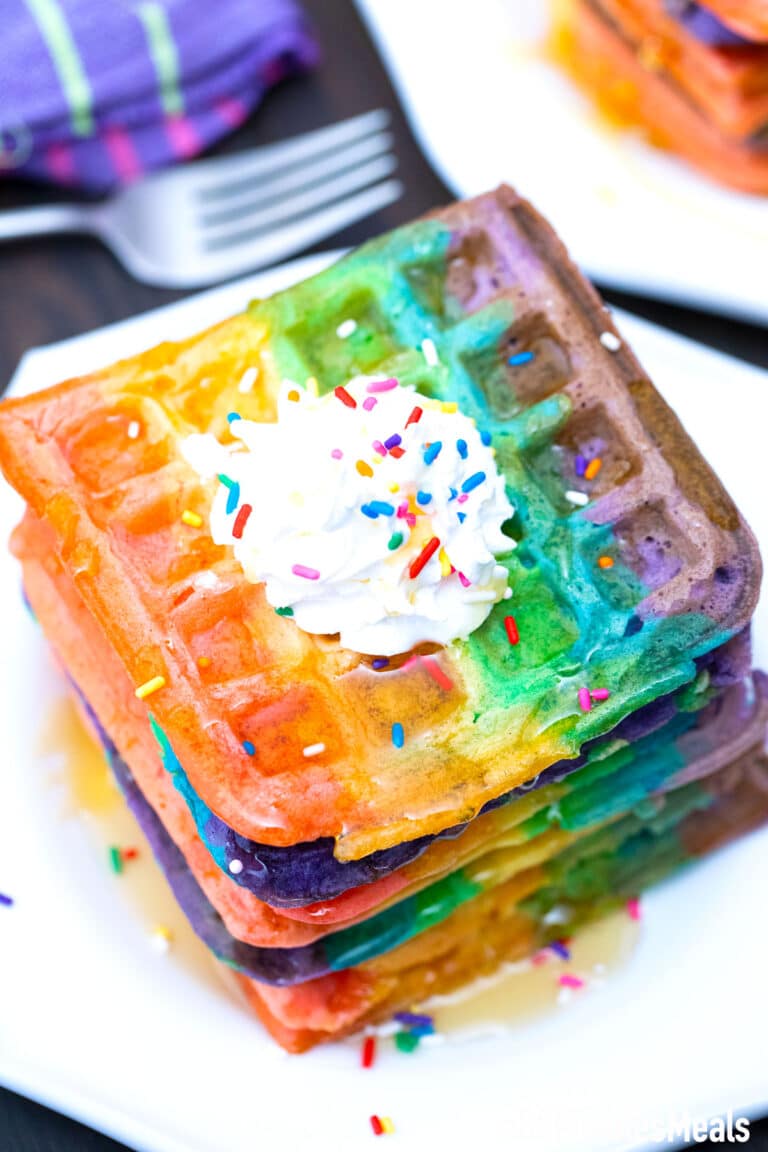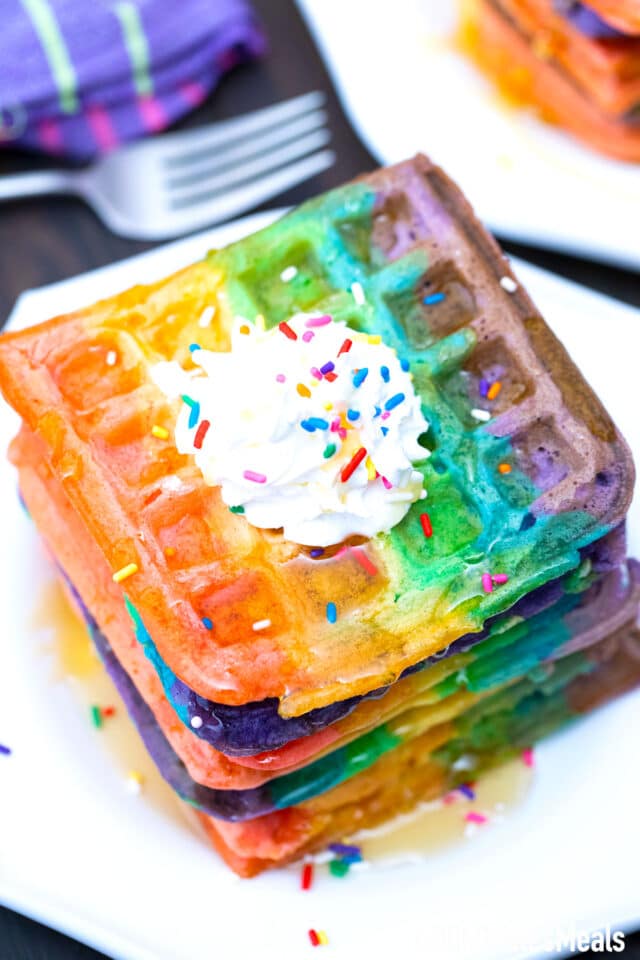 What to serve with rainbow waffles?
Aside from the toppings mentioned above, you can also serve this as a part of a heartier breakfast. Enjoy them with scrambled or fried eggs, bacon, sausages, or stuffed omelets.
They're also fantastic with Chocolate Cherry Smoothie, Starbucks Pumpkin Latte Copycat, or Beet Juice for a fiber-rich and nutritious start to the day!
Can you make rainbow waffles ahead?
Yes, and there are two ways to do this. First, you can mix and color the batter ahead, pour into bags, and store the raw batter for up to 4 days in the fridge.
You can also freeze the cooked ones so they last longer. This is a great way to have ready-made breakfast for busy days!
Cool them down first, the arrange on baking sheet in a single layer. Freeze for a couple of hours. Once frozen, you can transfer to a sealed container or a big freezer bag. Keep up to three months.
To reheat, thaw and microwave, heat up in the oven for 10 minutes at 350, or pop into your toaster.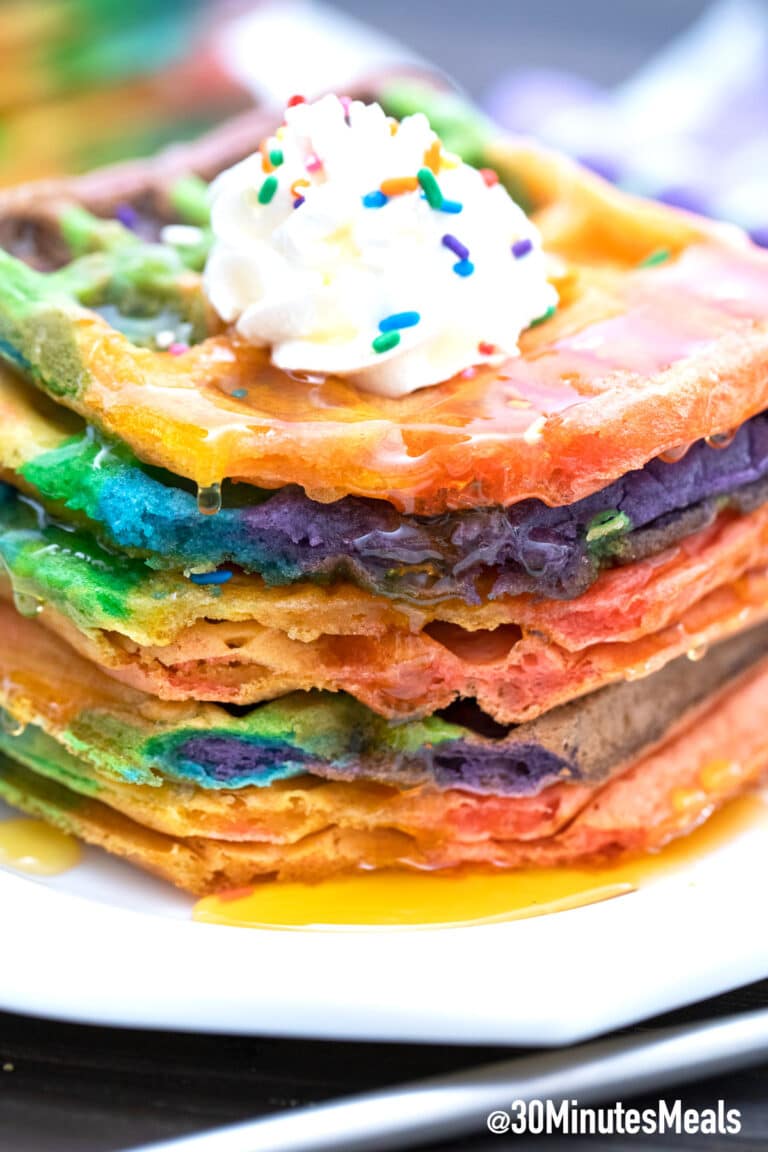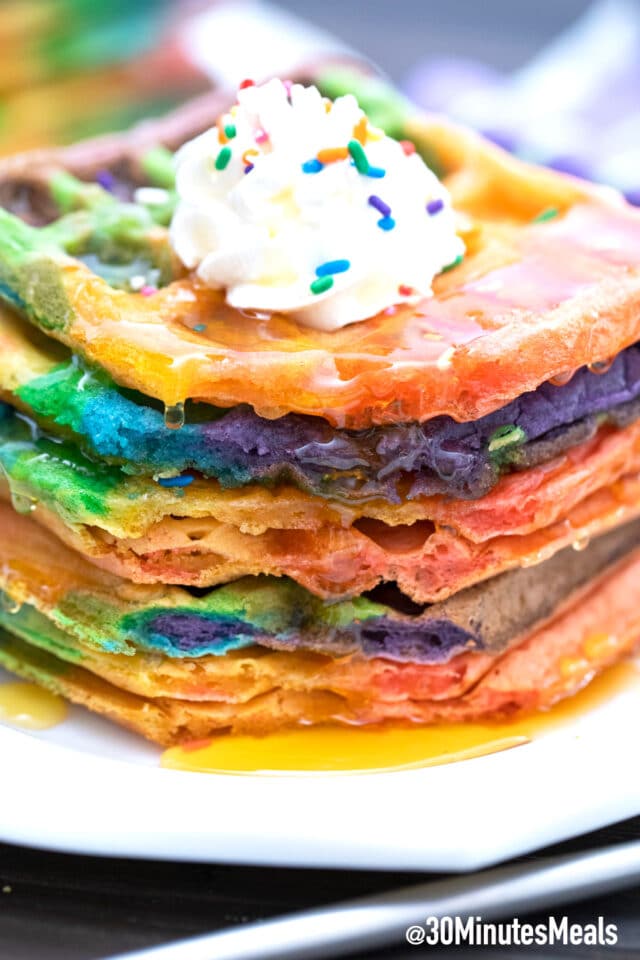 How to store leftovers?
Once they've cooled down completely, transfer to a sealed container and keep in the fridge for up to 3 days. Freshen them up by baking for 10 minutes at 350F.
More breakfast recipes to try:

Recipe tips:
Avoid overcooking the batter, or the outside will get toasted and brown instead of colorful.

Use gel food colors if you can. The colors are more vibrant and you don't need to use much. In addition, they won't add extra moisture to the batter like liquid food dyes do.

If you're making a large batch, turn on your oven at the lowest setting. Keep the cooked pieces warm inside the oven while you're cooking the rest.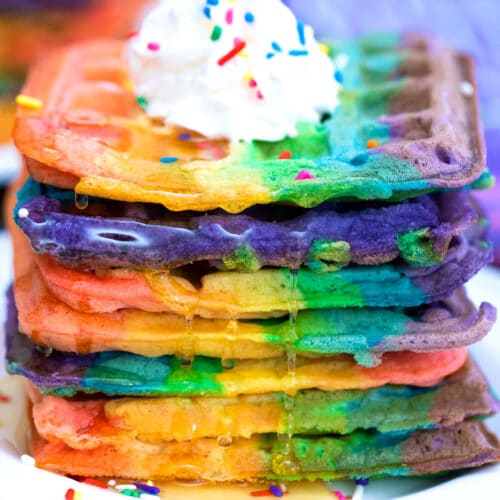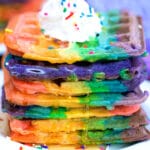 Rainbow Waffles
RainbowWaffles turns this breakfast staple into something magical andcolorful! Enjoy them with whipped cream clouds and toppings likefruits, chocolate, sweet sauces, and more.
Ingredients
2

cups

flour

1 1/2

teaspoons

baking powder

½

teaspoon

salt

3

tablespoons

sugar

2

eggs divided

1 ⅔

cup

buttermilk

⅓

cup

melted butter or oil

Red gel food coloring

Yellow gel food coloring

Green gel food coloring

Purple gel food coloring Light Blue gel food coloring
Instructions
Preheat waffle iron according to manufacturer's directions.

Place flour, baking powder, sugar and salt in a bowl. Whisk to combine.

In a small bowl, mix egg yolks, buttermilk, and melted butter. Combine with the flour mixture.

In a separate bowl, beat egg whites with a mixer until stiff peaks form. Fold in with a spatula into the flour mixture.

Divide batter between 5 bowls and add a few drops of food coloring to each. Stir.

Drop spoonfuls of each color onto greased waffle iron, close the lid and cook about 3-5 minutes.

Serve with syrup and whipped cream.
Nutrition Facts
Rainbow Waffles
Amount Per Serving
Calories 329
Calories from Fat 126
% Daily Value*
Fat 14g22%
Cholesterol 62mg21%
Sodium 405mg18%
Potassium 261mg7%
Carbohydrates 42g14%
Protein 8g16%
Vitamin A 640IU13%
Vitamin C 1mg1%
Calcium 138mg14%
Iron 2mg11%
* Percent Daily Values are based on a 2000 calorie diet.