Baked Brie in Puff Pastry Recipe
Baked Brie in Puff Pastry is both sweet and savory made with brie cheese, your favorite jam, puff pastry, syrup, and brown sugar. The golden brown crispy pastry with melted cheese is the perfect appetizer or side dish to any meal. You can make it your own by adding your favorite toppings and using different dipping ingredients.
If your family liked this recipe, they are going to love this Cranberry Baked Brie with just four ingredients: chopped pecans, brie cheese, pomegranate seeds, and cranberry sauce. For something a little sweeter, our Pecan Pie Baked Brie is delicious with cream, sugar, cinnamon, and melted cheese. If you want a different kind of appetizer, this Snickers Apple Salad is scrumptious with fresh apples, candy bars, vanilla pudding, and cream cheese.
Known for its smooth and fluffy texture and flavor, brie is a popular cheese made from cow or goat milk. It was originally made in northern France during the Middle Ages. It starts with raw or pasteurized milk mixed with rennet and enzymes so it can curdle and yeast culture to get it to mold. Once the curd forms, the cheese is cut, and the whey is drained off. After, it is brined while it rests and ripens.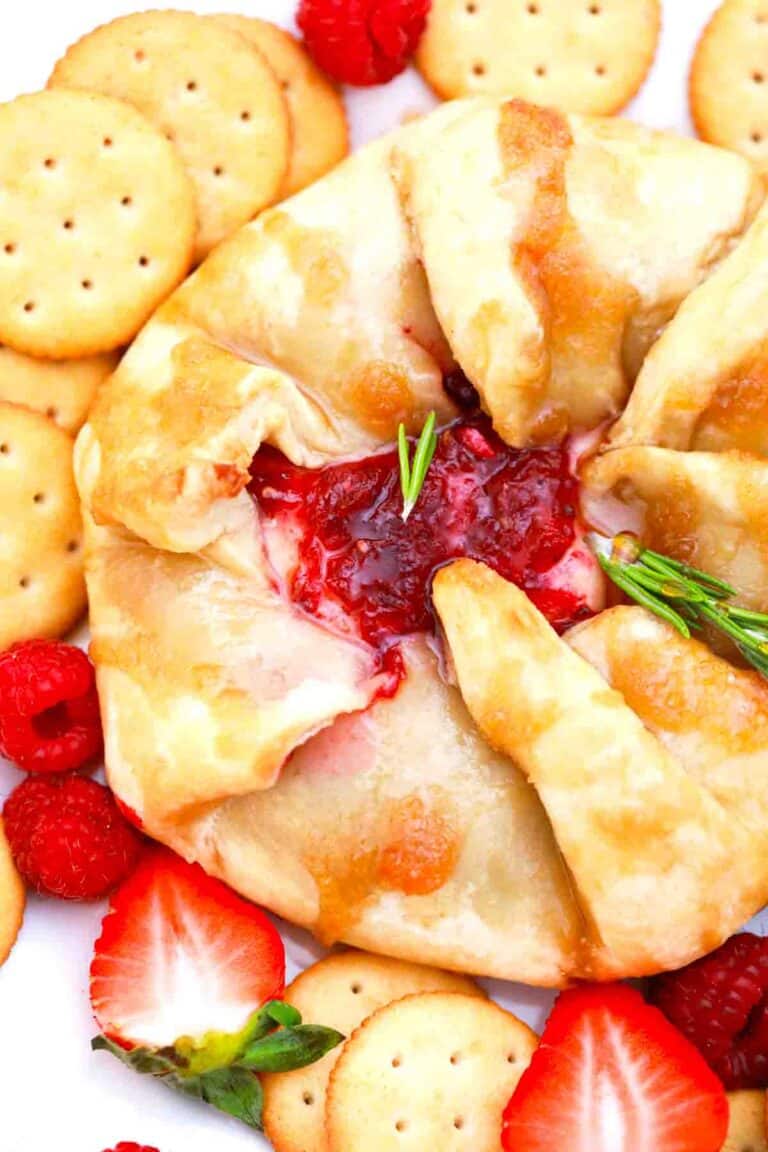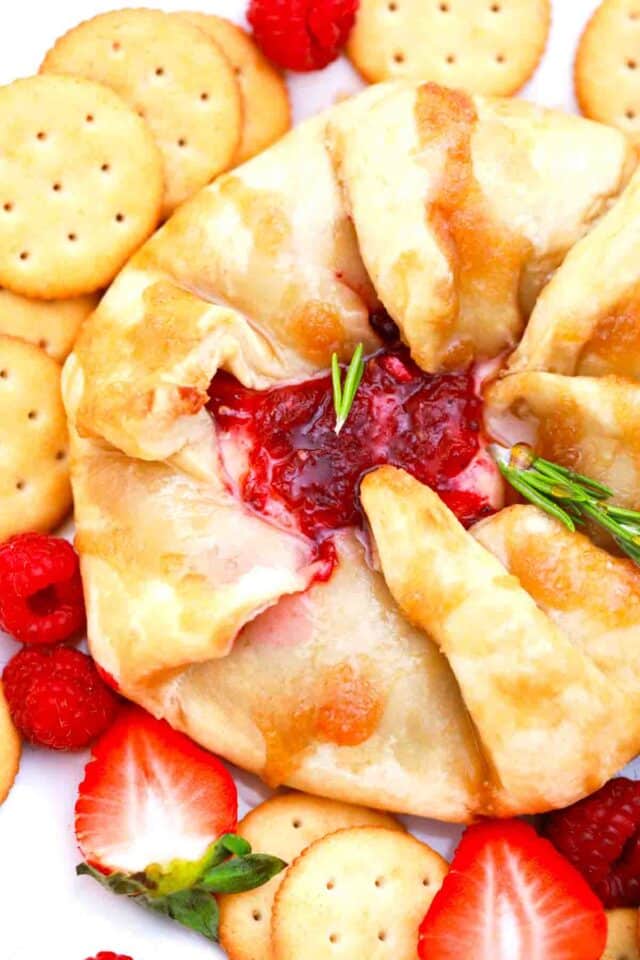 Making baked brie in puff pastry gives it a creamy texture with a flaky warm crust and a surprising sweetness inside. This would be a wonderful dish for the holiday season or anytime you want the mild nutty cheese dip. Our baked brie recipe is easy, fast, and you only need a few ingredients to make it! Take a look at our baking tips below for more ideas.
Looking for a new dinner idea? Try our cinnamon apple pork chops seasoned with apple cider, cinnamon, nutmeg, and rosemary. This Asian chicken salad is also a delicious dish with roasted cashews and crunchy chow mein noodles. For something beefier with low carbs, our Mongolian beef made from flat iron steak, green onions, and garlic ginger marinade is yummy.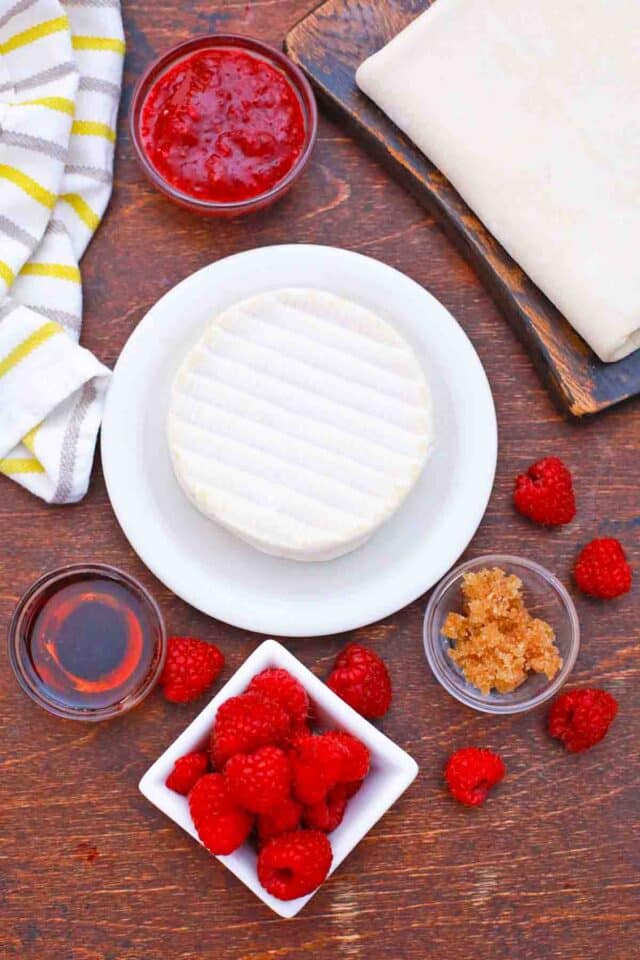 Ingredients needed:
For this baked brie in puff pastry recipe, gather the simple ingredients listed below. Then, scroll down to our recipe card for complete instructions and exact measurements when you are ready to start.
Wedge or round of brie cheese

Raspberry jam

Puff pastry

Maple syrup

Brown sugar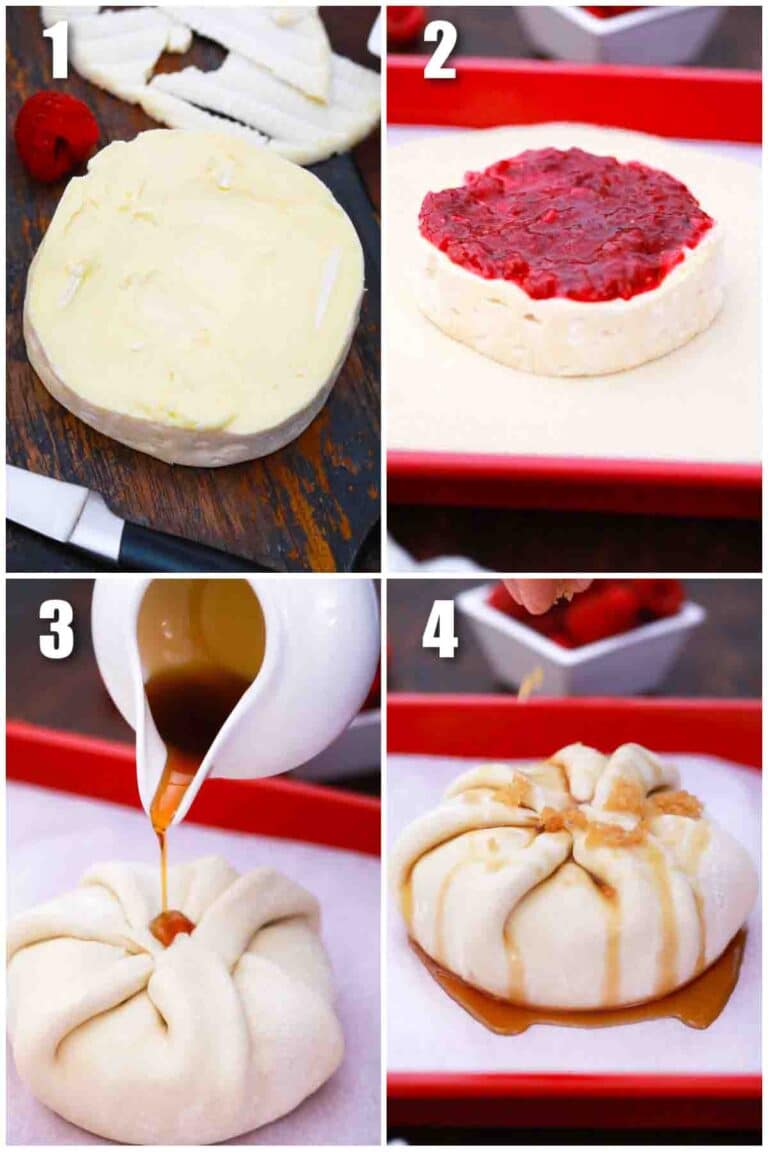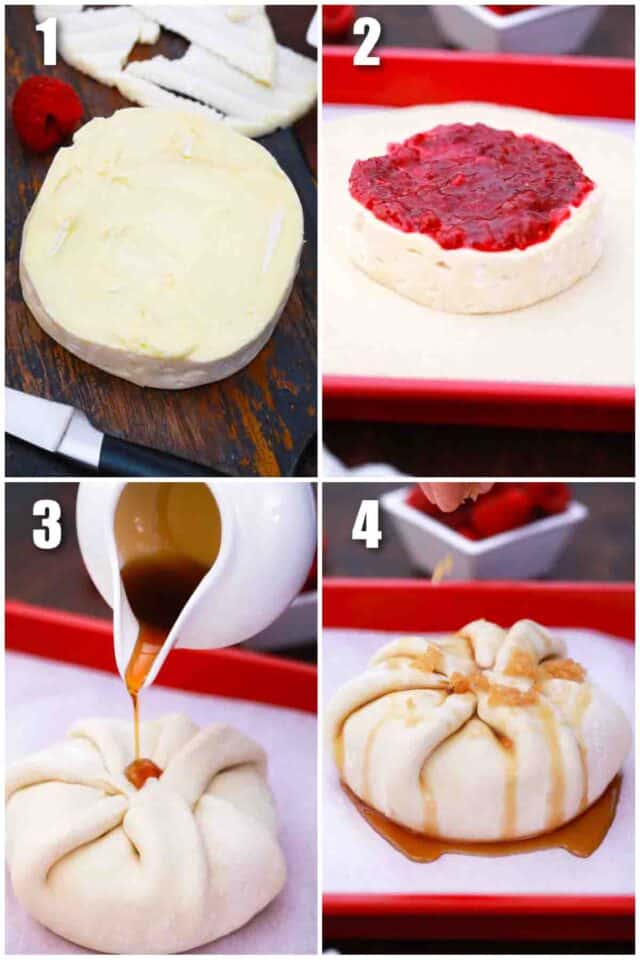 How to make baked brie in puff pastry from scratch?
Preheat the oven: First, preheat oven to 350 degrees F.

Remove the top layer: While you wait, slice off the top of the brie wheel with a sharp knife. Leave the rest of the rind on to keep it from running all over the place.

Put cheese on the prepared baking sheet: Next, place the thawed puff pastry sheet on a parchment-lined baking sheet and place the wheel of brie in the middle.

Wrap brie: After, spread the fruit on top, wrap the brie with the pastry, and remove excess dough.

Bake brie: Last, drizzle the syrup and sugar on the top of your wrapped brie before baking for about 30 minutes at 350 degrees F.

Cool and serve: Let the brie cool before serving it with fresh fruit or crackers.
How to make air fryer brie in puff pastry from scratch?
Remove the top layer: First, cut the top of the rind off the cheese but leave the sides on to help keep its shape.

Wrap the brie: Then, place the pastry sheet on a piece of parchment paper and put the wheel of brie in the middle. Spoon the jam on top of the brie and wrap it in the pastry and cut off any excess. Gently press on the top to keep it together.

Making the brie: Next, sprinkle sugar and syrup on the top and put it into the air fryer basket. Cook at 350 degrees F for 10 to 15 minutes or until the top is lightly browned.

Serve warm: Lastly, remove the baked brie wrapped in puff pastry and let it cool before serving.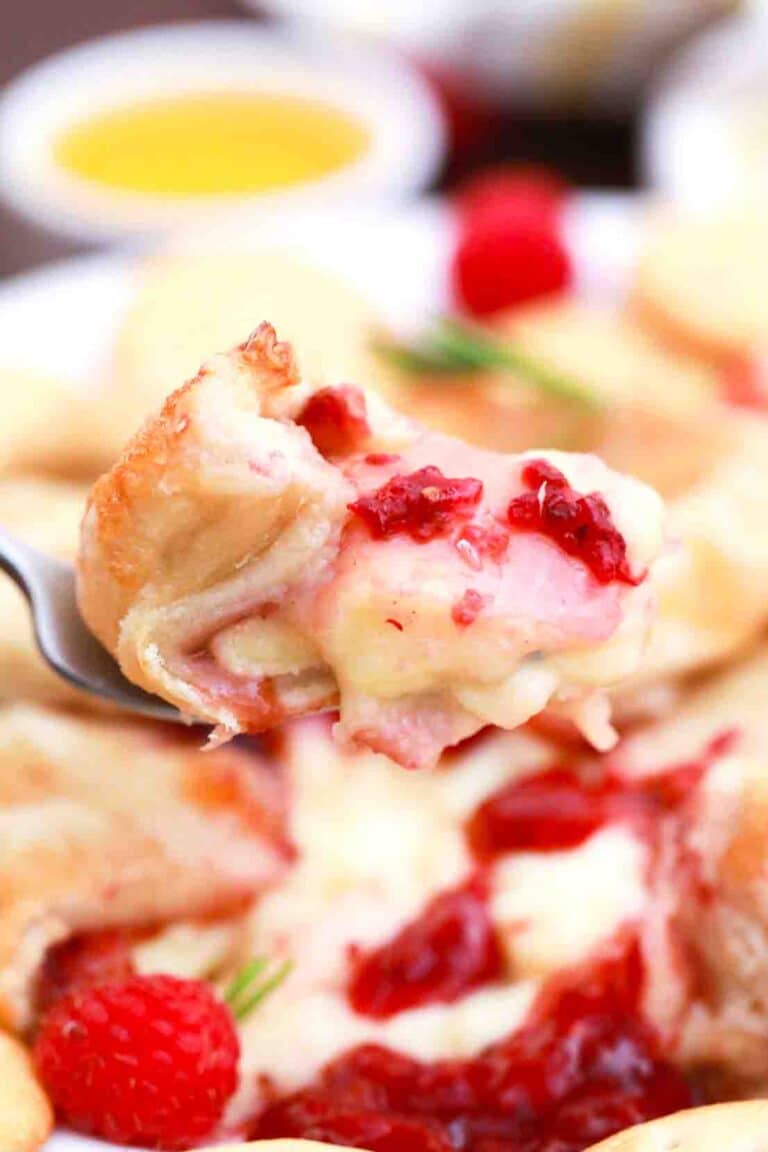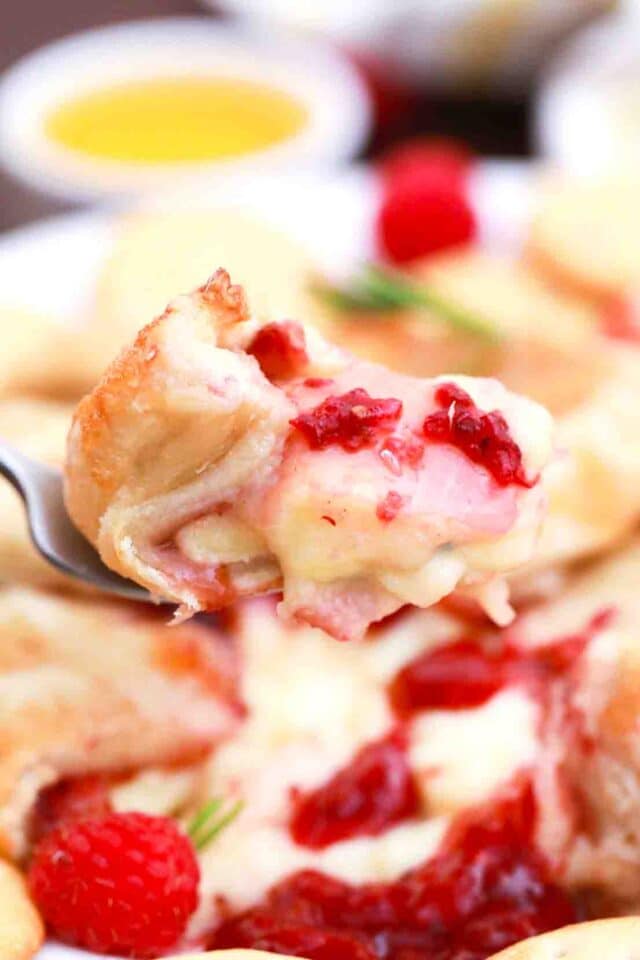 Recipe variations:
Another jam: Substitute the raspberry for your favorite jam such as cherry, red currant, blueberry, or blackberry.

Cranberry sauce: You could also use some other sauce like cranberry sauce on top.

No syrup: Substitute honey for the syrup or omit the syrup completely.

Different dough: Instead of puff pastry, you could use crescent roll dough or layered phyllo dough sheets.

Add nuts: Add chopped almonds, walnuts, or pecans on top for extra crunchiness.

Use butter: Before sprinkling on the toppings, drizzle melted butter on top.

Savory brie: Make baked brie more savory by using caramelized onions or bacon jam instead of raspberry jam.
How to serve:
Whether you serve this baked brie in puff pastry for a holiday party, the big game, or just for you and the kids to share, you can expect rave reviews and everyone asking for the recipe. Try one of these great serving ideas or share one of your own in the comments section at the bottom of the page.
This goes great with apple slices, grapes, strawberries, or any kind of fruit for dipping.

In fact, try it with these air fryer pineapple rings or these yummy air fryer apple fries.

Another way to serve this is with dried fruit like dehydrated peaches, oranges, or mangos.

Veggies are also a good dipping ingredient. Try our recipe for crispy air fryer broccoli or air fryer bacon-wrapped green beans.

Instead of fruit or crackers, feel free to use whatever you like including crusty bread or sliced baguettes.

You can also spread some of this yummy brie with jam on these mini cornbread muffins.

If your chips are too delicate for dipping, just scoop the baked brie on with a spoon!

Use leftover cheese for other recipes like salad or casserole. It would be excellent in this detox salad with avocado dressing.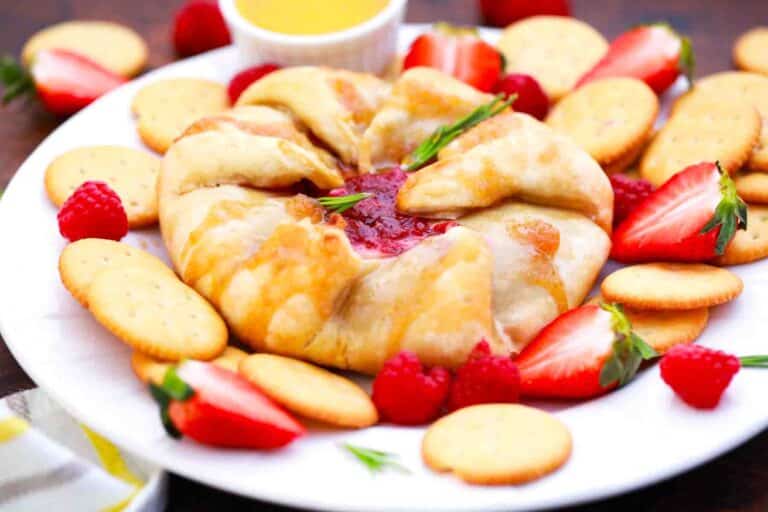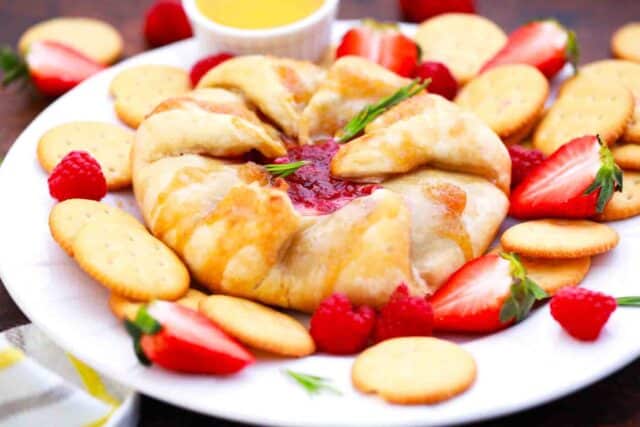 Frequently asked questions
What is brie cheese?
This soft cheese is named after the area of France where it originated. It is a pale yellow or white cheese with a rind of white mold. It is very similar to camembert, which also comes from France. The longer this cheese sits out to mature, the richer and stronger it will be in both scent and taste. Also, brie cheeses taste different depending on where they are made like Cornish Brie from the UK, Kolb-Lena brie from the US, and Wicklow Ban Brie from Ireland.
How do I keep my baked brie warm?
Once you bake the brie, it will stay warm and soft for about 30 minutes when in puff pastry. Once it cools to room temperature, it begins to harden and will be more difficult to dip or spread. You could cover it in aluminum foil to help it stay warm longer, but the crust may get soggy. Simply reheat the cheese and it will be ready to eat again.
What is the difference between double cream and triple cream brie?
The common brie is a type of double cream cheese. That just means that the butterfat is between 60 and 75 percent. Any type of brie with a higher fat content than 75 percent is considered to be triple cream. This makes it softer and creamier with a richer flavor.
What are the nutrition facts in this recipe?
Each serving has 160 calories, 10 grams of fat, and 5 grams of saturated fat. You also get 28 mg of cholesterol, 191 mg of sodium, 14 carbs, and 11 grams of sugar. Each serving also contains 7 grams of protein, 65 mg of calcium, 1 gram of fiber, and 73 mg of potassium.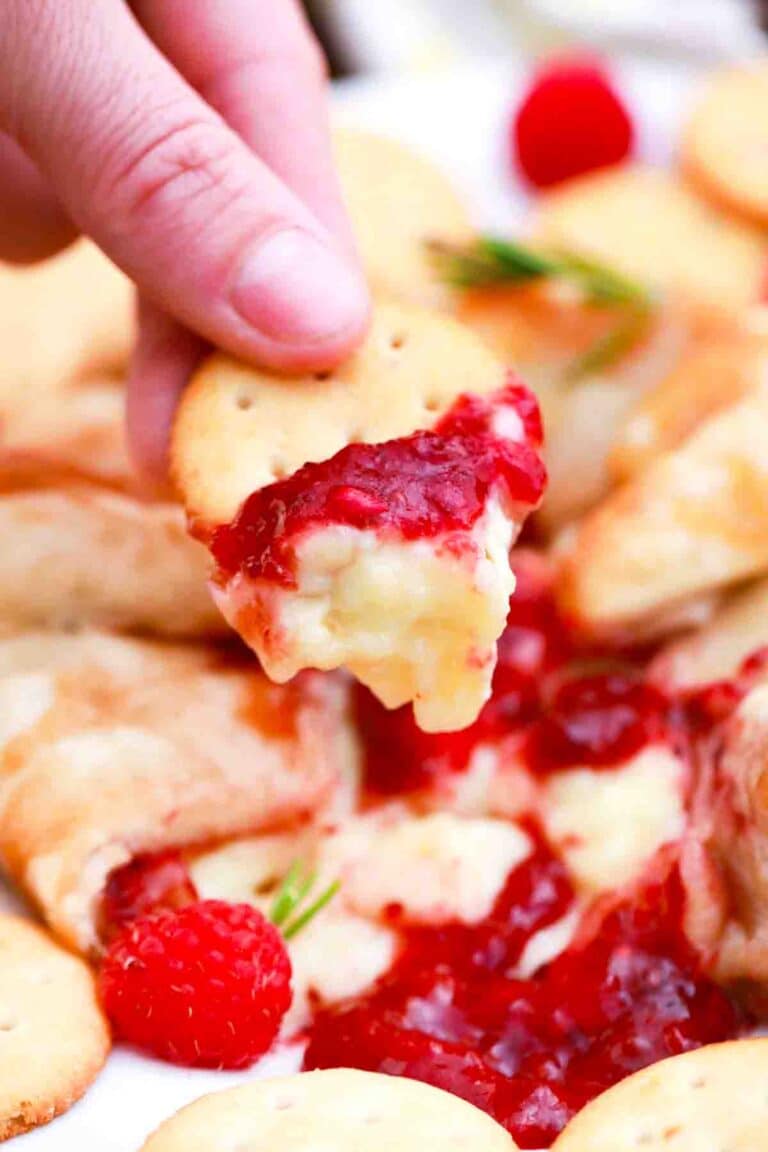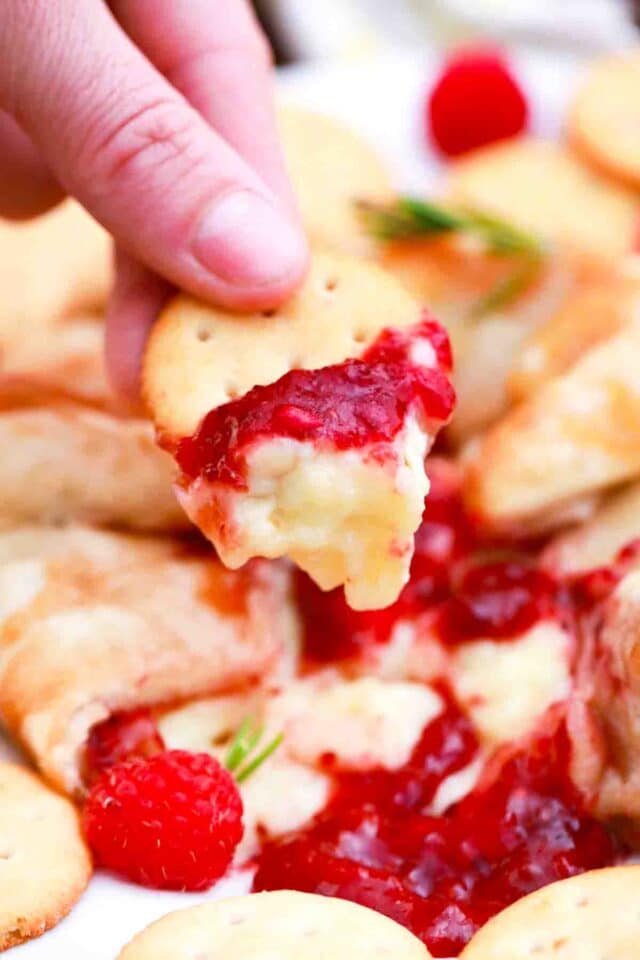 How to store leftovers:
Store: Wrap leftover cheese in plastic wrap and refrigerate right away in an airtight container to eat within a few days.

Freeze: Freezing brie is not recommended.

Reheat: Reheating brie is easy in the microwave at medium power for 30 to 60 seconds.
Recipe tips:
To keep the cheese from oozing out, do not remove the outer rind.

The cheese we used for this recipe was eight ounces.

Thaw the puff pastry sheet according to the package directions.

For a golden brown flaky crust, brush the top of the brie with egg wash before adding the sugar and syrup. To make egg wash, all you need is one egg and some water in a small bowl. Whisk and brush on top of the wrapped brie.

For best results, use a piece of parchment paper on your rimmed baking sheet.

Make sure your thawed sheet is large enough. If not, lay it on a lightly floured surface and roll it out with a rolling pin. If your pastry dough feels too sticky, lightly dust it with all-purpose flour.

If you cannot find puff pastry in your freezer section, just get some refrigerated pie dough or crescent roll pastry.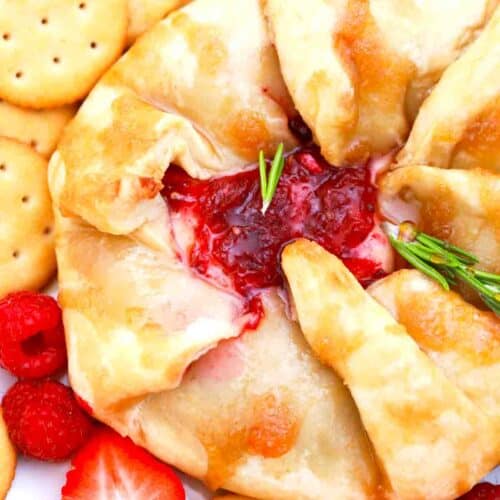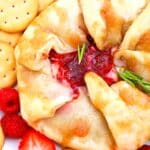 Baked Brie in Puff Pastry
BakedBrie in Puff Pastry is both sweet and savory made with brie cheese,your favorite jam, puff pastry, syrup, and brown sugar.
Keyword:
Baked Brie in Puff Pastry,
Ingredients
1

sheet puff pastry

thawed according to package directions

8

oz

round Brie cheese

do not remove rind

3

tablespoons

raspberry jam

or other jam

1 1/2

tablespoons

brown sugar

1/4

cup

maple syrup
Instructions
Preheat the oven to to 350°F.

Using a sharp knife carefully cut off the top rind of the cheese.

Line a baking sheet with parchment paper, lay out the puff pastry on it. Place the Brie round on top of the dough.

Spread the jam on the Brie, fold the dough over top, and cut off excess dough.

Drizzle maple syrup and sprinkle brown sugar on top.

Bake in the preheated oven for 25-30 minutes. The dough should be golden brown.

Let cool for 10 minutes before serving.
Nutrition Facts
Baked Brie in Puff Pastry
Amount Per Serving
Calories 160
Calories from Fat 90
% Daily Value*
Fat 10g15%
Cholesterol 28mg9%
Sodium 191mg8%
Potassium 73mg2%
Carbohydrates 14g5%
Protein 7g14%
Vitamin A 224IU4%
Vitamin C 1mg1%
Calcium 65mg7%
Iron 1mg6%
* Percent Daily Values are based on a 2000 calorie diet.