Aguachile Verde is made from fresh shrimp, serrano peppers, garlic, cucumber, and red onion with a splash of fresh lime juice. This flavorful Mexican appetizer with green chile sauce, cooked shrimp, and serrano chiles is perfect for dipping, adding to tacos, or topping your favorite Mexican rice or pasta dish.
This aguachile verde would be delicious on top of our Honey Balsamic Chicken made with chicken thighs, honey, and balsamic vinegar. You can also top this Chipotle Orange Chicken with our aguachile verde. It would also be perfect on top of this tangy Baked Lemon Thyme Chicken seasoned with lemon zest, maple syrup, and fresh thyme.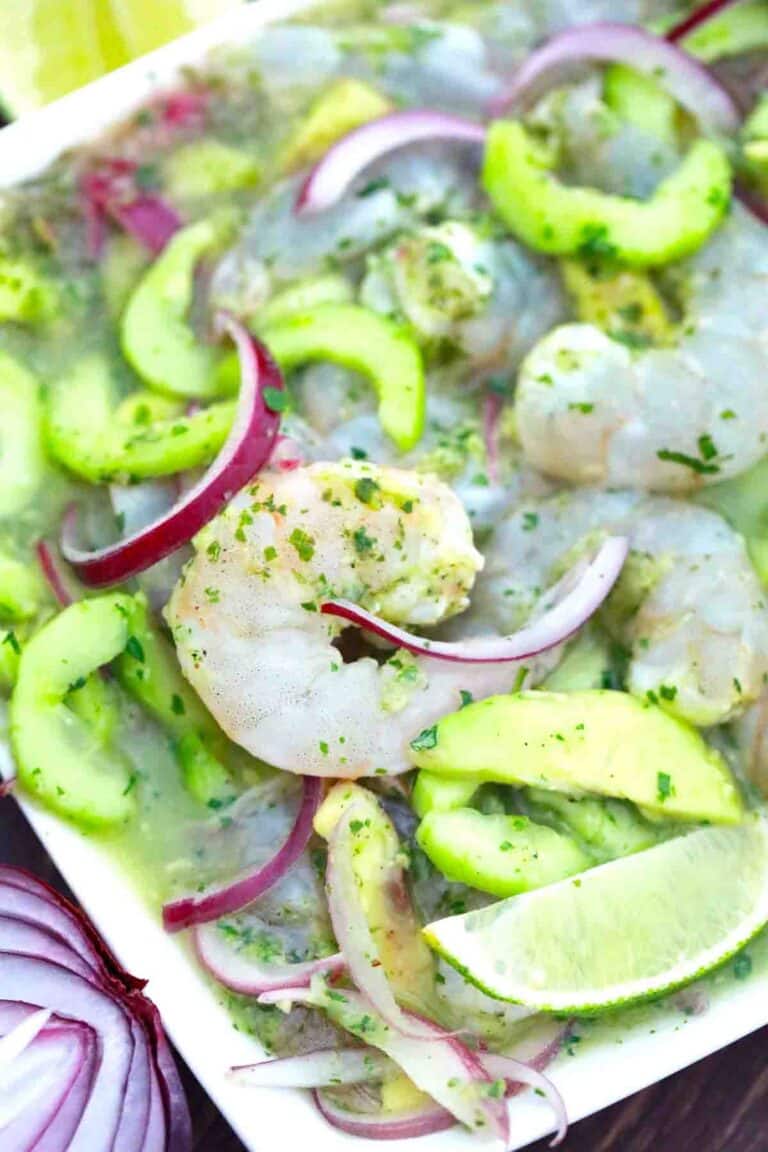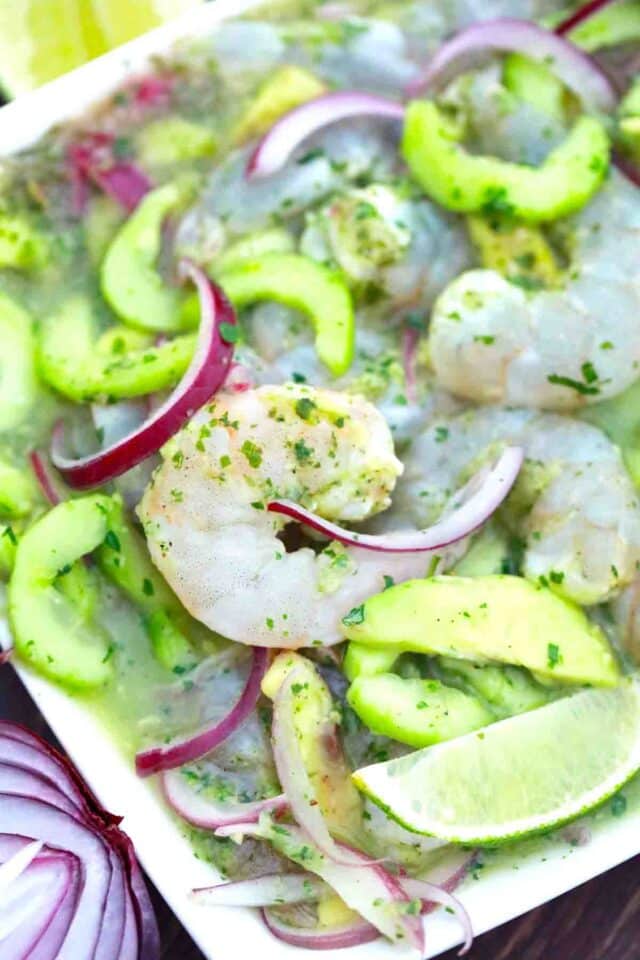 The traditional aguachile verde ceviche originated in Peru approximately 2,000 years ago. In fact, it has been named the national dish of Peru for many years. It was the Moche peoples who prepared their fish with the juice of tumbo passionfruit along the Pacific coast from South America to the Polynesian Islands.
Our authentic aguachile verde recipe is the best Mexican seafood appetizer you have ever had. Many ceviche recipes let the shrimp cook in the citrus, but this traditional aguachile recipe is served right away for the bold flavors from all the ingredients.
Like almost all ceviches, this recipe is raw seafood in citrus juice. However, if you do not like raw seafood, you can boil the shrimp first. Perfect for a spicy dish that goes with just about any Mexican food.
For even more citrus flavor, serve this ceviche on top of our chipotle orange chicken made with brown sugar, honey, and orange zest. For an extra flavorful Mexican appetizer, add this recipe to our pineapple mango salsa.
Another delicious Mexican recipe your family will love is this rotisserie chicken tacos dish. Top it with a spoonful of aguachile ceviche for extra flavor.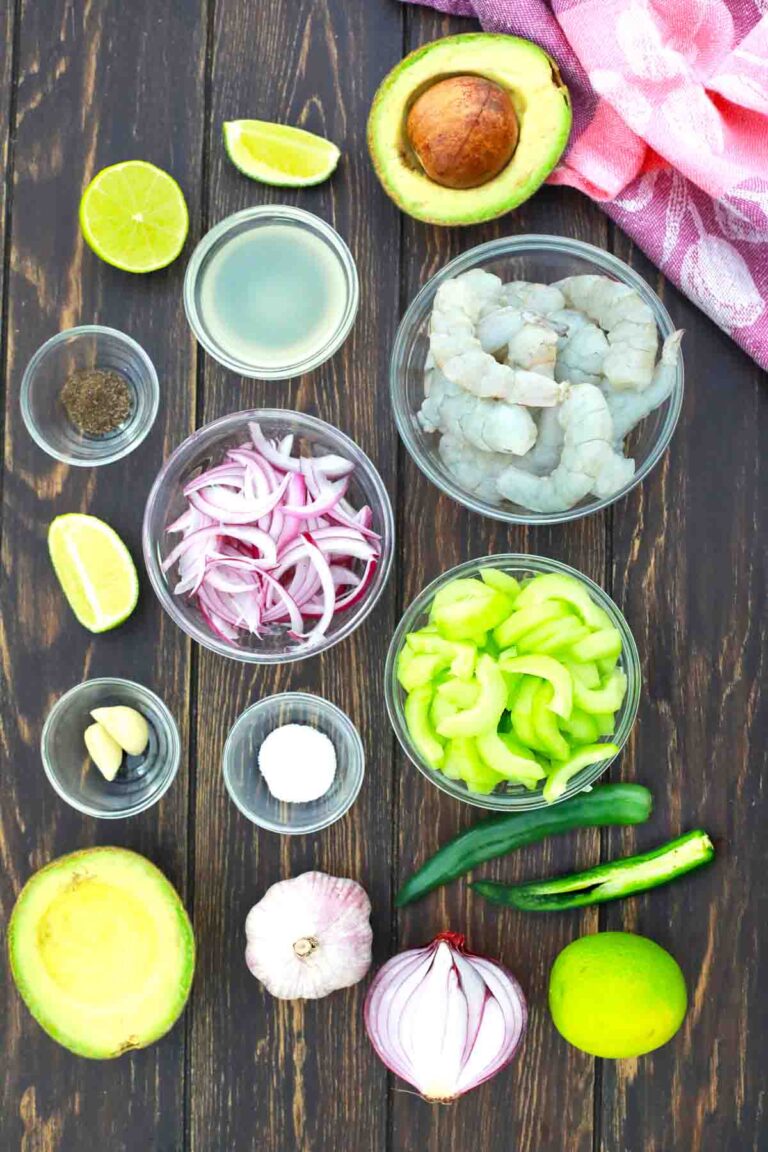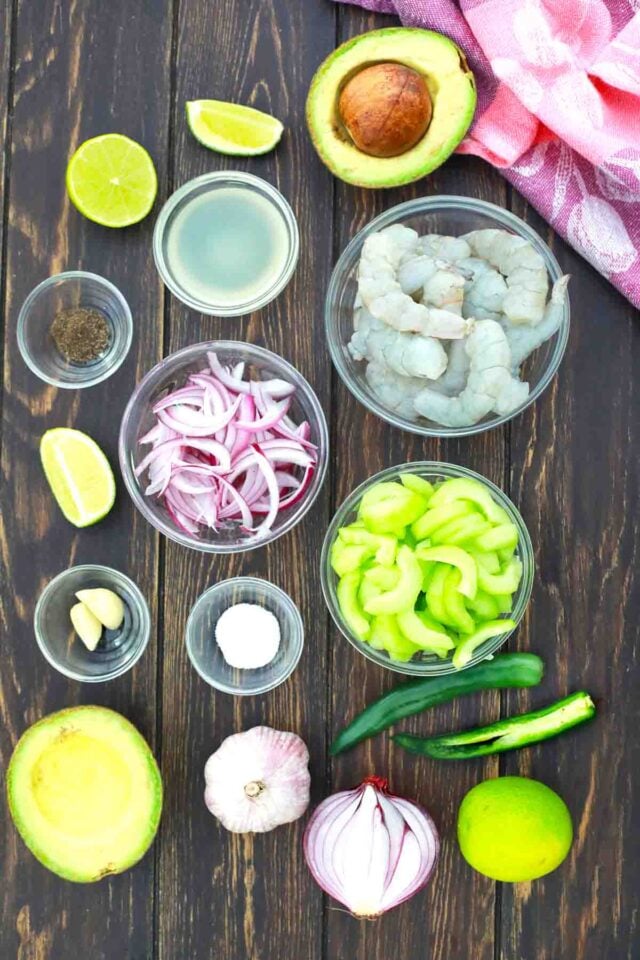 Ingredients needed:
To make this authentic aguachile recipe, all you need are a few basic ingredients. When you are ready to begin preparing your aguachile verde, scroll down to our recipe card where you can find step-by-step instructions and measurements.
Raw shrimp: Cleaned, deveined, and rinsed.
Serrano chiles
Thinly sliced red onion
Cucumbers: Peeled, deseeded, sliced, and cut into half-moon shapes.
Garlic clove: Minced.
Cilantro leaves
Freshly squeezed lime juice
Salt and pepper: To taste.
Avocado: Optional.
How to make aguachile verde from scratch?
Prep the shrimp: First, clean, devein, and pat the shrimp dry with a paper towel before setting it aside in a large bowl.
Chill the shrimp: Next, add lime juice, thinly sliced onions, and a pinch of salt to the shrimp. Cover and let it chill in the fridge for about 30 minutes.
Strain the lime juice: After, remove the bowl and strain the lime juice with a fine mesh strainer and set it to the side.
Make the green sauce: Now add a few pieces of onion, cilantro, serrano peppers, salt, pepper, two tablespoons of chopped cucumber, and garlic in a blender and blend with half the lime juice. Blend until smooth
Mix it all together: Then, combine the blended mixture with the shrimp and add the excess lime juice. Make sure it is all evenly coated and then salt and pepper to taste.
Serve cold: Lastly, add cucumber and avocado slices and serve cold.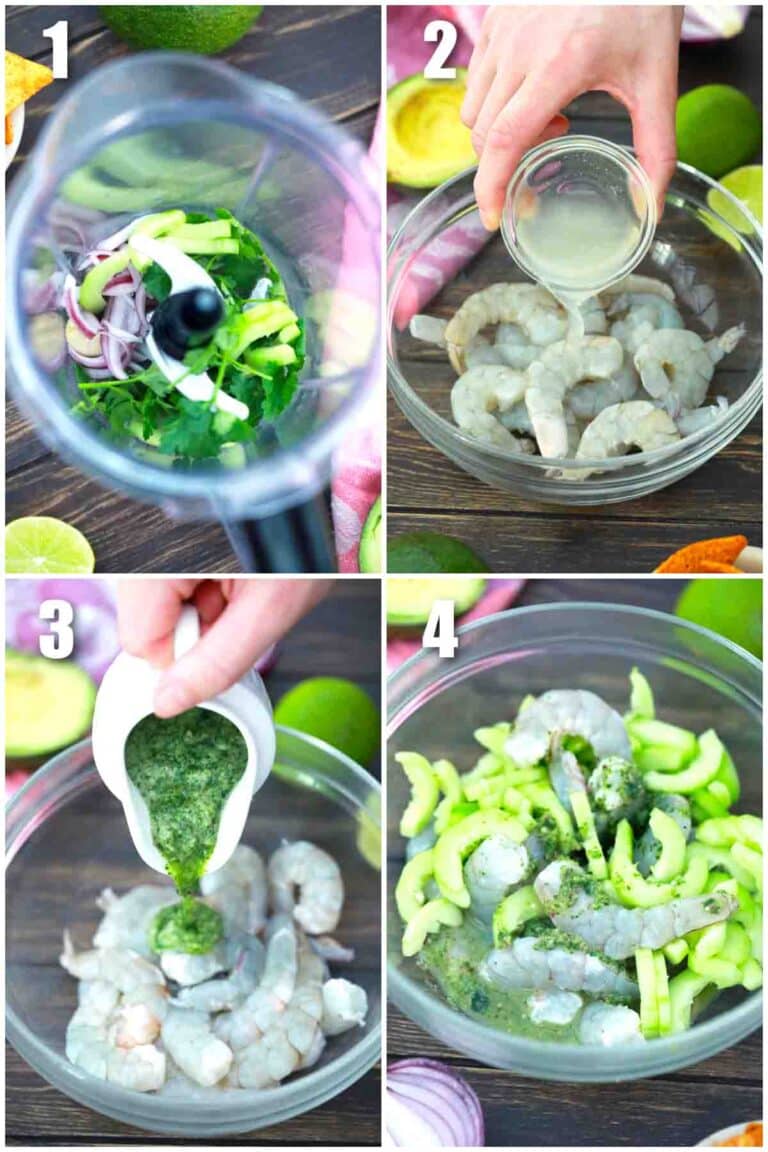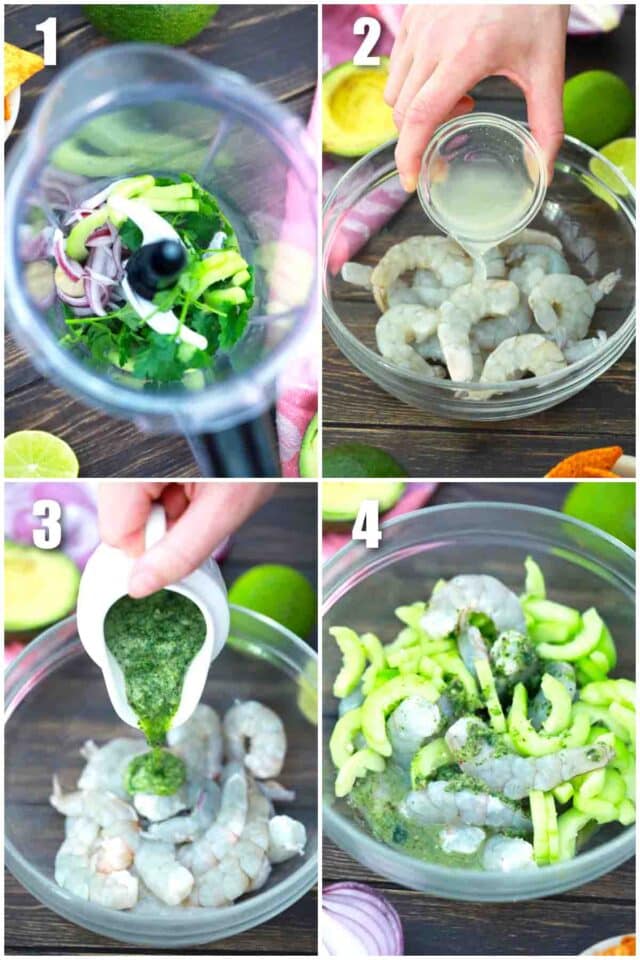 Recipe variations:
Another oil: Feel free to use other oils such as avocado oil or whichever you like cooking with.
Soy sauce: You can also add a tablespoon of soy sauce to your authentic aguachile recipe.
Other versions: Instead of shrimp, try using crab meat or some type of fish.
Other meat: Another version is to make this with meat like grilled chicken, pork, or turkey.
Precooked shrimp: Not a fan of raw shrimp? Grab a bag of precooked shrimp from the grocery store instead. These are also available deveined and cleaned so you can skip a few prep steps.
Add fruit: Feel free to add other fruit to your ceviches such as chopped mangos or mandarin oranges.

Other onions: For a milder onion flavor, you can use sweet onions or green onions instead of red onions.

Other juices: Similarly, try other fruit juices like orange, pineapple, or lemon.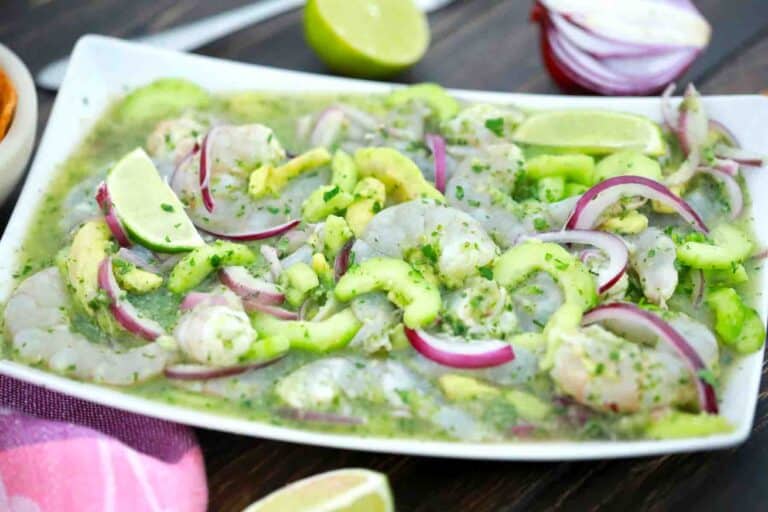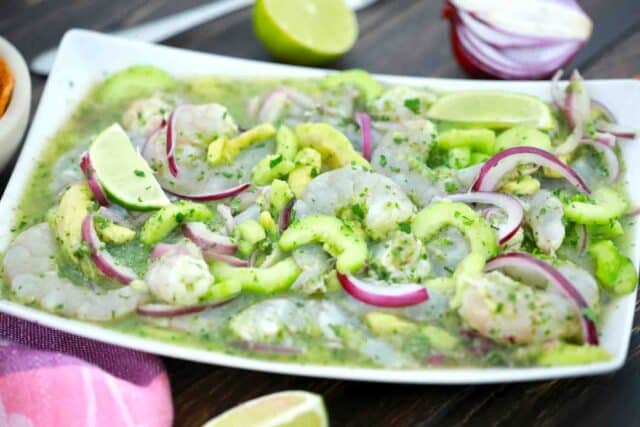 How to serve:
Served cold, this easy recipe is a delicious appetizer or an excellent dip for tortilla chips. You can use this low-carb and high protein ceviche to top other dishes or even just eat it with a spoon. Try one of our awesome serving ideas or share your own in the comments section below.
Aguachile verde is the perfect topping for tacos, salads, or tostadas. It would be great on this taco pasta salad.

Top with a dollop of something light and sweet like our pineapple fluff.

Drizzle with olive oil before serving for a rich olive flavor.
Use leftovers to start a dish of shrimp-fried rice.

This ceviche goes great on top of a bed of rice.
Instead of tortilla chips, you can use corn chips or potato chips for a change. Try it with our crunchy air fryer sweet potato chips.

Sprinkle some parmesan or another kind of dried cheese on top for a rich cheesy flavor.
Another way to serve your aguachile verde is on top of a bowl of delicious chili. Try our recipe for 30-minute chili with kidney and pinto beans, crushed tomatoes, and ground beef.
Add nuts like chopped peanuts or almonds for a crunchy ceviche.

Don't forget the drink! Try our Mexican horchata recipe made with rice and cinnamon.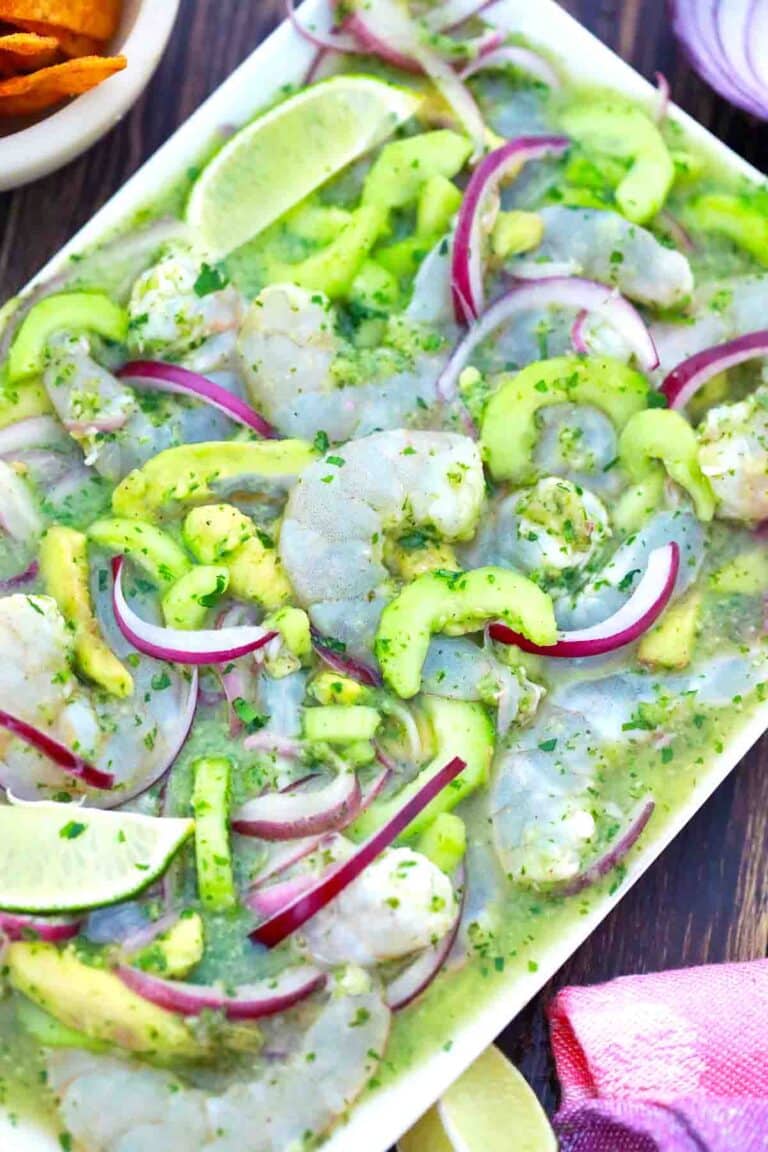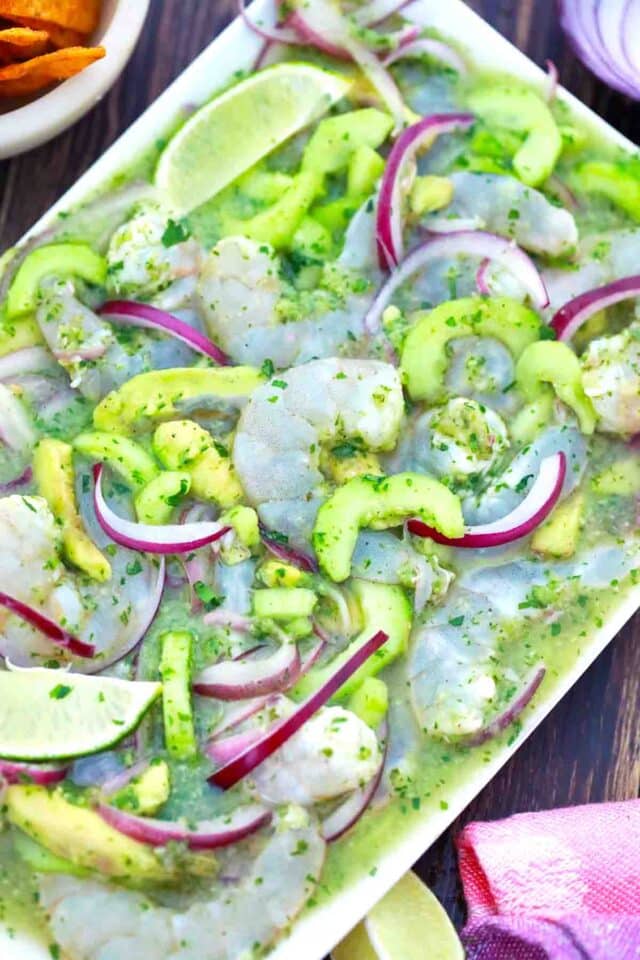 Frequently asked questions
What is aguachile verde?
The word aguachile literally means chili water or chile water because that is the main flavor you are tasting in this dish. It can be considered an appetizer, dipping sauce, or marinating sauce.
The chiles used for aguachile verde are usually serrano but can sometimes be found made with jalapeno peppers. The mixture of the chiles and lime juice make a delicious marinade for seafood, fish, or meat.
What is the difference between aguachile and ceviche?
The main idea is the same with both being made with some kind of seafood "cooked" in lime juice. However, aguachile only cooks for 30 minutes while a ceviche is often cooked for several hours. Another difference is that aguachile adds cilantro and chiles, making it extra flavorful.
How does lime juice cook shrimp?
Any kind of acidic liquid can cook shrimp including lemon and lime juice. It is the acid in the juice that uses denaturation to break down the protein in the shrimp the same way it is done when you heat it. The shrimp will first turn pale pink around the edges and will begin to turn opaque, getting firmer as they soak.
What are the nutrition facts in this recipe?
This low-carb recipe only has 80 calories per serving with 60 milligrams of cholesterol, 7 carbs, 250 milligrams of sodium, and just 5 grams of fat with 1 gram of saturated fat. You will also get 40 milligrams of calcium, 200 units of vitamin A, 10 grams of protein, and 3 grams of fiber as well as 270 milligrams of potassium and 15 milligrams of vitamin C.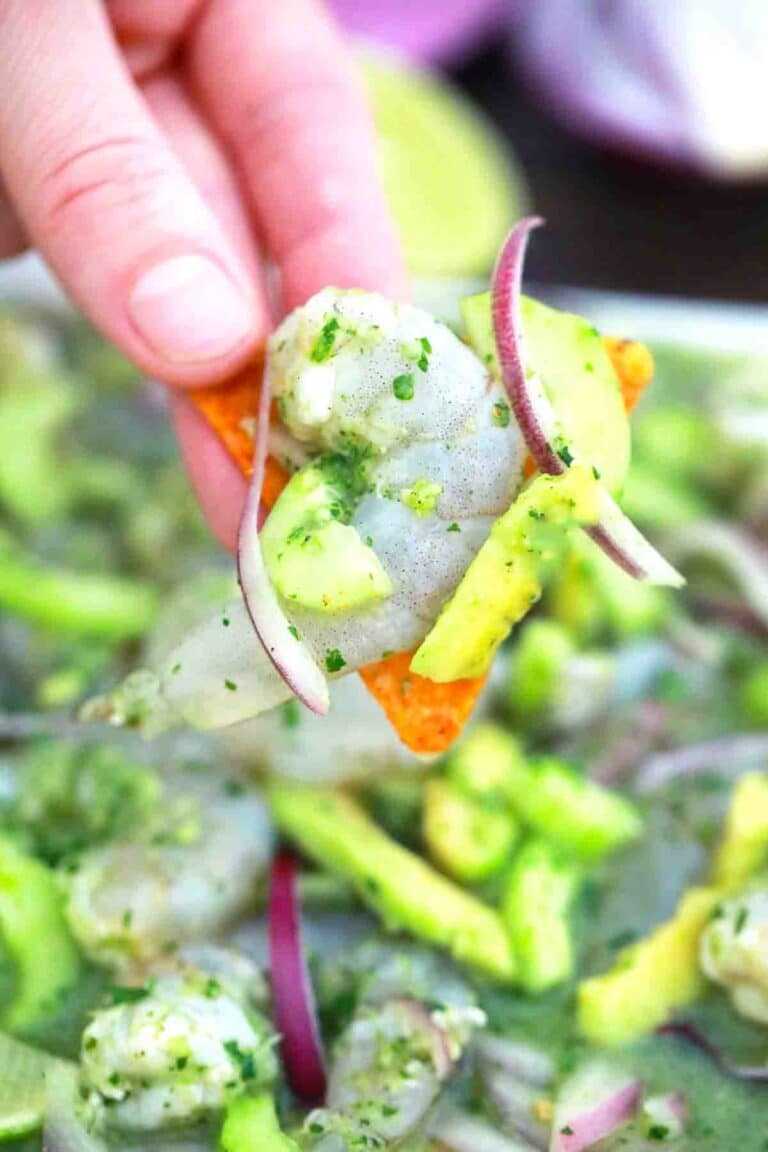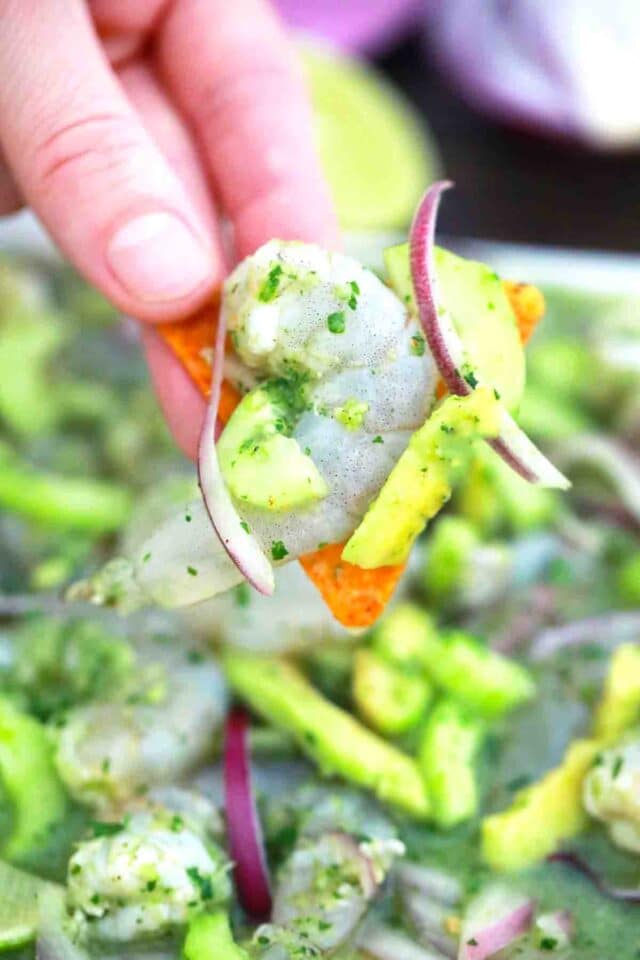 How to store leftovers:
Store: Refrigerate your leftovers right away in an airtight container. They will stay fresh in the fridge for several days.

Freeze: If you are not going to finish it all in a few days, it can be frozen for up to five months.

Thaw: Thaw your aguachile verde in the refrigerator overnight before serving chilled the next day.
Recipe tips:
Use the tender stems with the cilantro leaves for the best flavor.
You can also cut the shrimp in half lengthwise.
Be sure to thinly slice the red onions so they do not overpower the other flavors.
You can also use a food processor instead of a blender to mix the ingredients faster and easier. Blend until smooth and strain with a fine mesh strainer.
Many people say that this and other ceviches are the perfect hangover cure. While we did not try it that way, you can certainly let us know in the comments section below if you do.
Cut prep time by using frozen shrimp that is already cleaned and deveined. Just let it thaw in the fridge overnight or run it under cold water to thaw.
With just a handful of ingredients and no cooking, this is easy for home cooks no matter whether you are a tried-and-true Mexican seafood expert or if it is your first time making ceviche.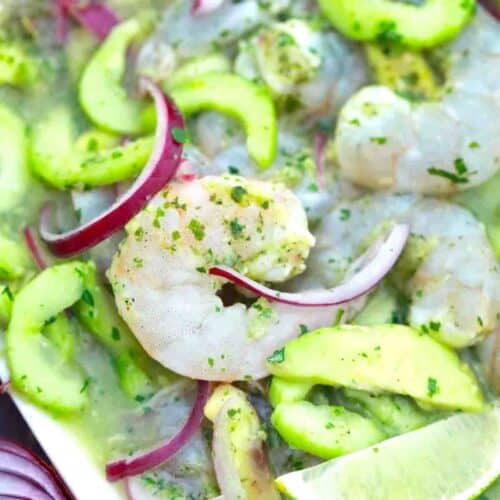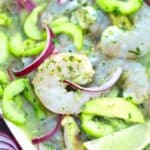 Aguachile Verde
Aguachile Verde is made from fresh shrimp, serrano peppers, garlic, cucumber, and red onion with a splash of fresh lime juice.
Ingredients
1

lb

raw jumbo shrimp

deveined, rinsed, and cleaned

3/4

cup

freshly squeezed lime juice

2

medium cucumbers

peeled, deseeded, and sliced into half moons

1

small red onion

thinly sliced

1/2

bunch cilantro

chopped

2

cloves

garlic

3

chiles serranos

more or less if you want

1

avocado

peeled and sliced

salt

to taste

ground black pepper

to taste
Instructions
Make sure you clean well the shrimp and devein, and after that pat dry with paper towels. Set aside in a large bowl.

Add the lime juice, some salt, and the onion slices. Toss to combine.

Cover the bowl and refrigerate it for 20-30 minutes.

Remove from the refrigerator and drain the accumulated juice from the shrimp and onions, into a small bowl and set aside.

Add half of that mixture to a blender with the garlic, pepper, salt, serrano pepper, cilantro, a few pieces of the onion that were marinated, and about 2-3 tablespoons of the chopped cucumber. Blend well until smooth.

Add the remaining lime mixture and the blended mixture to the bowl with the shrimp. Mix well and adjust for salt and pepper and lime if needed.

Add the remaining cucumbers and avocado slices and serve cold with tortilla chips.
Nutrition Facts
Aguachile Verde
Amount Per Serving
Calories 132
Calories from Fat 54
% Daily Value*
Fat 6g9%
Cholesterol 95mg32%
Sodium 433mg19%
Potassium 435mg12%
Carbohydrates 9g3%
Protein 12g24%
Vitamin A 319IU6%
Vitamin C 9mg11%
Calcium 67mg7%
Iron 1mg6%
* Percent Daily Values are based on a 2000 calorie diet.