Mozzarella Cheese Sticks have a crunchy crust seasoned with several herbs and spices, plus super gooey and stringy cheese inside! Dunk them into the easiest marinara sauce for an awesome snack or appetizer!
These are an excellent game day snack, along with this crowd-favorite Taco Dip, Cheesy Chicken Fajita Quesadilla, Easy Salsa!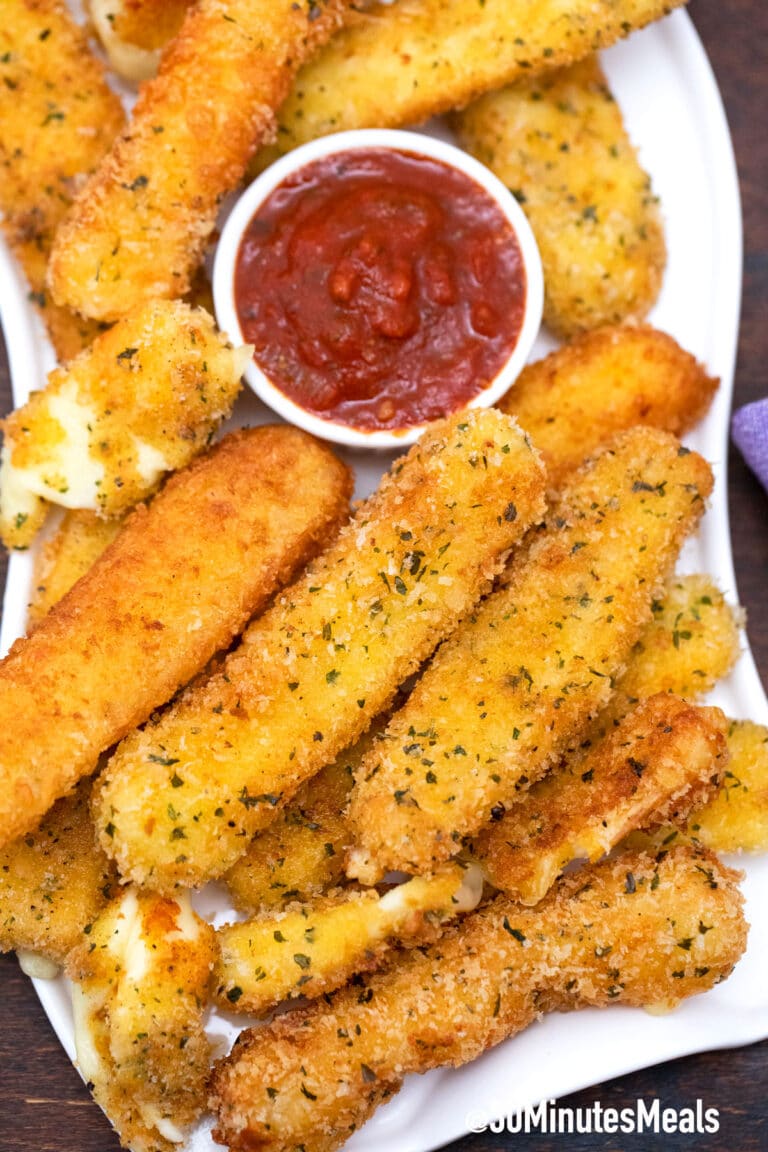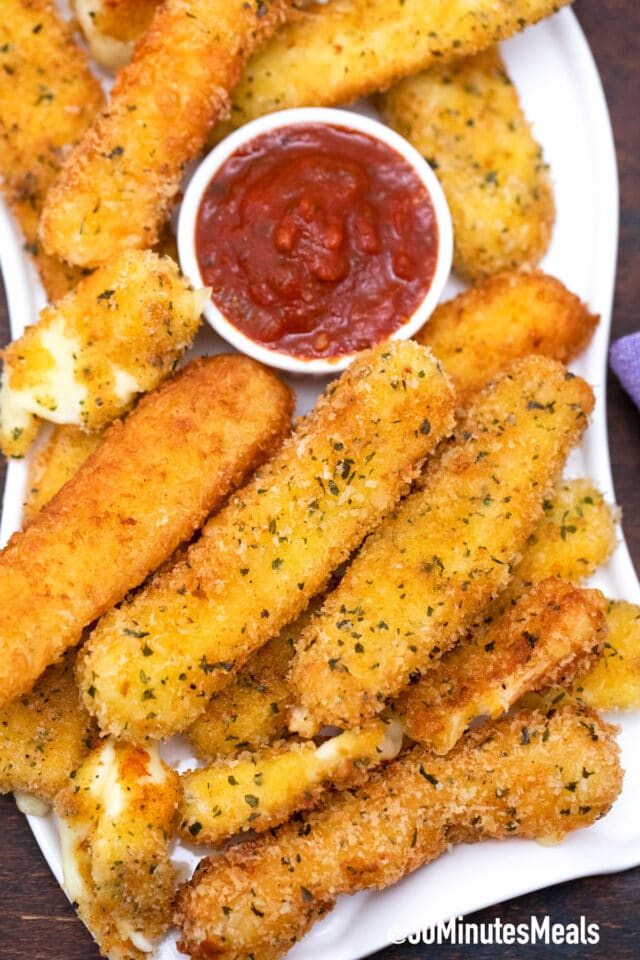 Fried Mozzarella Cheese Sticks Recipe
Mozzarella Cheese Sticks are one of the best ways to each cheese, period. I mean, what's better than biting into a crunchy-golden mozzarella stick, then pulling it away from you to see how far the cheese will stretch?
I can easily finish a whole plate of these myself, especially when they come with a tasty marinara sauce. In fact, I've learned to always make a double batch at home because the kids will eat them all up if we let them!
The secret to making them perfect every time is to freeze for about half an hour before frying. This way, they turn out incredibly crunchy without the cheese oozing everywhere. Finally, this homemade version is much more delicious than anything you can get at a restaurant. Packed with spices and herbs, paired with a homemade marinara, and seriously crunchy and addictive!
What are mozzarella cheese sticks?
They're elongated sticks of mozzarella covered in breadcrumbs and various seasonings, then deep-fried until golden and crunchy. These are classic appetizers, and you'll find them in a lot of restaurants. But of course, nothing beats homemade!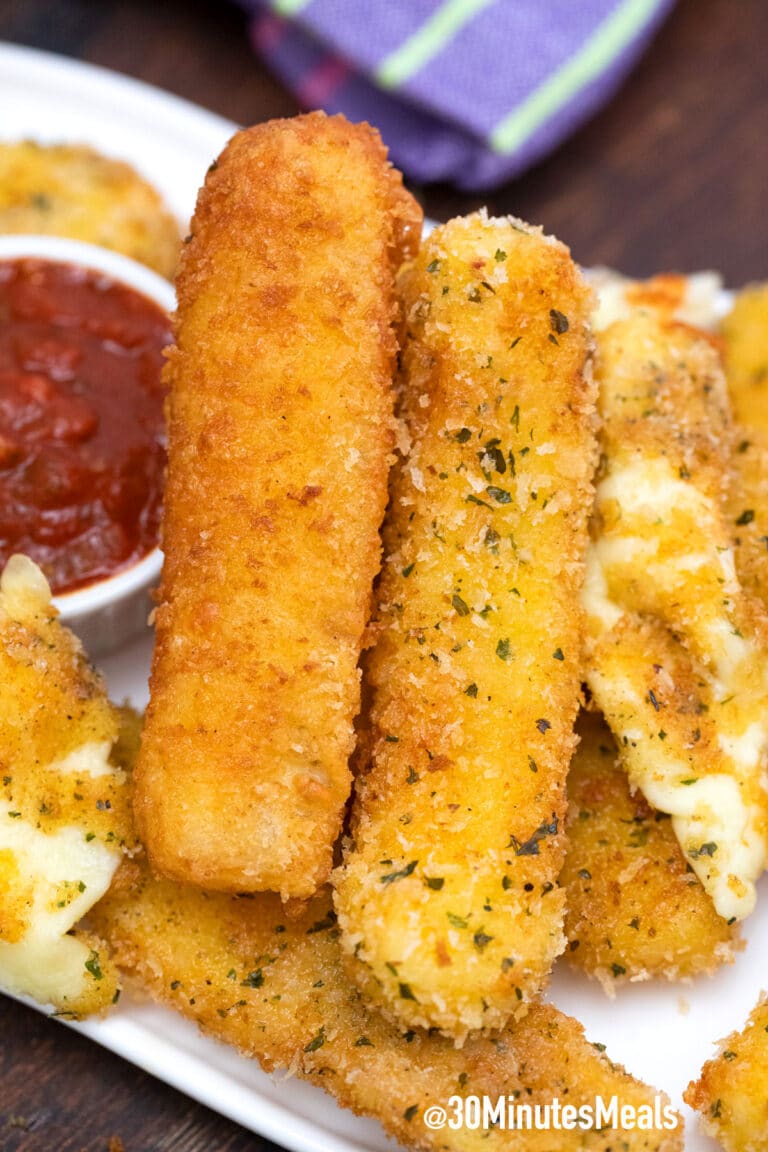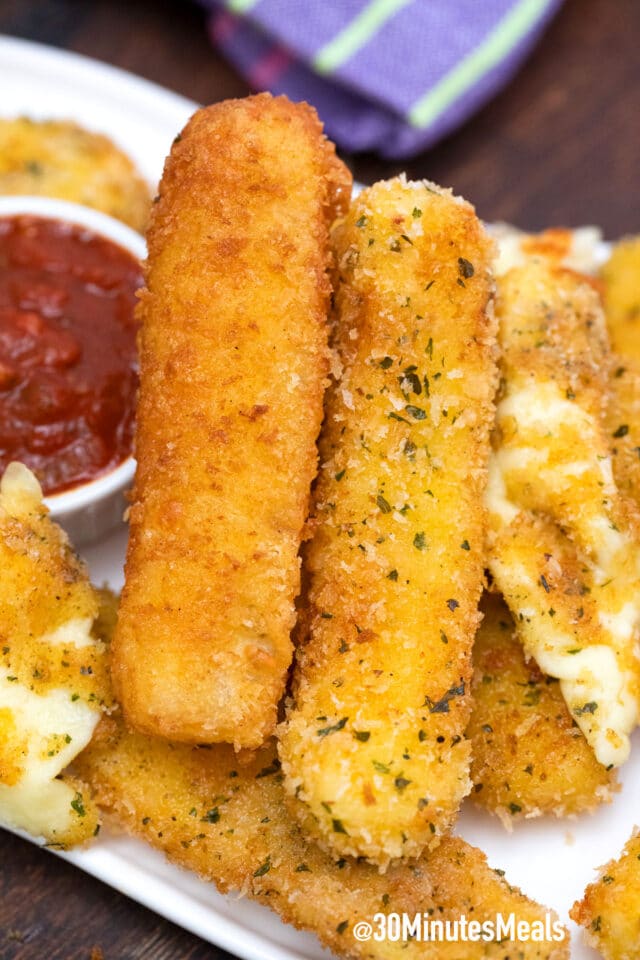 How to make Mozzarella cheese sticks?
Prep your bowls

. One for flour mixed with Emeril's essence, one for the seasoned breadcrumbs, and the last for the egg-milk mixture.

Dip

. First, roll the sticks in flour. Using your other hand, submerge them in the egg and milk until coated as well as possible. Lastly, cover them really well with the breadcrumbs. Once all are done, freeze for 20 mins to half an hour on a cookie sheet.

Cook the easy marinara

. Meanwhile, time to make the dipping sauce! Sauté your aromatics, then add all the ingredients for the tomato sauce. Cook on a hard simmer until reduced, about 15 mins or so. While making the dip, heat your deep-frying oil.

Fry

. Place them carefully in the hot, preheated oil, then take them out once they're golden and have formed a crunchy crust.

Serve

. Enjoy hot with the homemade marinara sauce on the side!
Are cheese sticks the same as mozzarella sticks?
They're similar, but what we know as mozzarella sticks are usually made with string cheese or a sliced mozzarella block. Not all cheeses have that trademark mild, milky, and stretchy characteristic of conventional mozzarella cheese. If you use other types of cheese, they'll still be delicious, but they won't be the classic version we know and love.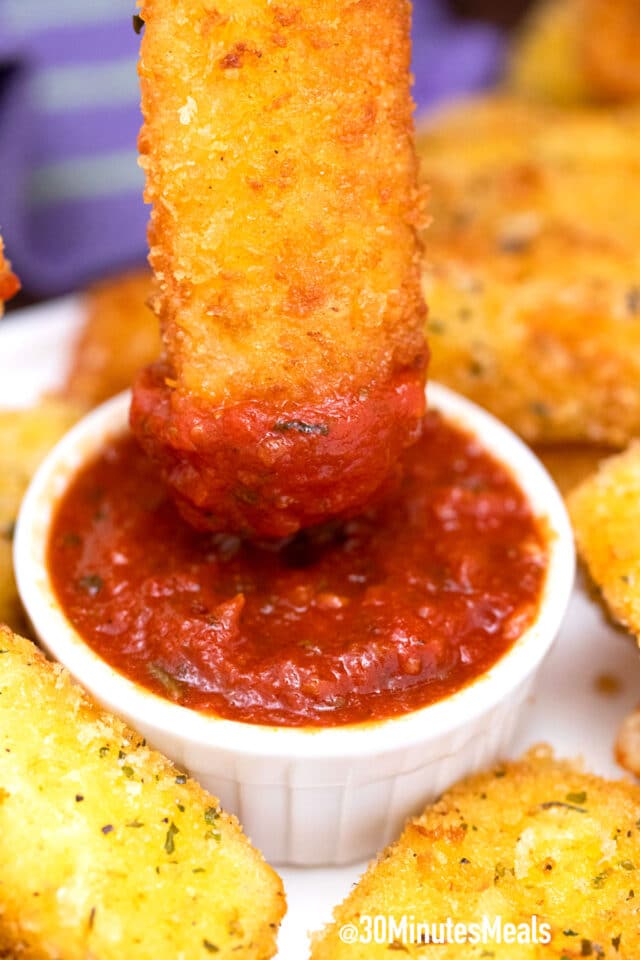 What dipping sauces go well with crispy fried Cheese Sticks?
Marinara made from scratch is our go-to dip! You can use your favorite bottled marinara, too. We also love dipping them in other sauces like ranch, tzatziki, honey-mustard, this awesome Chick-fil-A Sauce copycat, tangy Big Mac sauce, tomato ketchup, or even some BBQ sauce!
How to bake cheese sticks in the oven?
Once they've been flash-frozen on the cookie sheet, transfer to your baking pan (do not thaw!) and bake at 400F for 8 minutes.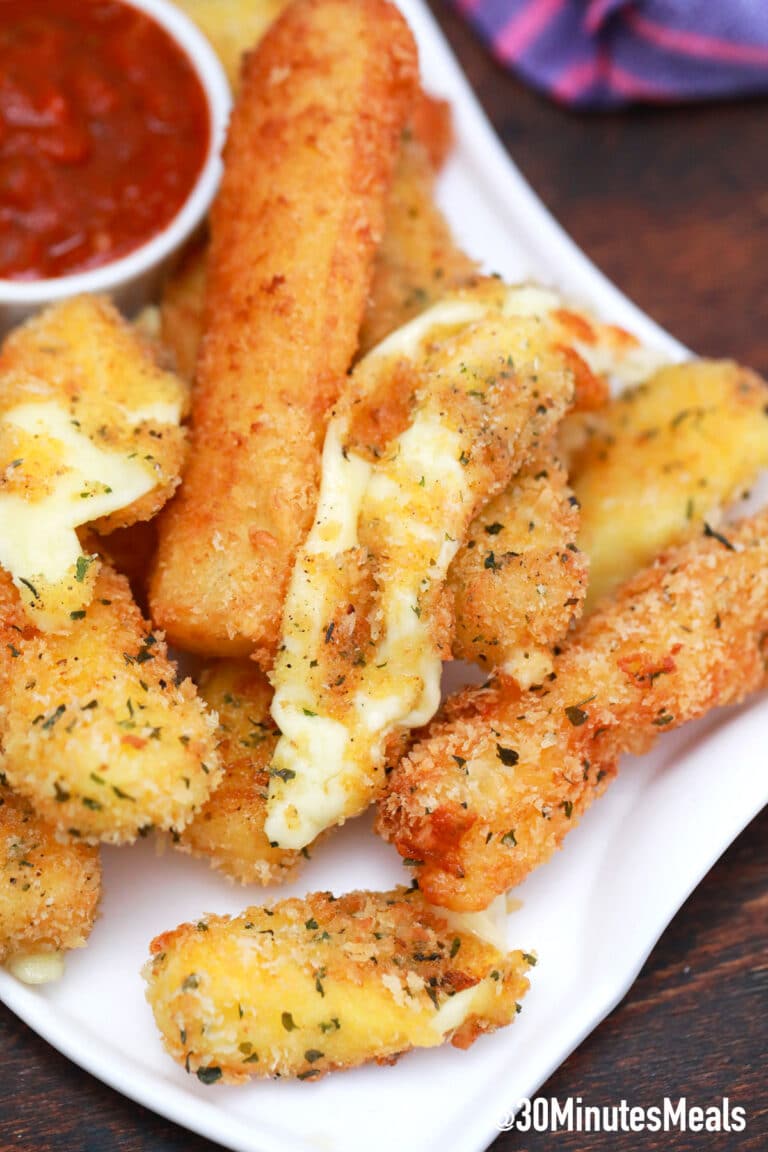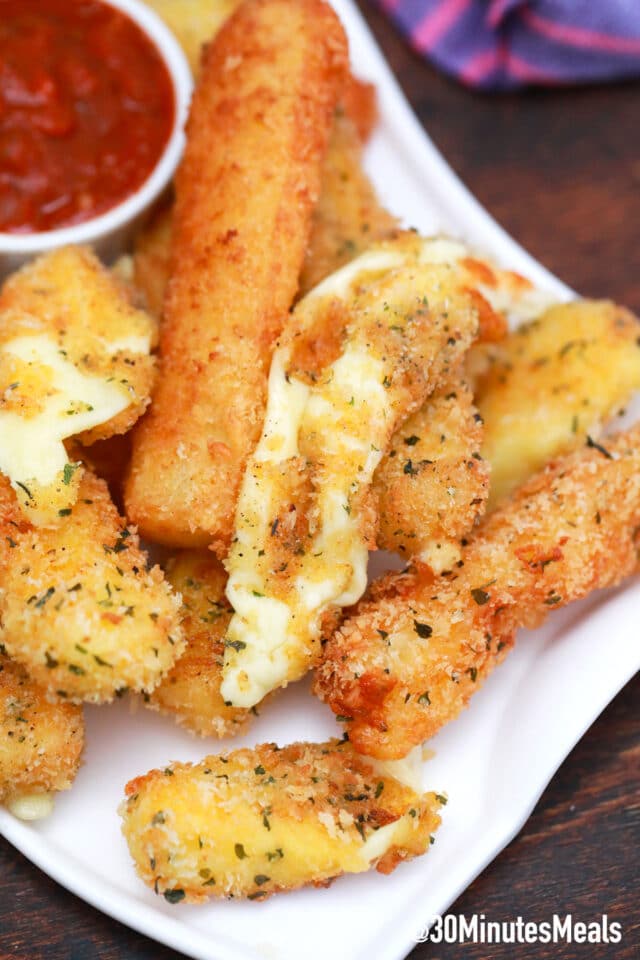 Can you make mozzarella cheese sticks in advance?
Yes, and we often do! It's the perfect way to always have these golden sticks of deliciousness anytime you want them.
Once you've breaded them properly, arrange on a baking sheet in one layer, then flash freeze for an hour or two. Then, take the frozen pieces and transfer to a freezer-friendly baggie. Keep up to three to 5 months.
When ready to cook, fry them directly from frozen. No need to thaw!
More homemade appetizers to try: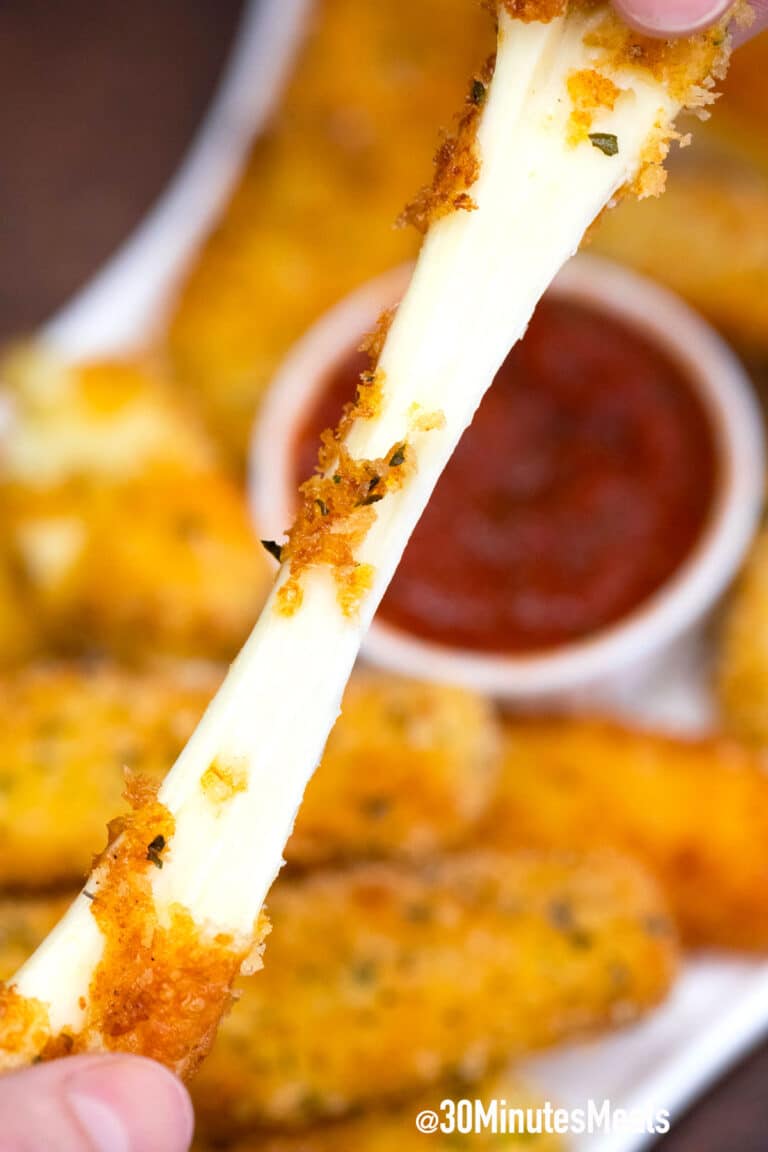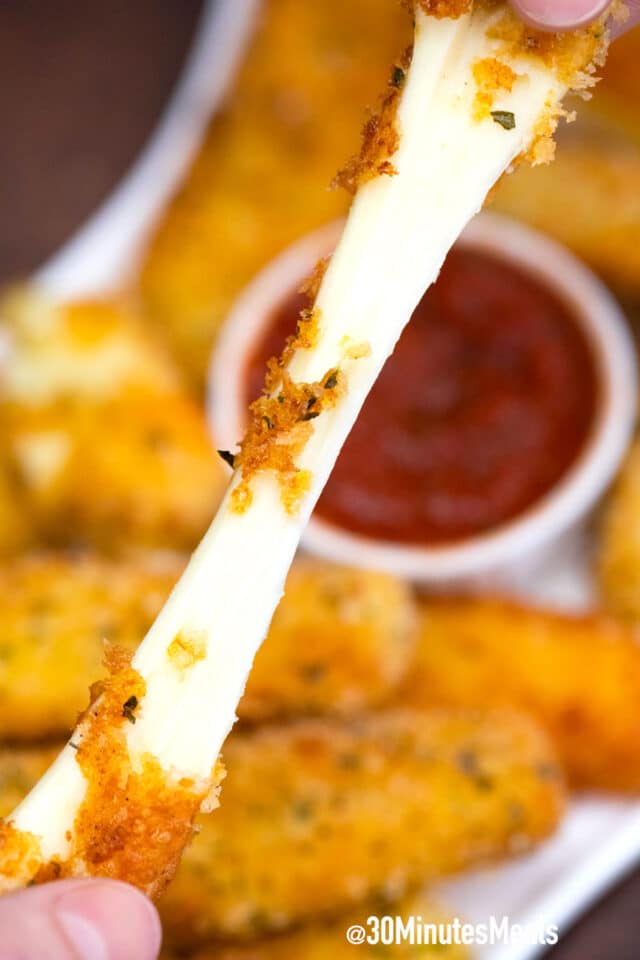 Recipe tips:
Don't skip freezing them before frying, so the shell is sturdier and there is less chance of the cheese leaking through. You can also double-coat them for a stronger, crunchier crust.

Make sure your oil is very hot before you fry! This way, the breading crisps up before the cheese has a chance to melt.

We cut these in half because to make more bite-sized pieces, but you can totally use the full-size string cheese.

Fry in batches, or you'll end up with soggy, undercooked, or burnt sticks.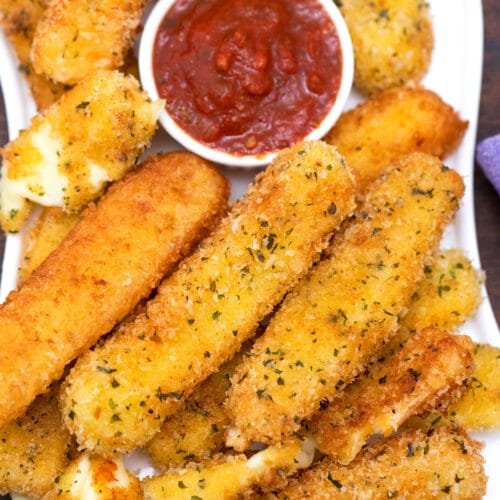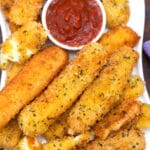 Mozzarella Cheese Sticks
MozzarellaCheese Sticks have a crunchy crust seasoned with several herbs andspices, plus super gooey and stringy cheese inside! Dunk them intothe easiest marinara sauce for an awesome snack or appetizer!
Keyword:
Mozzarella Cheese Sticks
Servings
:
16
cheese sticks
Ingredients
16

Mozzarella string cheese sticks

½

cup

flour

¼

cup

corn starch

2

eggs

beaten

2

tablespoons

olive oil or vegetable oil

1

cup

Italian bread crumbs

½

cup

Panko bread crumbs

1

teaspoon

dried Italian herbs

1

teaspoon

smoked paprika

oil for frying
Instructions
Open the cheese strings, arrange on a cutting board covered with parchment paper, and place in the freezer for at least 2-3 hours.

Combine flour and cornstarch in a small bowl shallow bowl.

Combine the Italian breadcrumbs, smoked paprika, Panko bread crumbs and dried Italian herbs in a separate shallow bowl.

In third shallow bowl, whisk eggs and olive oil until well combined.

Dip each cheese stick into the egg mixture, then gently roll into the flour mixture.

Dip back into the egg mixture and now into the Panko mixture, pressing the crumbs on each piece of cheese until coated.

Arrange on a cutting board covered with parchment paper. Place in the freezer for 30 minutes.

Preheat oil to 350°F in a deep skillet.

In small batches, fry the cheese sticks into the hot oil for about 2 minutes or just until browned. Do not overcook or the cheese will leak out.

Serve hot with warm pasta sauce.
Nutrition Facts
Mozzarella Cheese Sticks
Amount Per Serving
Calories 67
Calories from Fat 9
% Daily Value*
Fat 1g2%
Cholesterol 21mg7%
Sodium 122mg5%
Potassium 37mg1%
Carbohydrates 11g4%
Protein 2g4%
Vitamin A 108IU2%
Vitamin C 1mg1%
Calcium 23mg2%
Iron 1mg6%
* Percent Daily Values are based on a 2000 calorie diet.