Pineapple fluff is a burst of creamy tropical flavors in every bite made with crushed pineapple, instant pudding, whipped topping, and coconut. You only need a few ingredients to get this delicious dessert cuisine done in less than 30 minutes. Then, just chill and serve.
Looking for more popular recipes? Try our easy recipe for Mandarin Orange Salad with cottage cheese, sugar-free orange jello, crushed pineapple, and mandarin oranges, or this easy Chocolate Mint Mousse made from peppermint extract, cocoa powder, and fresh mint leaves. Speaking of chocolate, this Quick Chocolate Fudge can be made in 10 minutes with just three ingredients.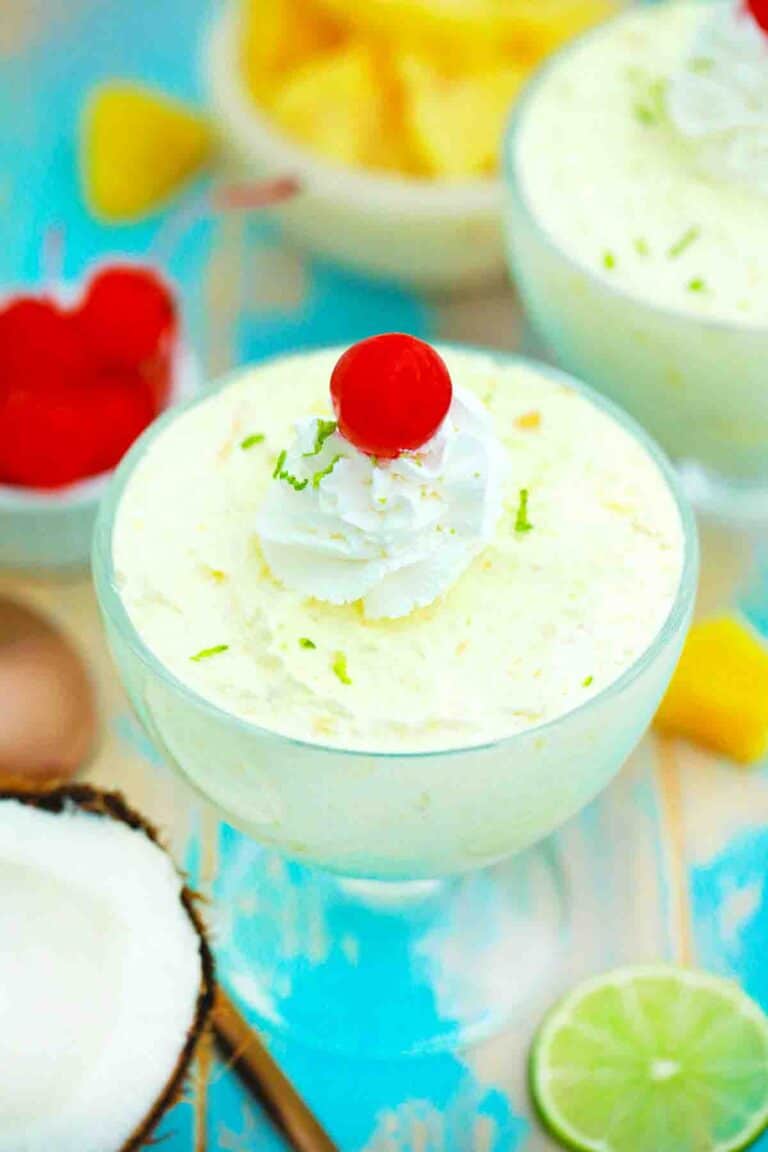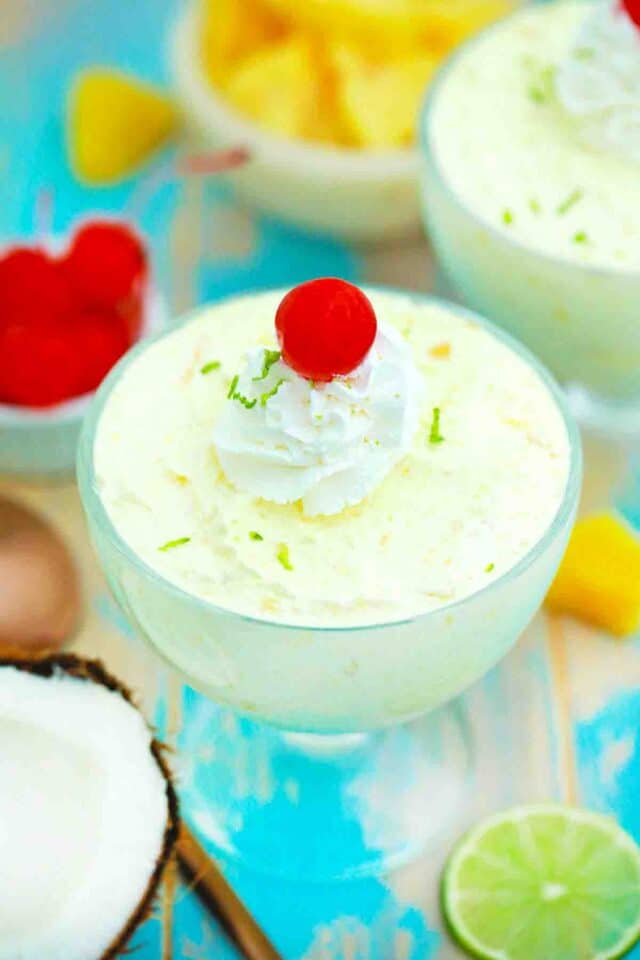 Pineapple fluff is a variety of original fluff recipes known as Watergate Salad, Pistachio Delight, Green Fluff, or Green Goddess Salad. The original was made as a side dish with mini marshmallows, whipped topping, chopped pecans, canned pineapples, and instant pistachio pudding.
Some say that it was invented by a chef at the Watergate Hotel in 1976 but the recipe was first published by General Foods in 1975.
Pineapple fluff is the best thing that has ever happened to pineapple! Or whipped cream for that matter. The beauty of this recipe is that you only need a few ingredients that you can get for under $5 total and it serves six to eight people. It can be mixed into other recipes or scooped on top of ice cream, cake, or cupcakes.
If you love pineapple and are not in the mood to bake, we have many no-bake desserts and recipes on our website. This pineapple mango salsa is delicious and can be used for chips, veggies, or even eaten with a spoon! Also, these no-bake granola bars and peanut butter balls are scrumptious and simple.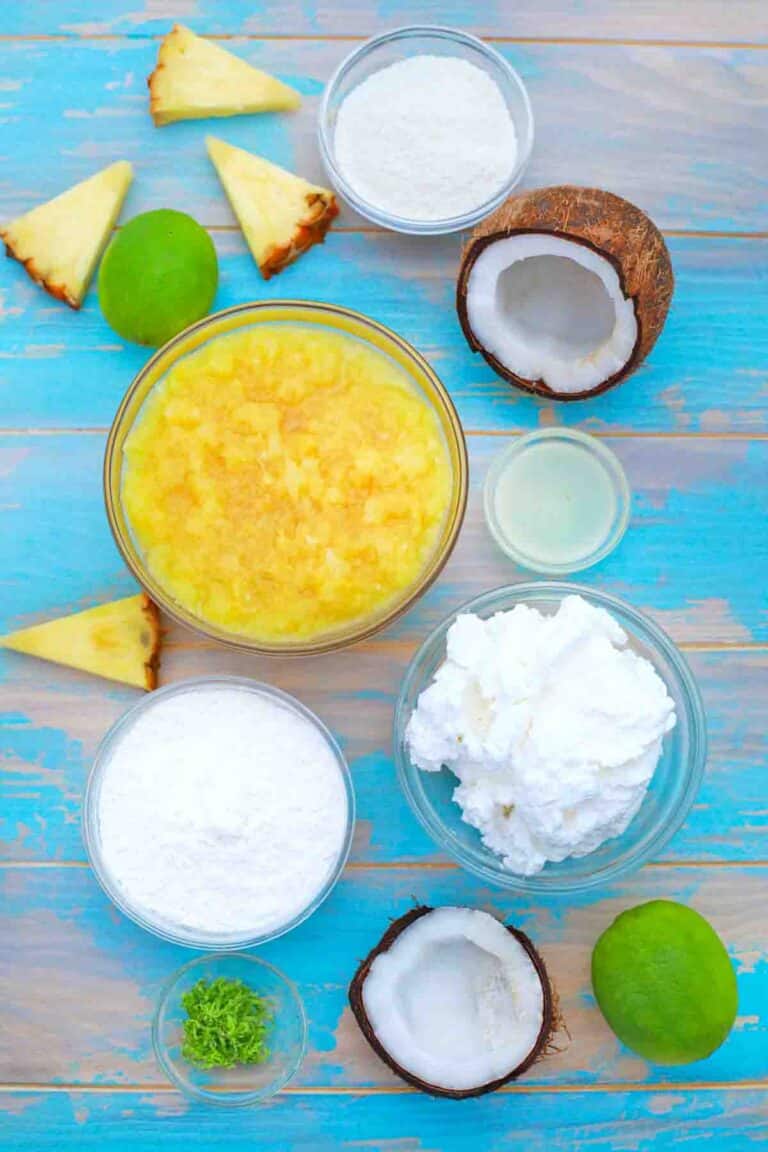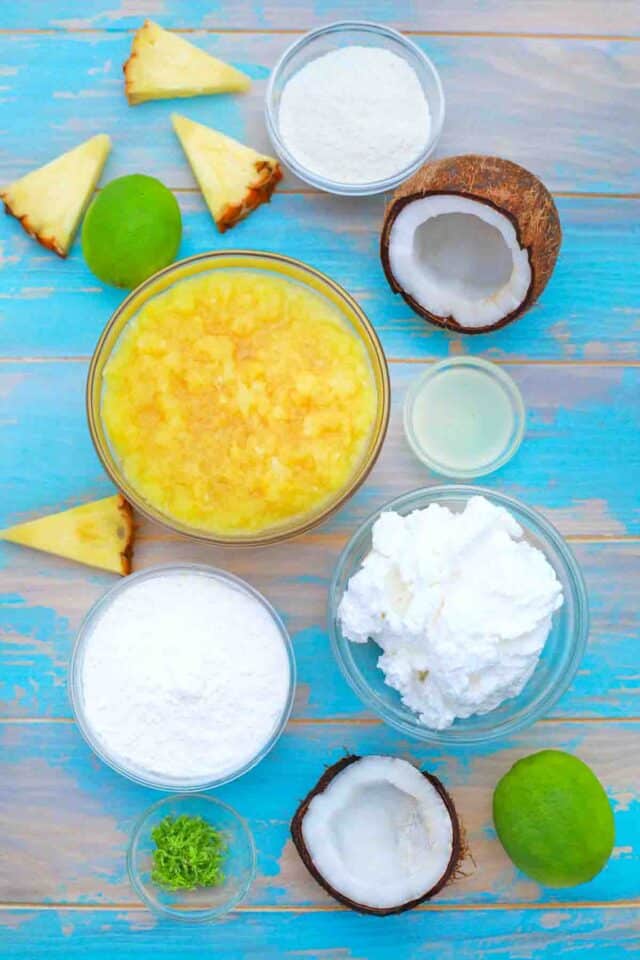 Ingredients needed:
Making pineapple fluff is incredibly simple and you only need a handful of ingredients. To make this recipe, gather these common items and scroll down. You will find the exact measurements and instructions on our handy recipe card. Make sure you print it out and put it in your recipe box because you are going to want to make it again.
Crushed pineapple in juice: Do not drain.
Instant vanilla pudding mix
Frozen whipped topping: Thawed to room temperature.
Shredded coconut flakes: We used toasted coconut for our pineapple fluff. It adds incredible flavor.
Juice and zest of 1 lime
How to make pineapple fluff from scratch?
Mix the fluff: To begin, in a big bowl, stir together pineapple and dry pudding mix in a large bowl until they are completely combined.
Stir in the whipped cream: Next, gently fold in the whipped topping.
Add the rest of the ingredients: Then, add the lime zest, juice, and coconut flakes, gently stirring with a spatula or wooden spoon.
Chill and serve: Cover with plastic wrap and refrigerate for several hours. Then, remove and serve immediately.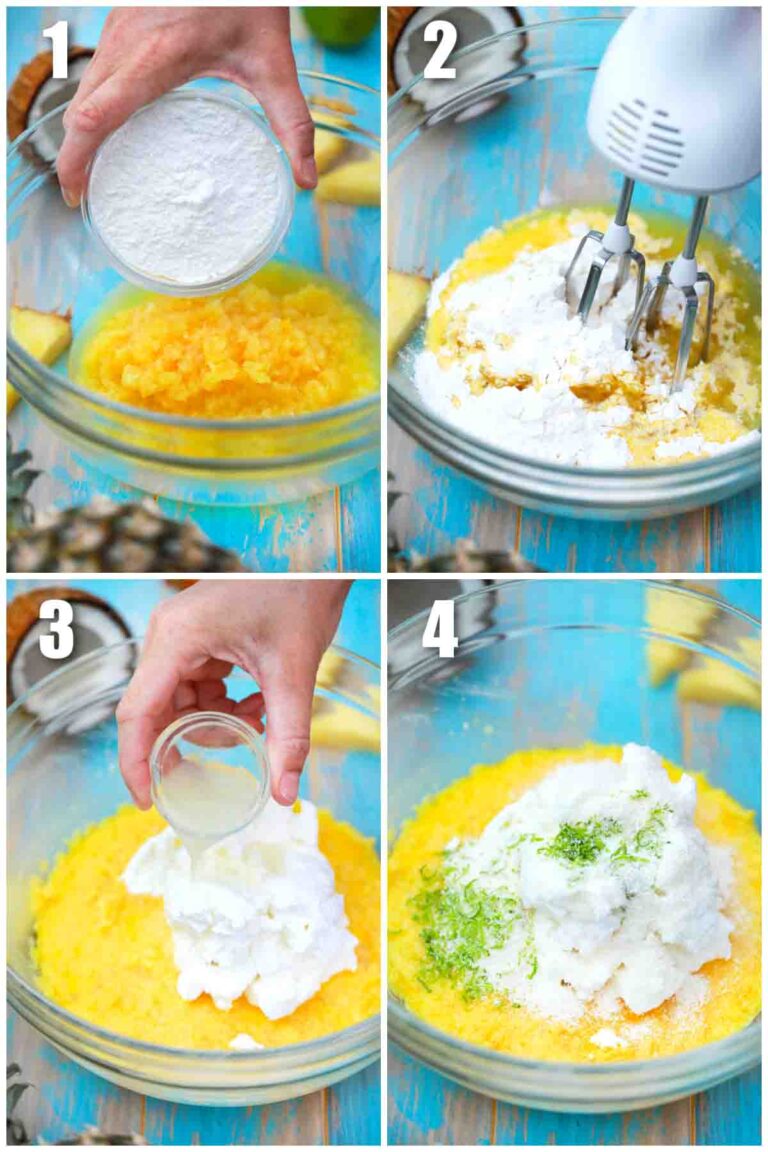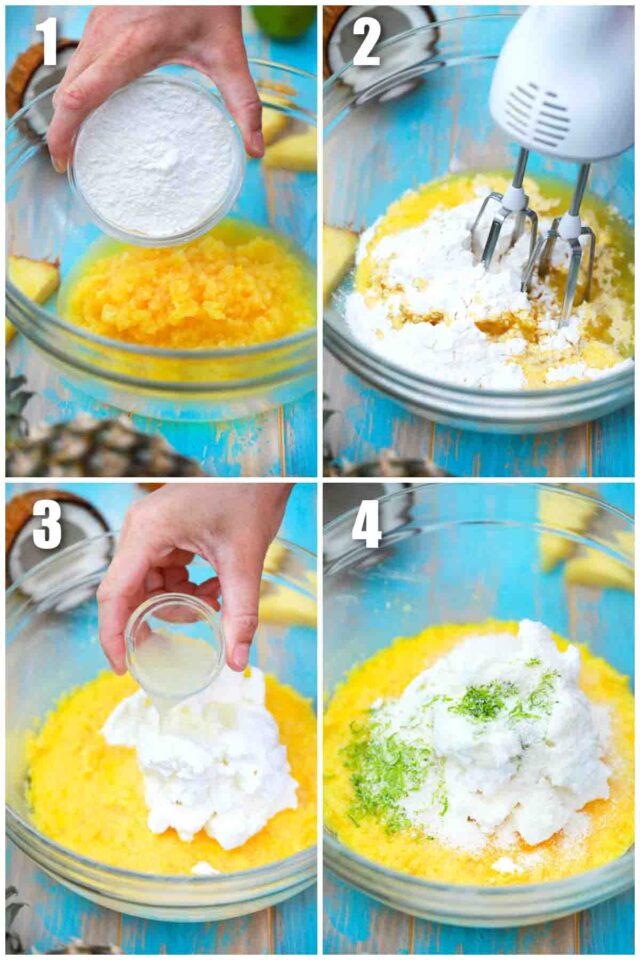 Recipe variations:
Cool Whip: You can use Cool Whip or any other whipped topping or whipped cream you like.
Homemade whipped cream: In fact, if you have a recipe, making your own homemade whipped cream will give your fluff recipe the best flavor and fluffiness.
Other pudding flavors: Instead of vanilla pudding, try other flavors like chocolate, strawberry, or raspberry.
Mini marshmallows: For even more fun in your fluff, add two cups of mini marshmallows to your mix.
Fresh pineapple: If you have the time and they are in season, get a whole pineapple and cut your own fresh pineapple instead of canned pineapple. Then, pulse it in a blender or food processor before adding it to your pineapple fluff. This may add a few minutes of pineapple fluff prep time, but the flavor is worth it!
Cream cheese: Add a package of softened cream cheese after the whipped topping to make it a super creamy dessert. Simply beat cream cheese into the pineapple mixture for just a few minutes.
Pineapple fluff salad: Go ahead and throw in your other favorite fruits like chopped strawberries, cherries, bananas, and mandarin oranges to make pineapple fluff salad.
More flavors: Instead of lime juice, you can try lemon juice or some other tropical flavors you enjoy like raspberry or orange juice.
Add some extract: If you want more coconut flavor in your pineapple fluff, use a tablespoon of coconut extract.
Tropical dessert: Add rum extract and coconut cream for a more tropical dessert.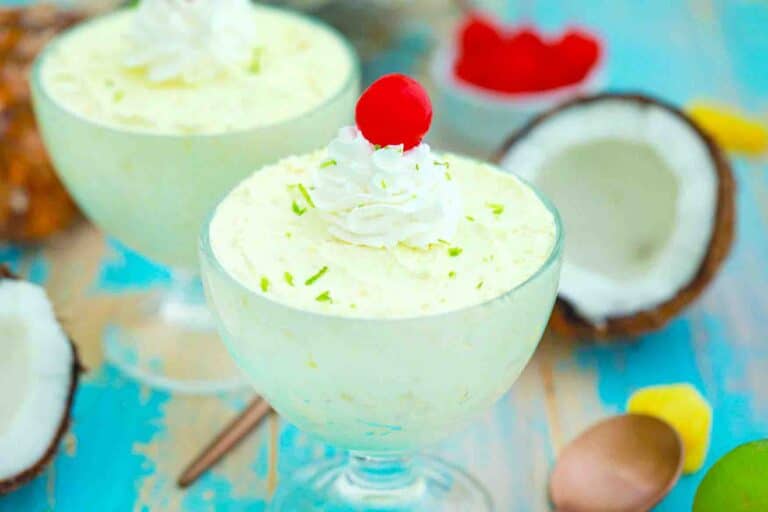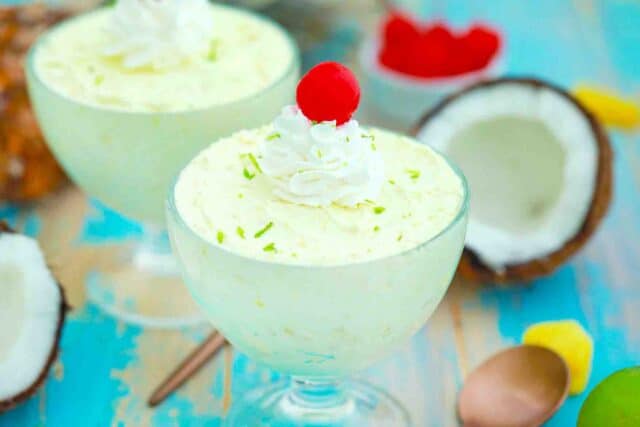 How to serve:
Pineapple fluff is the perfect dessert for a backyard barbecue, a day at the pool, or a family picnic. Or you can just serve it for dessert after dinner tonight. Try one of our awesome serving ideas or share one of your own in the comments below.
Garnish your delicious easy pineapple fluff with maraschino cherries, sliced strawberries, or mandarin oranges.
Add crunch to your pineapple dessert with chopped pecans or some other type of nuts.
For extra crunch, mix pretzels with sugar and melted butter and bake for five minutes. Then, break it up and add the pretzel mixture to your pineapple fluff before serving. Let the pretzel mix cool completely on a wire rack before using.
Top a glass of pineapple daiquiri or mango Coladas with this delicious fluff recipe.
Put a hearty scoop of this delicious dessert on top of a bed of lettuce for a real pineapple fluff salad.
Add some confectioners' sugar on top before serving for even more sweetness.
This also works as a side dish for any meal like our chicken salad with pineapple.
Add pineapple fluff to the top of any ice cream or cake for extra sweetness.
Use leftovers for a pineapple pie, casserole, or cake.
Top your fluff with a dollop of cherry pie filling for an extra fruity taste.
For a healthier drink, add fluff to your favorite smoothie. Try our recipe for a sweet mango pineapple smoothie or this tangy cherry smoothie.
Frequently asked questions
Can I turn this into a pie?
Yes, in fact, you can use a ready-made refrigerated pie crust. But make sure you let it cool completely before adding in the fluff. A graham cracker crust is also a delicious crust idea. For a sweet and salty pretzel crust, mix one-fourth cup of sugar, one-half cup of melted butter, and one cup of crushed pretzels.
Spoon it into a pie pan and press it down with a spoon or your fingers. Then, bake for six to seven minutes. Allow it to cool before adding the pineapple fluff.
What is the easiest way to get fresh pineapple chunks from a whole pineapple?
There are several ways to do this, but this is what I found to be the easiest for me. First, lay it sideways on a cutting board and use a heavy sharp knife to cut off the top. Then, turn it upside down on a large shallow bowl and let it rest for 30 minutes to get the juice to the bottom.
After 30 minutes, cut off the other end and remove the outer skin with the same sharp knife. Cut it in half lengthwise, then cut it in half again before cutting off the core at an angle. Slice each piece into quarters again and then cut it into small chunks.
What is the best-whipped topping for this recipe?
A stabilized whipped topping like Cool Whip is the best for this. That is because it is mixed with other ingredients and whipped into stiff peaks. There are several ways to do this.
Using a large bowl, you can use one cup of whipping cream with one tablespoon of cornstarch and two tablespoons of sugar or use three tablespoons of milk powder or pudding mix instead of the cornstarch.
Another way is to mix one cup of whipping cream with three teaspoons of powdered sugar. You will need to use a stand mixer or electric mixer with the whisk attachment unless you want to whisk it by hand for three minutes. Using a chilled bowl and whisk attachment will help speed the process.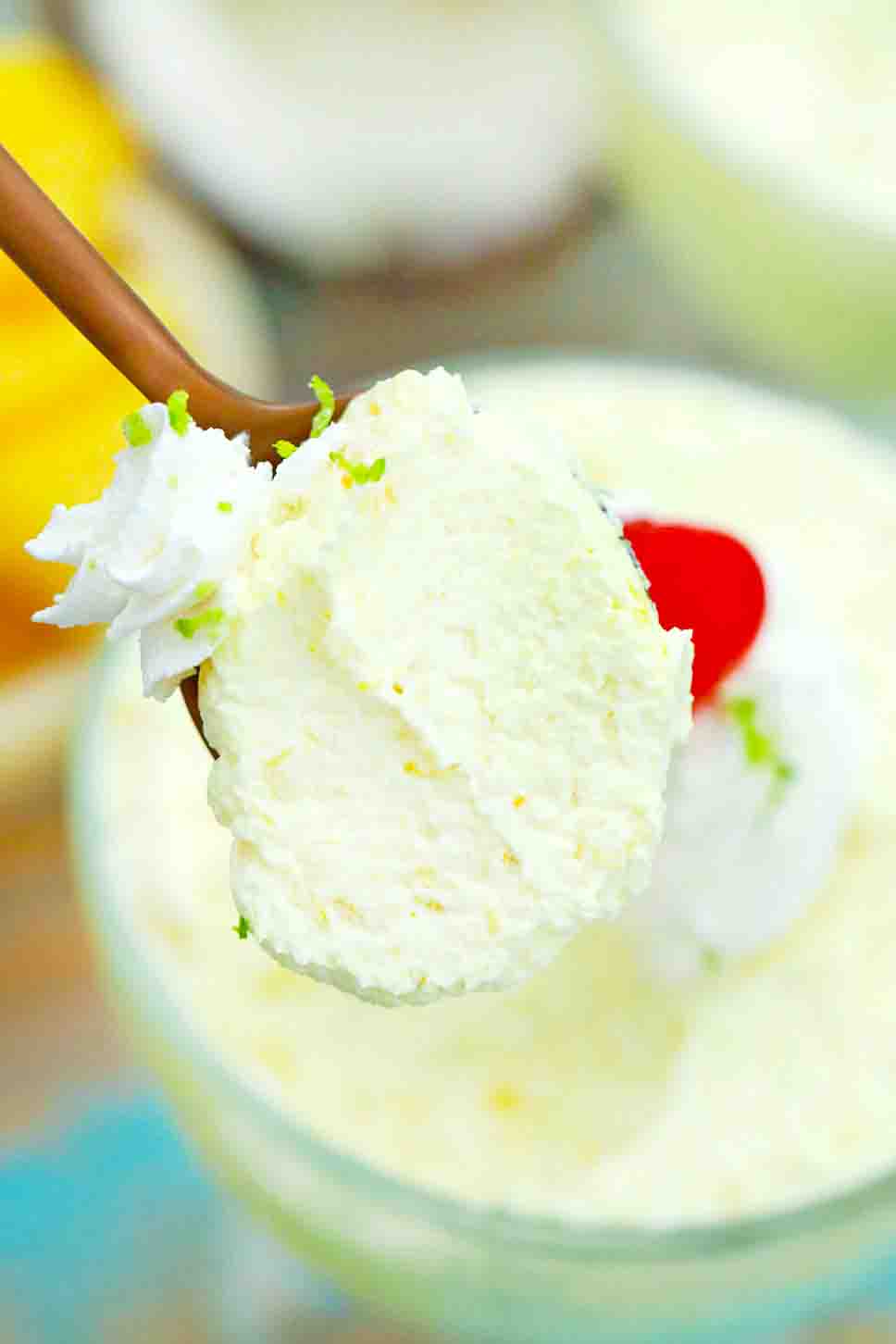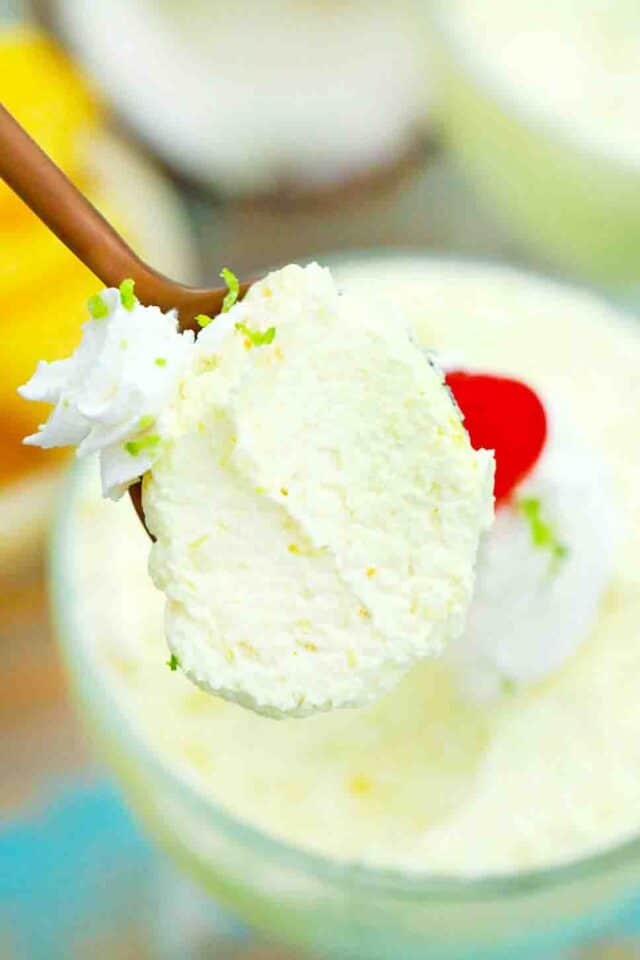 What are the nutritional values of this recipe?
One serving has 150 calories, 8 grams of fat, 22 grams of sugar, 26 carbs, and 3 grams of saturated fat. However, the good news is that each serving has 45 units of vitamin A, 5 milligrams of calcium, and 6 milligrams of vitamin C.
How to store leftovers:
Store: If you have any leftover pineapple fluff, refrigerate for up to a week in an airtight container.
Freeze: Freezing your fluff is a fantastic idea too. You can eat this dessert frozen like ice cream or a creamsicle. Use a sealed container to freeze and eat within 30 days.
Thaw: Thaw out your pineapple dessert for 15 to 20 minutes at room temperature before serving.
Recipe tips:
Make sure you use the entire can of crushed pineapple including the juice.
Do not use pineapples in syrup or your pineapple fluff dessert will be too sweet.
If you use fresh pineapple or frozen pineapple fluff, add a 1/2 cup of pineapple juice to your recipe.
If you cannot find vanilla instant pudding, you can try using the cook-and-serve type. However, make sure you let it cool before using it.
To make crushed pretzels, just put them in a sandwich bag and use something hard to smash them. Or you can use a blender or food processor.
Weight Watchers counts this easy recipe as three points per serving! However, you should consult your own Weight Watchers diet for specific amounts.
You can always find more recipes to try on our food blog absolutely free.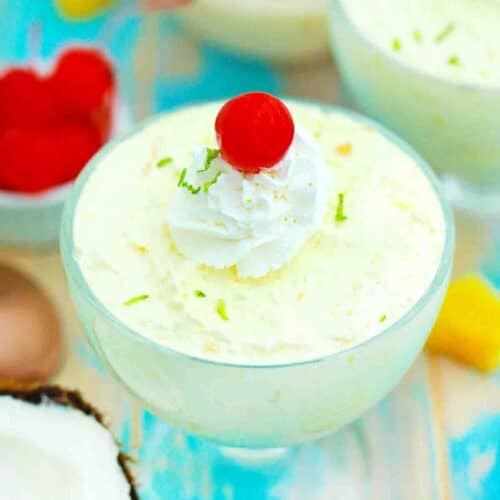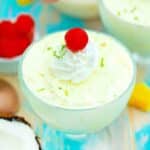 Pineapple Fluff
Pineapple fluff is a burst of tropical flavors in every bite made with crushed pineapple, instant pudding, whipped topping, and coconut.
Ingredients
20

oz

can crushed pineapple in juice

do not drain

3.4

oz

package vanilla instant pudding

1

cup

whipped topping

thawed

1/3

cup

shredded coconut flakes

1

lime

juiced and zested
Instructions
In a large bowl mix pineapple and dry pudding mix.

After that, stir in the whipped topping and the rest of the ingredients.

Refrigerate for an hour before serving.
Nutrition Facts
Pineapple Fluff
Amount Per Serving
Calories 256
Calories from Fat 45
% Daily Value*
Fat 5g8%
Cholesterol 0.4mg0%
Sodium 188mg8%
Potassium 242mg7%
Carbohydrates 54g18%
Protein 2g4%
Vitamin A 93IU2%
Vitamin C 18mg22%
Calcium 44mg4%
Iron 1mg6%
* Percent Daily Values are based on a 2000 calorie diet.