Beer Battered Onion Rings
Beer Battered Onion Rings are sweet and soft inside, with a perfectly-spiced crunchy and airy breading. These are the ULTIMATE appetizer or game-day snacks!
To complete your game day spread, serve other crowd favorites like Pizza Roll-Ups, this 5-Minute Taco Dip, and this super Easy Salsa! We like to serve these with our Homemade Barbecue Sauce.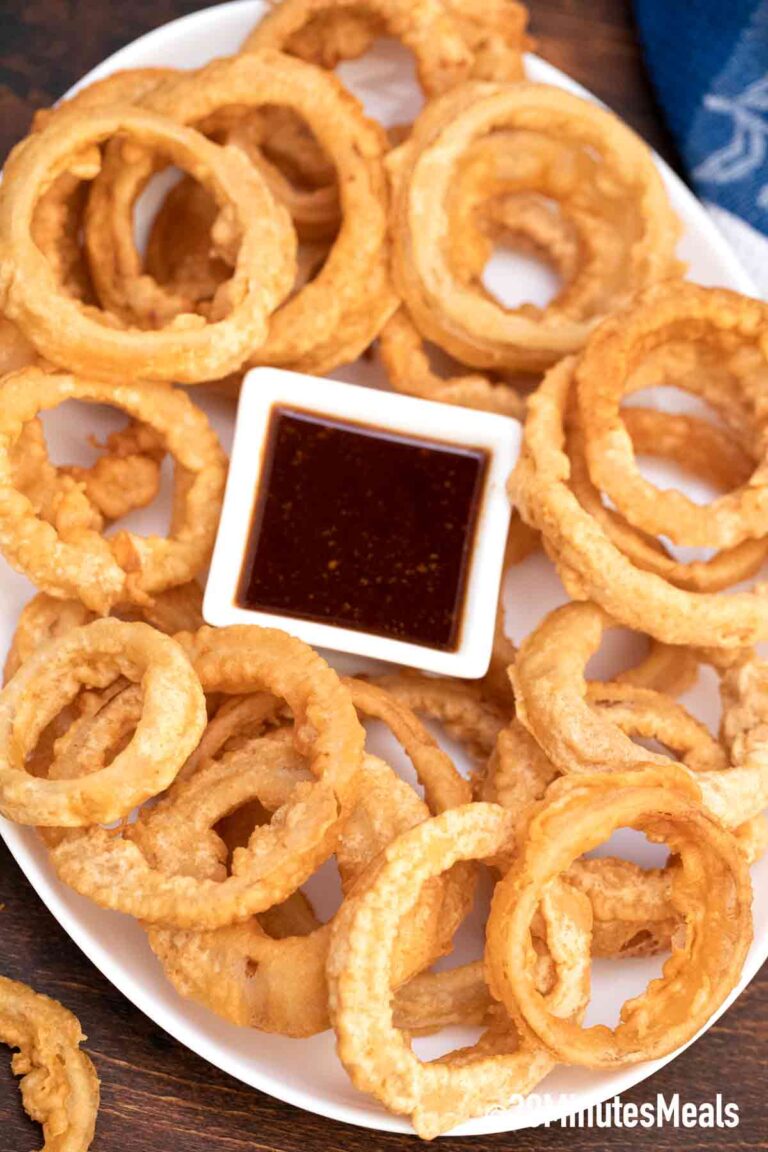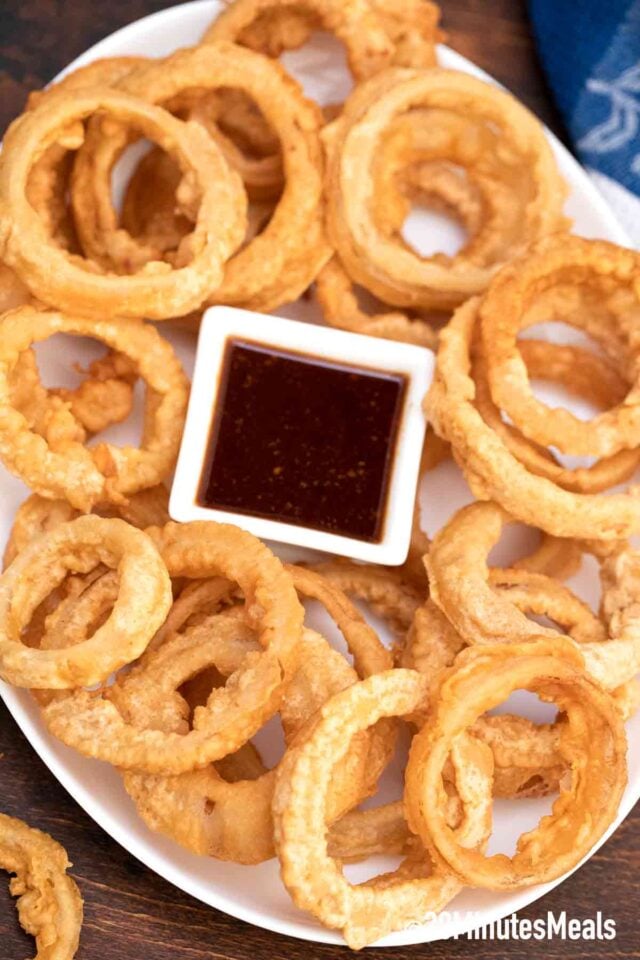 Crispy Beer Battered Onion Rings Recipe
Beer Battered Onion Rings are up there with french fries as the best snacks of all time. A crunchy, salty, hot onion ring is sheer perfection. This homemade version is as good as anything you can get at a bar or restaurant, and they're done in half an hour!
Our secret? Using both beer and sparkling water in the batter. Together, they create a light, airy, and extremely crispy surface. You can practically hear the crunch when you bite into it!
What are onion rings?
They're circular slices of onions that are battered or breaded, then fried until crispy. This dish is a crowd-favorite game-day snack and appetizer.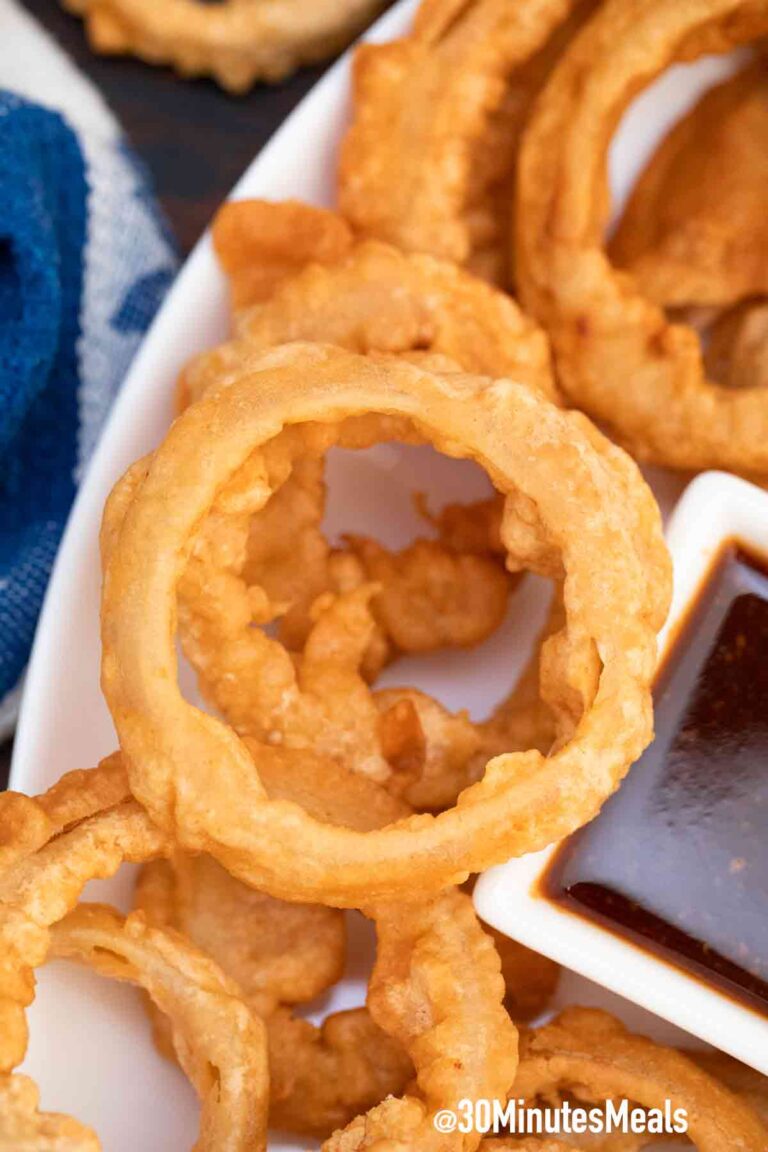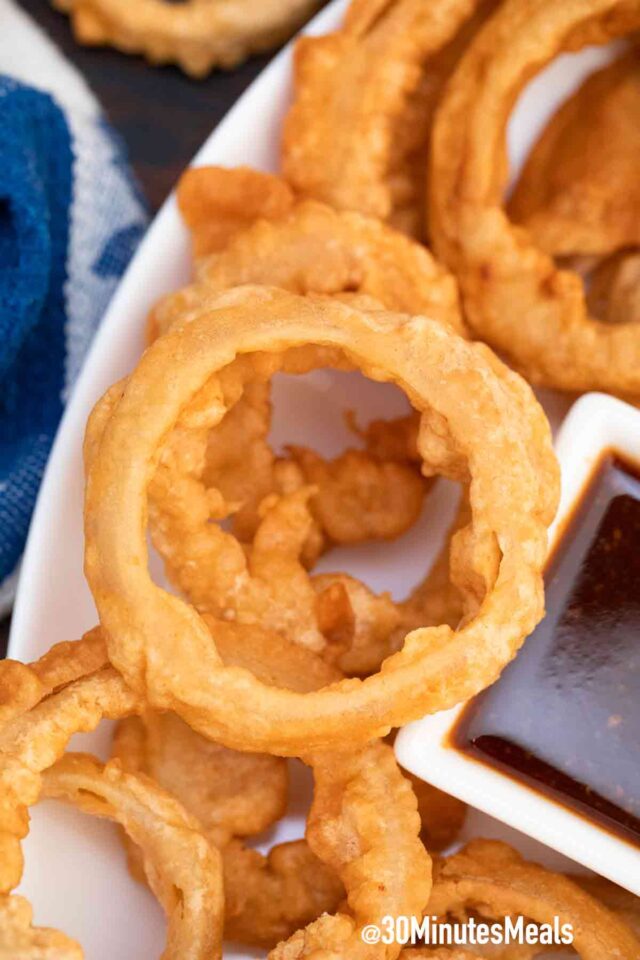 Is there alcohol in Beer Battered Onion Rings?
Yes, we're using amber beer. You don't have to worry about the alcohol content, though. It's very minimal, and you can barely taste it, if at all. Therefore, even kids can enjoy it safely.
What kind of beer do you use for Beer Battered Onion Rings?
We like light beers like amber ale for the subtle flavor, but you can also use dark beers like Guinness and other types like brown ale and Belgian beer.
What are the ingredients for homemade Beer Battered Onion Rings?
Onions: We recommend yellow or white because they're less pungent and sweeter. Some great varieties are Maui and Vidalia.
Flour: This helps the coating stick to the slices.
Cornstarch: Makes fried items extra crunchy!
Spices: We're seasoning this with garlic and onion powders, plus cayenne for heat. Prepare some sugar and a little salt as well.
Egg: It helps with the structure, and it also adds some extra flavor to them.
Amber ale: The carbonation makes for a light coating. You also get some great flavor from that subtle hoppy bitterness.
Sparkling water: That fizz makes a lighter coating.
How do you make Beer Battered Onion Rings from scratch?
Slice and drench in flour. First, cut the onions, separate them into rings carefully, and let it all sit in flour after tossing.
Mix. Next, whisk the sparkling water with the amber ale and egg, then mix all the spices and seasonings.
Fry. Dip each piece in the spiced batter before frying. Do this one small batch at a time.
Serve. Enjoy hot with your favorite dips!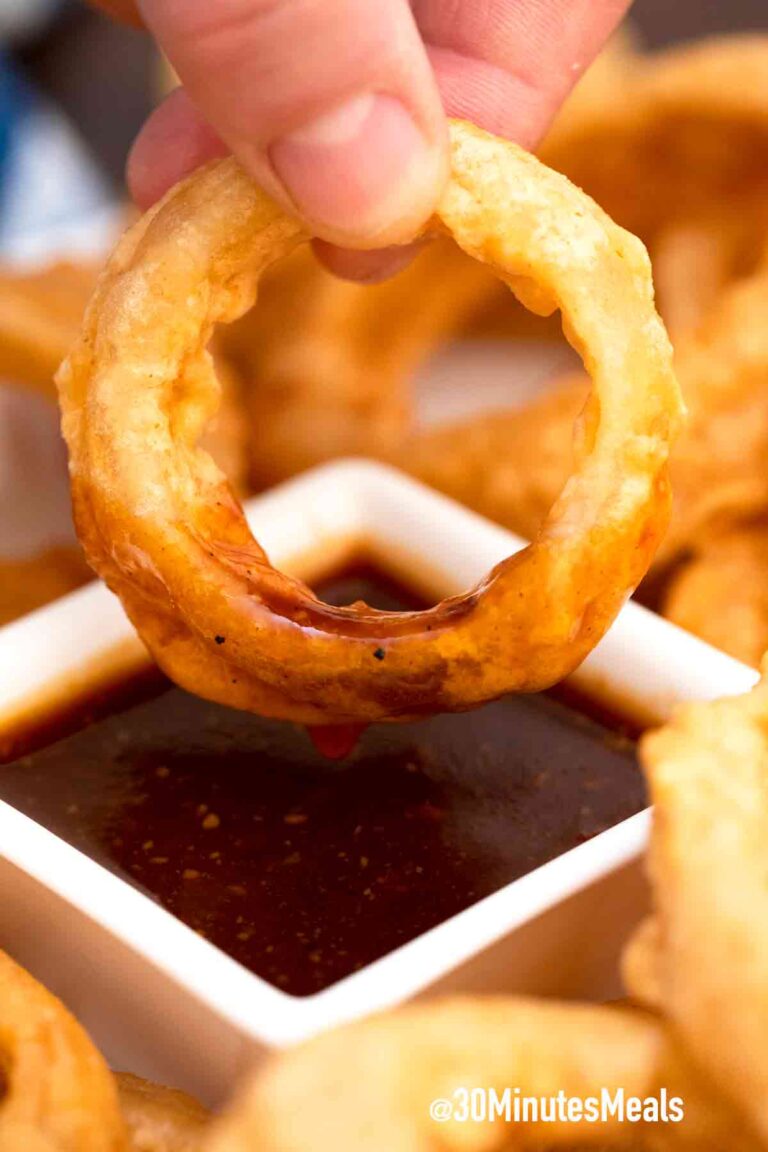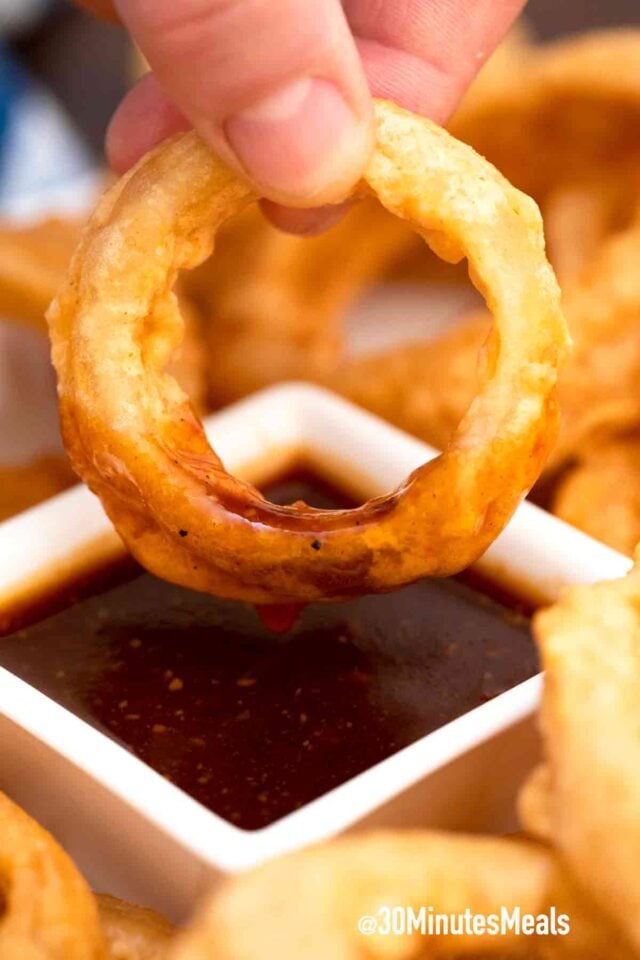 Recipe variations:
Non-alcoholic: Use other carbonated drinks like club soda, ginger ale, or soft drinks. Also, feel free to check out the Original Onion Rings recipe here.
Use other seasonings: This is such an excellent base for different flavors! Mix in some Cajun seasoning, Old Bay, or Taco powder for a Tex-Mex twist.
Low-carb: Sub coconut flour for the regular flour, and use low-carb beers for the batter. You can also just use sparkling water.
How can you make the batter stick well to the onion rings?
Make sure to let them sit in the flour for at least 10 minutes or longer if you have time. The flour acts as glue because it gives the batter a rough and dry surface to cling to.
In addition, your oil should be really hot too, so it "welds" the coating instantly onto the rings.
Can you make this recipe in the air fryer?
Sure! Simply, slice, flour, then batter. We recommend finishing with an extra coating of seasoned bread crumbs for extra crispiness and to help the surface stay intact.
Then, spray the rings lightly with oil, and air fry at 360F for 6 to mins.
How to serve Beer Battered Onion Rings?
Hot and fresh off the fryer, of course! We love ours with a slight shake of salt or other seasonings like BBQ powder. Don't forget the dips, too. Try these rings with Barbecue sauce, Big Mac Sauce, and Chick-Fil-A sauce!
How to store leftovers?
As much as possible, enjoy and finish this dish soon after frying because that's when they're at their most delicious and crunchiest.
But if you have leftovers, keep them in an air-tight container after entirely cool, in a single layer on top of some paper napkins to further absorb the oil.
Store up to 2 days in the fridge. To reheat, air-fry at 450F for 5 minutes, or bake at 400F for 8 minutes until hot.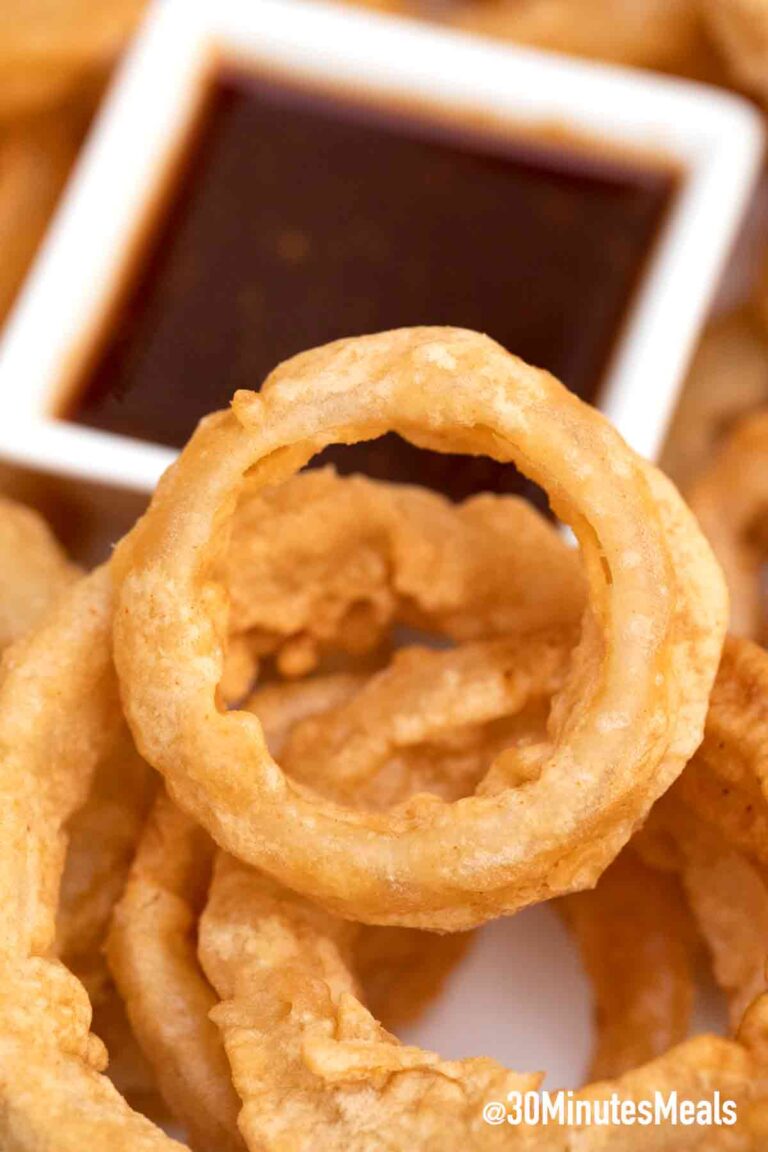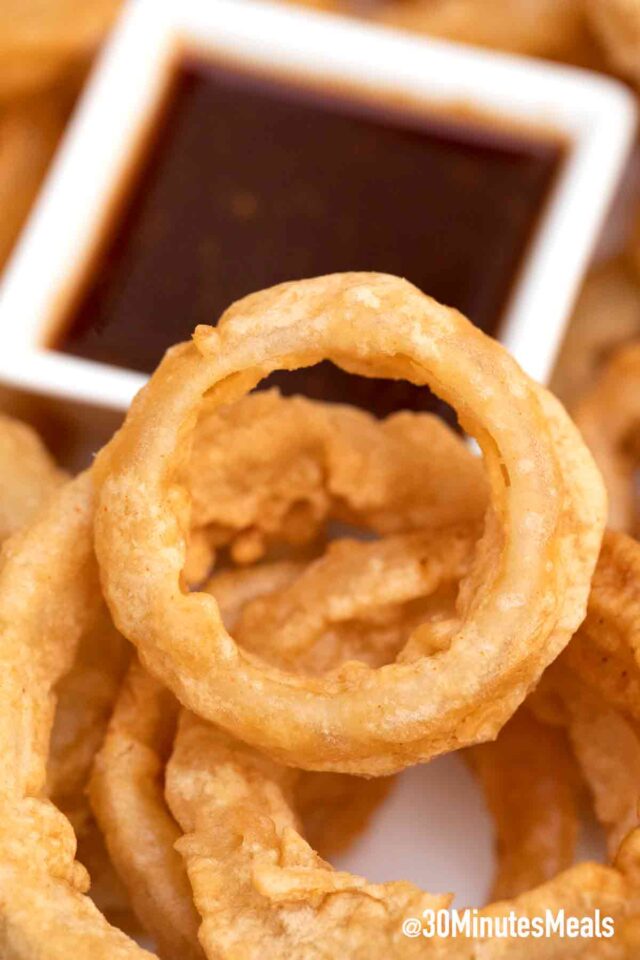 More party food recipes:
Recipe tips:
For the best results, I highly recommend frying the rings IN BATCHES. Otherwise, you'll just have clumps of onions sticking to each other if you fry everything at the same time.
Also, go with larger onions whenever possible. The bigger the onions, the better! The big ones make for some really nice rings.
Don't overmix the batter— it's fine to still have a few lumps in there.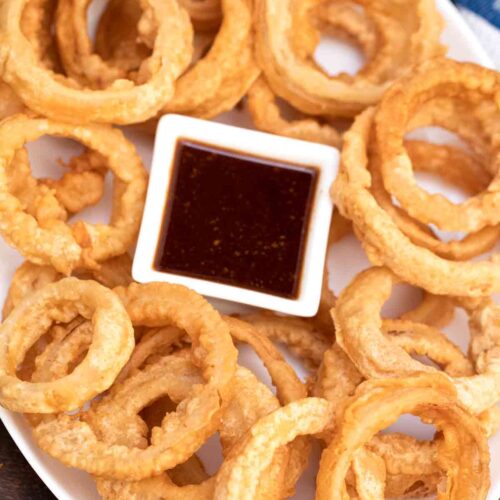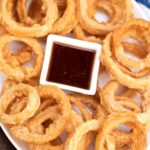 Beer Battered Onion Rings
Beer Battered Onion Rings are sweet and soft inside, with a perfectly-spiced crunchy and airy breading.
Course:
Appetizer, Side Dish
Keyword:
Beer Battered Onion Rings, Onion Rings
Ingredients
3

large white sweet onions

3

cups

all-purpose flour

1 1/2

cups

cornstarch

2

teaspoons

garlic powder

1

teaspoon

onion powder

1

teaspoon

smoked paprika

1/2

teaspoons

cayenne pepper

1

tablespoon

sugar

1

tablespoon

salt

1 1/2

cups

light ale

2

cups

sparkling water

1

large egg

3

cups

canola oil

for frying
Instructions
Place two cooling racks over two rimmed baking sheets. Set aside.

Slice the onions into 1/2" thick slices and separate into rings. Add to a bowl with 1/2 cup of flour and coat them. Seet aside.

In a large bowl, mix the remaining flour with the cornstarch, garlic powder, onion powder, cayenne, sugar, smoked paprika, and salt.

Whisk together the beer, sparkling water, and egg in another large bowl and gradually whisk in the dry ingredients.

In a large wok or deep fryer heat oil to 350 degrees F.

Work in batches and don't crowd the onions.

Dip the onion rings into the batter to coat, and then drop them into the oil.

Cook the onion rings until golden brown, turning as needed. Place the fried onion rings onto the prepared cooling rancks on top of baking sheets.

If making ahead to freeze let cool at this point or place in the oven to keep warm while you finish making the rest.

Serve with your favorite sauce.
Nutrition Facts
Beer Battered Onion Rings
Amount Per Serving
Calories 858
Calories from Fat 765
% Daily Value*
Fat 85g131%
Cholesterol 20mg7%
Sodium 900mg39%
Potassium 152mg4%
Carbohydrates 66g22%
Protein 6g12%
Vitamin A 206IU4%
Vitamin C 3mg4%
Calcium 28mg3%
Iron 3mg17%
* Percent Daily Values are based on a 2000 calorie diet.