Cinnamon Apple Pork Chops Recipe
Cinnamon Apple Pork Chops are made with caramelized apples for a fresh and extra flavorful dish with a cooking time of fewer than 30 minutes. Topped with soft cinnamon apples, the sweet and savory blend of flavors makes the perfect dish for a chilly autumn evening.
Want some other easy recipes to try? Apple lovers will love these Air Fryer Apple Fries coated with graham cracker crumbs and cinnamon. Another delicious way to cook apples is with our delicious Fried Apples recipe seasoned with apple pie spice, apple cider, and butter.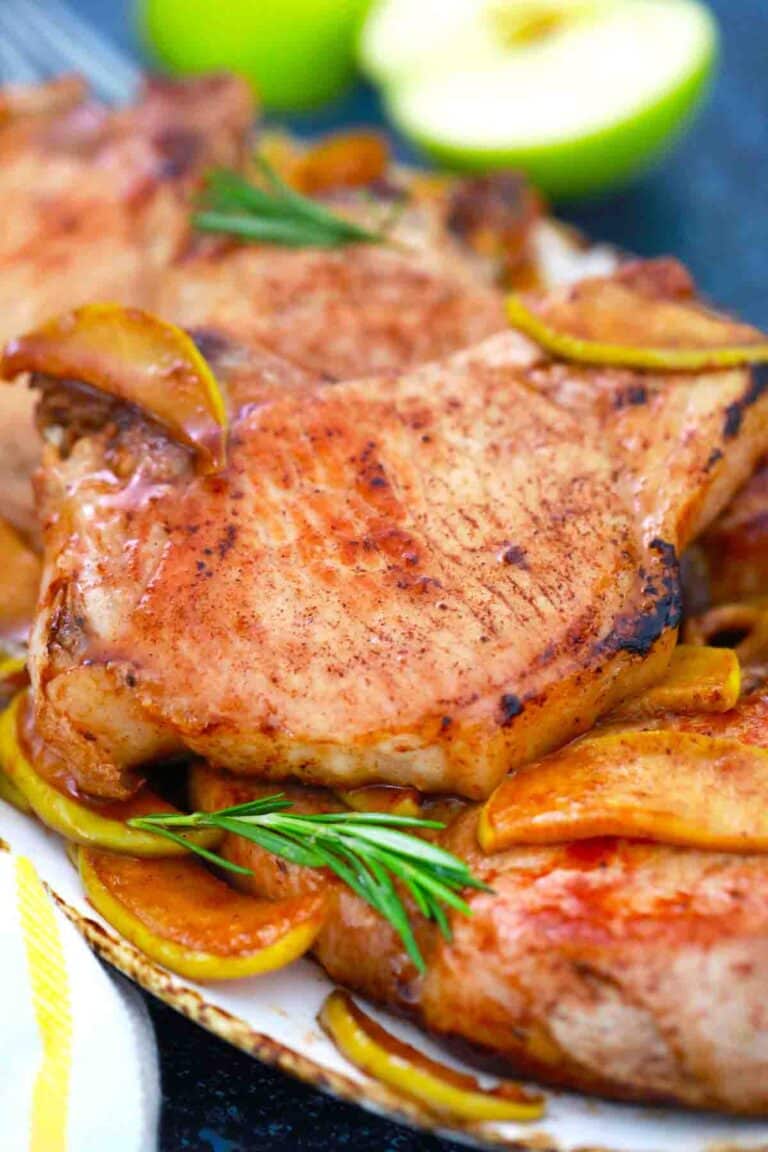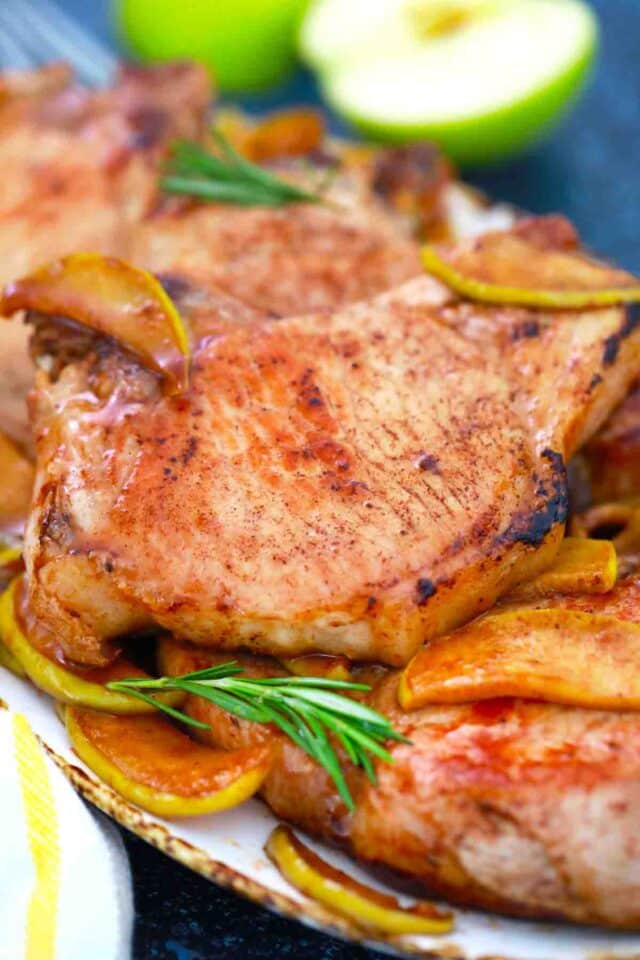 Pigs were domesticated from the wild boar in Turkey way back in 9000 BC when man decided it was good meat. But it was Spanish explorer Hernando de Soto who was the creative genius who started the pork industry, according to the record books. And later, according to other records, pork chops and applesauce became a trend in the 1890s.
Cinnamon apple pork chops are fast and easy as well as delicious, sweet, and savory. With fresh apples and a tasty blend of seasonings, everyone in the family will be asking for seconds so you may want to make extra. And don't forget to add your favorite side dishes.
We have plenty of easy recipes for you to try. These air fryer Hasselback potatoes are crispy on the outside, and fluffy and tender on the inside. Our air fryer potato skins would also be great and they are filled with two kinds of cheese, sour cream, and bacon.
For a cool dinner, macaroni salad is a nice light and chilled side dish made with green onions, pickles, cheddar cheese, celery, and creamy sauce. Alternatively, these Bacon-Wrapped Pork Medallions made of pork tenderloin seasoned with smoked paprika and garlic will blow you away.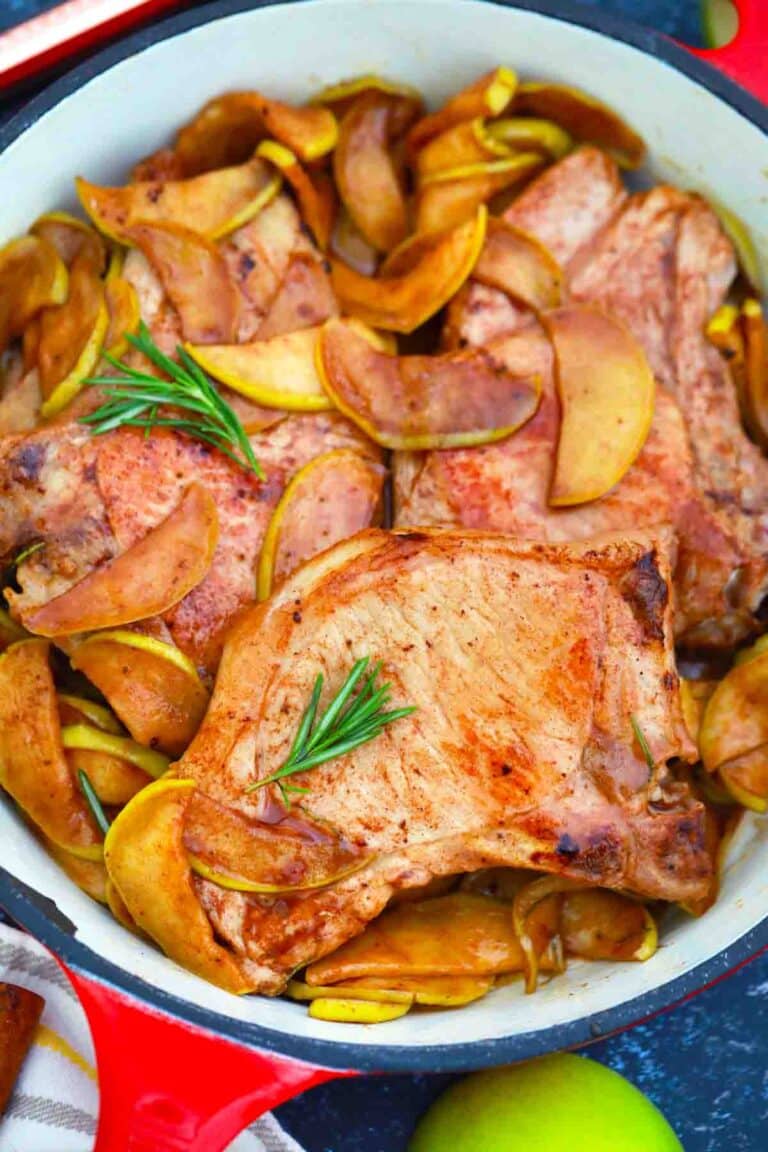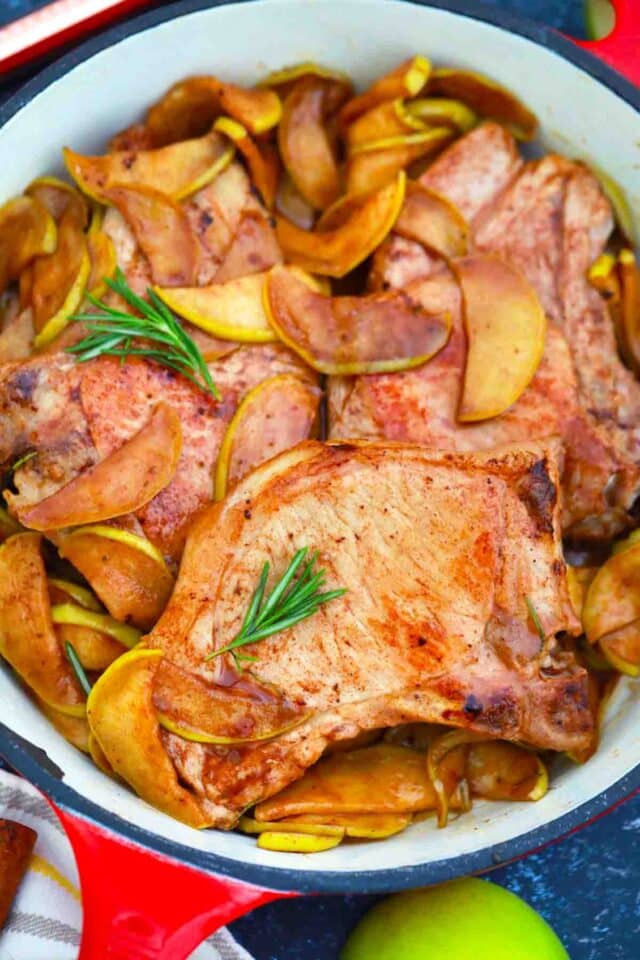 Ingredients needed:
You will need to gather these basic ingredients to make our delicious cinnamon apple pork chops recipe. When you are ready to start cooking, scroll on down to the printable recipe card for the complete instructions and measurements.
Boneless pork chops: About one-half inch thick.
Sliced apples
Butter: Divided and at room temperature.

Apple cider
Rub ingredients:
Brown sugar: Light or dark brown sugar will both work for this recipe.
Ground cinnamon
Ground nutmeg
Smoked paprika
Pinch of allspice
Kosher salt

Freshly ground black pepper
Fresh rosemary
Sauce ingredients:
Butter
Apple cider

Apple cider vinegar
Brown sugar
Ground cinnamon

Corn starch
Water
How to make cinnamon apple pork chops recipe?
Season pork chops: First, mix the rub ingredients and season pork chops on both sides.
Sear the pork chops: Then, heat two tablespoons of butter in a cast iron skillet over medium heat. Add seasoned pork chops and give them a good sear, cooking for four or five minutes on each side or until a thermometer reads 145 degrees F.

Make brown sugar mixture: Meanwhile, combine brown sugar, cinnamon, smoked paprika, salt, and pepper in a small bowl.

Remove pork chops: Then, remove the pork chops and deglaze the skillet with apple cider and vinegar, and scrape the bits using a wooden spoon.
Cook the apples: Next, add the remaining butter, brown sugar mixture, apples, three rosemary sprigs, and the sauce ingredients. Cook until the apples are tender.
Serve apple cinnamon pork chops: Finally, discard the rosemary and serve with apples and fresh rosemary sprigs on top.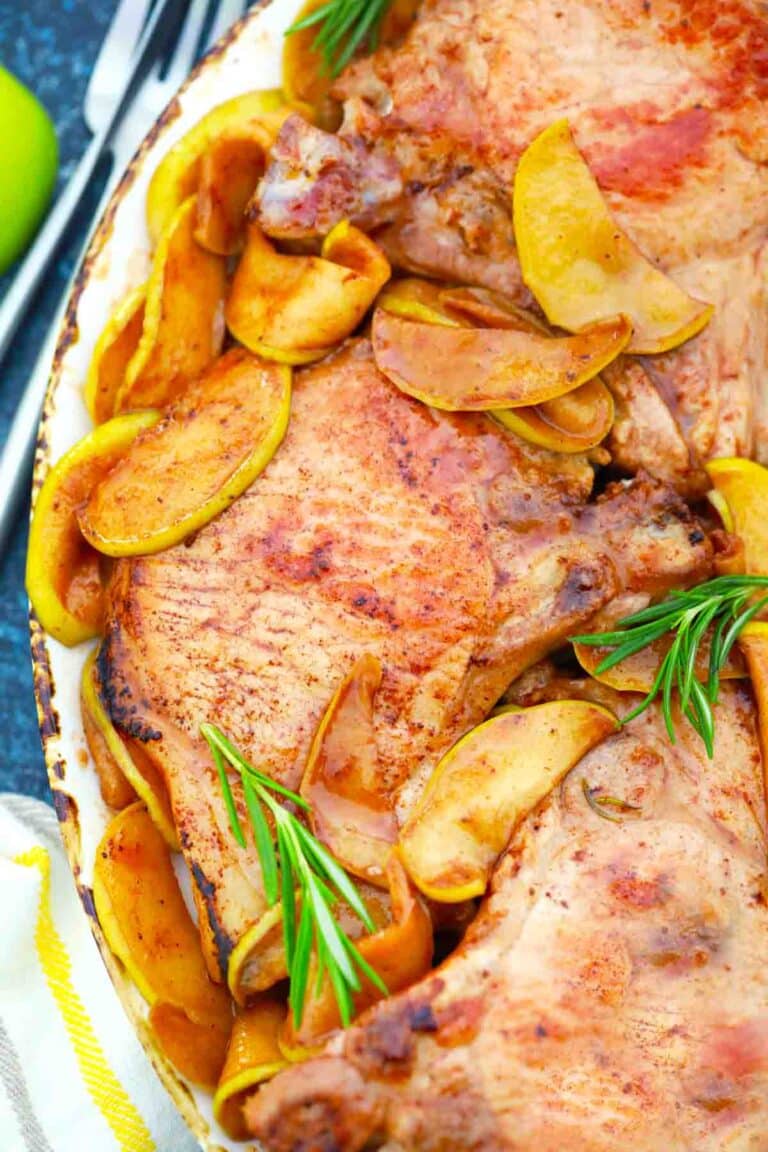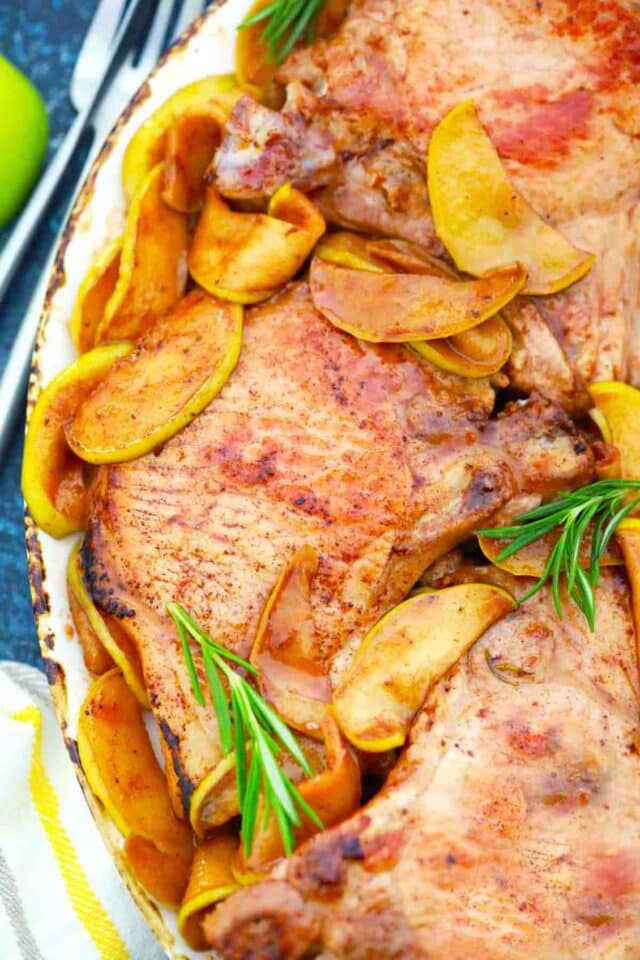 How to make instant pot cinnamon apple pork chops from scratch?
Mix: First, mix the spice rub ingredients in a small bowl and rub it on both sides of each pork chop.
Saute: Then, turn your pot to saute and add butter when it reads hot. Sear both sides of the pork chops for about four minutes each and set them aside.
Make the sauce: Next, add the apple cider, corn starch, cinnamon, and brown sugar. Stir thoroughly until completely combined before adding the pork chops on top of a trivet.

Cover and cook: Then, lock the lid and make sure the valve points to seal. Cook on high pressure for eight minutes, letting it release pressure naturally for 10 minutes before putting it on the quick release.

Rest and serve: Lastly, remove the cinnamon apple pork chops and place them on a serving dish. Cover with aluminum foil and let them rest for five minutes before serving.
Recipe variations:
Bone-in: Bone-in pork chops are also perfect for this dish.
No butter: You can use olive oil, vegetable oil, or your favorite cooking oil instead of butter if you like. We recommend extra virgin olive oil.

Applesauce: Add some applesauce to your dressing before serving.
Broth: Try chicken broth instead of apple cider vinegar if you do not like the tangy flavor.

Chunky: You can use apple chunks instead of slices if you want a chunky topping. Make them into bite-sized pieces for easy cooking.

Breaded pork chops: If you like, you can coat your pork chops with your favorite breading before cooking.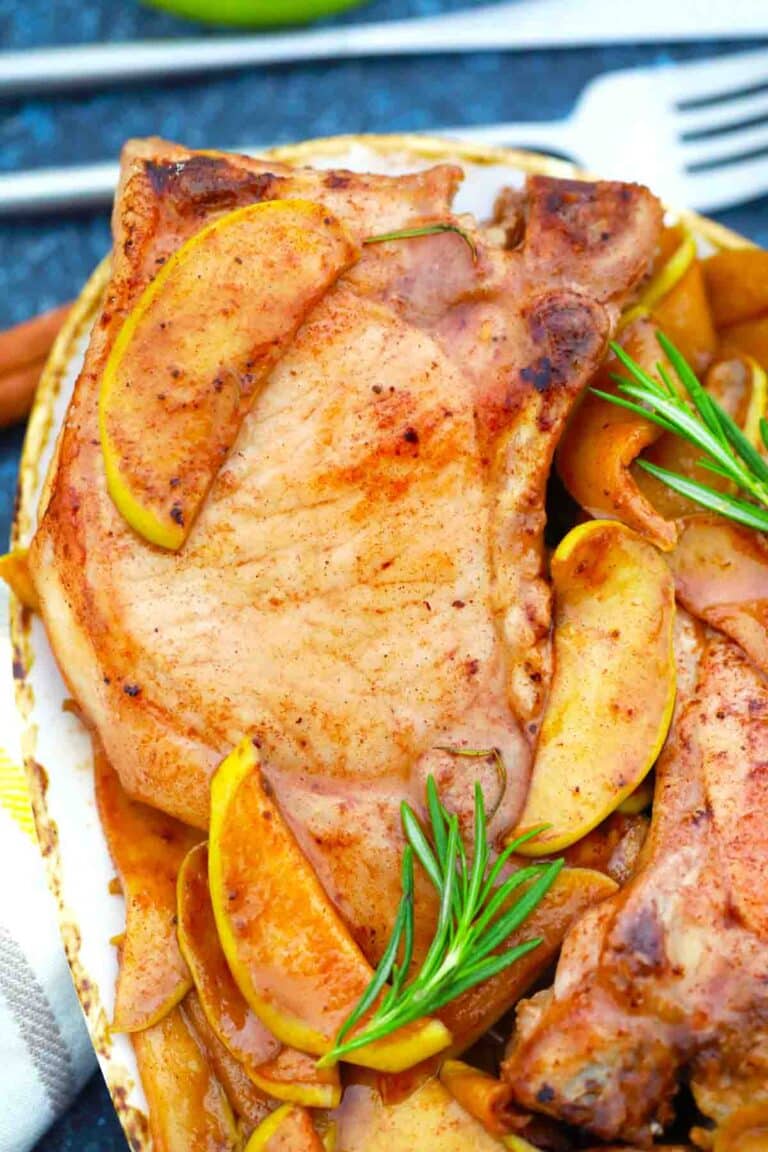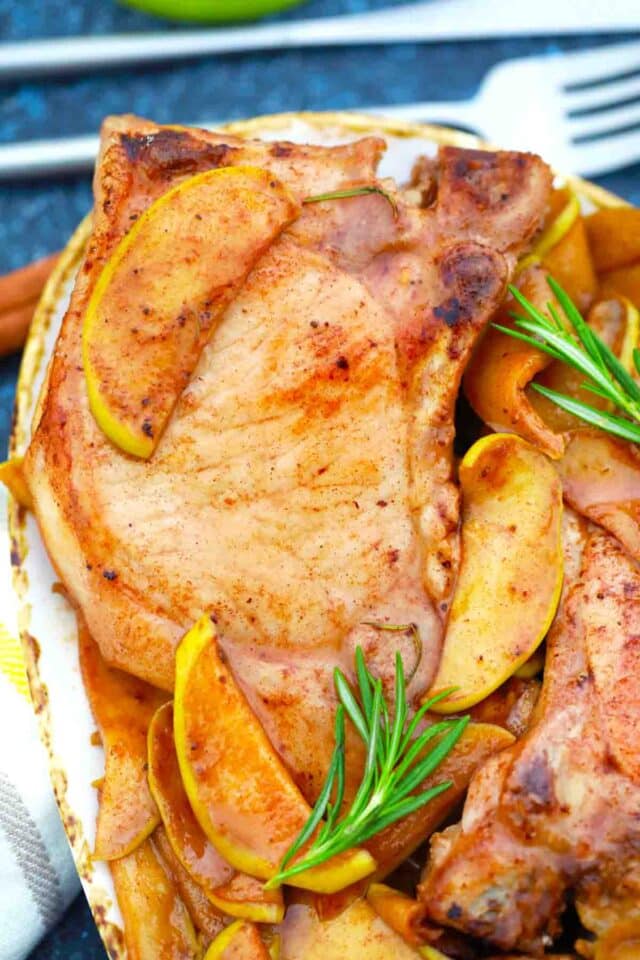 How to serve:
Apple cinnamon pork chops are the perfect fall dinner or any time of the year really. If your family loves pork chops as much as mine does, they will really enjoy this delicious recipe. Try one of these delightful ideas or share one of your own in the comments section at the bottom of the page.
These apple cinnamon pork chops go great with mashed sweet potatoes on the side.

Instead of mashed, you can try these air fryer sweet potato chips for a casual lunch.

You can also add some butternut squash for one of your side dishes.

Use leftovers for pulled pork sandwiches. These go great with some kind of veggies for a quick meal. Try our crispy and tender air fryer broccoli seasoned with garlic, smoked paprika, and parmesan cheese.

This is a good recipe for a quick meal when you want comfort food in a hurry.
For dessert, try our scrumptious air fryer pineapple rings with cinnamon, cayenne pepper, and coconut oil.

A fresh salad or bowl of soup would work as a delicious first course.

Toss leftovers into a bowl of chili or casserole. Our 30-minute chili recipe would be perfect with chopped-up pork and apples.
Frequently asked questions
What kind of apples are best for apple cinnamon pork chops?
I used Granny Smith apples because they are tart and firm. However, you can use whichever you like. Fuji apples are sweeter than most and are still mild enough to stand up to cooking. Winesap apples are rich and flavorful, with a strong apple taste. Honeycrisp is perfect for cooking for long periods without turning into mush.
How do you choose the best pork chops?
No matter what kind of pork chops you buy, it is best to inspect them before tossing them in your grocery cart. They should be reddish pink with fat marbling in the meat. Stay away from those pork chops that are pale looking or those that have dark spots or a dark bone. You also do not want a pork chop with dark spots in the fat.
Why are my pork chops tough?
Often boneless chops can be a bit tougher than bone-in pork chops. But the number one reason that pork chops turn out tough is overcooking. You also do not want to brine your chops. Just season and make sure you let them rest for at least 30 minutes before cooking. Then rest again after cooking for at least 10 minutes.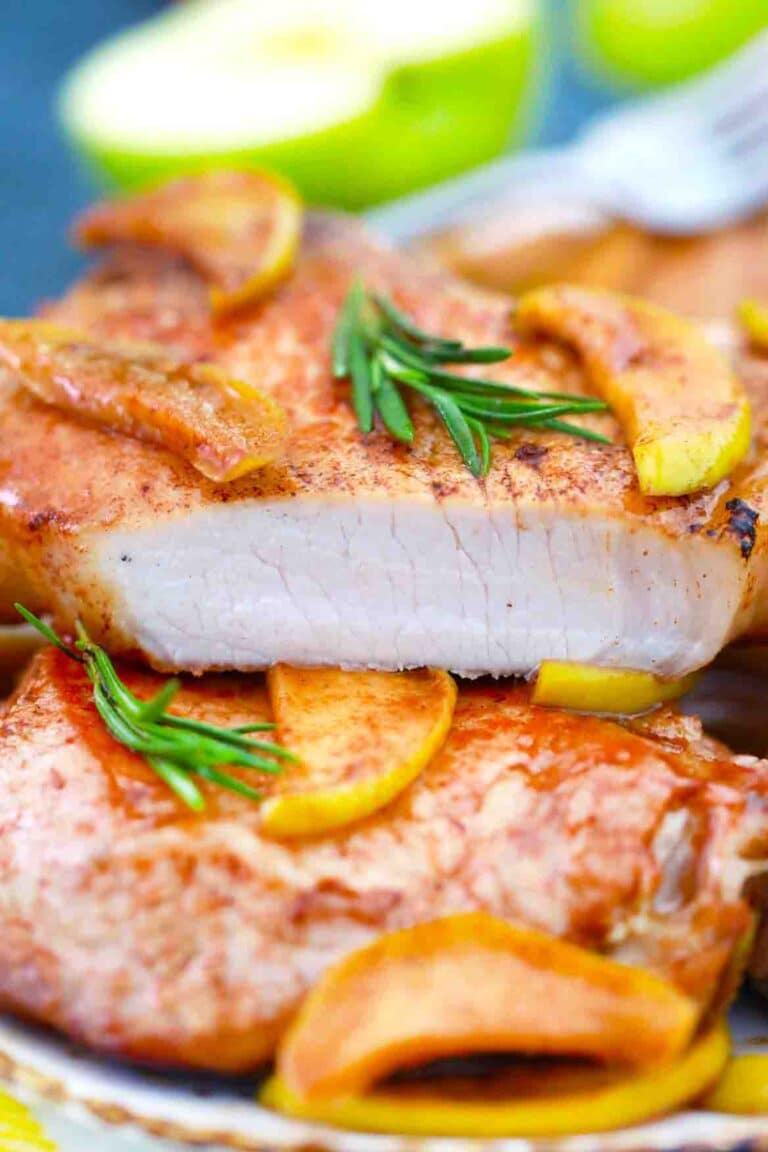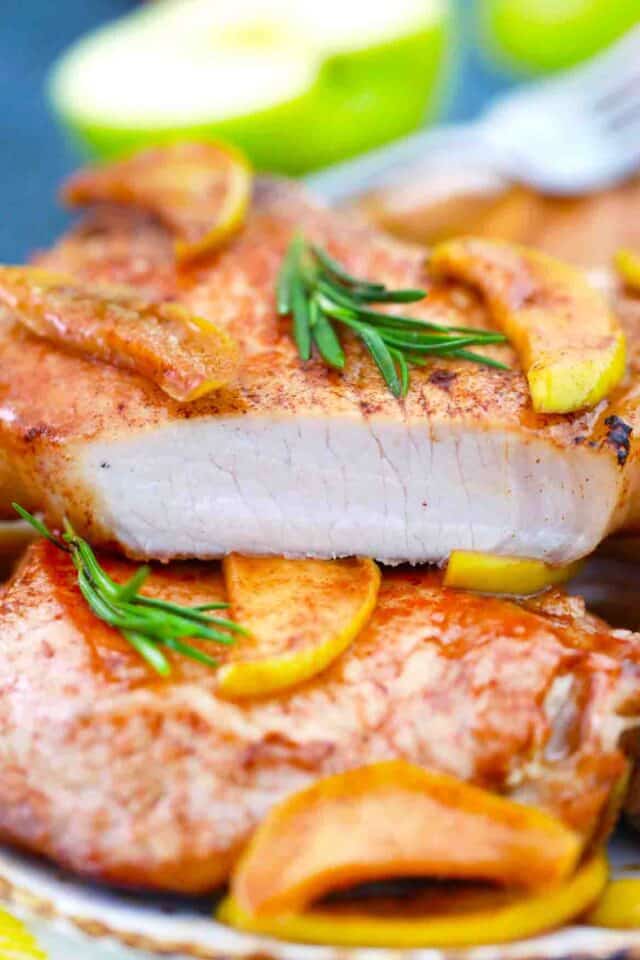 What are the nutrition facts in this recipe?
Each serving of apple cinnamon pork chops has about 500 calories, 20 grams of sugar, and 32 grams of fat with 17 grams of saturated fat. You also get 125 milligrams of cholesterol, 50 grams of carbs, and 650 milligrams of sodium. On the plus side, it also has 145 milligrams of calcium, 7,3oo units of vitamin A, 5 milligrams of vitamin C, 20 grams of protein, and 6 grams of fiber.
How to store leftovers:
Store: After your cinnamon apple pork chops cool to room temperature, put them in an airtight container in the fridge. Eat them within three or four days.

Freeze: If you cannot eat all the leftover pork chops in a few days, go ahead and freeze them but eat them within a few months.

Thaw: Thaw overnight before serving for the best results.

Reheat: Reheat in the microwave for 60 to 90 seconds, depending on how much you are reheating.
Recipe tips:
For safety, the internal temperature of your cooked cinnamon apple pork chops should be 145 degrees F with a meat thermometer.

Use boneless pork loin chops for extra tender and juicy meat.
To cut down on prep time, pre-cook the pork chops and prepare the sauce and rub ingredients the day before.

If you do not have a cast iron skillet, you can use any kind of large skillet to make your cinnamon apple pork chops.
Organic pork chops are the best choice because the quality of the meat is much better.

Although you can use canned apples, fresh apples are so much better.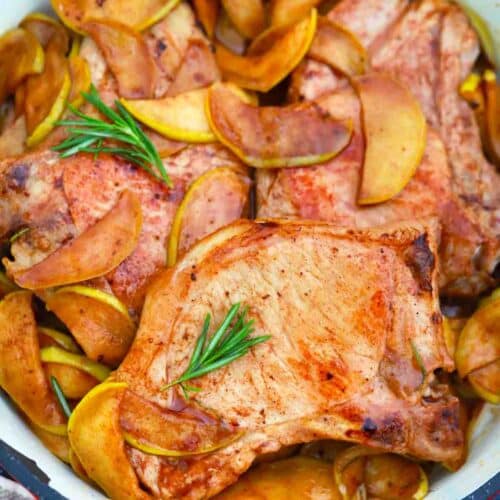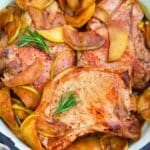 Cinnamon Apple Pork Chops
Cinnamon Apple Pork Chops are made with caramelized apples for a fresh and extra flavorful dish with a cooking time of fewer than 30 minutes.
Keyword:
Cinnamon Apple Pork Chops
Ingredients
6

tablespoons

unsalted butter

divided

4

bone-in pork chops

1/4

cup

apple cider

1

tablespoon

apple cider vinegar

2

tablespoons

brown sugar

1/2

teaspoon

ground cinnamon

1/4

teaspoon

ground nutmeg

1/4

teaspoon

smoked paprika

Pinch

of all spice

Salt

to taste

2

sprigs fresh rosemary

4

medium granny smith apples

thinly sliced
Instructions
Place a large cast iron skillet over medium heat, and melt 2 tablespoons of butter.

Add the pork chops and cook for 4-5 minutes on each side or until a meat thermometer inserted in the thickest part of the meat reads 145°.

In the meantime, in a small bowl, mix brown sugar, cinnamon, nutmeg, paprika, allspice, and salt.

Remove the pork chops to a plate and cover with foil to keep warm.

Deglaze the pan with apple cider and apple cider vinegar.

Add the rosemary sprigs, apples, brown sugar mixture, and the 4 remaining tablespoons of butter to the pan; cook and stir until the apples are tender.

Discard the rosemary and add back the pork chops. Spoon the apples and sauce on top and cook for 2 minutes.

Serve immediately garnished with fresh herbs.
Nutrition Facts
Cinnamon Apple Pork Chops
Amount Per Serving
Calories 565
Calories from Fat 297
% Daily Value*
Fat 33g51%
Cholesterol 162mg54%
Sodium 100mg4%
Potassium 811mg23%
Carbohydrates 33g11%
Protein 36g72%
Vitamin A 696IU14%
Vitamin C 9mg11%
Calcium 58mg6%
Iron 1mg6%
* Percent Daily Values are based on a 2000 calorie diet.