Mango Daiquiri is a sweet and sour drink you can enjoy out back by the pool during the summer, at a family barbecue, or celebrating an event with friends. The traditional mango daiquiri recipe just has lime juice, rum, and mango but we add a secret ingredient to our recipe for extra delicious flavor. After one sip, you will feel like you are on a tropical island.
Another great tropical cocktail to try is our Mango Colada made with coconut, rum, and mangoes. The designated drivers and non-drinkers will love this Mango Pineapple Smoothie flavored with coconut yogurt, pineapples, and lime juice. Another great non-boozy drink is this Blackberry Lemonade made with fresh blackberries, lemons, and sparkling water.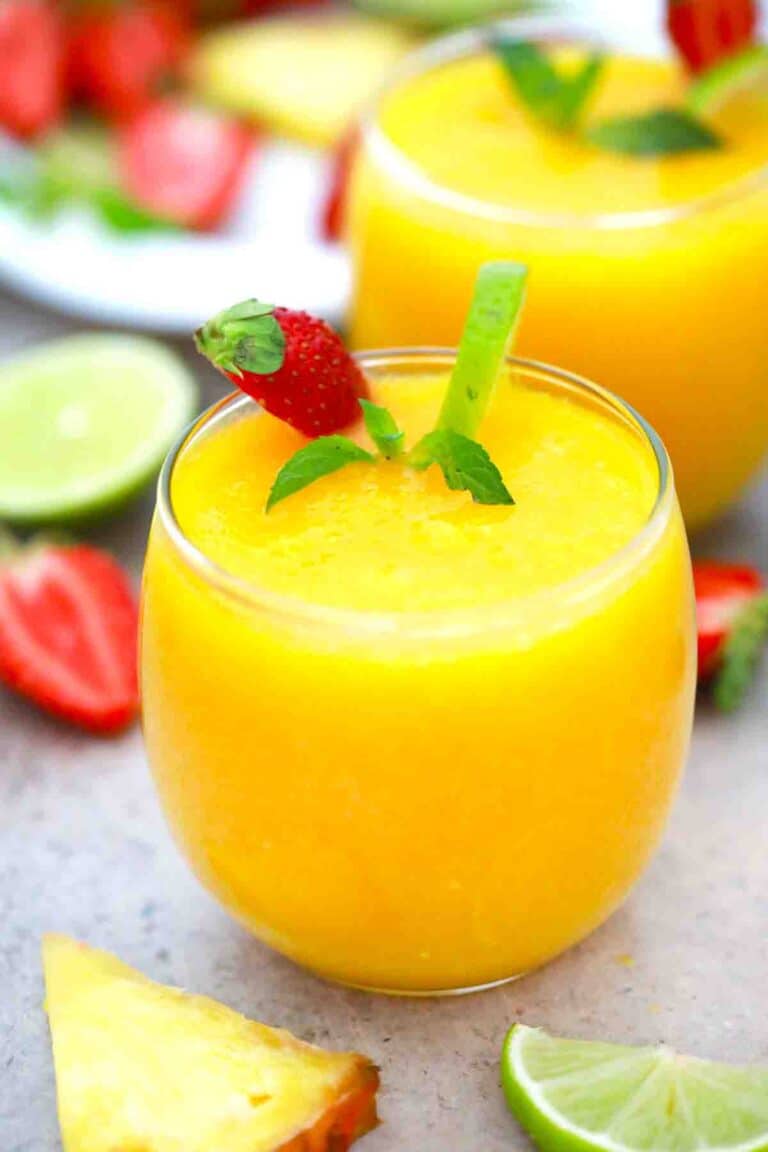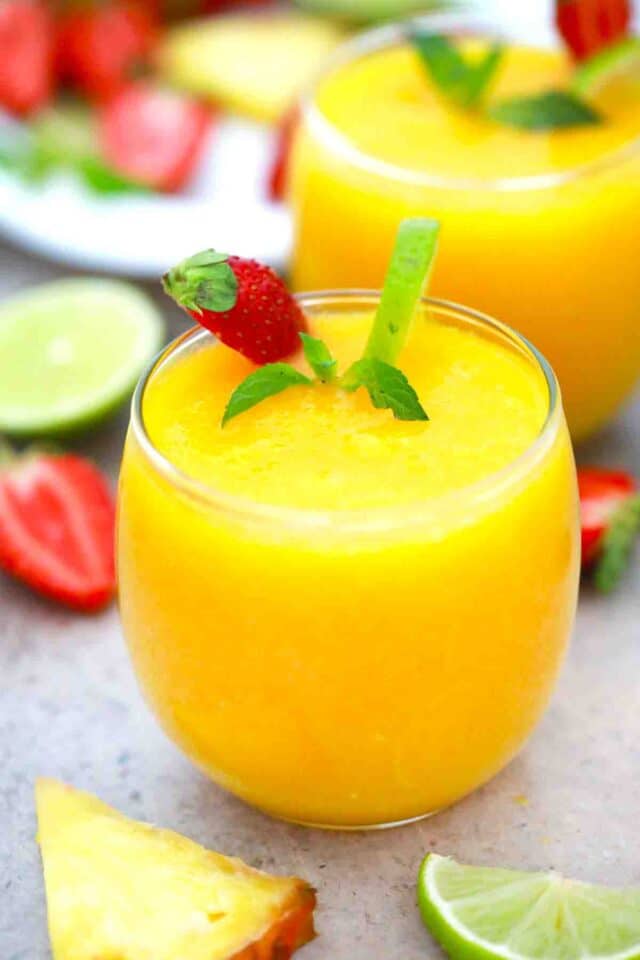 When you choose mangoes from your grocery store, you may be getting different varieties because there are over 1,000 kinds of mangoes in the world. Most come from India, but some are from Mexico too.
The daiquiri was invented in 1896 by Jennings Cox, who was a mining engineer working in Cuba at the time of the Spanish-American War. He invented it on accident when he ran out of gin during a cocktail party he was hosting. We think he would love this mango daiquiri recipe.
If frozen daiquiris are your favorite, you really have to make this recipe. It is one of the most delicious recipes for tropical cocktails I have ever had. Enjoy a frozen mango daiquiri with mango puree made from fresh mango, fruit juice, coconut rum, and simple syrup anytime with this easy recipe.
Are you looking for more recipes for creative cocktails to try? Our sweet and tangy mimosas are incredible with Grand Mariner, orange juice, and sparkling wine. Orange Cranberry Sangria is another one of our popular cocktails. It is made with Cabernet, cranberry juice, rum, and orange juice and garnished with orange slices, cinnamon sticks, and orange ribbons.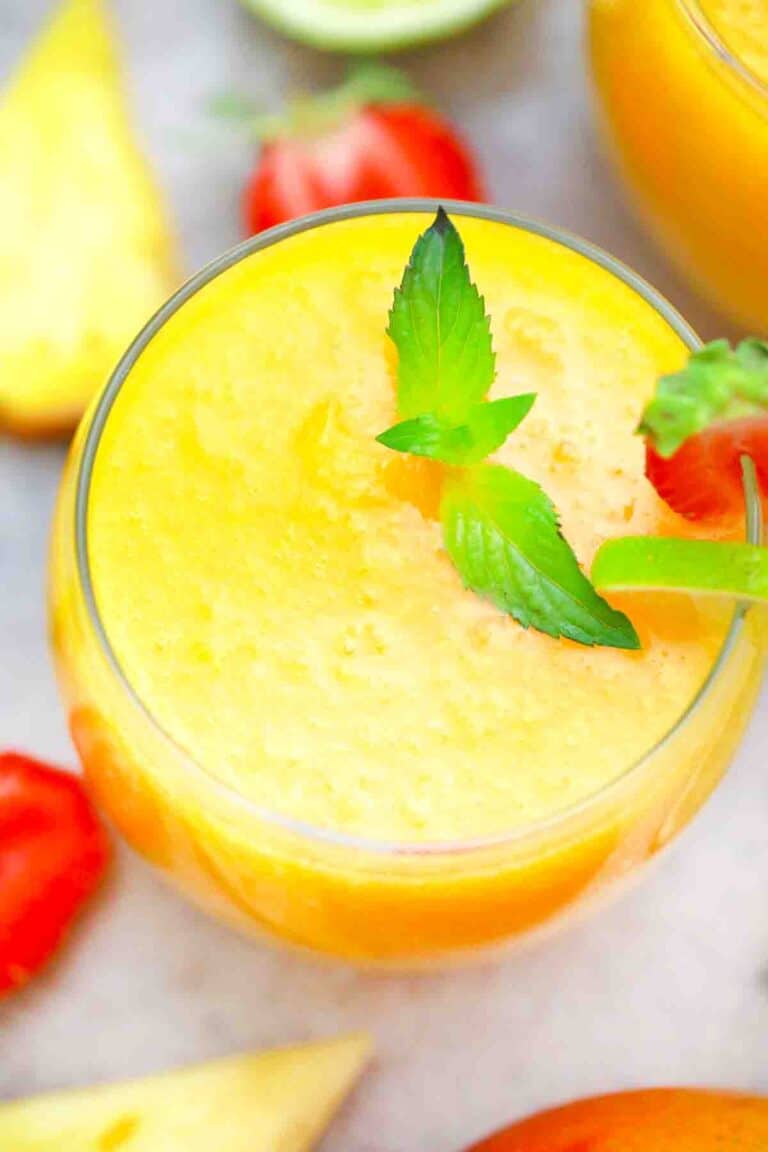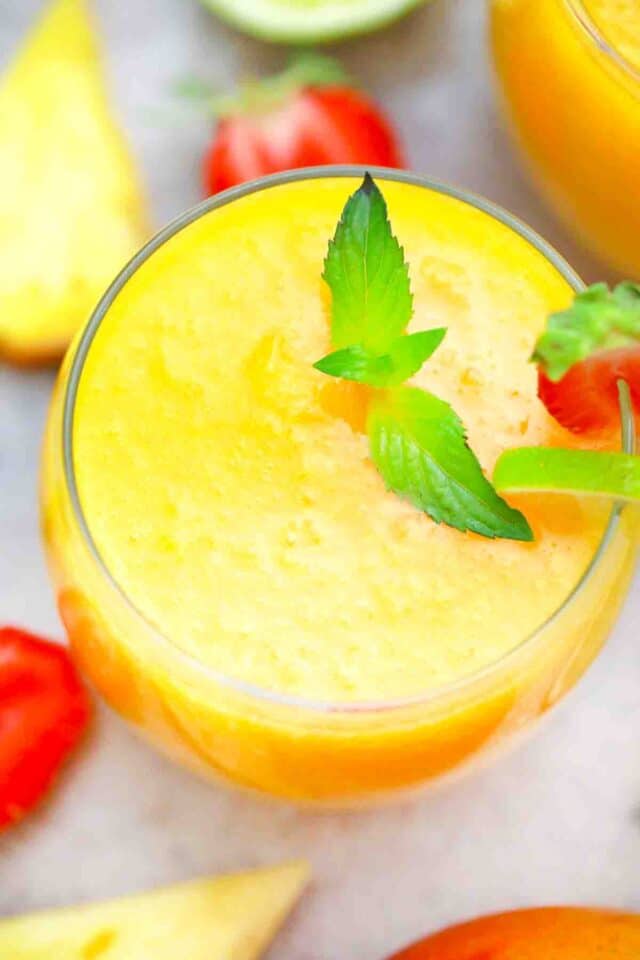 Ingredients needed:
To make this refreshing drink, all you need are the ingredients listed below. For the exact measurements and directions, scroll down to the bottom of the page to find our recipe card.
Large ripe mango
White or coconut rum
Pineapple juice
Fresh lime juice
Ice cubes
Sugar syrup
Sugar syrup:
Granulated white sugar
Boiling water
How to make mango daiquiri from scratch using a blender?
Chill the glasses: First, place four martini or cocktail glasses in the fridge to chill.
Make the syrup: While waiting, make the sugar syrup by mixing the boiling water with the sugar in a small bowl or glass.
Blend the mango daiquiri: Then, put all the ingredients, including the sugar syrup, in a blender and blend until it is smooth.
Taste your creation: After, taste it and adjust it for flavor. Add more sugar syrup as needed.
Serve immediately: Last, pour the drink into chilled glasses and serve immediately with a garnish of a lime wheel and mint leaves.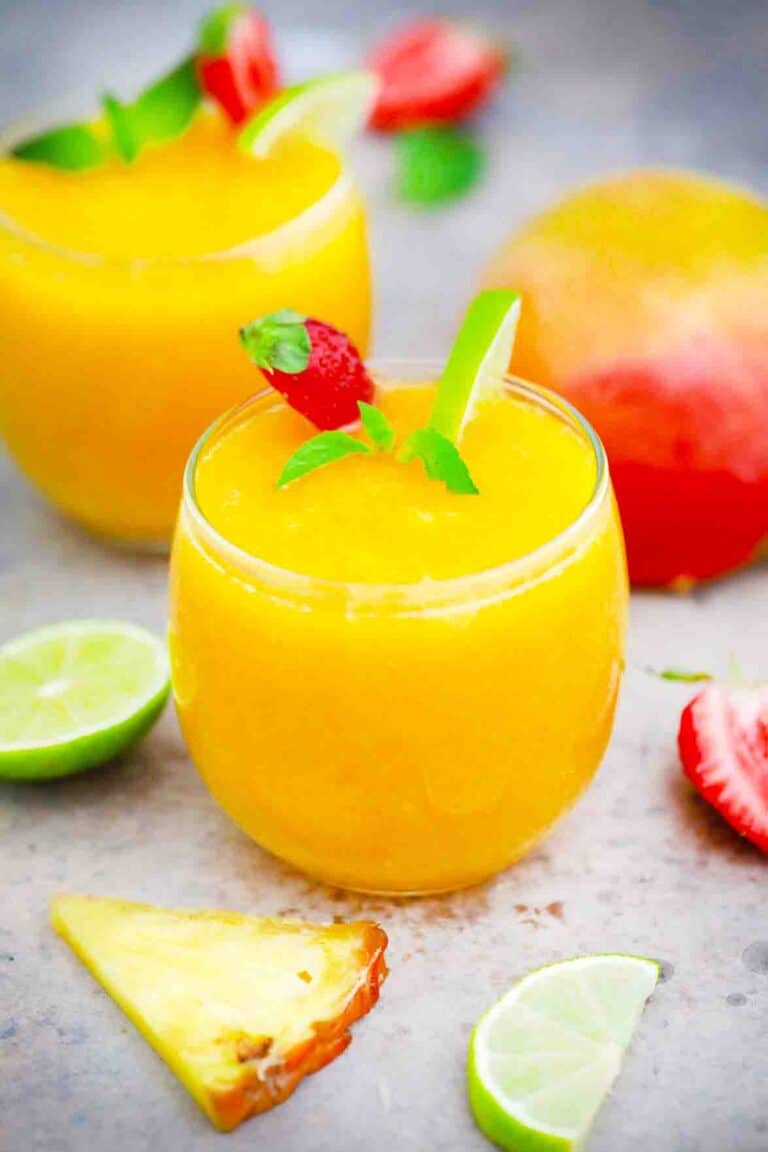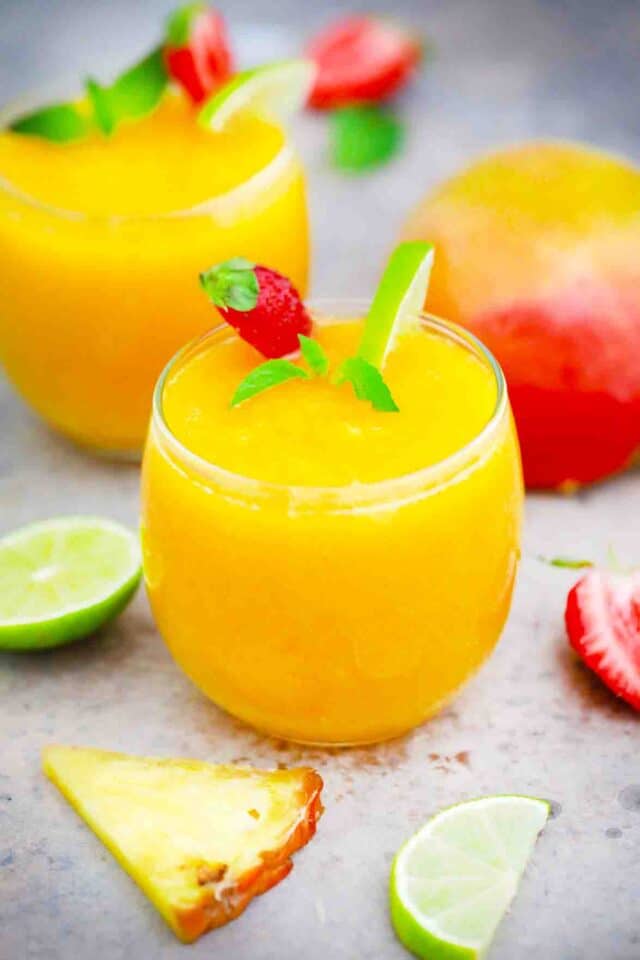 How to make mango daiquiri using a food processor?
Refrigerate glasses: Before you start, put four glasses in the refrigerator to chill.
Melt the sugar for syrup: To begin, melt the sugar in the boiling water to make syrup.
Puree the mango: After, use your food processor to puree the mango.
Shake and chill again: Then, add the puree, juice, syrup, and rum into a jar and mix with 1/2 cup of water. Shake and put it in the fridge for at least 30 minutes to chill.
Taste and serve: Finally, taste and add syrup if needed, and then serve mango daiquiris with ice cubes and garnish with mint leaves and lime wedges.
Recipe variations:
Orange liqueur: You can also add some kind of orange liqueur like Triple Sec, Cointreau, or Grand Marnier.
Light rum: Either dark or light rum is acceptable in this recipe. It depends on what you like. Light rum is clear and sweet while dark rum is dark and smoky.
Non-alcoholic version: For a mango daiquiri without the alcohol, also known as a virgin daiquiri, just substitute the rum with any tropical juice or sparkling cider.
Frozen mango chunks: If you do not have any fresh mangoes in your area, try frozen mango chunks instead. No need to thaw and you can eliminate the ice cubes.
Lemon juice: Add a splash of lemon juice for a fresh and tangy twist.
Make it spicy: For a spicy kick, add a pinch of red pepper flakes or cayenne pepper.
More fruit: Feel free to add your favorite fruits to this recipe. Some great ideas are blackberries, blueberries, peaches, and strawberries.
Veggies: Don't be afraid to add some veggies such as avocado, celery, cucumber, or peppers.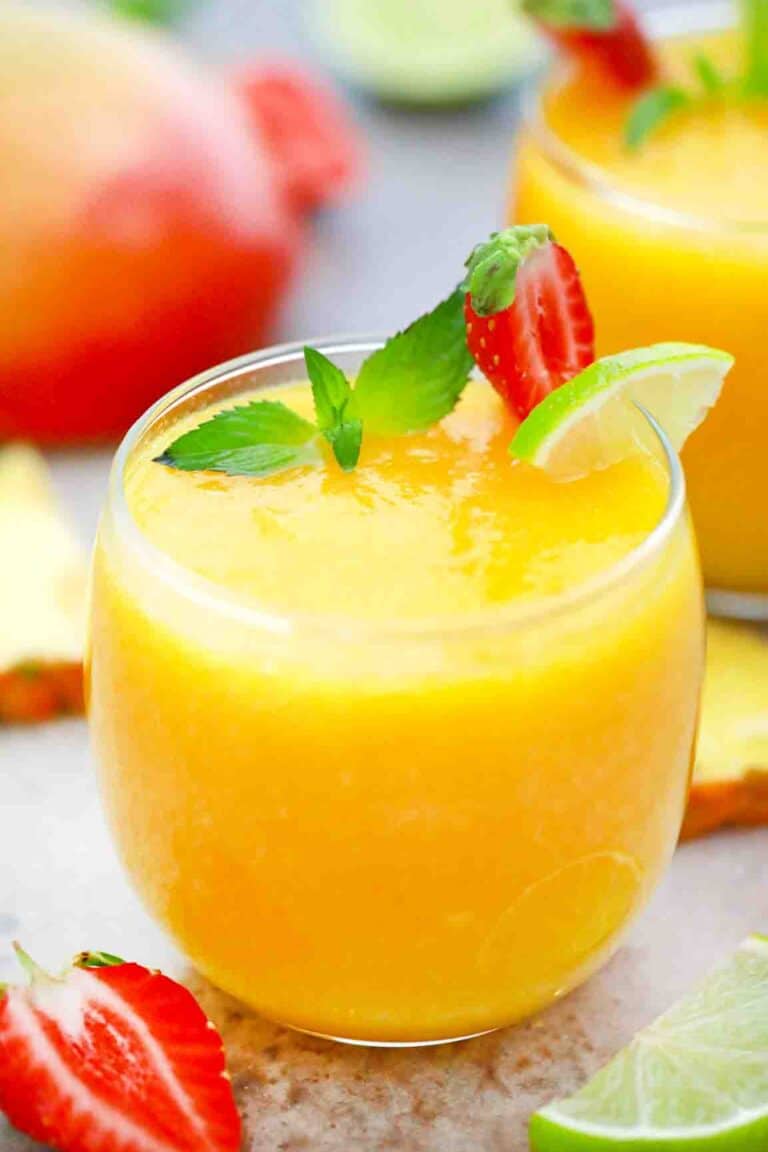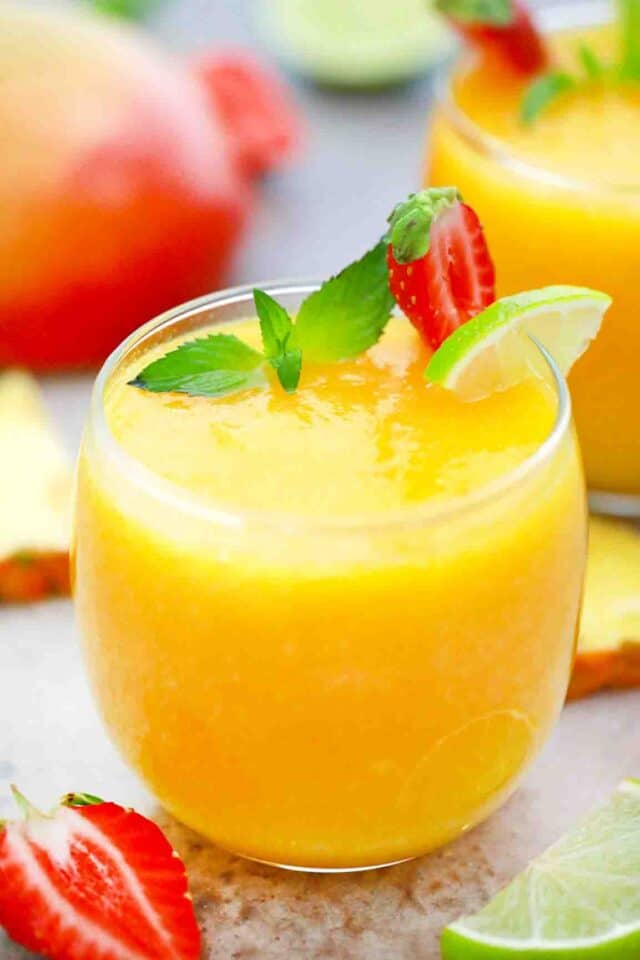 How to serve:
With such a simple recipe, you can whip these up in minutes. With all the flavors of a tropical drink, a blast of sweetness, and a hint of smooth rum, this mango daiquiri recipe is the perfect blended cuisine for summer or any time of the year. Here are some fun suggestions or you can share some of yours in the comments section at the bottom of the page. We love hearing from you.
Add mango chunks before serving for more mango flavor.
Use leftovers to add to smoothies to make a boozy smoothie. Try it with our recipe for tart and sweet cherry smoothies.

You can also add other fruit on top like sliced strawberries, raspberries, blueberries, or guava.
Enjoy a glass of this cocktail with a bowl of our pineapple fluff. They go together so well!
For even more zing to your drink, add a shot of lime or lemon zest.
These mango daiquiris are a great accompaniment to any kind of barbecued or smoked food like this easy grilled corn recipe.
Add a dollop of vanilla ice cream on top for a sweet treat.
Frequently asked questions
How do I find the best ripe mangoes?
To get the best mango flavor, you need one that gives just a little when you squeeze it gently. If it is hard, it is not ripe enough, and too soft means it is overripe.
The mango flesh should be an orange-yellow color, which you can tell by scratching just a tiny bit of skin off. The color of the skin varies because of all the different varieties so you cannot use that as an indicator.
What other kinds of alcohol can I use in this recipe?
Although many people say it is essential to use rum in this recipe, others have used different kinds of liquor like gin or vodka. Besides these, you can also try cognac, tequila, and bourbon as well as brandy, sherry, or even whiskey. Non-alcoholic versions include apple juice, apple cider vinegar, or almond extract.
How many other kinds of daiquiri are there?
The first is the classic daiquiri, which is just a simple cocktail of rum, lime juice, and simple syrup. Then you have coconut, watermelon, avocado, strawberry, banana, pineapple, and the Hemingway daiquiri.
The Hemingway daiquiri has maraschino cherry liqueur and grapefruit in it with no sugar and was named after Ernest Hemingway, the famed writer.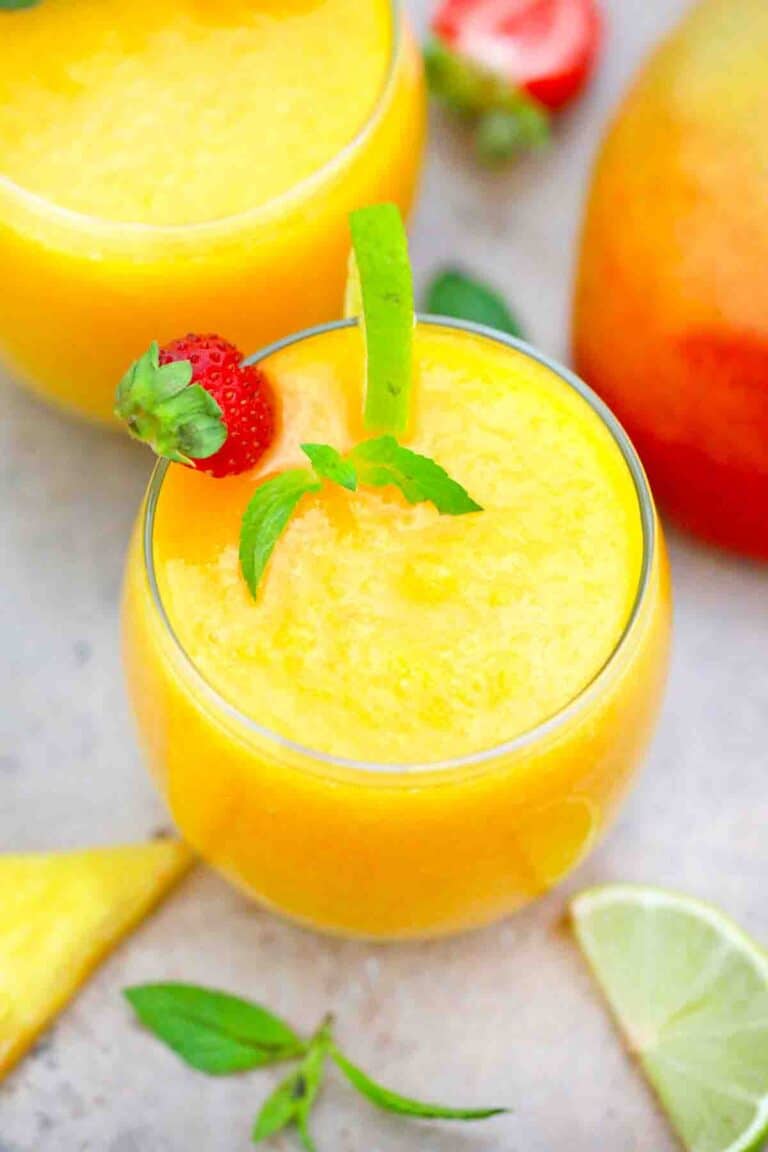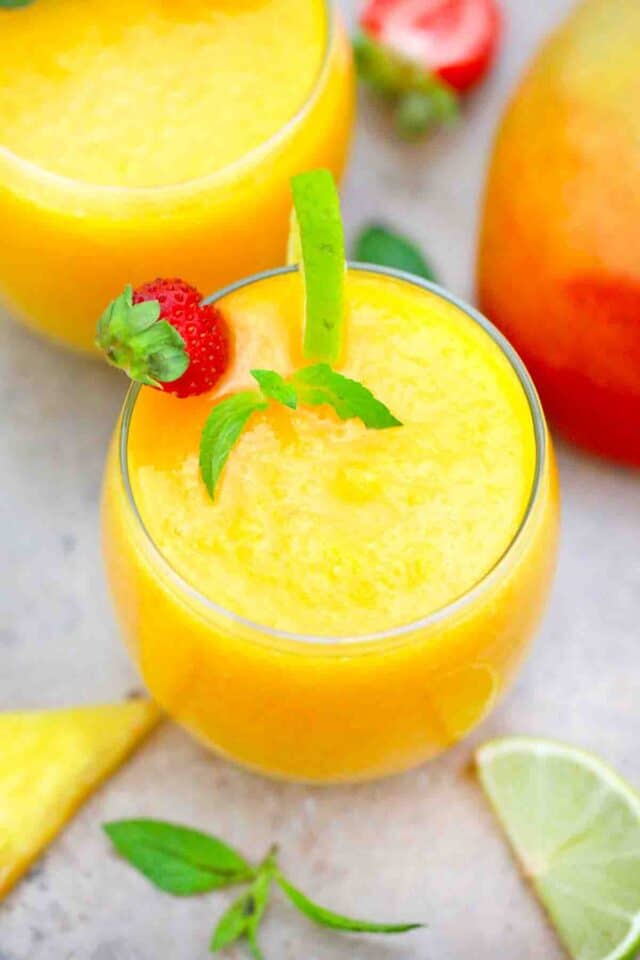 What is the best rum for this recipe?
Any kind of Caribbean white rum will do but some are better than others. Of course, this remains a matter of opinion and everyone likes different flavors.
However, the most popular rums used in the mango daiquiri are Bacardi Superior, Myer's Platinum White, and Plantation 3 Stars. Others include Equiano, Owney's Original, and Don Q Cristal.
How to store leftovers:
Store: Any leftover mango daiquiri can be saved in a sealed jar or bottle for up to a week in the fridge.
Freeze: Since the alcohol content prevents mango daiquiri from freezing completely, you can freeze it for up to a month.
Thaw: No need to thaw. Serve them partially frozen so you do not need to add ice.
Recipe tips:
The mango in this drink is a great source of vitamin C.
To carve mangoes, cut them in half and discard the stone in the middle. Then, make a criss-cross pattern in the flesh of the mango. Finally, push from the skin side and the chunks should pop right out.
To cut down on prep time, use frozen mangoes. When you do this, you can also cut out 1 cup of ice cubes from the recipe.
In fact, it can be even easier to use canned mangoes since they are softer and will blend easier.
Use frozen juice instead of liquid to make your drinks even colder so you do not have to chill for so long.
Cut some carbs and calories by using your favorite sweetener instead of the sugar in the syrup and using sugar-free juice.
Use a toothpick or cocktail picks to keep the fruit garnish from sinking to the bottom of the glass.
The nutrition information in this recipe includes 350 calories, 18 grams of sugar, 20 carbs, and 15 milligrams of sodium as well as 60 milligrams of vitamin C, 20 milligrams of calcium, 1,765 units of vitamin A, and 2 grams of fiber.
For the latest recipes, check out our website for meals and other recipes made in 30 minutes or less.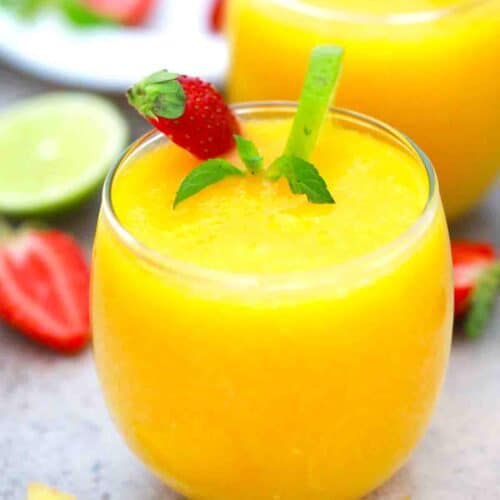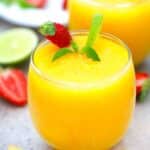 Mango Daiquiri
Mango Daiquiri is a sweet and sour drink you can enjoy out back by the pool during the summer, at a family barbecue, or for happy hour.
Ingredients
2

large ripe mango

or 1 1/4 cups of mango flesh

4

oz

white rum

2

tablespoons

sugar syrup

1/4

cup

fresh lime juice

1/4

cup

pineapple juice

or mango juice

1

cup

ice cubes

plus more to serve
Sugar syrup:
1/4

cup

white sugar

1/4

cup

boiling water
Instructions
Make the sugar syrup by boiling the water and sugar until the sugar is fully dissolved.

After that, measure and add all the ingredients to a high-speed blender and blend until smooth.

Taste and adjust for sweetness, use more sugar syrup if needed.

Refrigerate 4 glasses. Add ice and pour the drink on top.

Garnish with fresh fruit, and mint, and serve.
Nutrition Facts
Mango Daiquiri
Amount Per Serving
Calories 187
Calories from Fat 5
% Daily Value*
Fat 0.5g1%
Sodium 5mg0%
Potassium 212mg6%
Carbohydrates 31g10%
Protein 1g2%
Vitamin A 1128IU23%
Vitamin C 44mg53%
Calcium 17mg2%
Iron 0.2mg1%
* Percent Daily Values are based on a 2000 calorie diet.